Today I'm excited to chat with my good friend Linda Skeers about her new book, DINOSAUR LADY, the Daring Discoveries of Mary Anning, the First Paleontologist (Sourcebooks, illus by Marta Alvarez Miguens). Linda and I have been writing friends since…well, as she put it when she signed my copy: "since dinosaurs roamed the Earth!" Truth. (She and I also co-host the Whispering Woods Picture Book Writing Workshops.)
What I love about this book: Linda took two of Mary Anning's traits—determination and curiosity—and showed those on every page. That made me FEEL something for Mary. I was inspired by her dauntless, lifelong dino-hunting (at a time before the word "dinosaur" even existed) and outraged on her behalf at the way she was continually DISMISSED by male scientists of the time, especially since her "guesses" proved to be correct again and again.
Plus, there's dino poop. I mean, c'mon.
JE: So, Linda, what made you want to write about Mary Anning?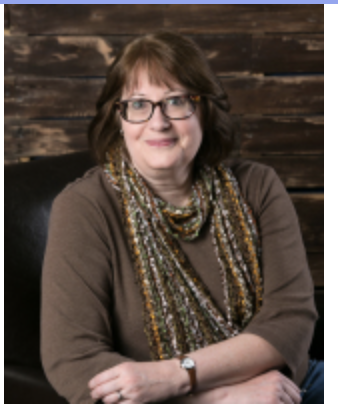 LS: I'd written about Mary Anning in my book WOMEN WHO DARED – 52 Fearless Daredevils, Adventurers, and Rebels, and when my editor asked if I'd write a PB for younger readers about her, I jumped at the chance! Mary is absolutely incredible and I love sharing her story.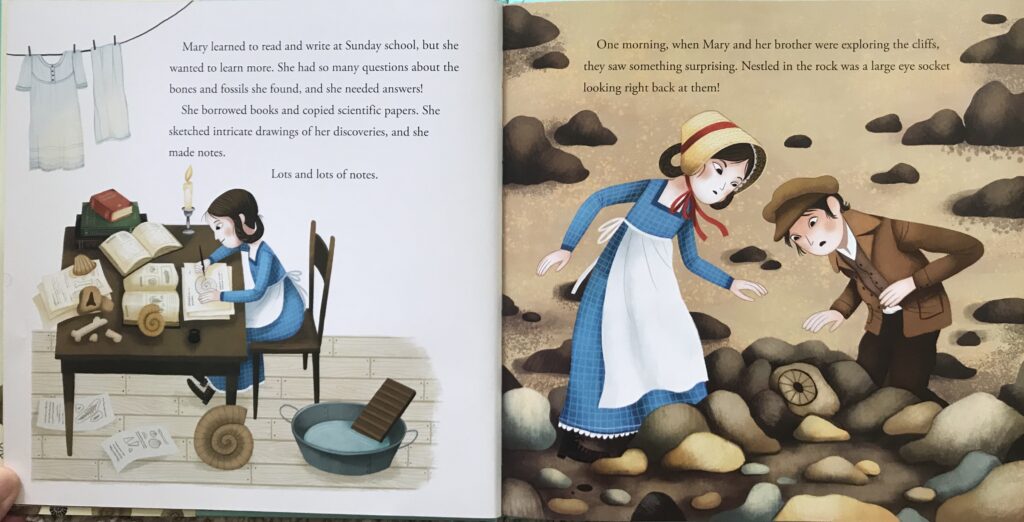 JE: I can see why! She's amazing. Was the research process fairly straightforward, or was it necessary to constantly sift facts from folklore?
LS: Most of the research was fairly straightforward – I focused on her discoveries and what they meant to scientists and historians. One fact that kept popping up was that the woman holding her when she was 15 months old was struck by lightning and killed. Mary obviously survived but many sources claimed that this incident gave her special powers to help her find fossils. That's a fun bit of folklore but credit goes to her incredible curiosity, endless days searching the cliffs and keen observation skills.
JE: This text showcases both your mastery of vivid language AND your kid-friendly, upbeat voice that always sounds uniquely You. I know that doesn't happen overnight. Tell readers about your revision process.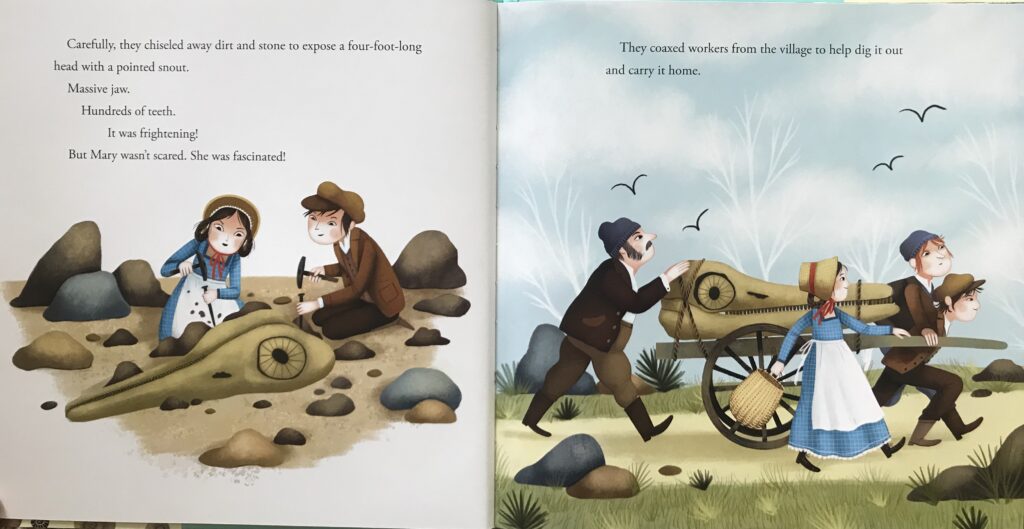 LS: Oh, there was a LOT of revising! The first draft was waaaay too long and meandered all over the place! I wanted a throughline that wove through the text. And if one was good, how about four or five? It was a hot mess. And my editor wanted me to keep the word count to about 750 words. I chose Mary's two personality traits that stood out for me – her fearlessness and her insatiable curiosity and never-ending quest for knowledge. Then I looked for incidents in her life that portrayed those traits. I moved a lot of information to the back matter and Author's Note to try and keep the main text fast-paced and focused on her accomplishments.
JE: This answer made me laugh, because your recent suggestions on one of my rambling nf texts sound eerily similar! Let's talk illustrations, because WOW. You must have been floored by Marta Alvarez Miguens's irresistible art! Did the two of you have any contact during the process?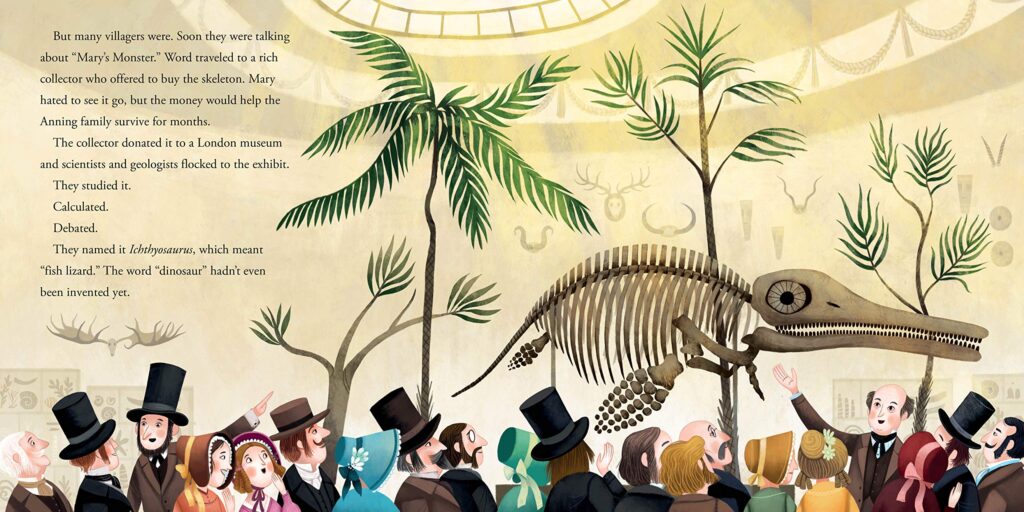 LS: I loved the first pencil sketches and was awestruck when I saw the final beautiful artwork! Marta lives in Spain and we didn't have any contact. When I turned in the Back Matter and Timeline, my editor assured me that Marta would "make it look nice." And she sure did!
JE: That's for sure. You've authored picture books and nonfiction for older readers (most recently, the wildly popular WOMEN WHO DARED). So now that you've published your first nonfiction picture book, are more ideas percolating—-or are there others already in the works?
LS: I'm hooked on nonfiction – especially since I discovered it can be just as fun (and funny!) as fiction! I have a few manuscripts "out there" and I'm working on a few more. I love researching and digging deep to find the perfect little fascinating fact that I believe kids will be excited about. Not saying I'm leaving fiction behind but right now there are so many amazing subjects I want to learn – and write about – that I'm sticking with nonfiction for now.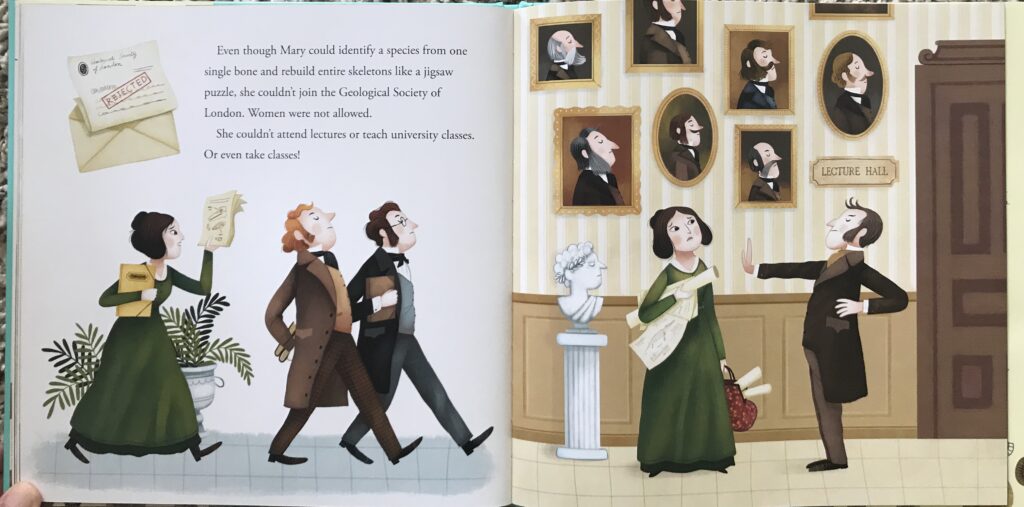 JE: Anybody who knows you won't be surprised that your texts include humor! Fingers crossed for those "out there" manuscripts and whatever else you have in the works, Linda.
(Nonfiction writers, if you're looking for mentor texts, put this one in your to-be-studied pile!)
Linda is giving away an autographed copy of DINOSAUR LADY to one lucky commenter. Residents of the continental U.S. only, please. Good luck!
Learn more about Linda Skeers on her website, here.