Back in the Before Times when we were still crowding into libraries, I'd checked out stacks of picture books to prepare for a writing workshop (which happened) and my weekly one-on-one, side-by-side reading sessions with two first graders (not happening any time soon).
I've since returned the books to our now-open-for-curbside-pickup-only library, but I saved one of my all-time favorites to share here. Every time I read Can I Be Your Dog? by Troy Cummings (Random House, 2018), I discover some new element to appreciate.
How do I love this book? Let me count the ways:
1. The epistolary format. Not only is "epistolary" a fun word to say, the exchange-of-letters format works great in picture books. Plus, maybe (maybe?) it will encourage letter writing among the younger set before this form of communication goes the way of the dodo.
The book is a series of letters exchanged between Arfy the dog and his neighbors. In each of Arfy's letters, he asks to be adopted. In each of the replies, the answer is . . . not affirmative. Here's Arfy's first letter:
2. The distinctive voice(s). The beauty of letters is that they reveal character. Maybe not as clearly as private journal entries (another great picture book format), but each letter gives us a sense of the writer's personality. For example, after his first rejection, Arfy writes to the Chop Chop Butcher Shop. We get a little glimpse of what the butcher's like from her response:
3. The humor. Notice the fun wordplay in that response? I've got a bone to pick with you says the butcher, Veronica Shank. Clever, right? And in the response from the firehouse below, we get some grown-up humor in the form letter format, plus some kid-friendly bathroom (er, hydrant) humor:
4. It pulls the heartstrings. It's about a dog—a sweet, lonely, homeless dog—who just wants to be loved and cared for.
5. It's suspenseful. With each letter and subsequent rejection, we feel Arfy's hopes deflate and his expectations wither. Will he ever be adopted? His prospects look increasingly bleak, culminating in this response from the last (and least appealing) house on the block:
6. It builds drama visually too. Troy uses wordless scenes to slow things down so we can empathize with poor Arfy alone in his cardboard box on a rainy night—oh, the misery!—and better appreciate the joy he feels when at last he gets the offer he's been longing for.
7. The "Aww" ending. That offer comes from—who else?—the mail carrier who's been delivering all his letters. Observant readers of the book may notice her in many of the scenes and predict this outcome. And, in another nice touch, her note mimics the opening line of Arfy's letters: Can I be your person?
8. The endpapers. In the front, we've got clever dog-themed stamps, including a "Forever" stamp featuring a cozy home.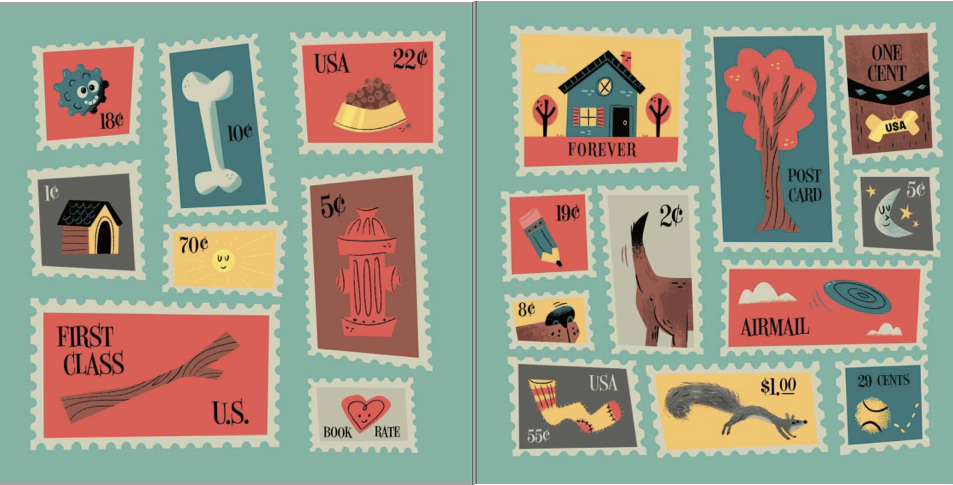 In the back, it's a view of Arfy's town and all the places he sent letters, which will surely prompt kids to follow Arfy's route and retell his story.
9. The call to action. There's a note on the back endpapers: Here's how YOU can help a homeless animal. My elderly rescue dogs especially liked that.
SO . . . it's basically a perfect picture book. And if you've missed this one, you can watch none other than Michelle Obama read it over here.
---
---
Thanks for reading, as always —
Linda