So. I'll start with the truth. I'm not a dog person.
I'm not fond of barking. And jumping and growling. And, after I was bitten by a German Shepherd, I liked dogs even less. They sort of scare me.
Not YOUR dog, of course. I'm sure your dog is lovely. So calm and loyal and well-trained.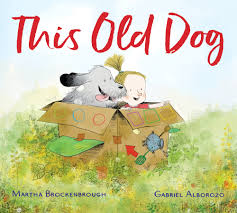 But, well, OTHER dogs just aren't my thing.
So the fact that I adore Martha Brockenbrough's and Gabriel Alborozo's brand-new picture book THIS OLD DOG (published Sept. 1, 2020 from Levine Querido) means it's got to be good. I didn't go all mushy for it just because there was a dog on the cover.
Why is this book so good? Let me count the ways:
TOPIC — I'm an outlier. I know it. Most people love dogs. A lot. And, this book has one as the main character. This dog — known only as Old Dog — has a pretty nice life. A family with a new baby. A sunbeam to sleep in, food to eat. Lots of happy memories.
But those happy memories can make Old Dog sad. They're of when he was vibrant and strong and young. Now, he's older and creakier, and everything around him seems so fast. He wants to take time to smell and listen and look, but everyone else wants to go, go, go. Old Dog wishes he had a friend to go slowly with.
REPETITION — One of the most effective tools in this book is its repetition of the word "thump." Old dog's tail goes "thump-thump." So does his heart. So do the baby's feet on the floor as she learns to walk. And Old Dog's feet when he realizes the baby is growing into his perfect friend.
LANGUAGE — There are so many unexpected touches of loveliness in the language of this books. Like this series of sentences describing Old Dog:
He wants to sniff each blade of grass. He wants to take the time to find a just-right rock, and he wants to hear the leaves tell what it's like to live in a tree.
That extra, unexpected detail about listening to the leaves elevates the writing and creates a wow moment in the reader's mind. It's so surprising, yet so understandable, that readers will have to pause and think about it.
Another beautiful use of language is when the baby starts going with Old Dog to do things at his pace. They smell the grass and find a rock — and then — she takes a leaf and puts it on his head. The next four-word sentence, on a page by itself, is:
"It's a crown of gold."
And, the art shows the leaf glowing like a golden crown with Old Dog looking like he's just been anointed. Like the other line I mentioned, it's unexpected in the best possible way. In fact, it's picture book perfection.
A MOMENT THAT'S OFTEN MISSING — This book, like most picture books, has a main character that wants something. In this case, a friend to go slowly with. But what this book also has — that some other picture books miss — is a moment, brief as it may be, where the main character looks like they may not get what they want and then takes a moment to feel their feelings. (A lot of picture books and picture book drafts I see skip this feeling part. It's an important beat in almost any story, though, and when it's well done like it is here, it adds a needed emotional punch.)
In this case, the moment is two short sentences after Old Dog realizes the world is leaving him behind:
His heart thumps.
His tail does not.
When you read those lines, in the context of the story, with all the other ways "thump" has been used, you feel exactly what Old Dog feels — whether you like dogs or not. And that, dear readers, is the hallmark of a winning picture book.
RESOLUTION — Spoiler alert: Old Dog does NOT die in this book. There's a very satisfying resolution of the dog and his girl filling a very special spot in each other's lives, with the strong implication that there are more lovely memories to be made.
Now, I'll conclude this post with a request that Martha and Gabriel and Levine Querido team up on a book about a cat. Because I AM a cat person.