Hello!
I'm so pleased to have author (and fellow Chapel Hill resident) Sue Soltis here today to chat about her beautiful new book The Stars Just Up the Street, illustrated by Christine Davenier (Candlewick Press, 2020).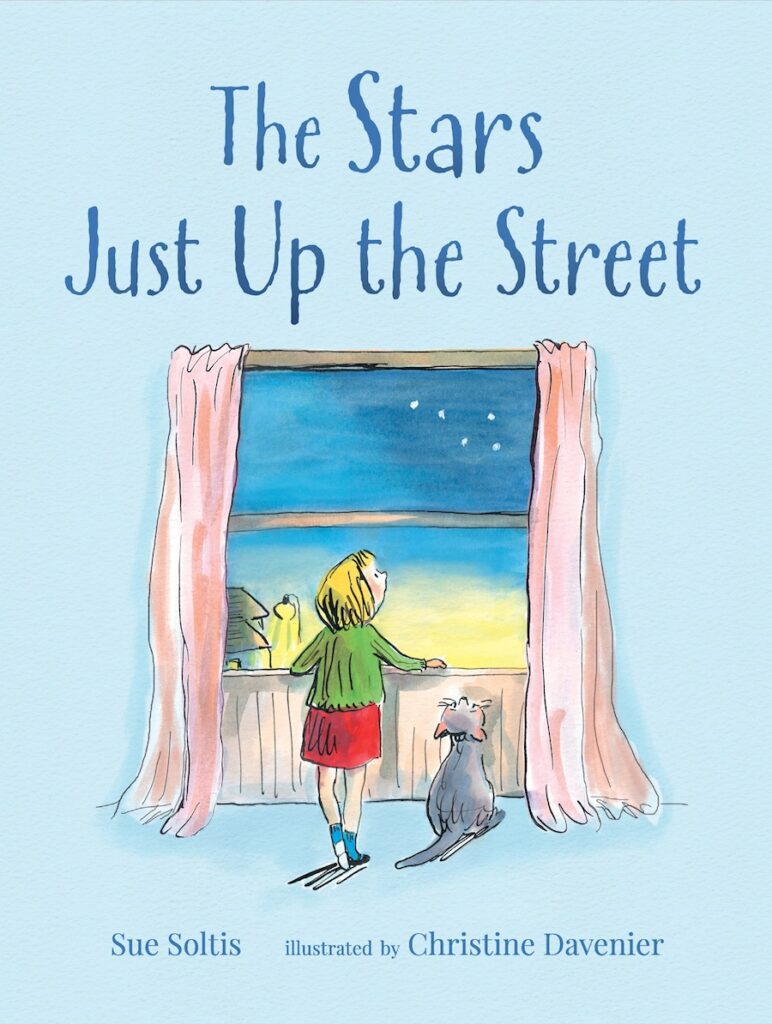 In the book, young Mabel—with assistance from her grandfather—convinces neighbors and town officials to dim the lights so the community can enjoy a star-filled night sky. Here's what Booklist had to say about it:
"The narrative and dialogue flow quite naturally, and Davenier's artwork, created with fluid black line drawings and colored inks, is captivating, particularly in the final series of spreads showing the contented townsfolk gazing up at the deep blue, star-spangled sky. An inviting picture book to share with children."

So let's hear a bit more, shall we? Here's Sue . . .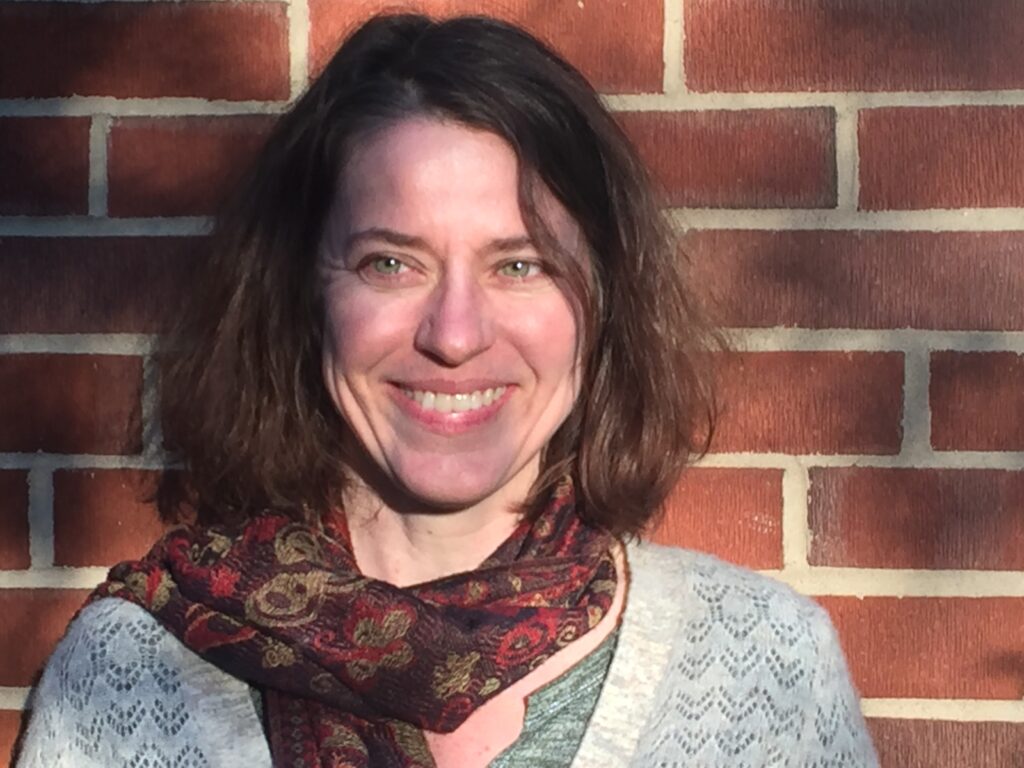 LA: This story weaves together stargazing and light pollution (without ever using that term), the values of community and persistence, and the intergenerational bond between a young girl and her grandfather. Can you tell us a bit about what inspired it and its journey to publication?
SS: I am really a word and language person when it comes to inspiration. So: Feet, Street, Stars. I imagined stars under a girl's feet and how she might connect with them. But then, telling this story led me down a more realistic place than that or than I usually go. Feet did not stay a part of it. When I connected the concept to character, the first line "Mabel loved the stars" became the words the story hung on.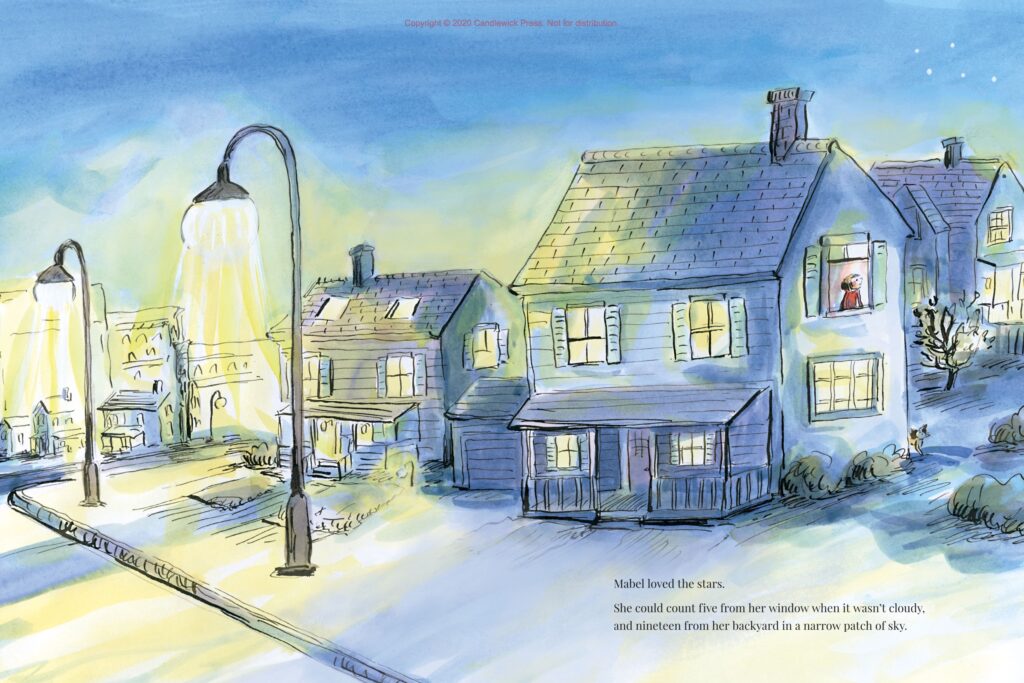 ---
A while back, walking through my neighborhood my kids and I found a hill a bit beyond the streetlights, darker than most streets—so we could see more stars there. Around here, though, the sky is never wide. So many trees.
But altogether in writing this story, there was that place with my kids, and the times and places I had a chance to see an amazing number of stars. And yes, the increasing light pollution on our planet.
I showed the manuscript to Andrea Tompa at Candlewick and she liked it. At that time, I was unagented. She was also my editor for Nothing Like a Puffin, and it was great to work with her again.
I love Christine Davenier's art, and she's done a beautiful job with this book. Do you have a favorite illustration?
Me too! One of my favorites comes early on, where Christine portrays Mabel and her Grandfather close up. I like how this illustration works to establish the characters who then move out into the broader world. And I like how you can see Mabel's grandfather telling the story, which is the seed for their whole journey. Always I love the cat!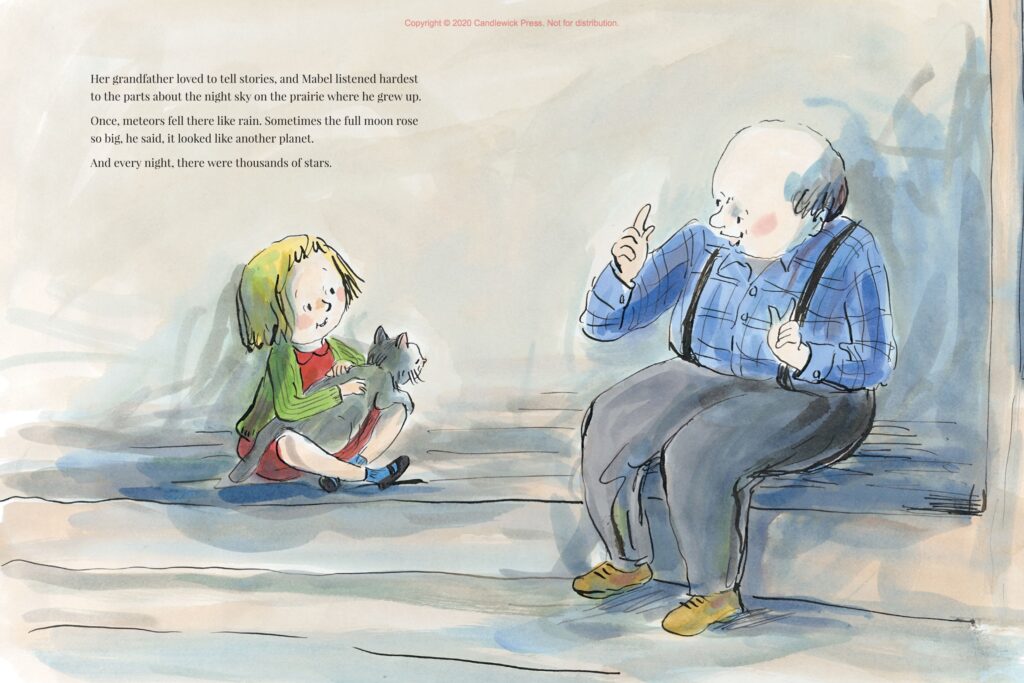 Have you come across any real world Mabels and/or communities that have done similar star-gazing events?
Well, there is a local group (Chapel Hill Astronomical & Observational Society) that ran regular stargazing events (I mean before covid), in park locations a little out of the cities and towns. Local usually amateur astronomers would train their telescopes on planets and their moons. Really exciting! We saw Jupiter's moons!
There's of course too the International Dark-Sky Association, and you can find Dark Sky places and parks through their website.
In the story, Mabel is determined to see as many stars as her Grandfather once saw, and finds a way to do it that involves the whole community. We have all certainly heard of some famous and young activists!
But in another sense, people (of all ages!) can be at various stages of "getting really good at getting to the point" –like Mabel in the story. For some, it comes quite naturally. For others, I like that they might see in this book that it's a process. And also that it can take many forms: Talking one on one to neighbors, writing a single note. And even just talking to someone you love about something you love!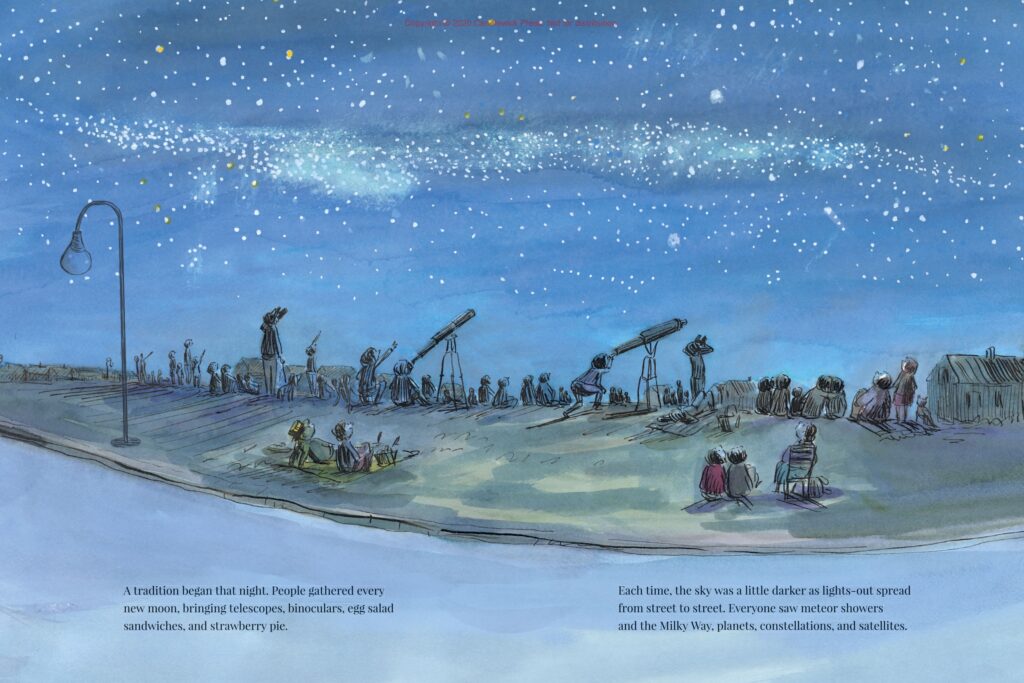 We last saw each other in March at a book festival—the last of its kind for a while. Have you tried anything different to get word out about the book during a pandemic?

That is for sure! The last of its kind in a while. In fact The Stars Just Up the Street was not even out yet. After that, all of my in-person visits were cancelled of course, and I tried to pull together what I could in the virtual world. A couple of things I did: Made a video about my book and stargazing, and got on twitter. I'm also happy to be a part of Picture Books 2020, a collective of authors and illustrators with picture books out this year.
Your first book, Nothing Like a Puffin, was published in 2011 and is still in print—quite an achievement! Since this is your second book, I'm curious about the gap in between. Were you still writing during that period?
Publishing is tough– sometimes for a second book as well as a first. I never did stop writing, and so even now I have a stack of picture book manuscripts. I still think some of them may be published, one day!
What's up next? Any new books in the pipeline or projects you'd like to mention?
Nothing Like a Puffin will be out in paperback early summer 2021. And The Moon Moved In is scheduled to be released in Fall 2022. Sonia Sánchez is the illustrator. I am really excited about it, and about the projects I'm working on – more of which I hope will see the light of day before too long!
Where can people find you online?
My website is a work in progress—I'm aiming to have it up in the new year. In the meantime, you can find me on Facebook and here on twitter: @suesoltisbooks.
Thanks so much for visiting, Sue!
---
BOOK GIVEAWAY!!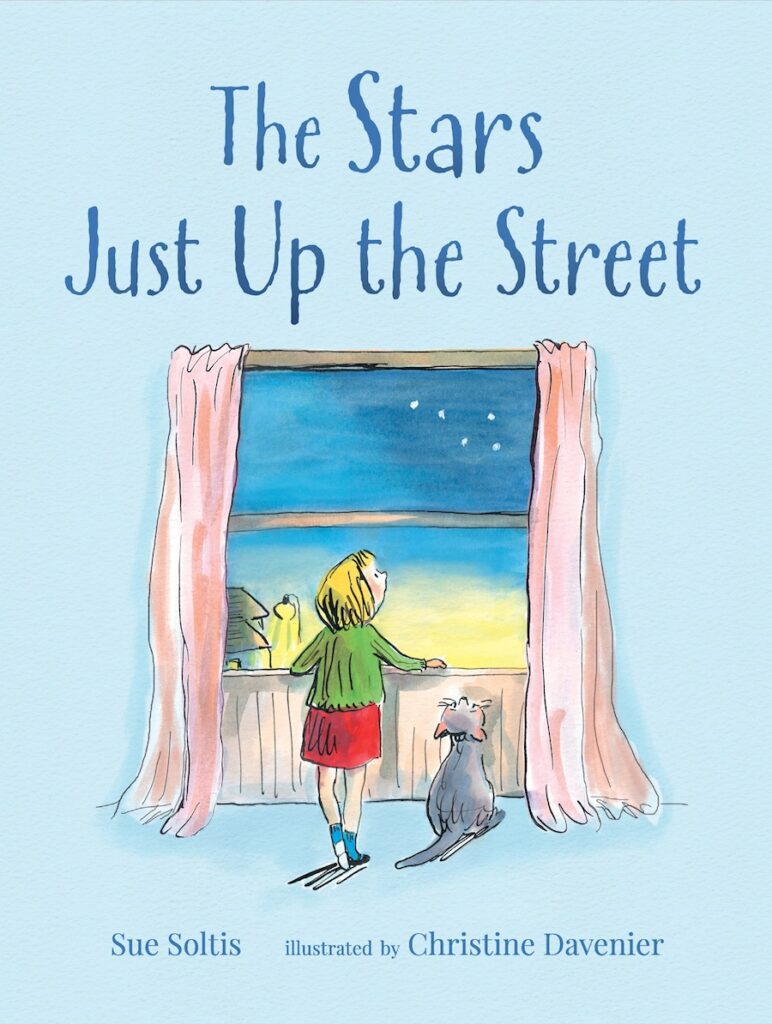 For a chance to win a copy of the book, leave a comment below by December 15, 2020.
---
Here's to a happy holiday season—and (hopefully) to post-pandemic living in the year ahead. Thanks for reading, and see you in 2021!
Linda