Hey, it's 2021. We made it!
Anyone manage to flourish creatively last year?
I commend you, if so. (And please share your secret below.)
I did not. For various reasons, both universal and personal, my creative well was bone dry.
But it's a new year, things are looking up, and I'm hoping to get the old well burbling again. Or something like that.
So I was happy to stumble on a picture book about creativity: When Pencil Met Eraser, written by Karen Kilpatrick and Luis O. Ramos, Jr. and illustrated by Germán Blanco (Imprint/Macmillan, 2019).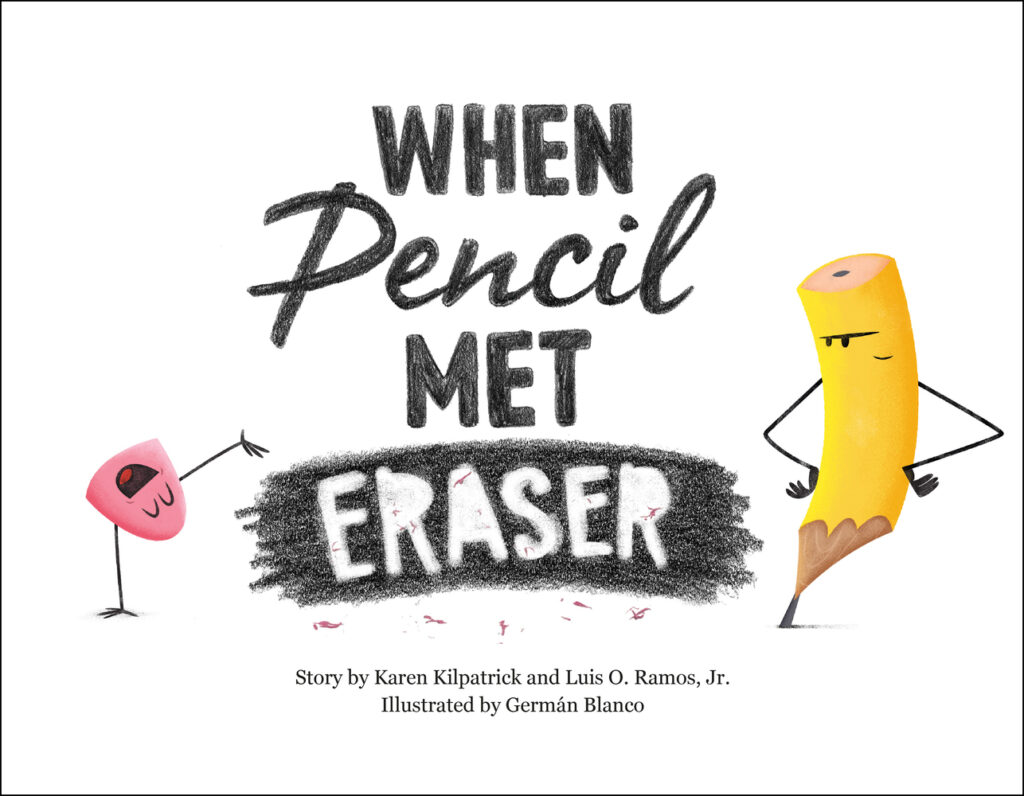 It's also about conflict, friendship and collaboration. Good stuff.
But mostly I liked Eraser.
Sure, Pencil is a talented artist. But his work feels busy, sometimes even a little dark and oppressive.
Then Eraser comes along and does what erasers do. Understandably, Pencil doesn't like anyone messing with his work of art. But the results are impressive.
By creating space in Pencil's compositions, Eraser lets us see things in a new way.
Instead of a crowded city . . .

we see an open skyline and individual buildings.

We watch a storm-tossed sea become calm . . .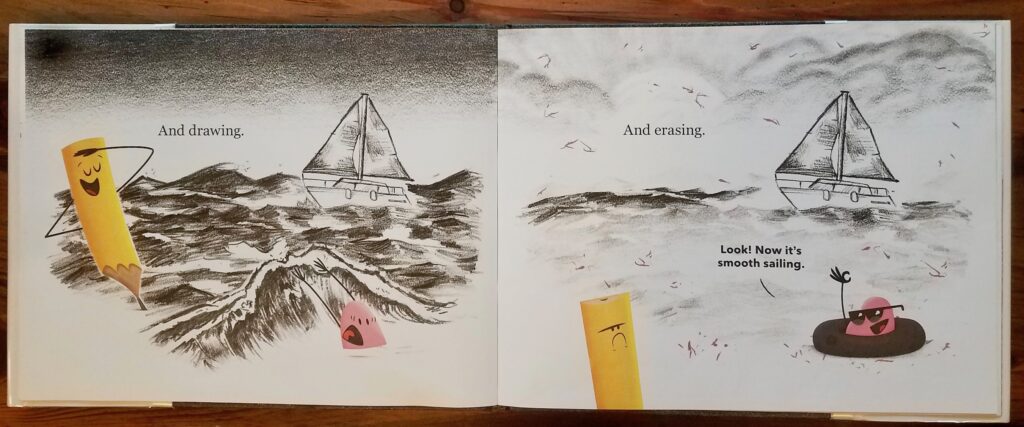 And discover stars on a pitch-black night.

Kids will love this book. They'll love comparing Pencil's work before and after Eraser's contributions. They'll laugh at Pencil's expressions of frustration, the realistic scattering of eraser crumbs, and the "Ha!" ending. And they'll appreciate the eventual reconciliation and friendship that develops.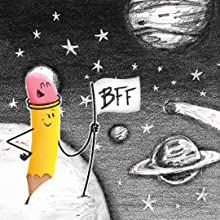 But I loved it too. It got me thinking about all sorts of things: About the contrast of light and darkness; about the value of open space, like quiet in the midst of too much noise; about how letting go of clutter—physical, mental, emotional—can give us a fresh perspective to see things in a new way. 
After a year of too-muchness, I'm thinking of what I can release to make way for more creativity. I can't quite let go of pandemic and election anxiety just yet, but I see some hope on the horizon.
And you? What do you hope to make space for in 2021? What would you like to let go of?
Thanks for reading. And here's to a happy, healthy and creative year ahead!
Linda
PS If you like this book, there's a 2020 companion: When Pencil Met the Markers. Also good, but Eraser has a less prominent role—it's more about more and less about less.
PPS The winner of Sue Soltis's book The Stars Just Up the Street from last month's post is Deborah Buschman. Congratulations, Deb!