Got five minutes?
Is that a lot of time? Or a little?
Depends on what you're doing, right?
That's the concept behind FIVE MINUTES (That's a lot of time) (No, it's not) (Yes, it is) written by Liz Garton Scanlon and Audrey Vernick and illustrated by Olivier Tallec (Putnam, 2019).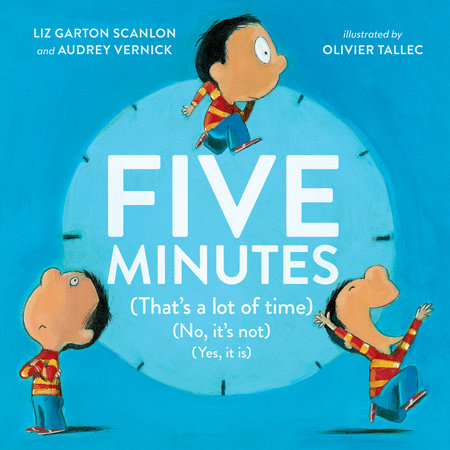 Since you may only have five minutes to read this post, let's get right to it. Here are five ways it works.
1. Simple, clever, concise. The book, with just about 200 words, shows a kid experiencing five-minute increments that alternately drag and race by. The single-day, morning-to-night structure ties the moments together and brings the story full-circle. The final page shows the boy sweetly sleeping after a busy day. But we can already imagine the next day beginning as this one did, with his parents pleading for five more minutes of sleep.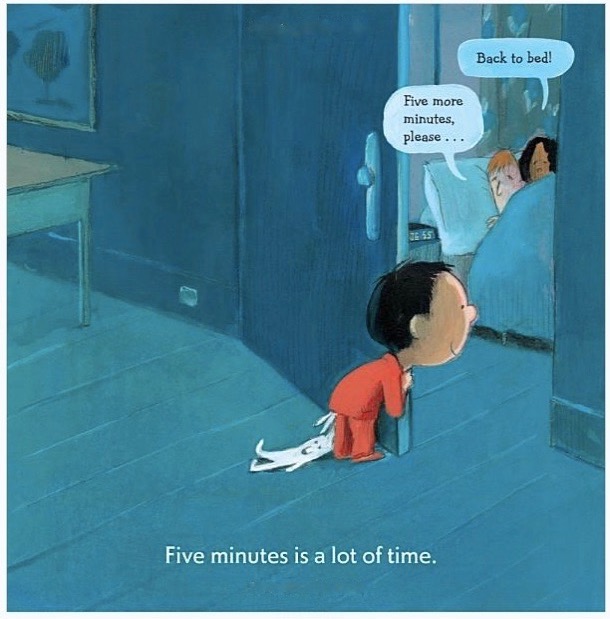 2. Universal. All kids relate to how interminable five minutes can seem when waiting in line at the post office, or how fast the time goes by on a roller coaster. Grown-ups get it too.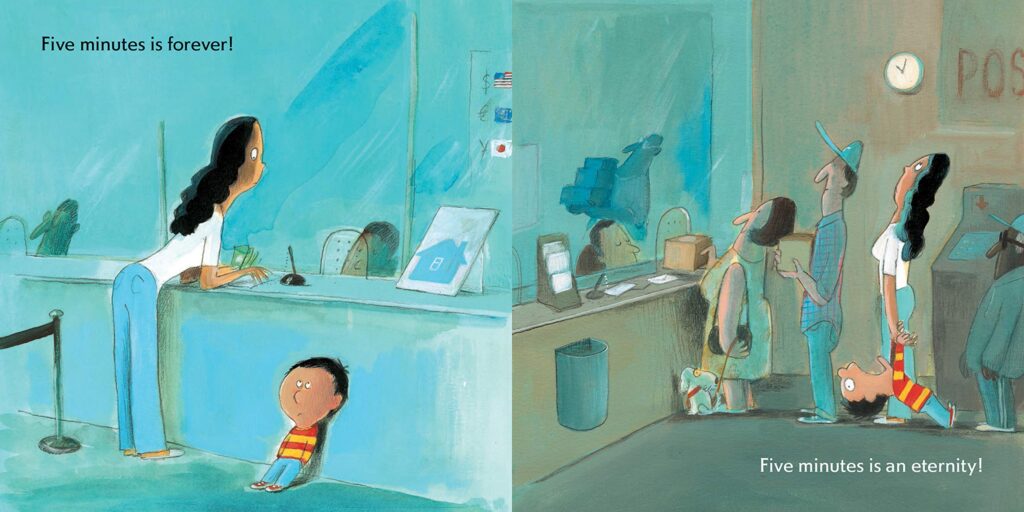 3. Learning opportunities. The simple language and repetition of words allows beginning readers to catch on quickly. The book also offers a way to talk about time in a kid-friendly way.
4. Illustrations. The text leaves plenty of room for visual storytelling. And Olivier Tallec takes full advantage of this, bringing lots of humor, emotion and sweetness to the story. Here's a visit to the dentist which shows both ends of the mysterious five-minute-time-perception spectrum.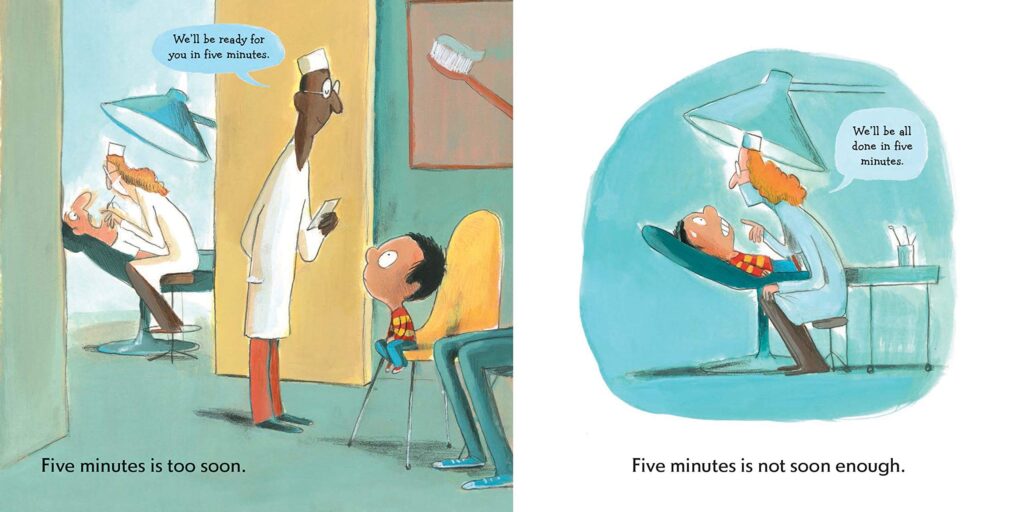 And here's the final spread, just before we turn the page to see the boy sound asleep.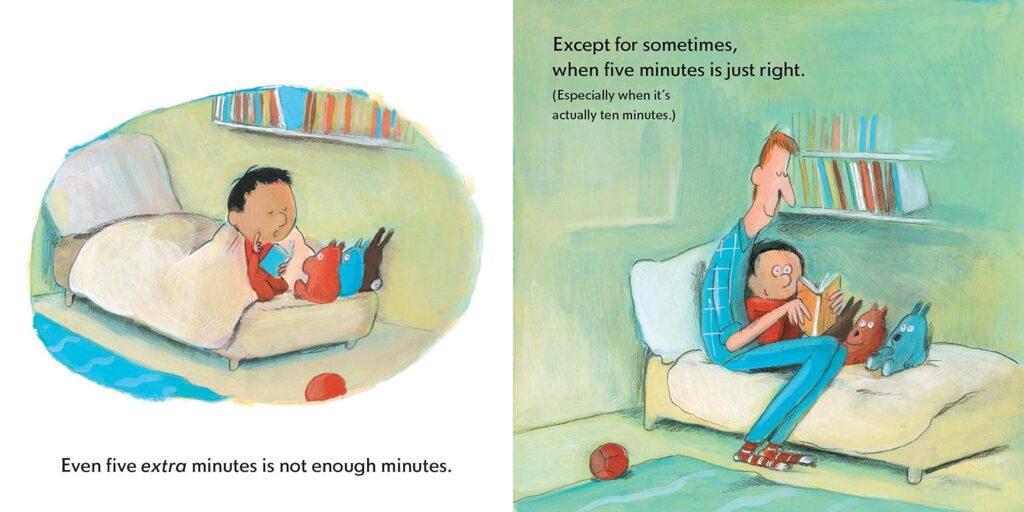 5. Seepage. Some stories find ways of sneaking into other parts of your life. I can imagine kids and parents saying things like "This five minutes is way too short" long after they've closed the book.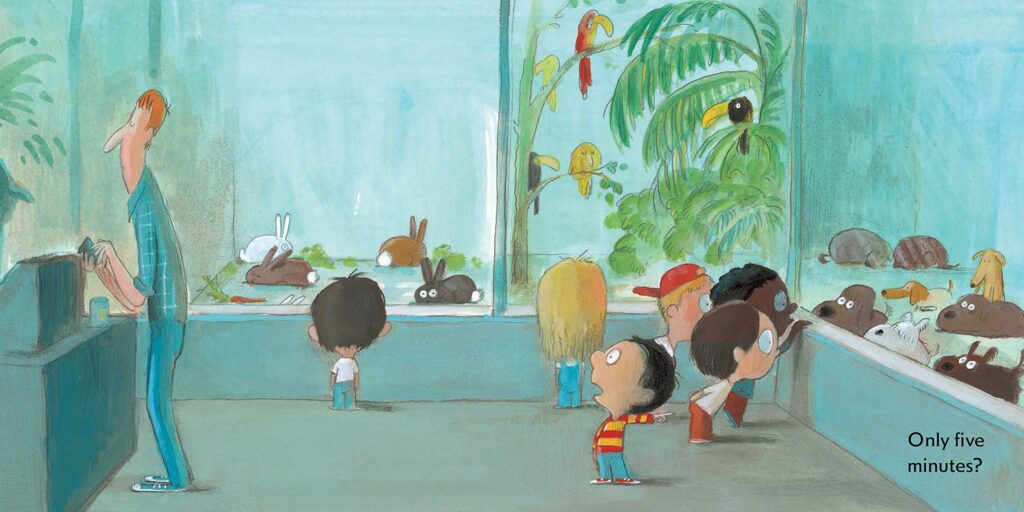 The book's premise feels so familiar that, like me, you might find yourself thinking "I wish I'd thought of that!" Which, of course, doesn't mean it was easy to turn that simple concept into a full-fledged picture book. Still, if you sometimes follow the path of most resistance in your creative efforts, this book offers inspiration. Maybe there are ideas right in front of us, just waiting to be discovered.
Wanna brainstorm? I'll set a timer for five minutes.
Thanks for reading!
Linda