Don't worry. I'm not going to interview myself. Or these two characters. I used OUTSIDE THE BOX in my post title because it was this book's acceptance …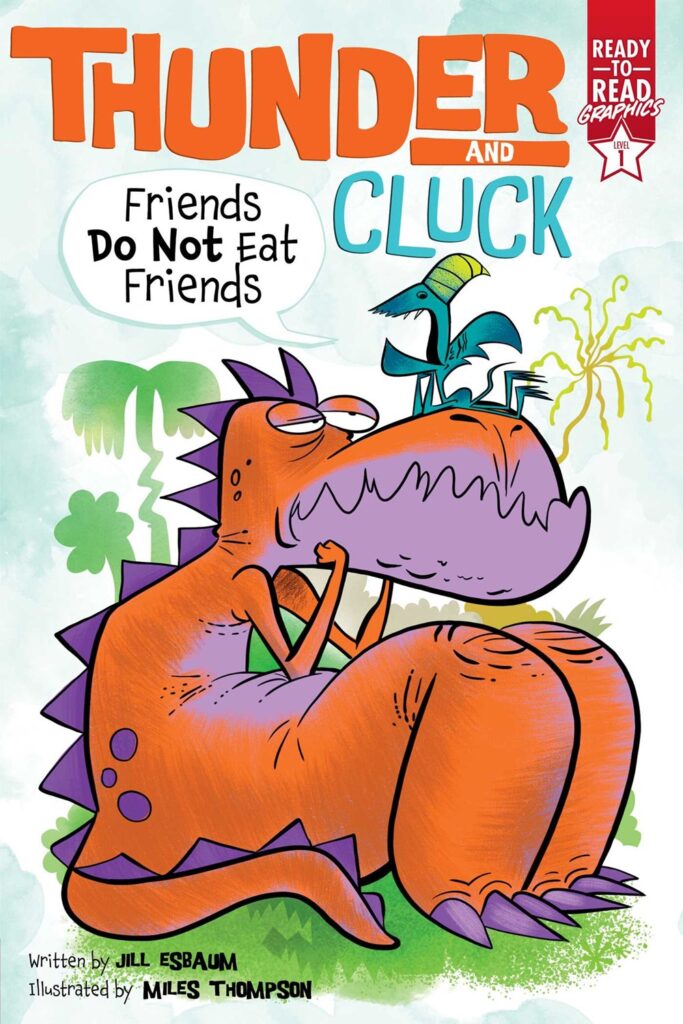 …that sparked this year-long feature. (If you're new to PBB, I'm chatting each month with a picture book creator who's also writing in other formats.)
Back in the late 90s, when I started writing, I thought I'd write picture books. Only picture books. Especially after I wrote a middle grade novel in 2000. It was submitted to 5 editors, 2 of whom I did revisions for, which weren't enough. So I put it in a drawer and resumed writing picture books. I know, 5 rejections? Nothing! But I was a newbie, and in the drawer that manuscript remained (yep, still there). Picture books were so much more manageable, anyway, when our kids were young and involved in pretty much everything.
Fast forward to 2008. My then-agent sent my I HATCHED! manuscript to National Geographic Kids. I asked her to, because I'd met a NGK editor at an SCBWI conference, and we'd had a lovely visit. As it turned out, she'd been laid off AND the editor who replied said they didn't (yet) do fully-illustrated picture books…but they liked my voice and would I maybe be interested in writing 4 books in a new series on a work-for-hire basis?
Pretty sure my YES came before my next heartbeat. National Geographic? C'mon. Did I know how to write what they'd described as narrative nonfiction? No. So what? I'd learn.
This work-for-hire project whet my appetite for more, and saying yes quickly became a habit. I still do occasional work-for-hire books. Why? Because 1) it feels good when somebody wants your work, 2) I've always been proud of the finished product, 3) kids & educators eat them up, 4) they've driven many school visit invitations, 5) I'm able to write them and work on pbs simultaneously.
So how did I end up writing a graphic early reader? Accidentally. Throw in dogged perseverance and, let's face it, the process of elimination.
I first wrote Thunder & Cluck as a picture book. Rejected. So my agent, Tricia Lawrence, asked me to expand T & C's adventures into a 3,000 word chapter book. Did that. Rejected. Tricia suggested I try it as an early reader.
What did I know about writing early readers? Nothing. But I was too invested in these two yahoos to give up on them. I went to a library and checked out an armful of early readers. Studied those, then went to work, mostly with the delete button, until I had a 300-word, dialogue-only story.
What's it about? Friendship in the Cretaceous age. This first book is the duo's Meet Cute. If pressed to define the vibe of their relationship, I'd have to say that falls somewhere between Elephant & Piggie and Bugs & Daffy.
Tricia submitted it, and 8 months later I got an out-of-the-blue call from her. She'd heard from an editor at Simon & Schuster. They wanted Thunder & Cluck to be a launch title for their new line of graphic early readers. Um, what? A graphic early reader? That was a stunner. Another stunner: Not only could I expand the story to 500 words, I should add notes detailing body language and facial expressions and emotion. Wha-? As a picture book writer, that felt so strange. Strange and yes, please.
Will I keep writing picture books? Yes. Work-for-hire projects? Yes, occasionally. Early readers? Oh, yeah. I'm hooked. I've already written the first 3 books in another series, which may or may not be graphic. Or even acquired. Time will tell. I'll soon be playing around with a chapter book series, too. Which may go nowhere. Don't care. I count it all as part of the growth process, whether or not it works out.
Now that all that's out of the way, I can finally share the amazing prowess of illustrator Miles Thompson. LOOK AT THESE!!! I am continually floored at the way he brings these two characters (and their colorful world) to life. The man can do ANYTHING. And he agreed to a chat. Score!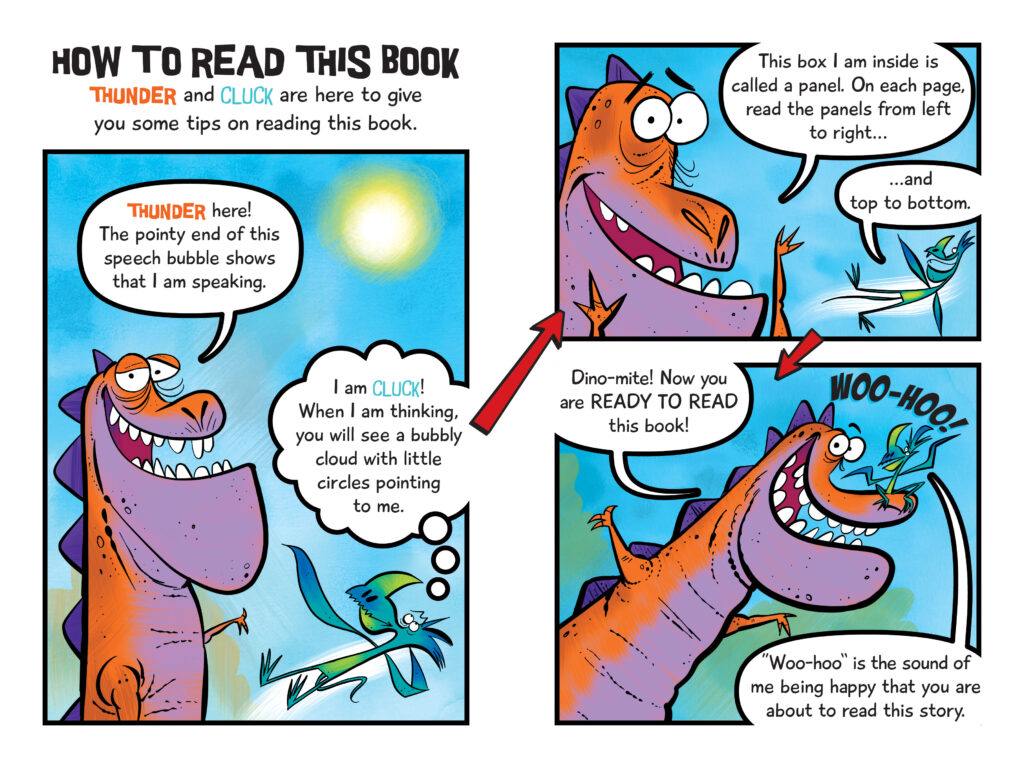 JE: Welcome, Miles! Could you tell us a bit about the process of finding the right look for the characters of Thunder & Cluck?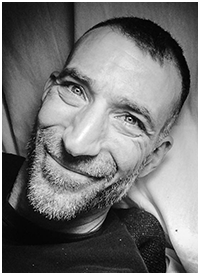 MT: To start to characterize these two primitives I went back to the most primitive means, pencil and paper. "If it ain't broke…" they say. Paper is where comics are viewed ( – were in the past) so it's only logical to start there – where it will end up, paper.
When I am asked to design a new character I start in mechanical pencil, scratching out very small doodles, I try a few things to keep it loose and fast at first. Then, I draw something I like and I know I will finish but keep scratching around on other things… I mess around – something else something else – something else I LIKE … this is the practice. THEN! YES! ink lines with a Pentel brush pen. Drawing with pencil my breathing is relaxed and my lines are light, because when I switch to black I connect my lines with my breath for focus. I reshape my brush tip, I inhale deep, I point and start to exhale slow and then do my business with lines, curves, ins and outs, textures, all requires focus, so I breathe consciously into my strokes. Breath calms the mind, you can release all anxiety of any error in line by exhaling smoothly and slowly to create a steady hand. My practice is part silly (pencil), part discipline (ink), and it's because I didn't have a choice when I grew up, thank goodness. Computers are helpful, but only so much.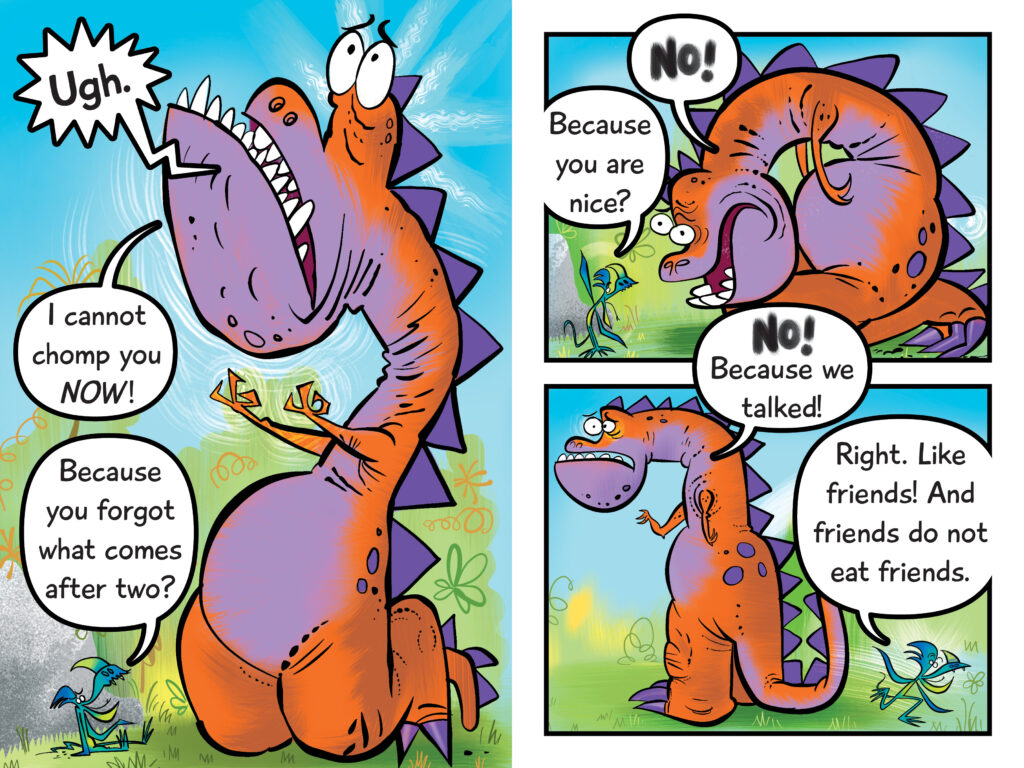 JE: Boy, do I understand the necessity (and the power) of messing around. After you get acquainted with a story, how do you begin working out the technical aspects?
MT: The best way to think big (sometimes) is to start small, to imagine you can shrink the WHOLE book into a line of boxes. Each box is important but some are special, not all boxes are that PERFECT PICTURE MOMENT. But, in fact the "common" or "average" panels introduce you to the characters' behavior, they show and tell the entire story, they highlight those WHAMMY panels so that they POP! There is a music to comedy, and comics, and tragedy, we all must listen. That's why stories are still so alive today, especially in pictures! It's all a design game, so I try to work backwards most of the time from the BIG roughs to the nuance that really kicks off the entire sequences. In short, I start it off with a few key BIG scenes for fun, and then go straight to the beginning and work straight through that line of images to the end. Creating a sense of growing urgency, or comedy, takes some going back and forth, just like rereading a sentence to make sure you GOT ALL OF IT!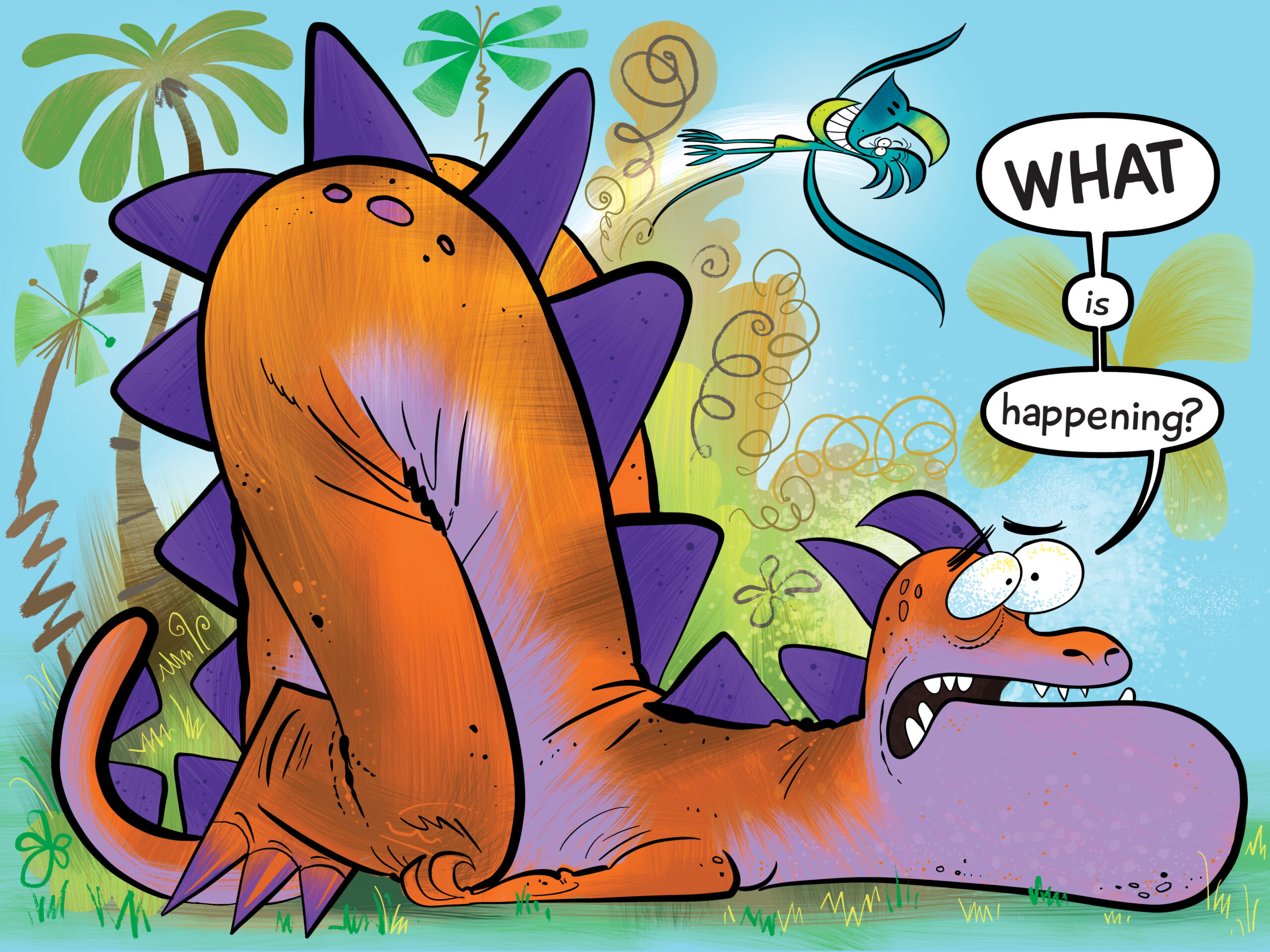 JE: Sounds like a lot of trial and error, and, like most artistic endeavors (like writing!), an enjoyable PROCESS. Were there any scenes in this first book that had you stumped? As I said above, I tell people you can do ANYTHING, because I've sent you some doozies!
MT: Thank you, I appreciate that! The way I work: I put all of it in, way too much, I put everything into the challenges especially because there is a joy in problem solving. That way whatever falls out makes room for what matters. In comics that is strictly character drawing, which is acting, it's also action, and both require space. In our first book, because I hadn't drawn them so much, they only "grew" a little as doodles. Thunder and Cluck stretched and EVOLVED in book 2 in more ways than one. Book one as a foundation was certainly a lot of scratching and experimenting with ONE GOAL: do not go too too far! THAT for ME is always a challenge, editing. Thank you for offering me such a challenge! The doozie stumper was for me in going far enough in opposite directions but still have Thunder and Cluck be a complimentary duo. They have to fit, and work naturally, I think that they do, happily and I think we do too! I don't believe there is a thing that could stump them, they'd figure it out.
JE: You nailed it, that's for sure. When I'm scrolling through one of these PDFs, taking that first look, I'm continually murmuring, "Oh, my gosh, Oh, my gosh, Oh, my gosh…"
So…if you wrote your own graphic story, Miles, what would the topic be?
MT: I can't say, we must wait and see. I am in no rush, I am actually writing a BUNCH of things now in a myriad of different settings and times, I think because I am so used to dealing with story in animated cartoons. Reading and writing is a blast! I'm the same with paintings, a million and one things waiting for a growth spurt to come to life, all promising. Haste makes waste, we have enough of that already on this beautiful planet. I've been waiting a long time to write a book and I am SO glad to be a part of Thunder and Cluck. I bet they make it to the big screen! 😉
JE: *typing w/fingers crossed* For the hundredth time, I am beyond grateful our editor tapped YOU for these books, Miles. You've made them astoundingly FUN, and I can't wait for kids to get their hands on them!
——————————–
Thunder & Cluck, Friends Do Not Eat Friends has been named a Junior Library Guild Gold Standard Selection. I hope you'll all check it out! This series is designated Level 1, but a teacher friend tells me they'd also be terrific hi-lo books. This is enormously heartening to hear, as I used to work as a substitute teacher's aide — often with middle graders who had reading difficulties. I remember how frustrated they'd get that the books they could read were too young and cutesy. Never dreamed there was a chance I'd hit their easy-but-funny sweet spot with one of my own books.
Meanwhile, you know how we love giving away books! Comment below, and you're automatically entered. Your odds are better-than-average this time, as Simon & Schuster has consented to send out THREE paperback copies to lucky winners. Yaaaayyy!!!
You can follow Miles on Instagram: @miles.thompson and on Twitter: @ThompsonMiles