I like picture books. I also like libraries. So, it stands to reason that I'd really like a picture book about a library.
And, I do like DEAR LIBRARIAN, a new book by Lydia Sigwarth and Romina Galotta from Farrar Straus Giroux. It's based on Lydia's childhood and the time period when her large family had trouble finding housing. During that time, Lydia spent hours every day in the local library where she and her family could be safe and warm and have their own space. And, the book is about Lydia's relationship with the children's librarian there who took an interest in her. That interest inspired Lydia to go on to become a children's librarian herself, bringing the circle to a delightful close.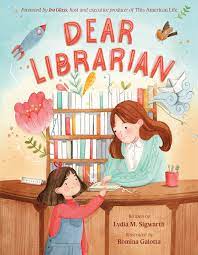 Lydia joins Picture Book Builders to talk about how her book came to be.
Congratulations on your first book! You had a slightly different path to publication than some authors. Tell us about it!
I did! After I was on "This American Life" in December 2018 my editor, Elizabeth Lee, contacted me and asked if I wanted to turn my story into a book, and of course I said yes! Everything was a little backward because I got an editor first, then a manuscript, then a contract and THEN an agent.
How hard – or easy – was it to write a picture book that was based on your life experiences? How did you decide what to include and what not to? Did you alter anything to make for a stronger story?
There were elements that were easier – I didn't have to think too much about plot or characters – but it was hard to condense a year of my life down to 800 words. A few people had to be condensed into a fictional "Cousin Alice" character, and the timeline was streamlined but, otherwise, it's pretty accurate to reality.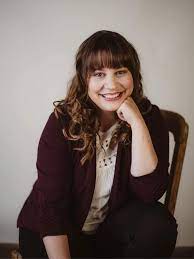 What did you learn writing this book?
As any debut author learns, publishing is slow moving! DEAR LIBRARIAN was a 2.5-year project. I was awed by how many people it takes to get a book from a Word doc to bookstore shelves. My team was fantastic, and it was such privilege to meet so many people who are so passionate and talented.
I know it's early – your book just came out June 1 – but what feedback have you heard so far?
Well, I know DEAR LIBRARIAN has made a lot of people cry! Which is a funny thing to be proud of, I guess? But, I'm honored to know it's touched people's hearts. Everyone also has been very complimentary of Romina Galotta's illustrations, which has been wonderful to see, because Romina is vastly talented. I was so lucky to be able to work with her.
Were you able to process your own book when it arrived at the library you work at? Put it on the shelf? Was that cool?
It was quite a moment when I was able to add DEAR LIBRARIAN to our library system. Inputting myself as an author was a surreal experience.
I also created a Storywalk for the book, which was a BIZARRE experience, because I had to cut up my book just after finally seeing it put together for the first time!
What are you working on now?
I've got a couple things cooking but nothing to share just yet! I've worked with children my entire life, so I've been storing up stories for years. Coming from a big family means lots of family lore to pull from, as well. I love books that make for fun story time read-alouds, so I've got a few of those in the works, too!
And, this is not a book-specific question, but how did the pandemic impact your library? How are you recovering, and what do you want to tell library patrons in general?
We were at partial services from March 2020 until May 2021. But now, thanks to the magic of science, we're back to full staffing and services! It was a rough year, and I missed my library kids SO much. We're easing back into story times and programs and trying to figure out the "new normal," so please be patient with us and know we're trying our best.
Thank you, Lydia!
I hope all you Picture Book Builders' readers get the chance to check out this book.
Tell us your favorite library or librarian memories in the comments.
And on an unrelated note:
My next book, BE STRONG, comes out Aug. 10. If you pre-order the book before then, you'll get stickers and a signed bookplate. You'll also have the chance to win one of three prizes — a picture book manuscript critique, be strong socks or a set of 24 inspirational stickers. Want to enter? Just send proof of purchase to bestrongbook@gmail.com. If you order from indie bookstore Mystery to Me, you don't have to send proof of purchase — you'll be automatically entered. You can email the store at info@mysterytomebooks.com or call 608-283-9332.