When I was in grade school, I hated rope-climbing day in gym class. I was skinny and gawky and uncoordinated, so I'd hang desperately two feet off the ground while my more athletic classmates reached the ceiling with ease.
I didn't think I was strong.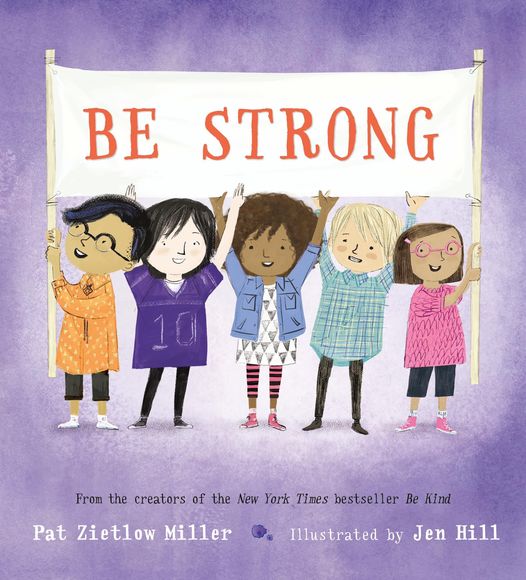 In Jen Hill's and my latest book, BE STRONG — which releases Aug. 10 from Roaring Brook Press — Tanisha is a lot like that younger me. She's stuck at the bottom of the climbing wall in her school gym, and she feels like a failure.
But, after that frustrating day, Tanisha watches the people around her and notices the different ways they are strong – ways that have nothing to do with physical strength. Slowly, she realizes she is stronger than thinks because she knows how to:
Show up.
Speak up.
And never-ever give up.
In some ways, Tanisha is stronger that that younger me. It took me longer to find my inner strengths, appreciate them and share them with the world.
If you've read my 2018 book BE KIND, you know that, in it, Tanisha has a bummer of a day.
She spills grape juice. All over her new dress. And, she doesn't handle that particularly well.
So, when I wrote BE STRONG, I knew one thing. I wanted Tanisha to have a chance to shine. A chance to show herself – and everyone else – how strong she really is.
Because lots of people – whether they're kids or grown-ups – don't know their own strength. They don't recognize the strong things they already do. Or the strong things they could do with a little more confidence.
With the pandemic and political divisiveness that have dominated the past year, this is a great time to remind people – Hey! Look at that! – of everything they've done to keep themselves, their families and their communities afloat.
Even when their efforts haven't been perfect, people have shown up, spoken up and – most importantly – never-ever given up.
That means they are strong. Even if they never made it to the top of the rope in gym class.
BE STRONG has received a starred review from Kirkus, which called it "smart and warm."
I hope you and readers you know enjoy meeting Tanisha and cheering her on as she finds the strength that was in her all along.
And inspires us to do the same.
*** Would you like a signed copy? ***
You can order autographed copies of BE STRONG and BE KIND from Mystery to Me Bookstore in Madison, Wisconsin. Not only will I sign the book, I'll even send you a sticker to go with it.
Just visit the Mystery to Me website and scroll down the the Pre-Order Now section on the home page. You also could call (608-283-9332) or email ([email protected]) the store to place your order.
Once you place your order, Mystery to Me will let me know. I'll stop by to sign the book and they will ship it to you. It's easy!
*** Would you like to attend a free virtual event? ***
At 7 p.m., Central time, on Aug. 10, Connie Hsu and I will chat with Charlotte Martin from Mystery to Me Independent Bookstore about how BE STRONG (and BE KIND) came to be. Connie is the Editorial Director at Roaring Brook Press. We'll talk about how an editor and author work together to make the best book possible. We'll also read the book and answer questions.