Adorable best friends, bubbles, and cake – count me in! Vikram Madan is here to tell us all about the creation of BOBO and PUP-PUP. The title alone made me want to know what's happening.
With fun stories that celebrate friendship, this new graphic novel series will make kids laugh out loud. I admire the charming dialogue and funny interactions between the characters. Nicola Slater created the bright, high-energy illustrations.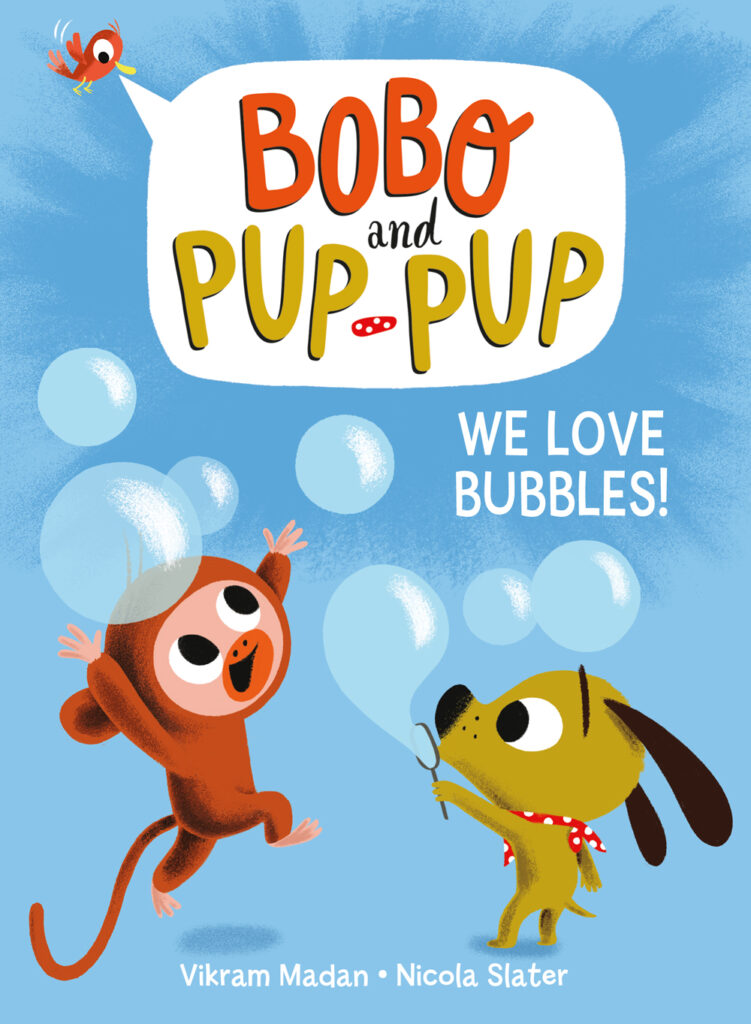 Now let's hear from Vikram!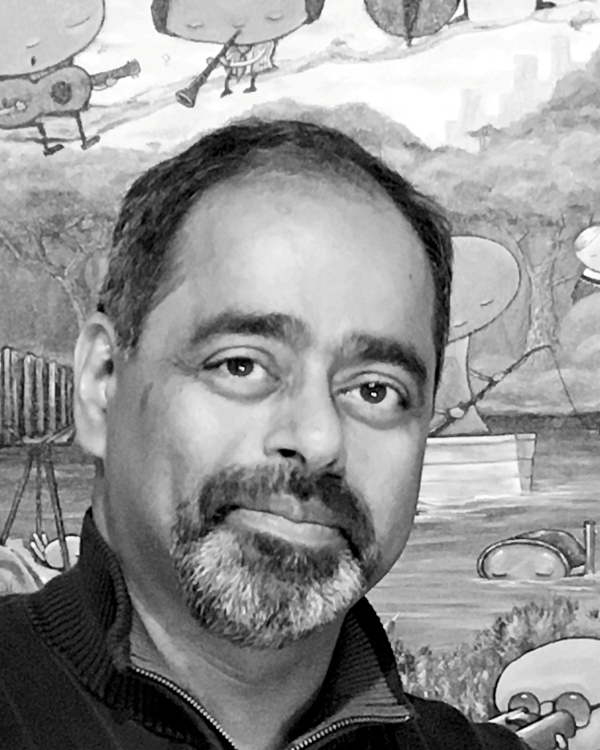 What was your main inspiration for creating BOBO AND PUP-PUP (BB&PP)?
BOBO AND PUP-PUP emerged from the convergence of several disparate threads.
Bobo (the Monkey) first came to life as a doodle in my sketchbook back when I was a teen. I thought my sketch was cute, and I clung to the idea of using the character in a creation someday. Over the years, I jotted down possible book titles for Bobo such as BOBO SAVES THE WORLD and BRAINY-BOBO AND SUPER-PUP – but I never got around to writing anything more than a title.
A few years ago, I was developing an early reader series with two gentle, best-friend characters (somewhat like FROG & TOAD). One of the stories involved making a birthday cake without enough ingredients. Editors, however, found the series a little 'too gentle' (i.e. 'boring and unexciting') – so I shelved that project.
My agent, Rosemary Stimola at Stimola Literary Studio, suggested that, for early readers, I should look beyond FROG & TOAD to books like ELEPHANT & PIGGIE. The idea struck me that the cake story might work well in a less wordy, more graphic format. Could this be the right story for my BOBO character? And SUPER-PUP? Except, I changed SUPER-PUP to PUP-PUP, and that sounded just right! 
I love the way it sounds! I also love how you didn't give up. You revitalized your idea and created a new vision for it.
Then it was a matter of fleshing out their personalities and letting them loose on the scenarios – make a cake*, blow bubbles*, etc. – to see what happens.
Ironically, my agent thought my teenaged-rendering of BOBO was 'not very appealing' so I had to redraw BOBO before we circulated the project. In the end, I ended up not illustrating the books myself – which worked out well because the illustrator, Nicola Slater, has done a fabulous job with the art.
* I got the idea for LET'S MAKE CAKE when I read the recipe for 'Pound Cake': 1lb Flour, 1lb Eggs, 1lb Butter, 1lb Sugar. That seemed really simple, but it made me wonder what would go wrong if you didn't have some – or all – of the ingredients?
* The idea for WE LOVE BUBBLES came from a summer afternoon with my kids when they were 3 and 5 years old and we did nothing but blow bubbles and pop bubbles…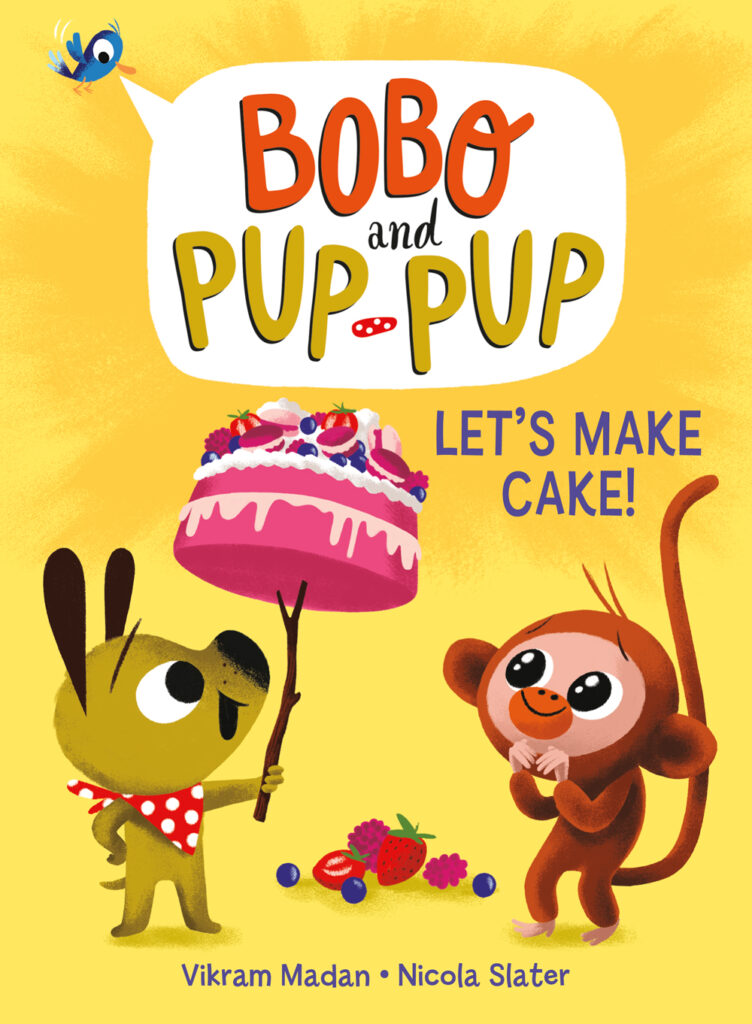 Tell us about your writing process.
I usually start with a raw idea – just a couple of bullet points or possibilities. I then mull it over in my head for quite some time to see if I uncover a story arc, after which I start jotting the story down on my computer. Sometimes I know how the story will end and can work towards the ending. Other times I have to follow the characters and hope, fingers-crossed, they will lead me to some satisfactory conclusion. When I finally think I have a full story, I start sketching a dummy, which really helps me tighten the dialogue and figure out the action, pacing, and humor – and ensure the story will fit the desired page count. The dummy will then invariably force a re-write of the text, for the better.
I didn't have a critique group back when I wrote the BB&PP books so I had to lean on my agent for feedback. Once the books were acquired, I worked with my editor, Heidi Kilgras at Penguin Random House, to fine-tune the text – such as adding evenly-spaced chapter breaks and ironing out the kinks.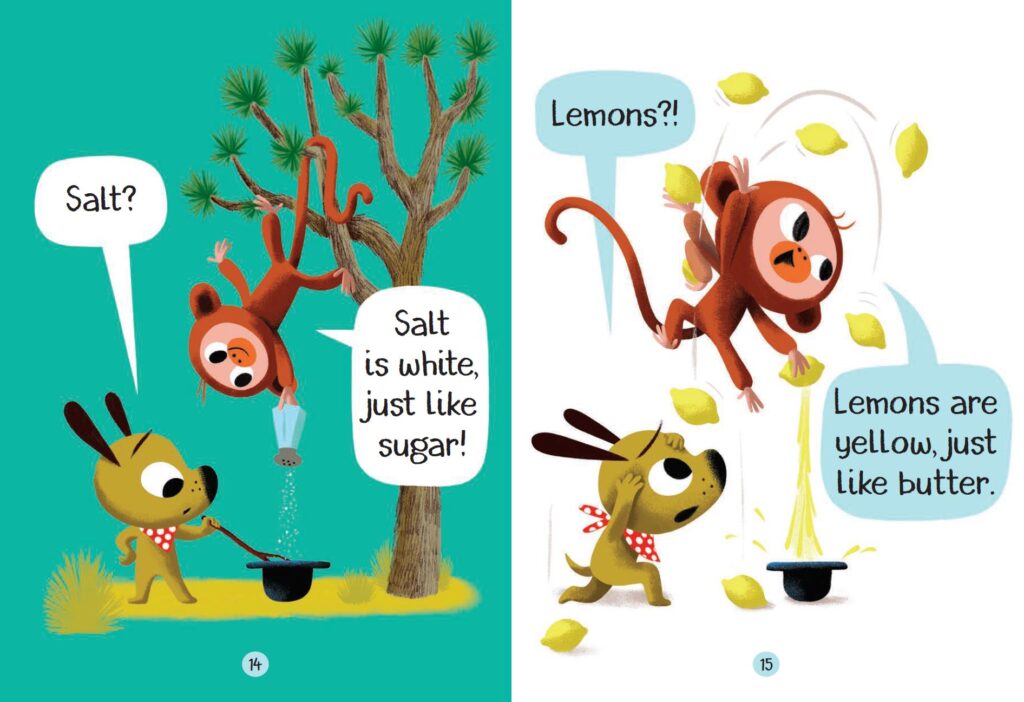 What was it like working with your publishing team?
It's always exciting to work with an editor who loves the manuscript. I view editors (and their teams) as professionals in the business of producing the best possible books. As a result, I am always happy to incorporate their feedback and defer to their business decisions.
For example, I was initially bummed when the publisher wanted someone else to illustrate the books, but in retrospect that was an excellent decision. Nicola has made the books very, very appealing for their intended audience.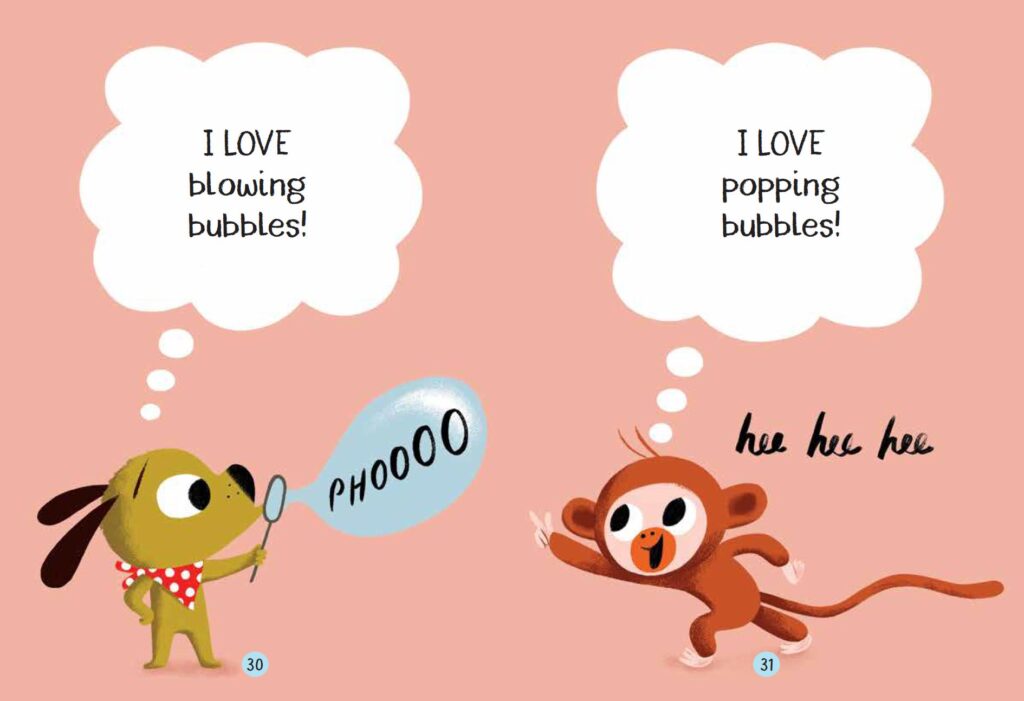 What are your top 3 tips for creating children's books?
* Write for yourself first! If you don't love what you are writing, chances are other people – including kids – probably won't either.
* As a kid I loved books I could grow into and re-read so I think it's okay for a book to be just a little advanced for the targeted age. Better kids grow into a book than outgrow it quickly!
* Leonardo Da Vinci once wrote in his journals that (paraphrasing): "It's a good sign if the work you're producing disappoints you – that just means you are aspiring to better yourself, and are going to keep growing as a creator. Whereas if you become very satisfied with what you produce, that's likely a sign of stagnation and lack of future growth." I think this is a great rule-of-thumb for any creative person to keep in mind anytime we get frustrated when what we produce doesn't match what we imagined we could produce! The journey is the adventure, and every step is taking us forward (even if it sometimes doesn't feel that way).
What's new and exciting?
* For those who enjoy BOBO & PUP-PUP, there are two more books planned in the series. Book #3 is slated for Fall '22 and Book #4 for Spring '23.
* I am writing and illustrating a beginning-reader graphic-novel series, OWL & PENGUIN, coming out in Summer '22 from Holiday House Books for Children. This one is about two bird friends and very, very different from BB&PP.
This all sounds so amazing – I can't wait to read your forthcoming books! Congratulations!
Visit Vikram's website and Twitter page.
Visit Nicola's website and Twitter page.
***GIVEAWAY***
For a chance to win a copy of BOBO and PUP-PUP, leave a comment by November 12. I'll announce the randomly selected winner in my next post.
Congratulations to Patricia Franz for winning a copy of MEDITATION STATION from my last post.
Thanks for reading and see you next time!
-Michelle