I am thrilled that author Meeg Pincus is here to fill us in on the making of COUGAR CROSSING: How Hollywood's Celebrity Cougar Helped Build a Bridge for City Wildlife.
With mesmerizing illustrations by Alexander Vidal, this inspiring picture book features the cougar that crossed 16 lanes of traffic to make his home in L.A.'s Griffith Park, which overlooks the Hollywood sign. I love how scientists and residents joined forces and raised money to build a wildlife bridge across Highway 101 to help cougars and other wildlife.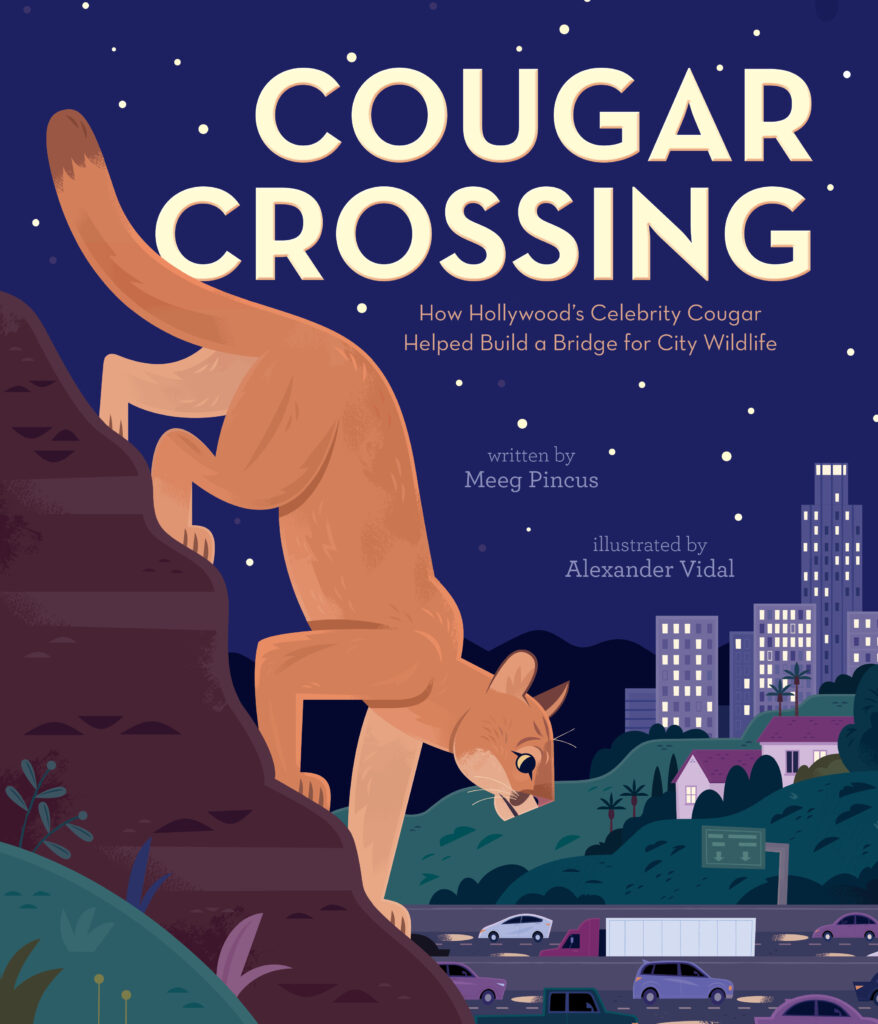 Let's hear from Meeg!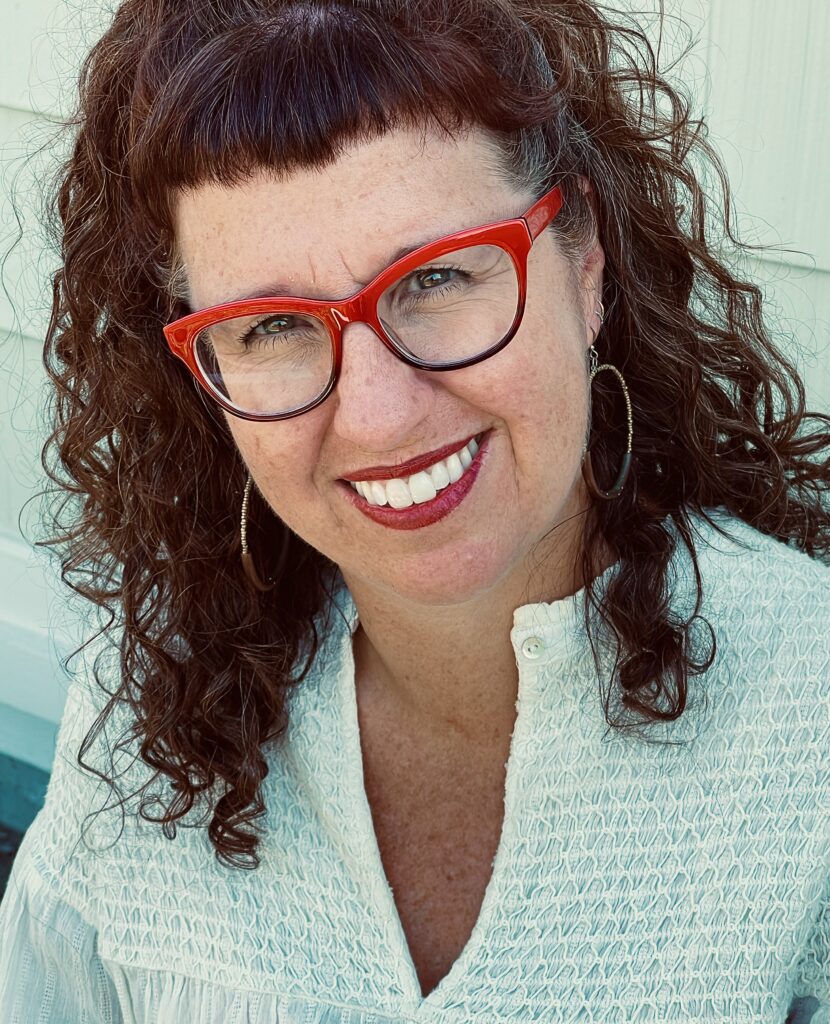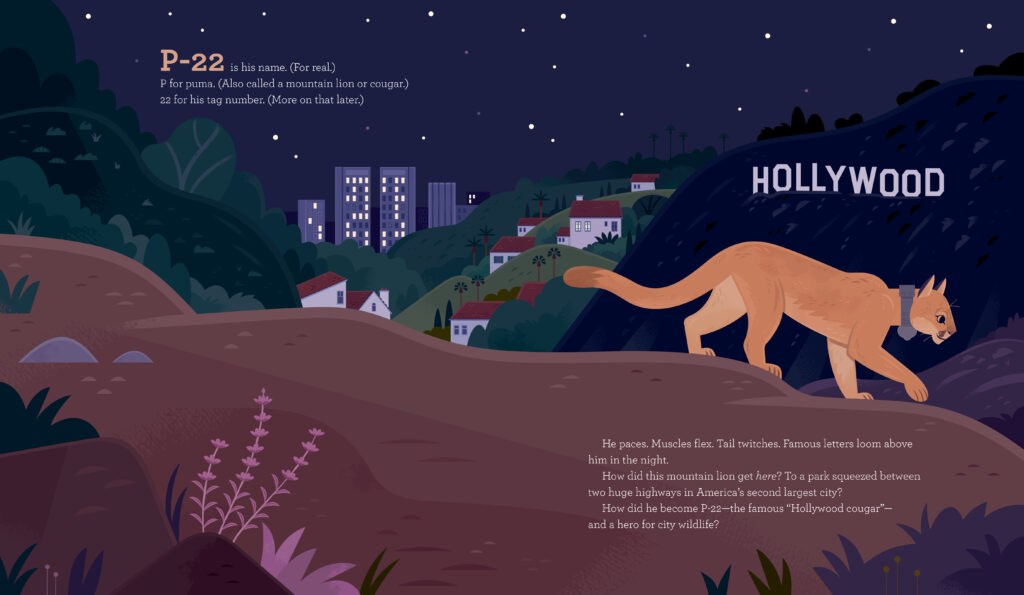 Tell us about your writing process.
Some of my books look very much like my original draft, when I was able to just see a story's tone/thread/structure and it flowed out of me. COUGAR CROSSING was not one of those books!
While I did have the tone of the writing from the start, I tried the structure and story many different ways, and honestly, I couldn't get it to totally work. I finally realized I was trying to tell two stories in one—(1) the story of this single cougar, whose amazing survival and tragic circumstances became the symbol for the wildlife crossing movement, and (2) the story of all the people working to get this crossing built (particularly the wildlife scientists I had interviewed, who were at the forefront of saving the cougars and getting the crossing).
Luckily, I try to read every nonfiction picture book I can get my hands on, so a mentor text came to me that told a similarly complex story very effectively: Melissa Stewart's NO MONKEYS, NO CHOCOLATE. In that book, she has a main narrative thread and then two little "bookworms" who add additional context, commenting like a peanut gallery in the bottom corners of pages. Reading it gave me a lightbulb moment: I could tell the cougar's story as the main narrative, and the people's/crossing's story by having the real scientists provide a running commentary at the bottom corners of pages (actual people instead of imaginary bookworms, but same structural idea—thank you for the inspiration, Melissa!)!
It took many more drafts to make that work, but I'm really happy with how it turned out—and most happy that the scientists liked the portrayals of themselves in the book!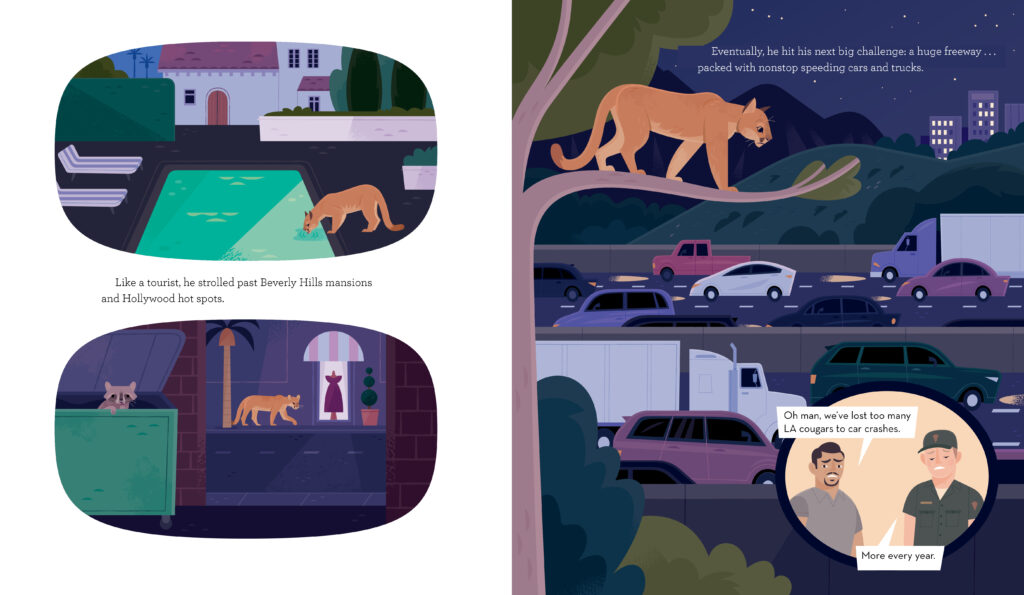 What was it like working with your publishing team?
I just loved working with the small, mighty team at Beach Lane Books/Simon & Schuster. The imprint is based in coastal Southern California, where I; the book's editor, Andrea Welch; the imprint's publisher who acquired the book, Allyn Johnston; and the art director, Lauren Rille, all live—so we all felt a real personal connection to this story, which touched the whole process. When Andrea found the wonderful illustrator Alexander Vidal, who lives right near Griffith Park where our celebrity cougar lives and who'd worked in the park as a wildlife educator, it was just a perfect fit and an all-around great team.
Andrea, as the editor of this nonfiction PB, was also very supportive of my bringing into the process the three wildlife experts I'd interviewed who were so personally invested in the story (wildlife biologists Miguel Ordeñana and Jeff Sikich and National Wildlife Federation California Regional Director, Beth Pratt). This also became probably the biggest challenge in the process, as each expert knows so much and has their own specific area of expertise, so they had feedback on every detail of the text and illustrations. We so appreciated and celebrated this feedback, knowing it would make the book better. It just wasn't an easy task to figure out how to incorporate it all (especially when their thoughts on certain details differed slightly!).
I ended up spending days creating a big table where I pasted the three experts' comments for every spread of the book's 40 pages, alongside my thoughts on how and whether we might tweak the text or illustrations based on them. That worked really well, so our creative team could all see the big picture, and we were able to honor and balance both the factual accuracy and our desire to make a kid-friendly PB. I'm grateful that Andrea and Lauren both, as editor and art director, were so open and flexible with this part of the process!
What are your top 3 tips for creating picture books? 
-Remember that when your manuscript is acquired, it's not final—it's the beginning of a collaborative team process to turn your story into an illustrated book. Being open to the natural changes that occur in this process, and knowing that the team is what brings the story to life, makes it a joyful adventure!
-Keep your kid readers in mind at all times through the process. It can be tempting to get sucked into grownup perspectives as you make a picture book within the publishing business (and sometimes you have to!), but in the end always come back to how kids will see it and feel when it's read to them.
-For nonfiction picture books, remember that you will return to your research again and again—and sometimes need to do more as you go—to make the book as accurate as possible. So, keep track of all your research. Facts can inadvertently get tweaked in the creative process (which usually takes two to three years, meaning time to forget those facts, too!), so it's important to keep re-checking your sources all the way through the process.
What's new and exciting?
I'm grateful to be able to do virtual events and school visits with my current nonfiction picture books (COUGAR CROSSING, WINGED WONDERS, OCEAN SOUP, and MIEP AND THE MOST FAMOUS DIARY) during these pandemic times.
And I have three more in the works: In 2022, there's MAKE WAY FOR ANIMALS: A World of Wildlife Crossings, illustrated by Bao Luu (Lerner/Millbrook) and SO MUCH MORE TO HELEN!: The Passions and Pursuits of Helen Keller, illustrated by Caroline Bonne-Müller (Sleeping Bear Press). In 2023, there's DOOR BY DOOR: How Sarah McBride Became America's First Openly Transgender Senator, illustrated by Meridth McKean Gimbel (Knopf/Penguin Random House). All these stories are close to my heart and have amazing editorial teams as well!
I'm also happy to get to teach nonfiction picture book writers in online workshops, so far for The Writing Barn and SCBWI, which I really enjoy. And I offer individual critiques/editing of nonfiction picture books, drawing on my writing experience and years as an in-house associate editor at an educational publisher and freelance nonfiction book editor.
Check out my website www.MeegPincus.com for more info on all of this and to sign up for my author newsletter.
Wow! You are busy — and amazing! Congrats on all your wonderful books, and thanks for stopping by PBB!
Thank you so much for having me!
***GIVEAWAY***
For a chance to win a copy of COUGAR CROSSING, leave a comment by December 10. I'll announce the randomly selected winner in my next post.
Congratulations to Vijaya Bodach for winning a copy of BOBO and PUP-PUP from my last post.
Thanks for reading and see you next time!
-Michelle