Hello, friends! Jill Esbaum here. We were terribly sorry to lose from the blog our friend Michelle Meadows. Michelle's voice was always one of positivity and light, her insights (and tips!) smart and spot-on. While I'm sad she left us, I'm happy her career is going so well. She also gave me plenty of notice, thoughtful person that she is, so my search for the next Picture Book Builder began months ago. Eventually, after considering many equally wonderful folks, I wondered: What if we did something different and brought in a talented and dedicated, "in-the-trenches" picture book writer? I know many of our subscribers are pre-published, so I thought it might be fun to pull one of you aboard to capture that viewpoint.
Enter Sara Ackerman. Sara was a #PBChat mentee of mine a couple of years ago, and her writing was so strong, so polished, it gave me goosebumps. It's rare that I read one manuscript and say, "Oh, wow. She's going to make it." But that's what happened. Plus, every email she sends me makes me laugh out loud. (No pressure, Sara.) I wasn't at all surprised when she signed with a top agent. I asked her to join us here on PBB, and, like, a week later, she sold a manuscript less than an hour after it was submitted. And then she sold a second (to a different editor).
Whoa.
Technically, she's still pre-published, but she's definitely on her way. Sara, before your first post, could you tell us a bit about yourself?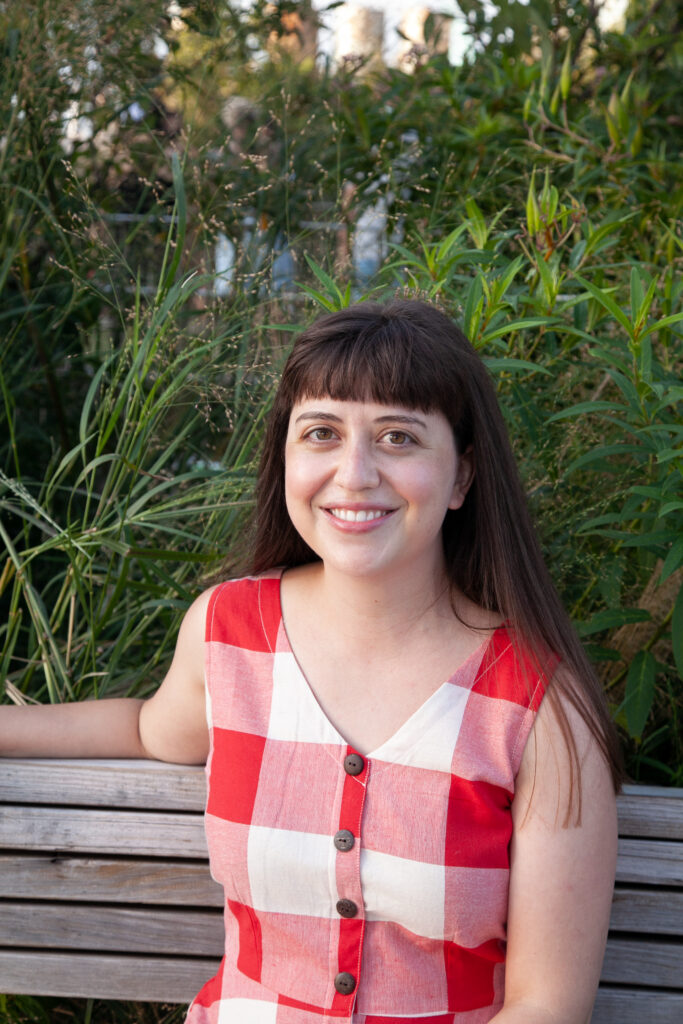 Thanks for the warm welcome, Jill!
I live in Brooklyn, NY but my picture book writing journey started in Ethiopia where I lived for several years. I took a few online classes and joined SCBWI and the 12×12 challenge. Things really took off when Jill selected me as one of her 2019 #PBChat mentees, and she continues to be a mentor to me. Before I tried my hand at writing picture books, a large part of my job was reading them. No, I don't have a background in publishing, but I do teach kindergarten.
Classroom read alouds in a pandemic begin with me fiddling with a voice amplifier. The setting between inaudible and earsplitting is elusive. I project the book on an interactive whiteboard so my socially distanced kindergartners can see. The glare on the screen prompts half the children to move. Then I change into a clear mask so my mouth and facial expressions are visible. It immediately fogs up, obscuring my face.
By now, the children who haven't yet moved want to move, and the children who already moved want a snack. I open the book while they all look at me like, this better be good.
And this is.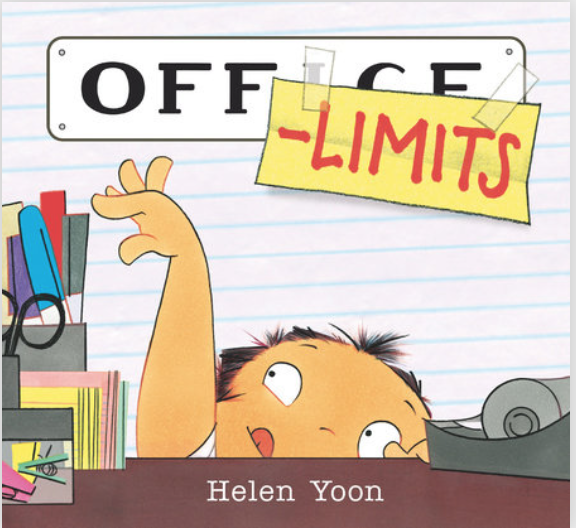 From the moment the unnamed protagonist in Helen Yoon's OFF-LIMITS peeks into her dad's gray-toned office, my kindergartners know exactly what she is about to do. Or at least they know she's about to do something she's not supposed to.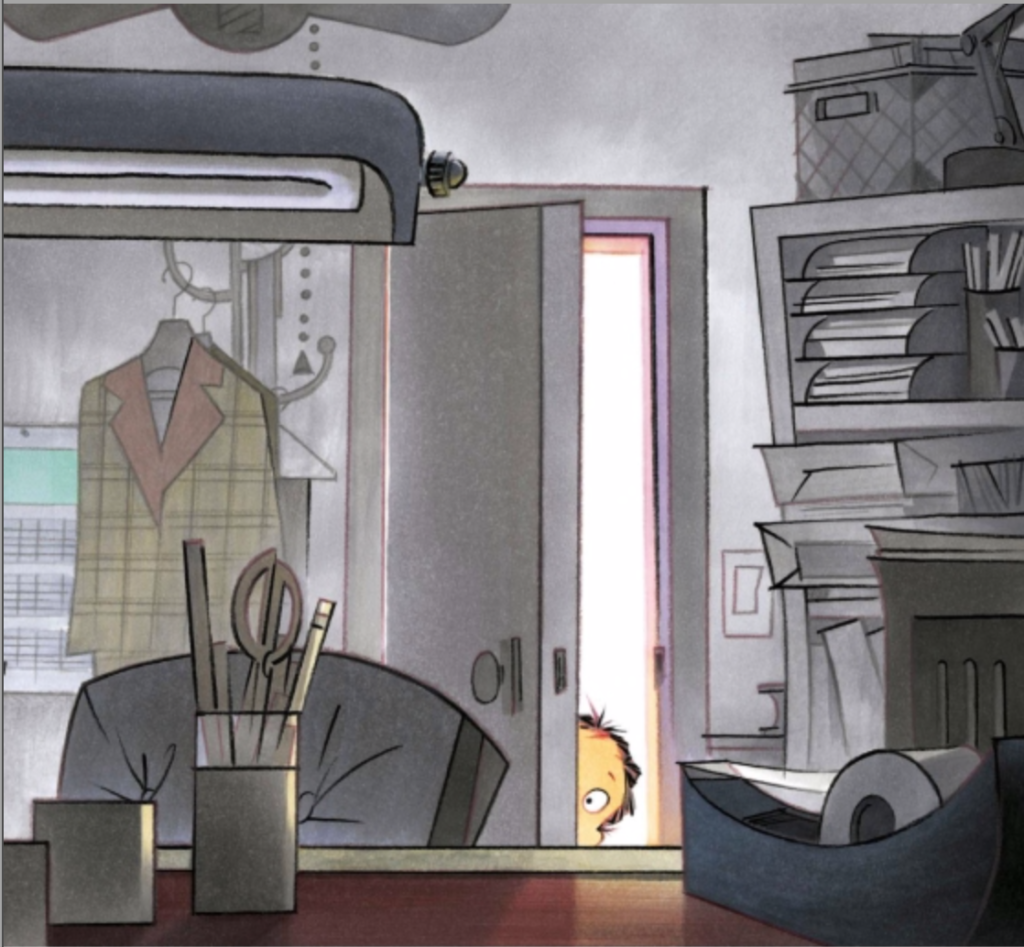 But this predictability builds rather than dampens their anticipation. When she steps inside, the office lights up with color, and she announces, "I'm just looking." Of course kindergartners know she is absolutely NOT "just looking."
Indeed, looking leads to pilfering "one little teeny-tiny piece of tape." And then things escalate. Soon the lamp and the girl are covered with tape, and binder clips and paper clips join accordion-style sticky notes in a kaleidoscope of chaos. The girl begins to sing, which means I begin to sing, which means the children giggle until their masks shake and they are rolling off their socially distanced floor spots.
Once the office is entirely bedecked in colorful sticky notes, legal pad stars, paperclip chains, and paper dolls, the protagonist tiptoes to her room, dreading the consequences of her office supply free-for-all.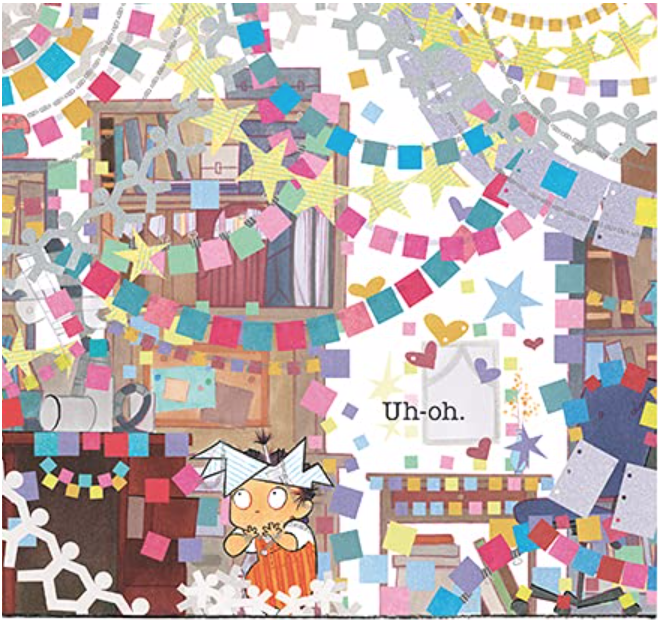 The children hold absolutely still as I turn the page very, very slooooowly.
Their gasps turn into shrieks of laughter (or just shrieks) when we catch the girl's dad creating mischief of his own.
Yoon's first-person text is a spare and hilarious celebration of low-level mischief. It encapsulates the joy kids get from messing with harmless but forbidden grown-up stuff.
Her illustrations are bright and whimsical. Humorous details fill the pages from the tape stuck to the protagonist's eyebrows, to the trail of office supplies she leaves in her wake as she creeps away, to the family dog's guilty expression in the final spread.
But what my students love most about this book is the utter relatability. Many of them have seen their parents work from home during the pandemic, sometimes while they were home themselves learning remotely. And when kids are stuck at home, they make their own fun—fun that occasionally involves a thousand binder clips. Pandemic aside, what child doesn't have a story about touching some irresistible, "off-limits" object at home?
After their laughter dies down, my kindergartners want to hear OFF-LIMITS again. But not before a snack.