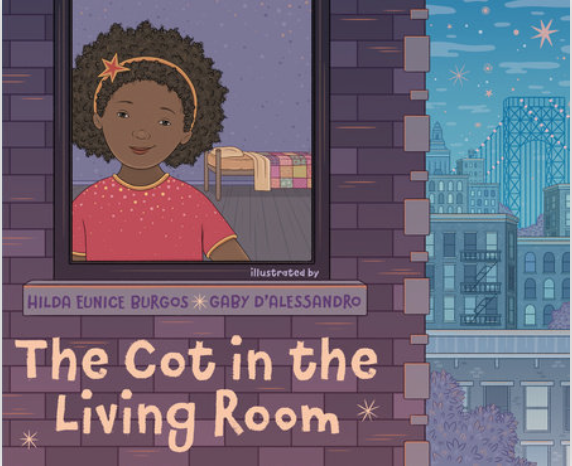 I love the way bedtime books make the florescent lights and hard linoleum of the classroom feel a little softer and cozier. The children lean closer, their fidgeting slows, and we wrap ourselves in the warm hug of a beautiful book. Of course, THE COT IN THE LIVING ROOM, written by Hilda Eunice Burgos and illustrated by Gaby D'Alessandro, is much more than a going to bed story. It's a story of family and community, jealousy and empathy.
Night after night, a girl watches her family welcome different children in their Dominican American neighborhood to sleep over while their parents work overnight shifts. She can't help but feel it's unfair that they get the cot in the living room, not to mention Papi's dominoes, and even her own stuffed cat. When Mami finally lets her have her own sleepover in the living room on one guestless night, the protagonist puts herself in the visitors' shoes (and cot) and has a shift in perspective.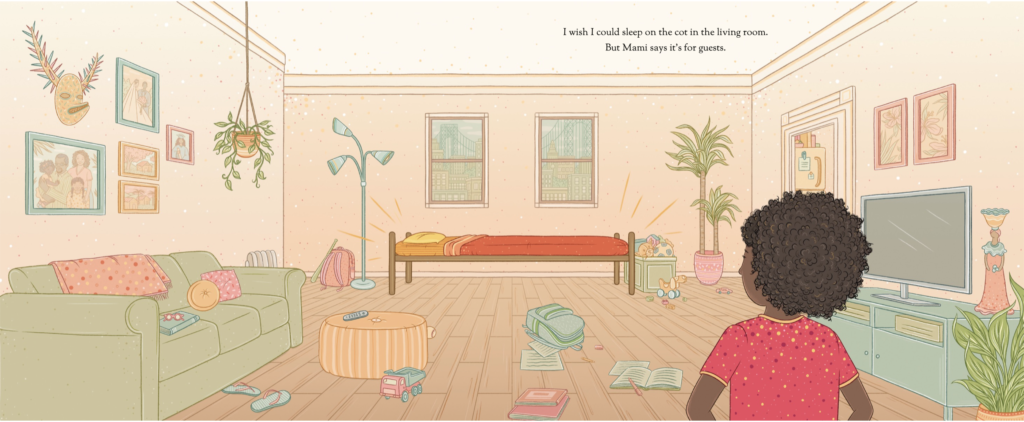 I'm super excited that Hilda Eunice Burgos is here to talk about this special book with us today!
SA: Can you share what sparked the idea for THE COT IN THE LIVING ROOM?
HEB: When I was a child, I had a stay-at-home mom who babysat a lot of neighborhood kids. Mostly the children came during the day, but a few had to stay overnight because of their parents' work schedules. My mother felt strongly that any child who was in her home must feel welcome and loved, and she treated every one of them as if they were her own. When I was very young, I resented these kids encroaching on my family's space and time together. As I got a little older, I realized how lucky I was and how difficult it must be for these children to spend the night alone in a stranger's home. I wrote this book because I wanted to share those feelings.
SA: When I read this book to my kindergarten students, their conversation largely revolved around fairness and how and why the protagonist's view of fairness changes. Why did you choose to focus on fairness as a theme and why do you think young readers are so attuned to this idea?
HEB: Sometimes it's difficult to look outside of ourselves and see things from the point of view of other people. We're often so focused on what we want and what we think we deserve that we don't stop to appreciate what we have and to wonder how another person might feel. I know I struggled with that when I saw my mother giving her attention to the children she babysat. The main character in my book learns not only that the children who come over are not the lucky ones, but also that there is something she can do to help them feel better. I'd like young readers to know that they have the power to make the world a better place, one person at a time, if they open their minds and their hearts to the plight of others.
SA: The COT IN THE LIVING ROOM is told in first person, as are both of your middle grade novels. How do you decide what narrative voice to use in your writing, and why do you think first person narration works particularly well in this story?
HEB: I wrote THE COT IN THE LIVING ROOM in first person because the main character shares some of my own childhood feelings. My first middle grade novel was also based on some of my childhood experiences. I feel that I connect more with my characters when I step into their shoes and tell the story through their eyes. That's probably why, as a reader, I love books with first person narrators. Those books draw me in so that I feel close to the characters and I'm able to be part of the story. I want my readers to feel that way too.

SA: What do you hope readers take away from this story?
HEB: First and foremost, I hope readers enjoy the story and want to read it again and again. For readers who share some things in common with the characters—whether their families work at night, or they live in an apartment in New York City, or their parents are from the Dominican Republic, etc.—I hope those readers delight in seeing a bit of themselves and their lives in the pages of this book. And for readers who don't have anything in common with the characters, I hope they learn about new and different people, and that they are inspired to ask questions and be curious about the varied people and experiences in our world.

SA: What's next for you as an author?
HEB: I have a short story that will be in a middle grade anthology next year, and I'm working on some other projects that are still in a very early phase.
SA: Thank you so much, Hilda, for being here on Picture Book Builders today and I hope THE COT IN THE LIVING ROOM continues to make its way onto bookshelves and into readers' hands. 
HEB: Thank you so much for having me! It's been wonderful to talk to you.