I am THRILLED this month to welcome Liz Goulet Dubois. Early in my picture book writing career, I faked my way into an amazing critique group that included Liz and six other talented picture book authors and illustrators. We called the group "Seven Chicks and a Guy." As the least experienced member, seriously, I kept worrying they'd all discover I'd been sent a mistaken invitation to the picture book ball. It feels like a creative circle-of-life that 20-ish years later, Liz is now the author and illustrator of a hilarious new series featuring chicks and ducks. (Specifically, "Duck and Cluck.") First in the series, THAT EGG IS MINE! was published by Sourcebooks a few weeks ago. Kirkus declares the book a "welcome addition to the early reader landscape that tickles the funny bone."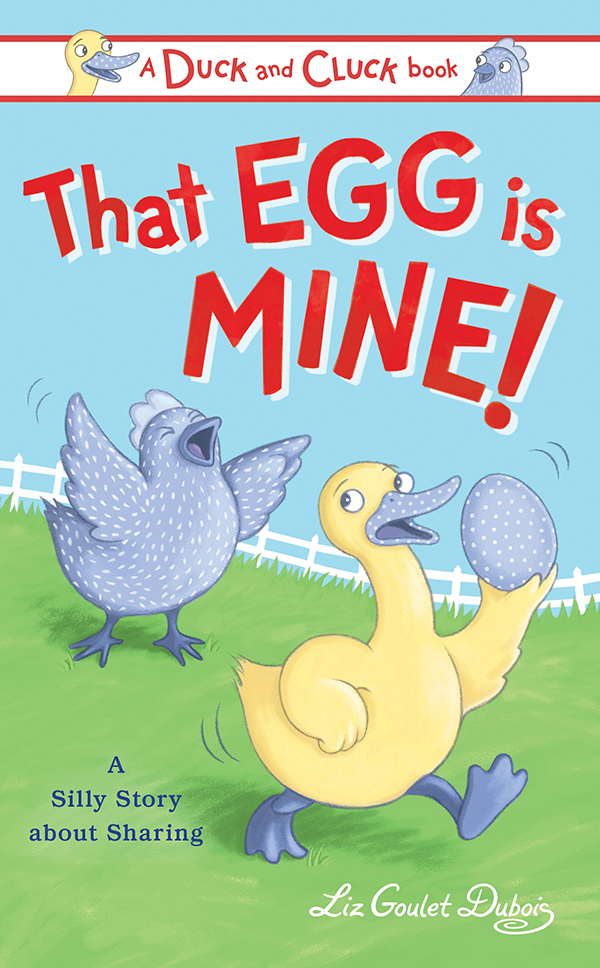 I'm fascinated by the early reader art form, especially this book, since Liz tells me it started out as a picture book. So Liz, can you tell us how it evolved to an early reader? And what things you had to do differently to make it work in the new format?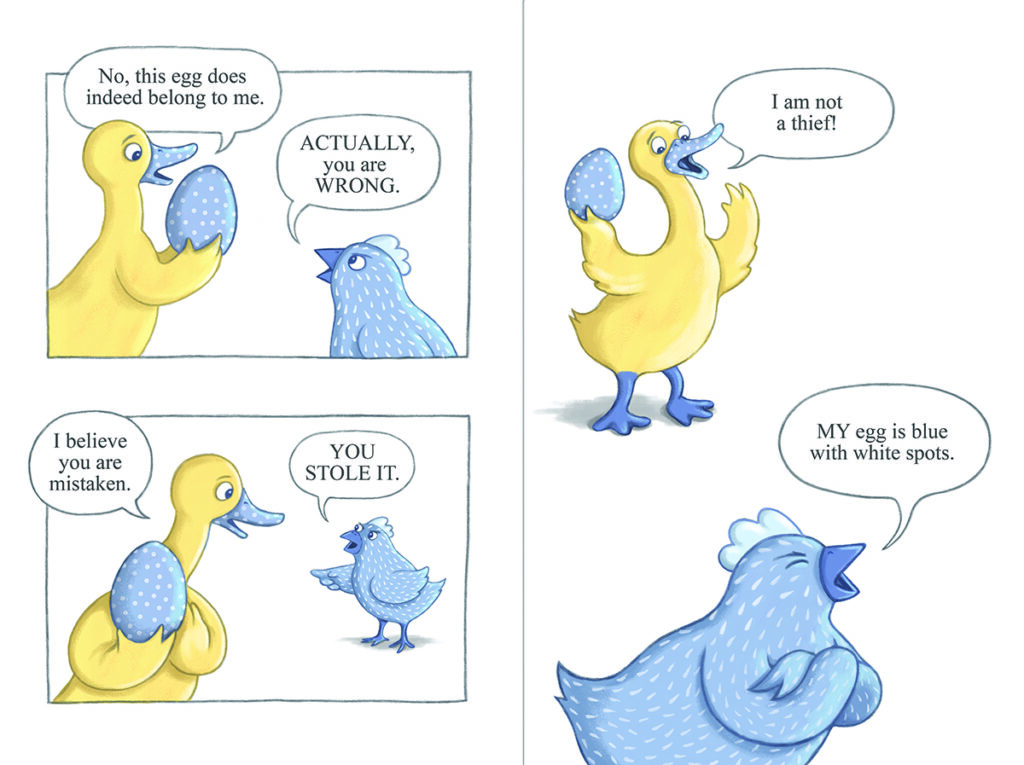 LIZ: Right! It started out as a 32-page picture book, but always had an element of "comic book" styling, like most of my work does. Which means, it had sequential panels and speech bubbles. Duck and Cluck definitely started off mouthier, too, so the quantity of their dialogue had to be reduced a fair amount. We also eliminated any words that were contractions. We added a few more pages, too. The size needed to be changed, from 8" x10" to a 6" x 9" format. Converting the art to fit that took the most time. At least all of these things were established in Book #1, so I approached the finals of Book #2 with all of these elements in hand.
KIM: I love the color scheme of this book. The blue and yellow are very distinctive. They make it easy for readers to tell the two characters apart, even if they weren't shaped differently. Does color play a role your development of character?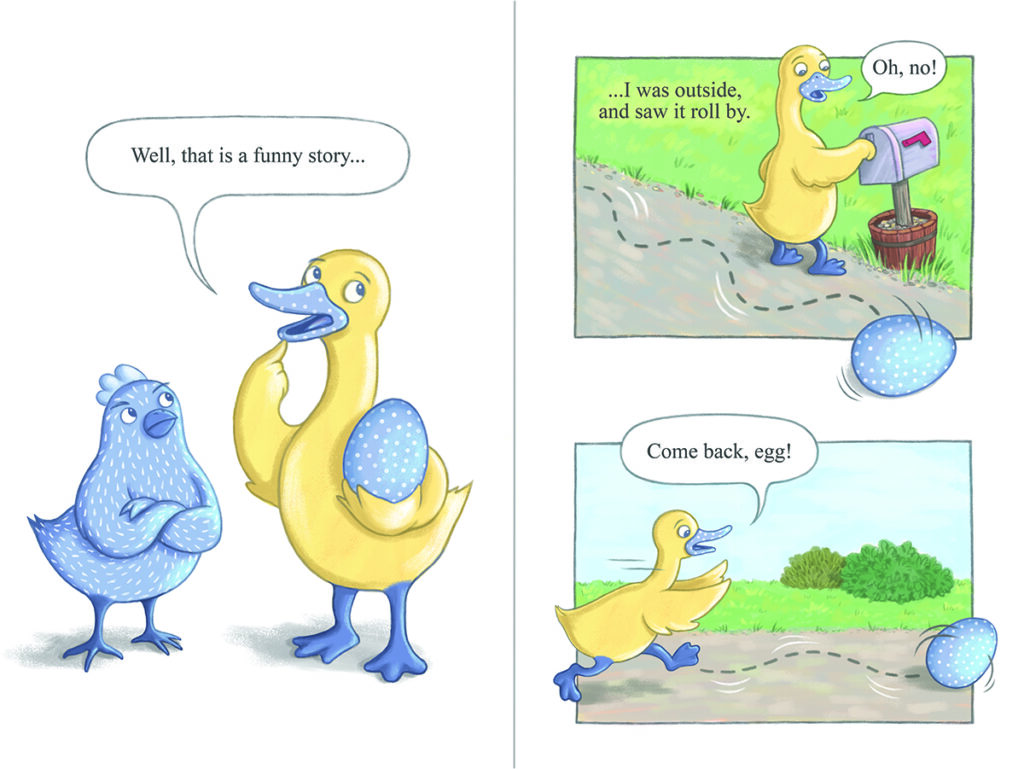 LIZ: Almost all of my art starts off in pencil, with no color, so I'd say it's usually secondary. I will then approach the color as monotone, or a limited palette, or full color, depending on my mood du jour. In the initial quick sketch that started this story, Duck started off white and blue, and looked more like a goose. Cluck was always periwinkle blue with white flecks. Now that you mention it, Kim, I realize that I am absolutely drawn to the periwinkle blue and butter yellow colors – I painted half the furniture in my house in these tones!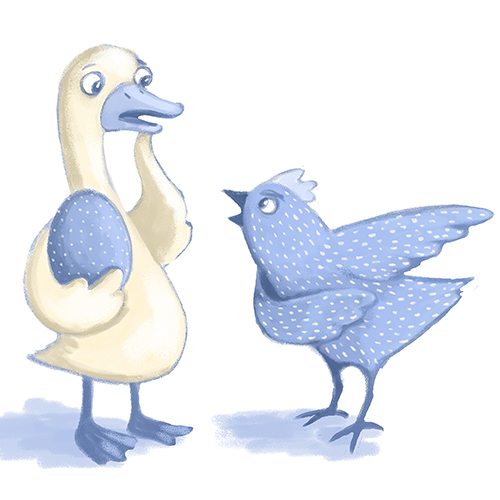 KIM: Hi five! Same here with the cover palette of my ONE-OSAURUS, TWO-OSAURUS, which matches all the colors in my kitchen! Although that's just happy accident since I can take credit for neither Pierre Collet–Derby's palette, nor the book designer's marvelous decisions. I remember the imaginatively decorative bunnies you produced for WHAT KIND OF RABBIT ARE YOU, which I think you sold while we were still in the critique group together. And then there's WHAT DOES A SEED NEED, which is also a spring-timey sort of book. Do you find inspiration from all that happens in nature at this time of year?
LIZ: You're right – we were in our crit group back then in 2008, when RABBIT came out. I suppose there is no question that I am drawn to animals, bright pastels (is that a thing?) and cute patterns, because they perpetually show up in my work. Nature also plays a big part in my core influences. I grew up surrounded by it, and live in it now. I'm obsessed with growing and gardening, and watching the little daily changes of the seasons, especially spring. I also like growing stories!
KIM: When developing a story like this, do you start with character or plot? Or a little of both? As you were writing the first draft, did you already know what would happen at the end? (I won't give it away!)
LIZ: I nearly always start with the characters. Sketching randomly is natural for me, and most of the times there are characters that develop. Sometimes it's a pun or turn of phrase that will start the story ball (egg?) rolling. The initial sketch of Duck and Cluck already showed them in an argument over an egg, so I guess it was both with that one! I don't really write drafts. Every early version of my books is equal parts art and words, like a comic book! Back when we were critiquing manuscripts in our group, there was always art that was unseen that went with them. I actually find it hard to format my books into manuscript form, as a lot of the action and emotion is in the art. Did I know the ending? Not really! The first version of the ending, while involving the same surprise, was very different!
KIM: Do you approach the illustrations for an early reader differently than you would a picture book? To me, it seems some of the illustrations might be the same — for instance, the meandering, Family Circle-esque egg-chasing spread — but others seem quite different because you're depicting a conversation.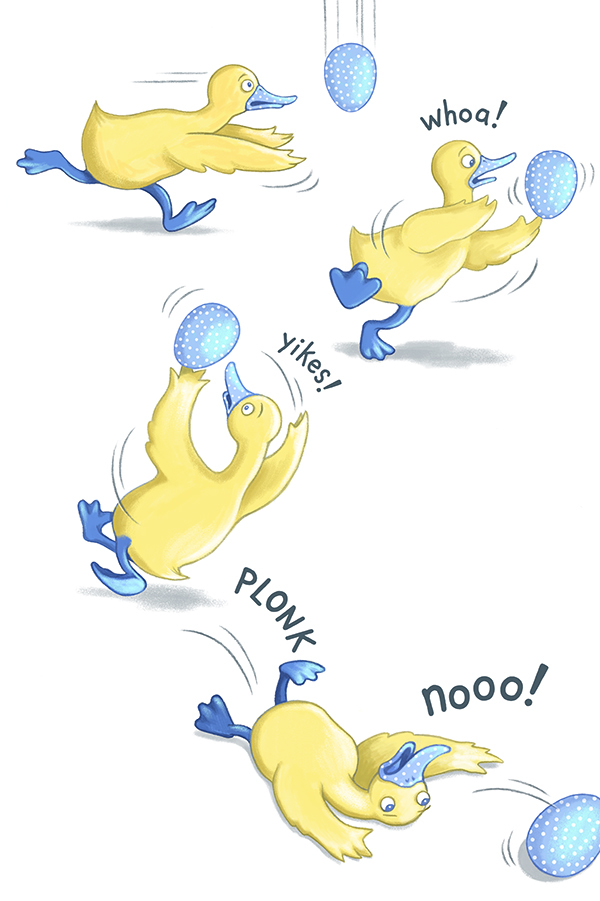 LIZ: I do approach the initial sketches and words the same way. A good graphic novel or picture book incorporates either panels or smaller spot illustrations with full-page illustrations, close ups, etc. so the eye doesn't get bored. There is both visual and text pacing at work.
KIM: What's up next for you, Liz? What are you working on?
LIZ: So glad you asked, Kim! While Duck and Cluck's second adventure (called I LIKE THIS COLOR!) is in the works, I am working on a new picture book series called VINCENT, with the fine folks at Pixel + Ink. Vincent is a free-thinking toad, and has three good, amphibious friends. This is another heavily character-driven series. Also on my back burner is another early reader graphic novel series, a few board book concepts, and at least a dozen dummies in various stages. Hopefully some of these will see the light of day in the not-so-distant future!
KIM: I love that you have so many things going on. I cannot WAIT to see what's next!! Thanks so much for stopping by, Liz! Readers, Liz has offered a giveaway copy of THAT EGG IS MINE. You know what to do! Comment below and a random winner will be chosen among all who have commented on this post by… oh… let's say April 25th. Comment away!
And speaking of winners, Jilanne Hoffmann is the winner of Renée LaTulippe's THE CRAB BALLET, featured earlier in my last blog post. Congratulations, Jilanne!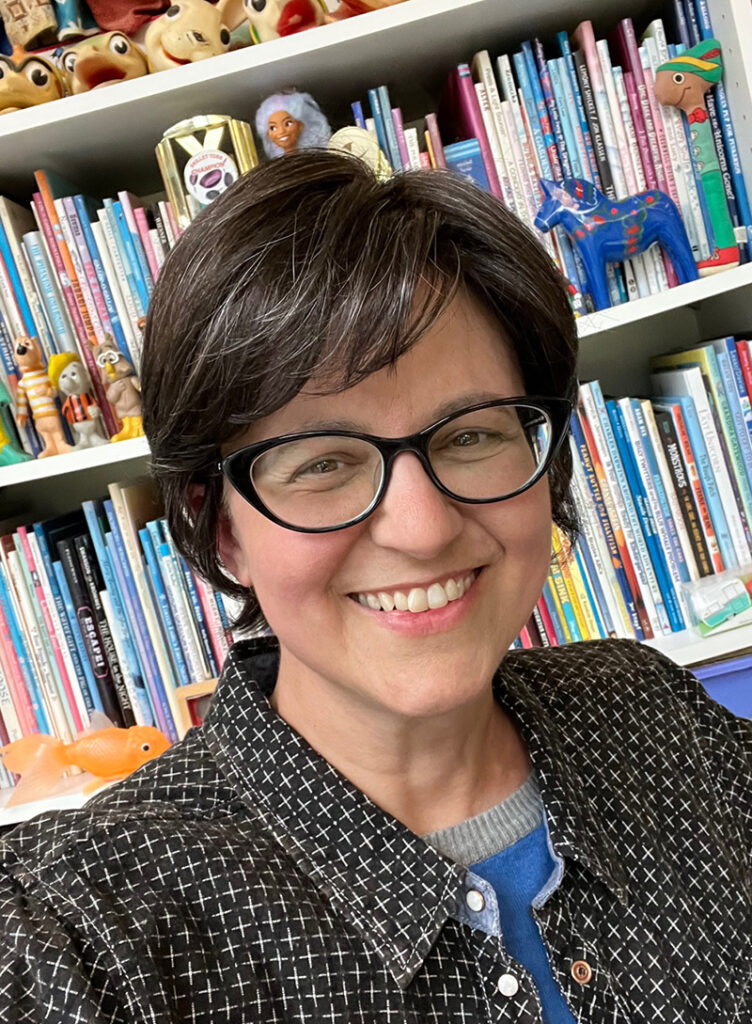 Liz has been writing and illustrating for children since 2002. In that time, she has created hundreds of pieces of art for educational markets and children's magazines, and several children's books. Clients include PSS/Penguin, Simon and Schuster, Golden Books, Scholastic, and Highlights. Her Vincent series, about a resourceful toad and his amphibian friends, will debut in Summer of 2023 from Pixel + Ink.
She lives in an apple orchard in Rhode Island, USA, with her Belgian husband Eric, and they have three creative daughters and two entertaining cats. You can see all the other things she does on LizGouletDubois.com
Represented by Charlotte Wenger at Prospect Agency.
Liz's website: LizGouletDubois.
Duck and Cluck's website: DuckandCluck.net
Liz social: twitter.com/lizgouletdubois instagram.com/lizgouletdubois
LinkTree: https://linktr.ee/lizgouletdubois