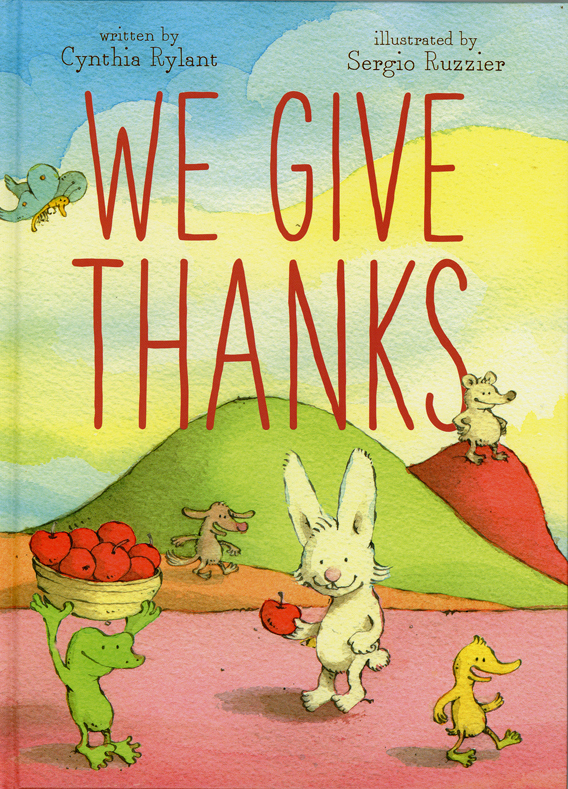 I bought We Give Thanks, by Cynthia Rylant and illustrated by Sergio Ruzzier, last fall. (It seemed the right time of year for a book about thanks and thought I'd post about it then. Alas.) And because I'm always happy to find a new book from Ruzzier, I didn't even have to read it to know that I wanted it. I'm a huge fan of his art and pick up his books often. I study his ink line work, his lovely washy watercolor, and his unique and delightful characters.
Rylant's text is a sweet and fun romp expressing a litany of things we are are thankful for. It is an easy and flowing read. She has fun with language, giving us rhymes like "bushes filled with roses" and "fires to warm our toeses."
There are nods to the obvious things we are grateful for—hugs, grandparents, dogs and cats, and sunshine—and the things that might not rise to the top of the list at first take—the grocer, soup, and nice Italian waiters.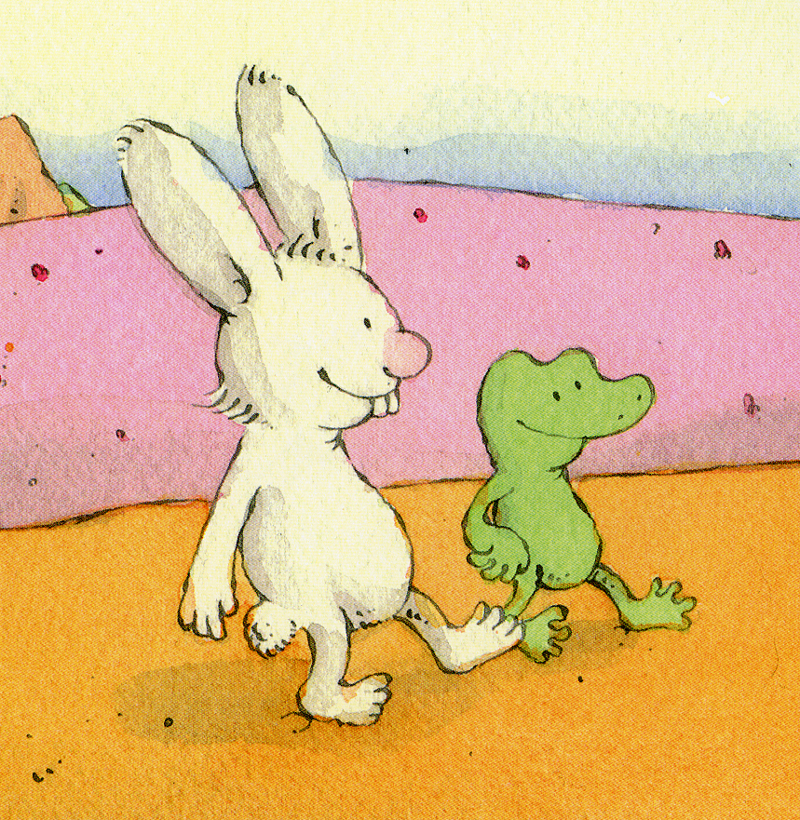 The two primary characters (I hesitate to call them main characters because it's just not that kind of story—they are more like guides on a mission) and a plethora of other charming and hilarious characters. They all have a signature look that Ruzzier creates. All happy and engaging and full of personality.
The two primary characters are a rabbit and a frog. They lead us through all the things we are thankful for and through fantastical landscapes as well as some cheery interiors. Secondary characters are introduced as we move through the text. From a dog to ladybugs and butterflies. Birds and mice and ducks and bears. Even a fish radiating personality. There is a build up to a simple but joyous conclusion when all the characters are gathered around a feast.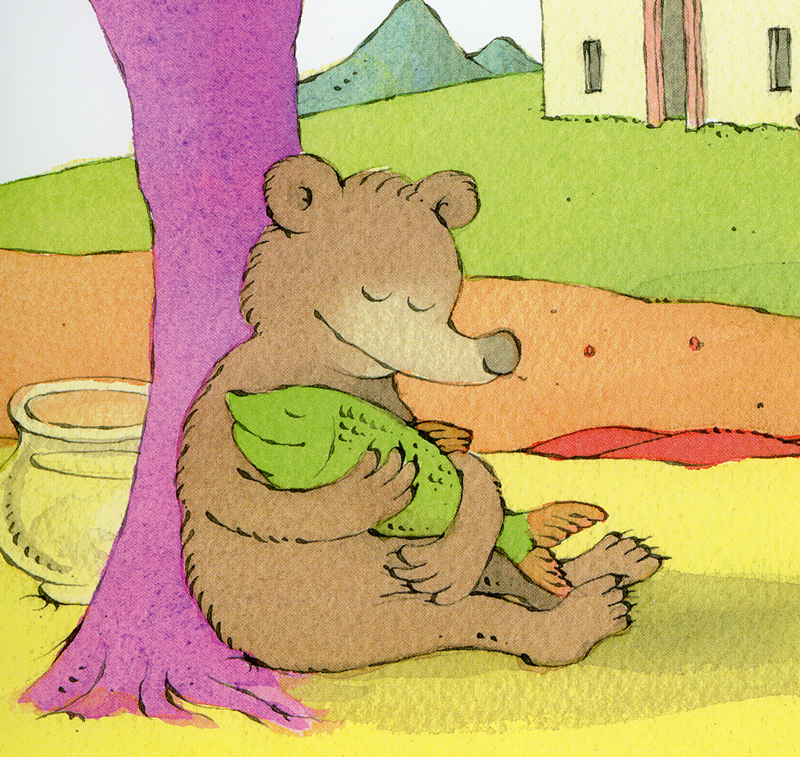 The world Ruzzier's art creates is, like I said, fantastical. Sometimes recognizable, sometimes full of odd shaped and colored landscapes. The interior shots are homey and full of detail. Leaving plenty of things to discover on the second and third and fourth readings.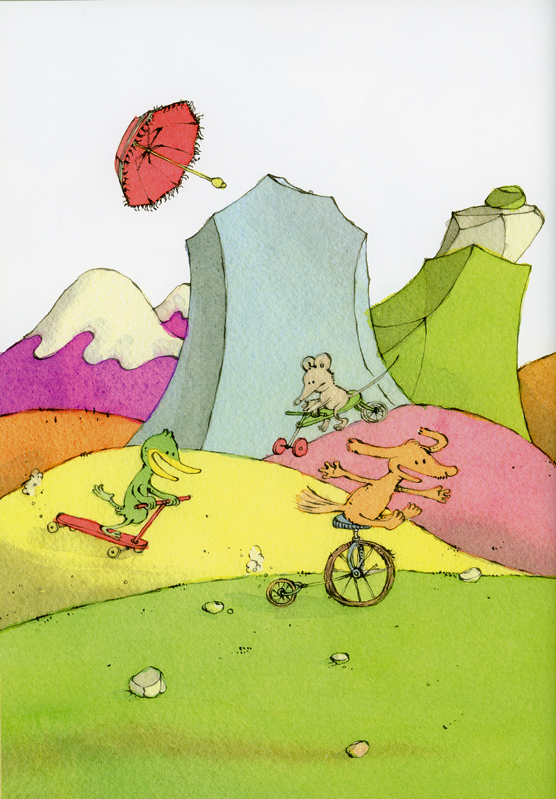 I've mentioned in the past how I am often subject to "line envy." And I have it with virtually every book I see illustrated by Ruzzier. It is simple and sketchy and and his watercoloring to finish the illustrations gives life and movement to the characters and depth and appeal to his environments. I suppose I have watercolor envy, too.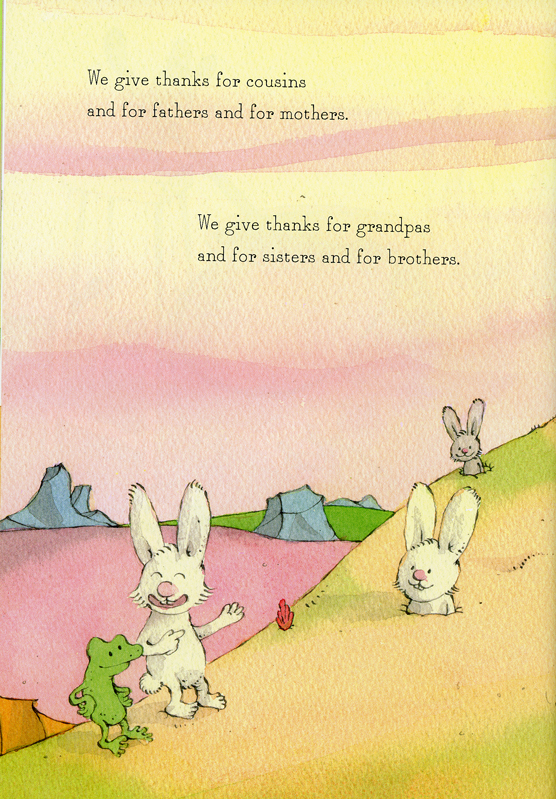 This is just a lovely book. With endearing text from Rylant awakening an understanding of things we are not obviously grateful for but, yeah, we ARE thankful for, to Ruzzier's charming and so likable cast of characters who show us those things. I've read this book over and over each time a little slower. Taking time to explore the whole world within. And often thinking, 'oh yeah! I'm thankful for that, too!'