Do you sometimes get tired of listening to the news? Mentally exhausted, bone-deep tired?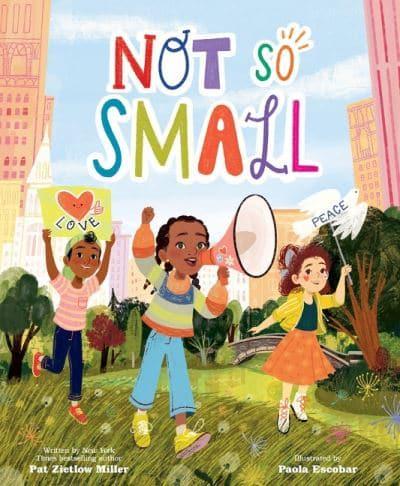 I do.
I used to be a newspaper reporter, so I know the drill. Average, everyday people going about their business hurting no one don't make the news.
Exceptions make the news. People doing something spectacular — or, more often, it seems — something terrible.
But knowing that what's on the news isn't necessarily the norm doesn't make me feel better about it. Not when my head is often offering a steady stream of:
How could someone DO that?
How could someone SAY that?
How could someone SUGGEST that?
But even when I'm that tired, I still have options. I can choose actions that support causes I care about — access to a diverse and inclusive array of books for all readers, LGBTQ+ rights, prompt and proactive healthcare for everyone, and more.
I wrote my latest picture book NOT SO SMALL during a time when I was very tired of what was in the news. I wrote it to remind myself that one person can help make the world a better place — especially if they join with others. As I wrote:
One acorn grows an oak.
One pebble sends out ripples.
One snowflake starts a storm.
And, dandelion fuzz can cause a big sneeze.
NOT SO SMALL is illustrated by Paola Escobar and was published by Quill Tree Books, a division of HarperCollins. I think it pairs especially well with four other picture books that also focus on social justice and activism. I talk about NOT SO SMALL and the other titles in the video below:
I hope that readers and parents and teachers and librarians will share these books with children and then listen to things the kids think could be better and talk with them about possible solutions. Because when we join our voices together, no one one has to feel small.
At all.
NOT SO SMALL also has a recurring dandelion theme. Which made me think of other cool dandelion books. I didn't make a video, but you might want to check out DANDY by Ame Dyckman and Charles Santoso and LITTLE DANDELION SEEDS THE WORLD by Julia Richardson and Kristen and Kevin Howdeshell.
GIVEAWAY
If you leave a comment on this post and/or share it on social media, I will enter your name in a drawing to receive one of two signed copies of NOT SO SMALL.
Happy reading!