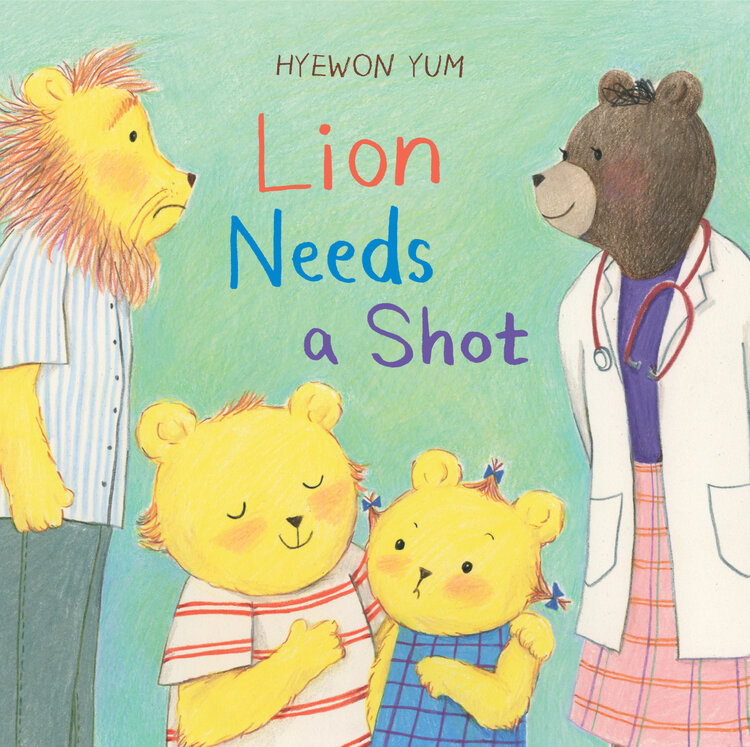 Little lion Luka is NOT worried about a visit to the doctor. He's NOT scared of getting a shot. And he's definitely NOT a little lion anymore. R-O-A-R!
His younger sister, Lulu, might be nervous for her checkup, but no need to worry–big brother is here to set a brave example. Step by step, he walks her through what will happen, offering encouragement and holding her hand. But when it's his turn, on second thought, maybe he doesn't need to see Dr. Brown today. He's feeling perfectly fine, after all…
This witty, tender story follow two siblings sharing a universal experience together, giving each other courage, and realizing that a trip to the doctor's office isn't so bad.
Andrea: Hello, Hyewon! Happy book birthday to you and LION NEEDS A SHOT! I'm so happy to have you here today to celebrate your latest adorable book! You were due to have "book twins," because our book together, LULI AND THE LANGUAGE OF TEA, was originally supposed to publish today, too. Even though LULI won't be out until next week, I'm excited that you're going to share a behind-the-scenes peek of it for PBB readers today!
Okay, let's get started! What inspired you to write LION NEEDS A SHOT? The subject seems so timely with kids getting the Covid-19 vaccine, but also timeless because kids have been getting all sorts of shots for a long time!
Hyewon: When I wrote this book, I didn't think about Covid at all. It was more about the kids' and parents' relationship [like] when I first wrote LION NEEDS A HAIRCUT. And I fell in love with the characters from the book; I wanted them to get over another hurdle of everyday life, together. Now little lion (and Dad lion) isn't afraid of getting a haircut, they cannot be afraid of seeing the dentist or the doctors. And it's always better when you're with your loving family.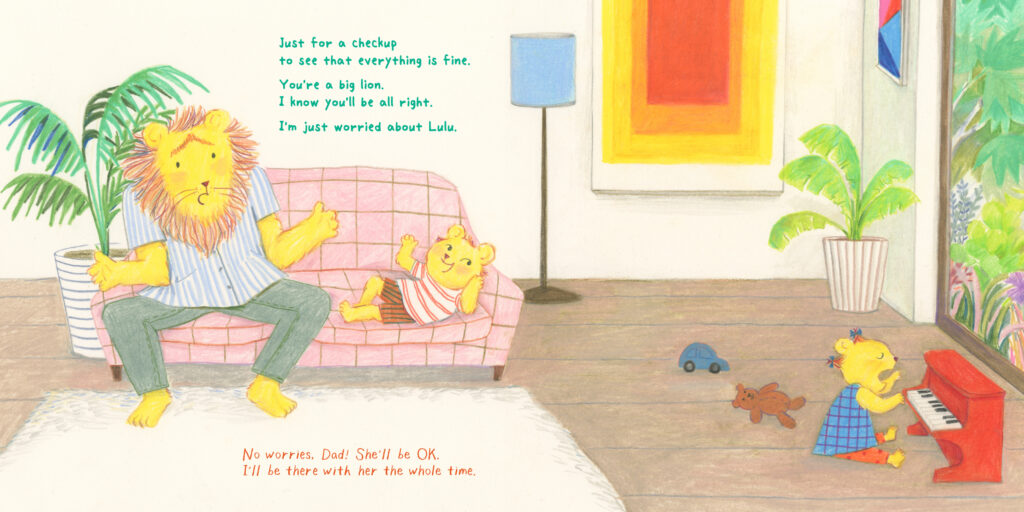 Andrea: I couldn't agree more–obstacles are much easier to tackle with people who love you. And who also have a sense of humor. I love the humor in the book–it's so gentle and relatable! From the dad lion using a little bit of reverse psychology with the main character, Luka, to the younger sister Lulu being braver and more confident. Are the characters modeled after your own family, or based on your observations of other kids?
Hyewon: It's mostly based on my own family. Whenever we go to the doctor, my kids are fine. I'm the one who always worries. I'm just like the dad lion in the book, I flinch when other kids cry in the next room at the doctor's office, and I close my eyes when the nurse brings the shot for my kids.
I'm so glad my kids are older now and I'm less worried when my kids make a regular visit to the Doctor's office. Still, I am learning from my kids more than they're learning from me. They taught me to be more brave, positive, and to not be shy. And they helped me get over my fears in many ways.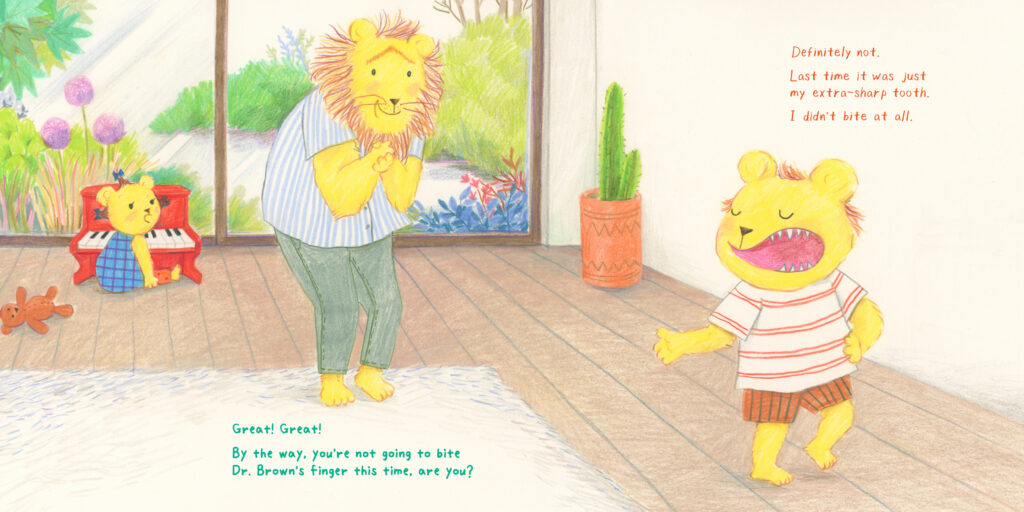 Andrea: That's lovely. I learn a lot from my kids, too. Although sometimes it's not something I really wanted to know, like, "you're never more than six feet from a spider." 😰
Can you tell us a little about your process–does the art or the text come first for you? Was putting each character's dialogue in a different color instead of using dialogue tags always the plan? It reminds me a little bit of how the different words for "tea" in LULI AND THE LANGUAGE OF TEA are also in different colors.
Hyewon: The text came first for this book. I already had the characters from LION NEEDS A HAIRCUT, and wanted to write about them again. My editor and art director (Emma and Hana) helped me a lot during the process.
I didn't think about putting each character's dialogue in different colors at first. It was my art director Hana's idea. In the first lion book, it wasn't hard to read without the dialogue tags since there were only Dad lion and Luka. We also gave them different typefaces (I made the fonts with my handwriting).
And I love how Jennifer (the art director for LULI) put the different words for "tea" in different colors in LULI AND THE LANGUAGE OF TEA. It highlights all the different letters and the different sounds mean the same thing: TEA.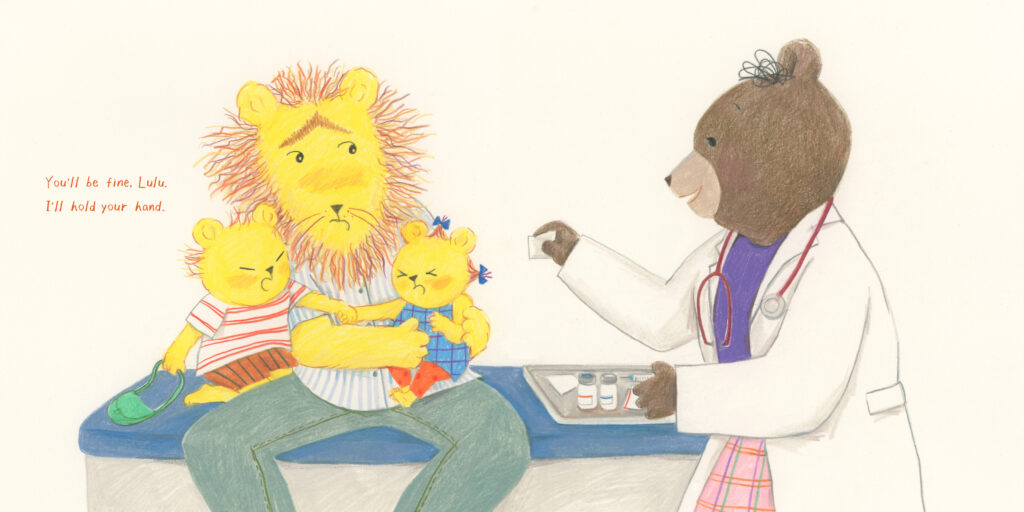 Andrea: That's so great! I don't think readers realize how often and how much editors and art directors can help with writing a story starting from an idea. Speaking of LULI, I absolutely love your illustrations for that book, too. I was worried about how many kids there were in my text — ten is a lot of characters for a picture book! Can you tell us about illustrating children from ten different countries and what kinds of things you had to consider?
Hyewon: It was tricky. I want them to look different from each other, and also I want their look to reflect their own country's tradition and culture a little bit. At the same time, I don't want them to be stereotyped.
It took a lot of time to choose skin colors for the children. It was difficult; we all have different shades of skin even when we're from the same country (or from the same family). Again, I wanted to show that we all have different features, but we are all beautiful in our own way.
When the kids are appearing on the same spread all together, I want to make sure readers can tell them apart at first glance. So I tried to pick the different hairstyles and clothes for each kid.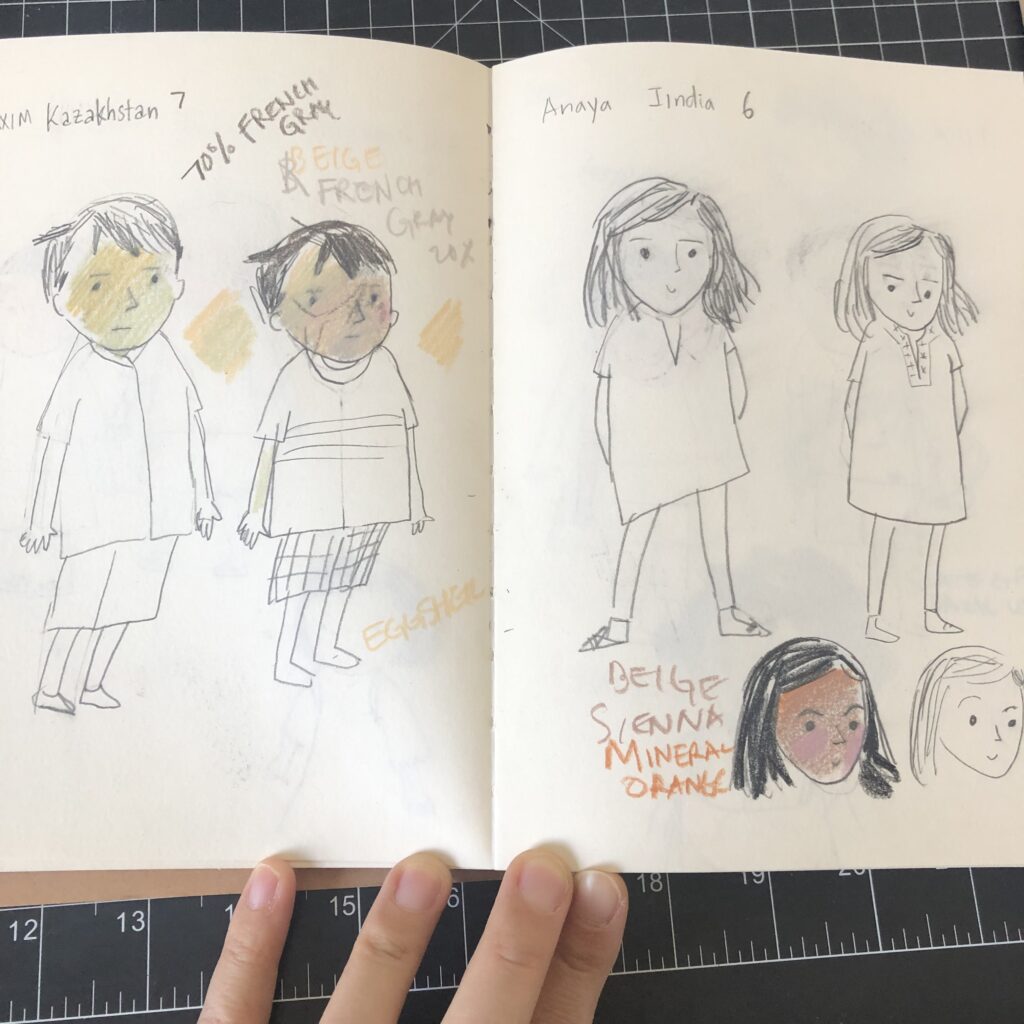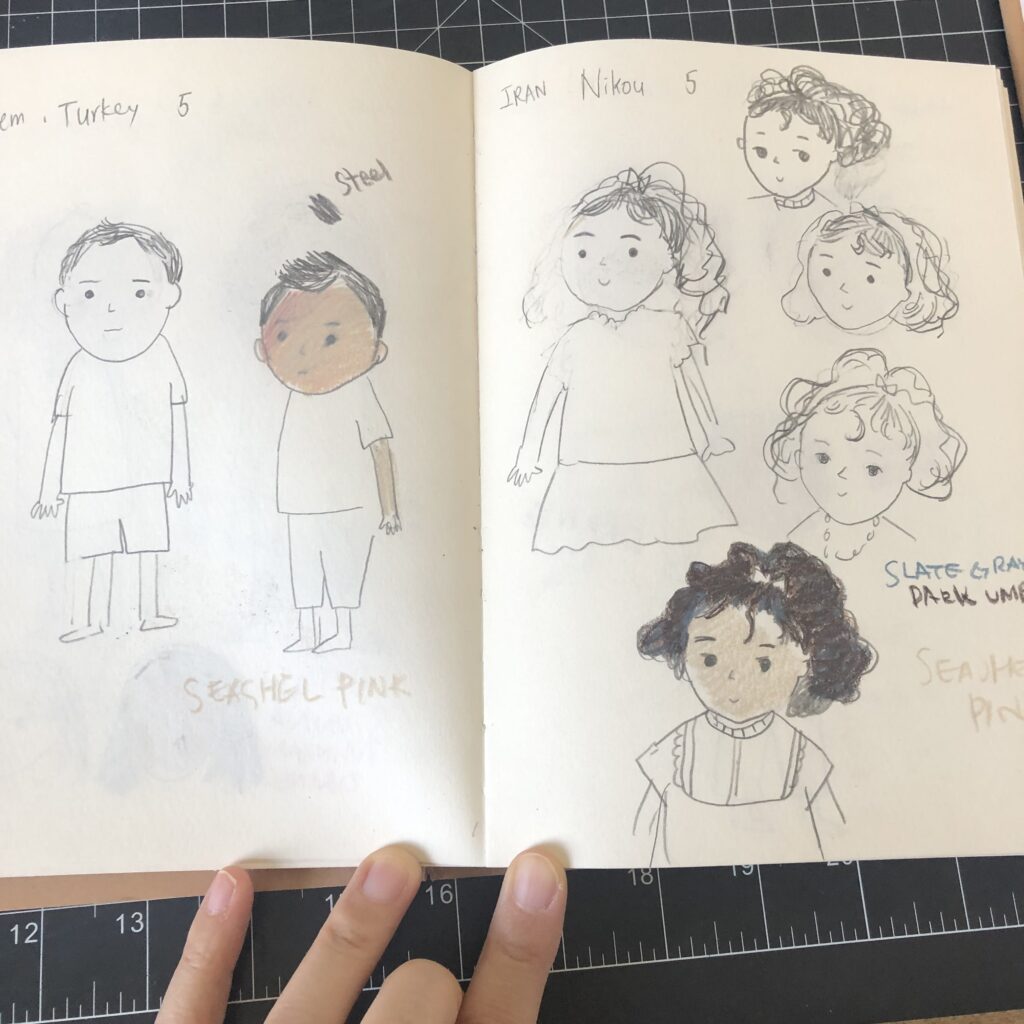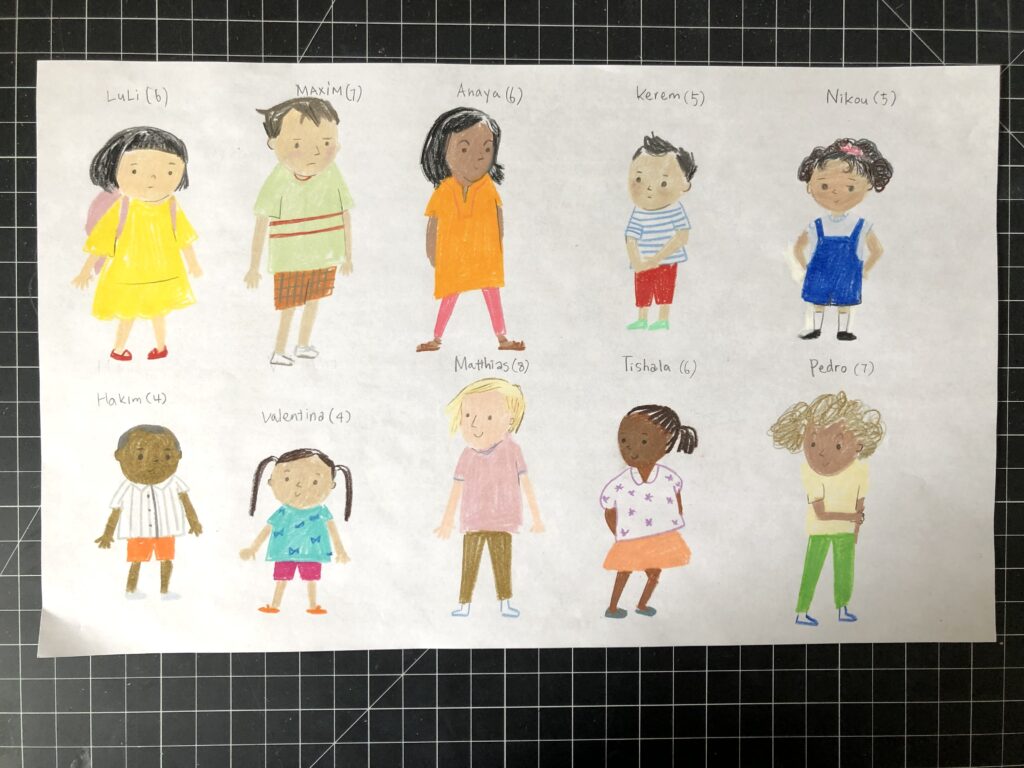 Andrea: You did an amazing job! Each of the kids has so much personality. The character of Pedro is named after my friend Elaine's son–Elaine and her family are from Brazil, just like the Pedro in LULI. Elaine was so happy to see that you drew Pedro with curly hair, because her Pedro also has curly hair!
The cover of LULI is also so warm and welcoming. Were there other versions of the cover before you and Neal (our editor) and Jennifer (our art director) decided on this one? Do you have any sketches you can share?
Hyewon: I had a few other versions. Earlier, we agreed that we'd have Luli and the teacups on the cover, so I tried Luli in different poses, on a different background.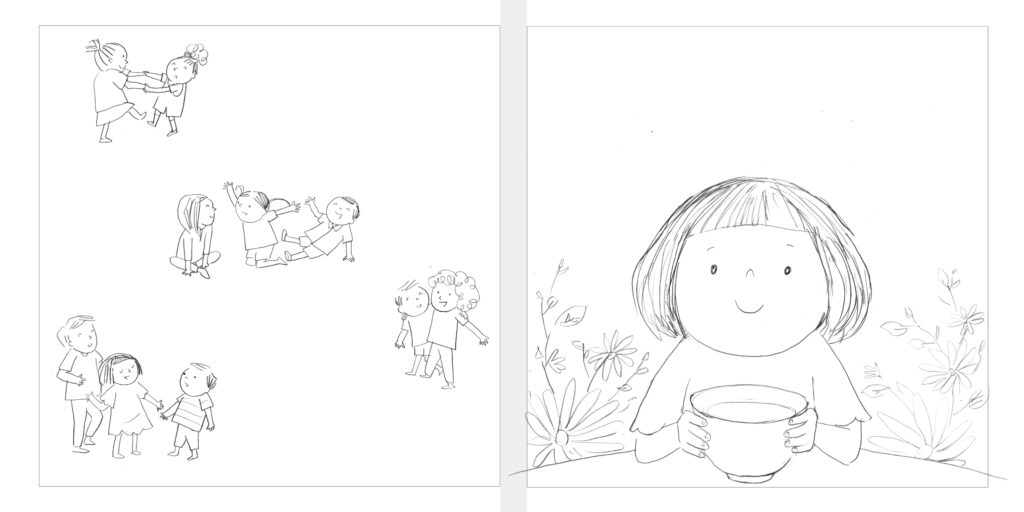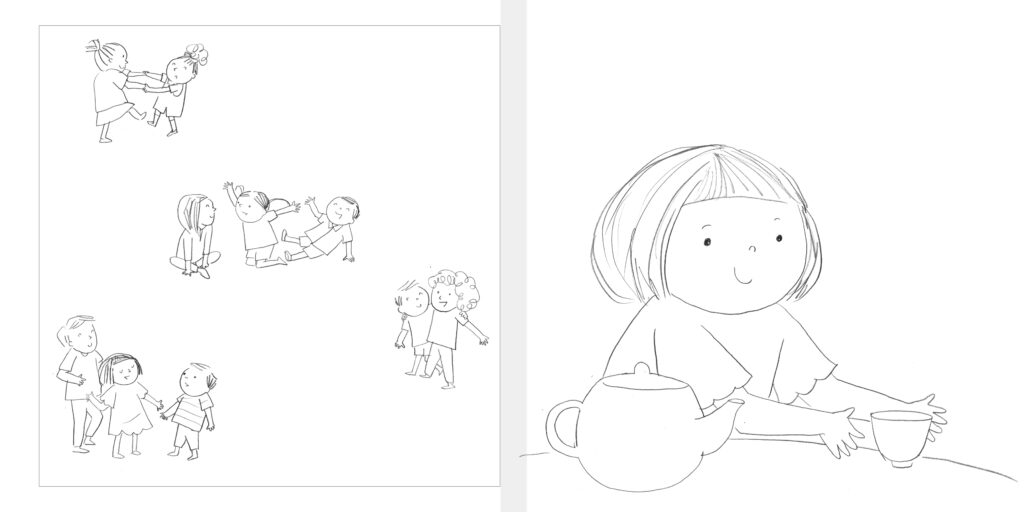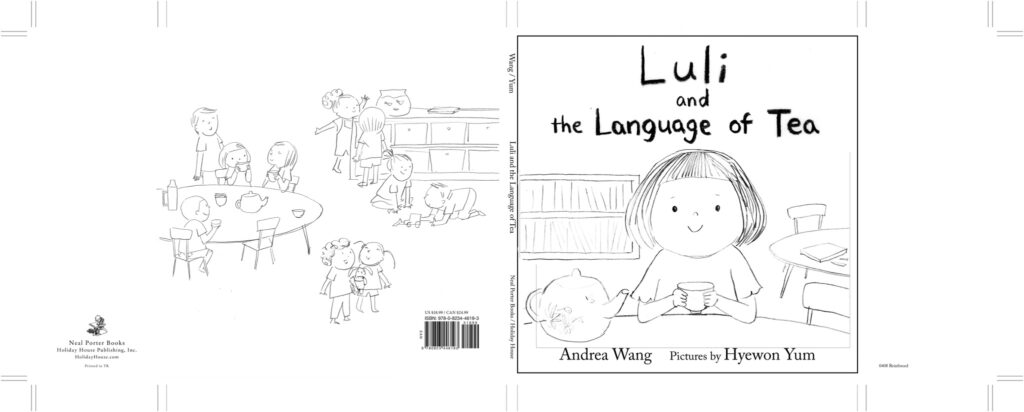 Andrea: They're all so cute – but my favorite is the one you chose for the final! You grew up in South Korea — do you have any stories or memories of tea drinking that you'd like to share?
Hyewon: When I was young, I never enjoyed tea very much and I thought the tea is for Grandmothers. And Koreans have Da-lye (tea ceremony), which I haven't quite mastered and I thought it was pretty boring.
Now I love tea, I drink it every day and enjoy all kinds of teas. I think tea is like a book, it brings you somewhere else. Whenever I drink Camellia tea from Jeju Island, I think about the wind and the blue sea, and whenever I drink Korean herbal tea, it brings me to the days in my old house in Korea.
Andrea: Oh, that is so beautiful and poetic! Please write that story of tea taking you to different places.
What's next for you — current projects, upcoming books, etc?
Hyewon: My next book, SOMETIMES I GRUMBLESQUINCH will be coming out this July. It's written by Rachel Vail, a sweet and touching exploration of the scariness of BIG feelings and overcoming the pressures to do everything.
Andrea: I need this book! I feel like I've been grumblesquinching a lot lately.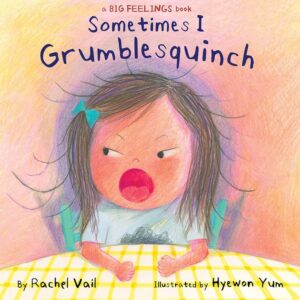 Hyewon: And I'm also working on many other books with other very talented authors. They are in various stages right now. I'm finishing up the art for ODE TO A BAD DAY by Chelsea Lin Wallace and started working on NOT PERFECT, in which I'll be working with Maya Myers again and revisiting the characters from NOT LITTLE.
Andrea: Good luck with all your projects and congrats again on LION NEEDS A SHOT! Thank you for chatting with me today about Luka, Lulu, and Luli!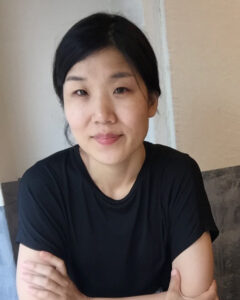 Hyewon Yum is an author and illustrator of many picture books, including Lion Needs a Haircut and Grandpa Across the Ocean. Her book Saturday is Swimming Day was named as a Charlotte Zolotow Award Honor, and Mom, It's My First Day of Kindergarten! received the Ezra Jack Keats New Illustrator Award. She also illustrated Not Little, Luli and the Language of Tea, and many more. She was born and grew up in Seoul, Korea. Now she lives in Brooklyn, New York with her family. Find her at www.hyewonyum.com and on Instagram at @yumhyewon.
I'm offering a giveaway of LION NEEDS A SHOT to one lucky reader. Please comment below by May 31st to enter. Domestic U.S. addresses only, please.
Congratulations to Teresa Robeson, the winner of THE RISE (AND FALLS) OF JACKIE CHAN by Kristen Giang and Alina Chau!