Today's post is about two words that often confuse authors, both new and veteran — marketing and promotion.
And, there's a reason those words confuse people. Because they are, in fact, confusing. They generate so many questions:
What should the publisher do?
What should the author do?
When should it all happen?
Shouldn't someone be doing more?
Does any of it make a difference?
And, guess what? There are no 100 percent correct answers to any of these questions. Which makes things even more confusing. Every publisher, author and book is different. So it's no wonder writers sometimes don't know where to begin.
In this post, I'm going to share the marketing and promotion process I've developed during the 10 years I've have 18 picture books released into the world. Sometimes, the things I do seems to work. Other times, I wonder.
I know authors who do similar things, authors who do wildly different things and authors who do almost nothing at all. By the end of the post, I'm hoping you'll see there's no one right way to market and promote your work. I also hope you'll have some ideas about what approach might be best for you.
My promotional efforts tend to fall into three categories.
1. STUFF I DO MYSELF BECAUSE I LIKE TO AND/OR I THINK IT WORKS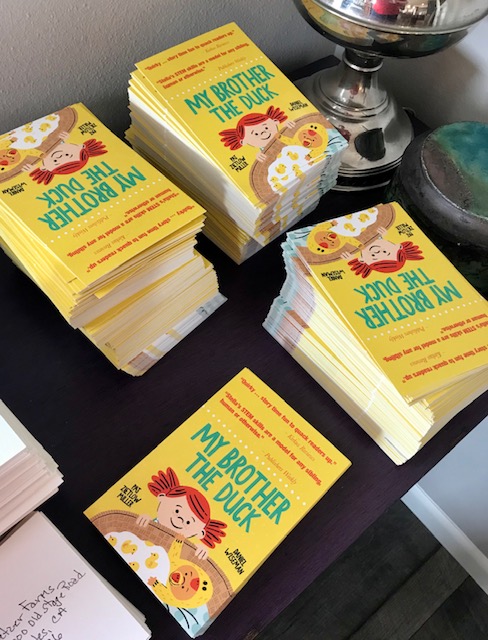 This includes a paper postcard mailing I send out when I have new titles coming out. I have a mailing list I've built myself of friends, family, co-workers, librarians, teachers, booksellers and people I might once have waved to in Costco.
I maintain the list myself, in random bursts of address checking, and I pay someone to design the postcards and get them printed. Then, I address and stamp and mail the cards myself. It's a lot of work, but then I at least know most of the folks who might care that I have a new book coming out are vaguely aware of it.
Not all authors do this, of course, but I sort of enjoy it. I get to think fond thoughts of each person I'm sending a postcard to, and I like seeing how much of the country I can cover. My list started at around 150 names and has grown to more than 1,000.
Do the postcards drive sales? It's hard to say. People tell me they received them. Sometimes, they post pictures of them on social media. I like to think they're hanging on refrigerators across America. But, honestly, they're probably not. I include ordering information on the cards, and sometimes I see spikes in sales. Other times I don't.
I'm also really active on social media, again, because I like it. I do a lot on Twitter and a bit less on Facebook, Instagram and LinkedIn. I have not embraced Tik Tok, although I admire those who have.
I post daily. OK, several times a day, but not always about my books. I try to talk about what I write, how I write, the ups and downs of writing, and also lift up other people's books I love. I've also done short videos about books I like and about aspects of the writing process I get asked about a lot. Mixed in with that is a fair amount about my cats, my kids and various writing pet peeves.
There's no magic to what I post. I try to keep it positive, be my best and most authentic self and share stuff that I'd tell someone in conversation: "Hey! There's this cool new book I read." "Guess what my cat just did!" "Look at the cover of my next book."
I also do quite a few writing webinars that I often get paid for, but that also are a good way to stay connected to the kidlit community and build awareness of me and my books. And, again, I really enjoy doing them, which you'll have noticed by now is how I make a lot of my promotional decisions. Life's too short to do promotions that make you miserable, and your discomfort will come through and make them even less effective.
And, obviously, I blog as part of the Picture Book Builders team. There are several of us, so I post about once a month. Again, I write about PBs I love, the craft of writing them, and my own new releases. I also sometimes reach out to other book bloggers I know to see if I could do an interview or a guest post on their blog. Or, they reach out to me.
And, I make periodic visits to nearby bookstores to sign stock. Sometimes, I do formal events. Other times, I just pop in and sign whatever books of mine they have on hand. My one cardinal rule is that whenever I visit a book store to sign stock, I always buy someone else's book before I leave.
Oh, and I have a fairly robust website — www.patzietlowmiller.com — that I keep updated as much as I can.
I do a limited number of school visits because, while they're often fun, they also exhaust me. (Note: Some authors find school visits to be their very favorite thing and use them to great effect. Again, it's all about finding what gives you the most energy and joy.) 
Just recently, I personally hired a freelance publicist to help get me some media exposure, and set up local interviews. I only started doing this very recently and it's not something I'd recommend to folks just starting out.
2. STUFF I DO THAT MY PUBLISHERS ARRANGE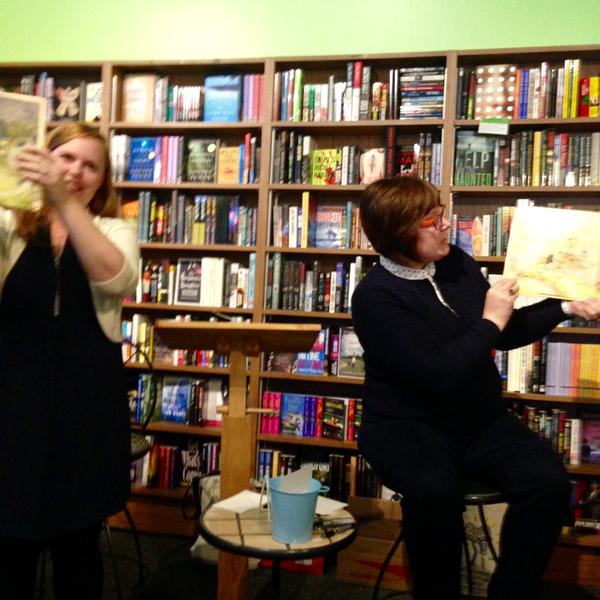 This varies a lot by the publisher and the book. Some books are not as big of a priority for the publisher, so they don't do a ton. Others are considered lead titles and the publisher puts a lot of oomph behind them and arranges more stuff for me. 
This stuff could include: Blog posts or tours, virtual bookstore events, virtual panel appearances, asking me to make videos or write letters for them to share with bookstores or book distributors, media interviews, and in-person or virtual book tours and book festival appearances. Again, almost none of this happened for my first books, but it's grown as I've had more titles come out.
I want to be clear. Publishers do a lot for all their titles. They submit them for reviews with the major trade journals, enter them into relevant contests, include them in their paper and online catalogs, share them on social media, pitch them to media outlets — and a lot of other behind-the-scenes stuff. They've gotten me publicity I could not have gotten myself.
But all writers have to accept the truth that titles by authors with an established track record of success do tend to get more support. I once heard an author whose very first book was coming out from a Big Five publisher earnestly wonder why a huge-selling, immensely popular author was going on a national tour in a bus customized with their book titles, but she was not.
My advice? Work with your publisher. Share what you're planning, listen to what they're planning and know they things are happening behind the scenes that you don't see. If you've got ideas for things you'd like them to consider, share them, but realize they also have budgets to work within. Thank your editor and marketer for what they do. Do what you can. And, temper your expectations — even if you are James Patterson or Nora Roberts.
And if it makes you feel any better. I still have items on my book promotion bucket list that haven't happened yet. It's good to have goals!
3. STUFF FROM PEOPLE WHO REACH OUT TO ME
This can be speaking requests, e-mails with general questions, "fan" mail, blurb requests, requests to donate copies of my books to fundraisers, and more. Any of these things could result in publicity or raised awareness for me and my books, but I can't do it all.
I often have to repeat that to myself. I can't do it all. And if I try to, it's going to make me less effective.
Even if I decide a request is something I can't say "yes" to, responding to politely say "no." takes time. And, sometimes I struggle with saying "no," so then I feel guilty, which also takes time.  
IN CONCLUSION
So, obviously, promotion and marketing techniques vary greatly by author. Some authors do email newsletters or a ton of school visits. Others are dancing on Tik Tok or using street teams of people to help them promote. Some do giveaways or pre-order campaigns with bookmarks, stickers, pins and swag. Others don't do much at all. So my best advice is:
1. Think about what sort of promotion you'd actually enjoy, and focus on that.
2. Say "no" to the stuff you know you wouldn't enjoy without guilt.
3. Do what your publisher asks you to unless it's a major "no" for you.
4. Realize that with most promo you do you'll never really know if it moves the sales needle or not. So try not to stress. Be your best self and focus on building relationships.
5. Realize with most promo, you're in it for the long haul. It's more about building name recognition, goodwill and awareness than selling a book right now.
6. And, don't get so caught up in the promo that you don't write your next great book. The more wonderful titles you're producing, the more readers will want to go back and see what else you've done.
HOW ABOUT YOU?
I hope this post will start conversation. Are you a new or veteran author? What do you do to market or promote your books? How did you decide? Tell us in the comments.