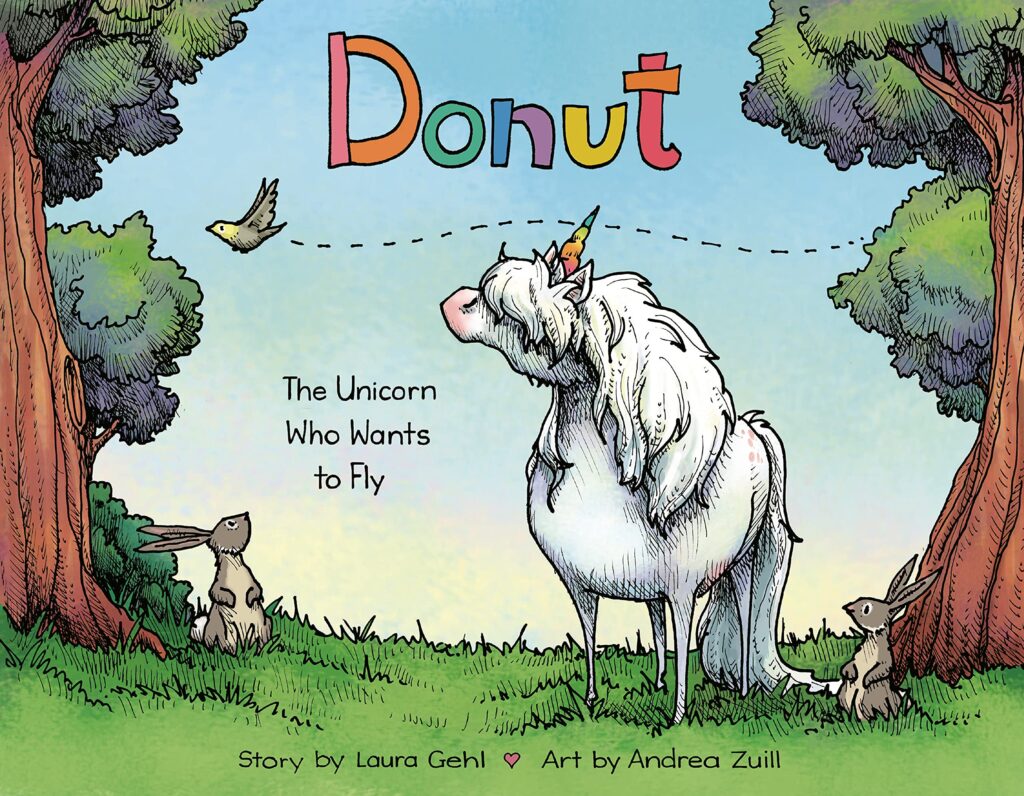 This book, was an easy YES, PLEASE! for me. I'm an Andrea Zuill fan and was excited to get my hands on this one. Written by Laura Gehl and illustrated by Andrea Zuill, Donut, The Unicorn Who Wants to Fly, doesn't hit you over the head with layers of moral lessons. What it does do is what I believe a successful picture book should do—Entertains and amuses!

This whimsical tale is the perfect blend of sparse words (but that are really fun to say and clever wordplay!) married to hilariously descriptive illustrations (I'm intentionally not using the word, "artwork" here because I believe that when the artist is telling this much of the story so effectively, it is the perfect example and definition of what "illustration" is.)
Donut wants to fly. But all her attempts fail. She doesn't give up and, in the end, with the help of her supportive and encouraging posse, fly Donut does!

This book is soooooo much fun. The word choice is spot on and would be a fabulous read-a-loud. And Andrea's illustrations are overflowing with humor and expression. Did I mention that I love her work? I love her work. She varies her page layouts brilliantly to maintain the action and the pace. Switching between spots and full spreads, cropping Donut in interesting ways, and zooming our perspective in and out.

I am hungry for fun, whimsical, character driven picture books and this one ticked all my boxes. And Donut is super cute in such a funny and unexpected way (We never even see her eyes! How does Andrea show so much expression without showing eyes?).
Thanks for visiting Picture Book Builders today! We are now on Instagram, so please make sure to follow us there to stay up to date on all our posts📚😍