For most of my writing career, I never considered writing with a co-author. I was happily writing my own picture books with no shortage of inspiration or ideas.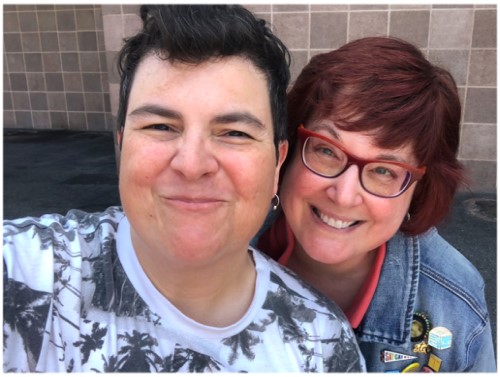 And, then, my long-time writing friend, e.E. Charlton-Trujillo said: "I've got this idea for a picture book."
e. is no stranger to writing. They are the author of the FAT ANGIE trilogy, the first book of which won the ALA Stonewall Award. and was a Lambda Literary finalist. They have also written award-winning middle grade novels, short stories for anthologies and narrative and documentary films.
So, my first inclination was to respond to their statement by saying: "Awesome! You should totally go for it."
Then, e. said, "I thought we could write it together." Initially, I was speechless. As I said, I like writing by myself. When you write alone, you win all your arguments, you set your own deadlines, and you can be as much of a control-freak as you want. (In my case, that's a lot!) When you write your own books, it's your party and your rules.
I was trying to figure out how to politely decline, when e. sent me their initial draft. And, well, it was a great idea. I laughed out loud reading it. I could see the art. My picture book mind immediately kicked in and started thinking about how things could be moved and shifted and, because I'm me, TIGHTENED. I found myself typing madly into track changes and sending my thoughts back to them.
After exchanging the manuscript a few times with our comments, I realized we were actually writing the story together. Then, there was a sequel. And then, e. had another idea. And, we had another two-book deal. As I said to my sister when I shared the news: "e. has a way of making me do things I think I don't want to do." Not that I'm complaining, mind you, now that we've got four books together.
But, all this togetherness meant we had to figure out the best way to work together so we:
Created finished products we were proud of.
Retained our friendship along the way.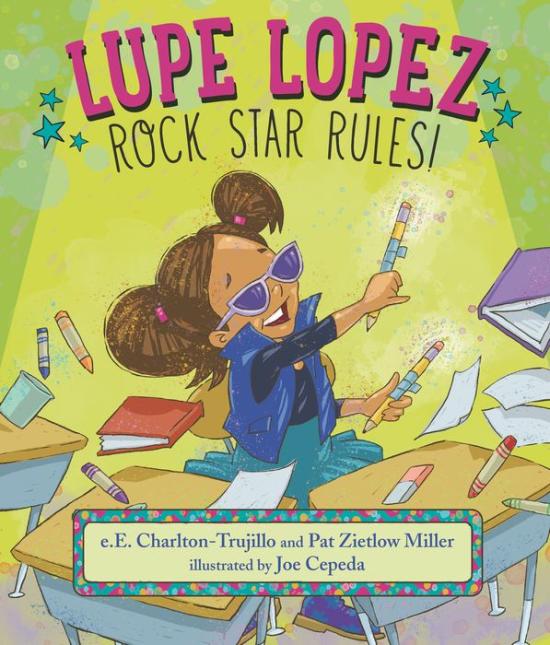 As we did that and our first book — LUPE LOPEZ: ROCK STAR RULES — joined the world, we also got asked a lot about how worked together. So for anyone who's wondering or who has thought about collaborating with a fellow creator, here are my tips.
Only work with someone whose writing you already respect. If you're going to put your name on a book next to someone else's name, make sure it's someone who you think is super talented and whose work resonates with you. Merely liking someone as a person or you both liking children's books isn't enough. You should have mad respect for their skills before you start. e. and I had this from the start. We loved each other's stuff.
Make sure you have a shared vision for the project. Talk before you start. What are you hoping to create? Why? What can each of you bring to the project? How will the project be better because you did it together? e. and I didn't do this the first time around, but we have on our later projects.
Expect to disagree, and figure out how you'll resolve disputes. As much as e. and I like each other, we've had disagreements over drafts. We've also, honestly, annoyed each other at times. While we both respect each other as writers, we do have different styles, different backgrounds and life experiences, and different definitions of what "concise" really means. And, we both can be control freaks in different ways. So talk about how you'll share constructive feedback with each other. Even with the best of intentions, hurt feelings and defensiveness can happen.
Lean into each other's strengths. If one of you loves doing something and is super good at it, do that and let the other person do something they like that you're not as fond of. Because of e.'s film background, they had tons of ideas for promotional videos. Because of them, I now own a tripod and a ring light and have learned how to record myself so I don't look like "Zombie: Attack of the Exhausted Author" when I'm on camera. And, I used to work in marketing, so I took the lead on marketing plans and social media posts.
Figure out the minutiae early on. What order will your names be listed on the books? What will you copy each other on and what will you each handle separately? How will you divide promotion costs or speaking requests related to the book? Who, if anyone, will take the lead on things like writing the first draft, responding to editors and making revisions. Many co-authors have a written, signed agreement spelling this stuff out so there's no room for confusion.
After having collaborated on several books, I can still say it's easier for me to write my own books. But I've learned so much from writing with e. that's made me a better author when I do work on my own stuff. So I'm not at all sorry we ended up where we are.
Other picture book collaborators I'm aware of include: Liz Garton Scanlon and Audrey Vernick; Jarrett and Jerome Pumphrey; Kathryn Heling and Debbie Hembrook; and Ammi-Joan Paquette and Laurie Ann Thompson. I'm sure they all have their strategies for successful collaboration too.
NEW BOOK ALERT AND PRE-ORDER CONTEST!
e. and I have two new books coming out this year.
First is A GIRL CAN BUILD ANYTHING, illustrated by Keisha Morris and published by Viking. It releases April 18. This book is a lyrical ode to possibility, creativity, empowerment and all the things girls can — and do — build. We wanted to lift up girls interested in building and making things, because women are extremely under-represented in the construction trades, and girls are often not taught to use tools because people assume they wouldn't be interested.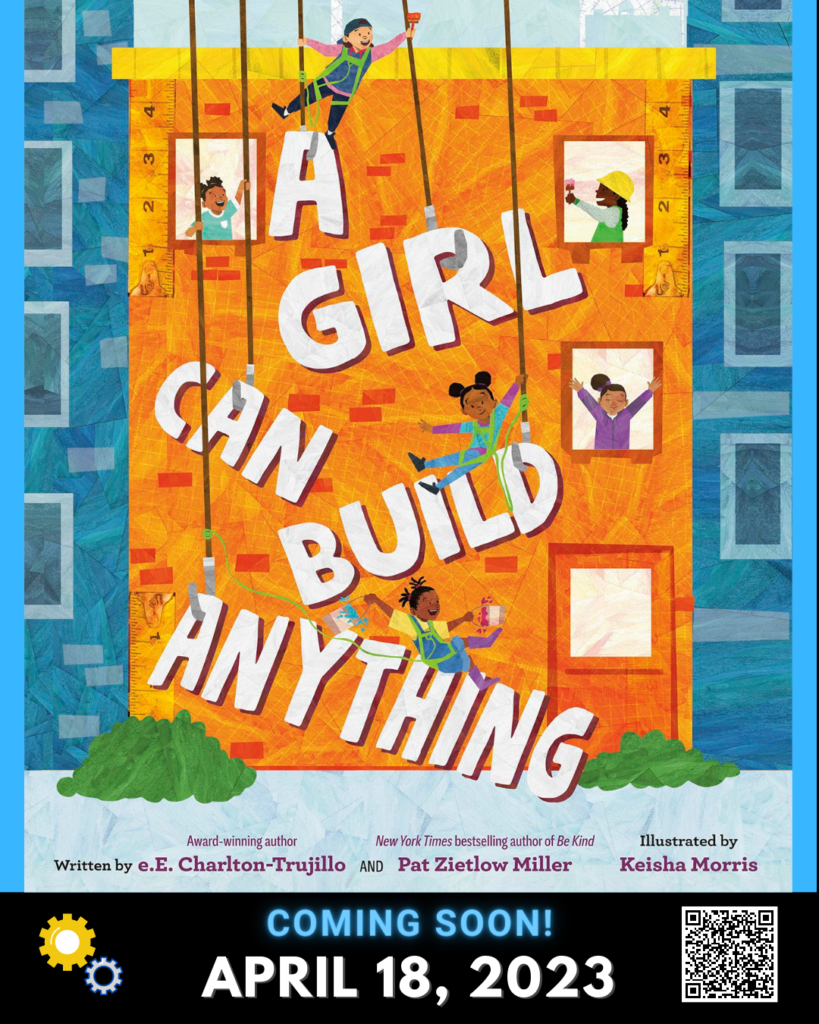 Next is LUPE LOPEZ; READING ROCK STAR, illustrated by Joe Cepeda and published by Candlewick. It releases June 13. This book is the sequel to our first Lupe book. In this book, Lupe discovers that learning to read is harder than she expected, and that while music comes naturally to her, she has to work harder to find her words and become a reading rock star.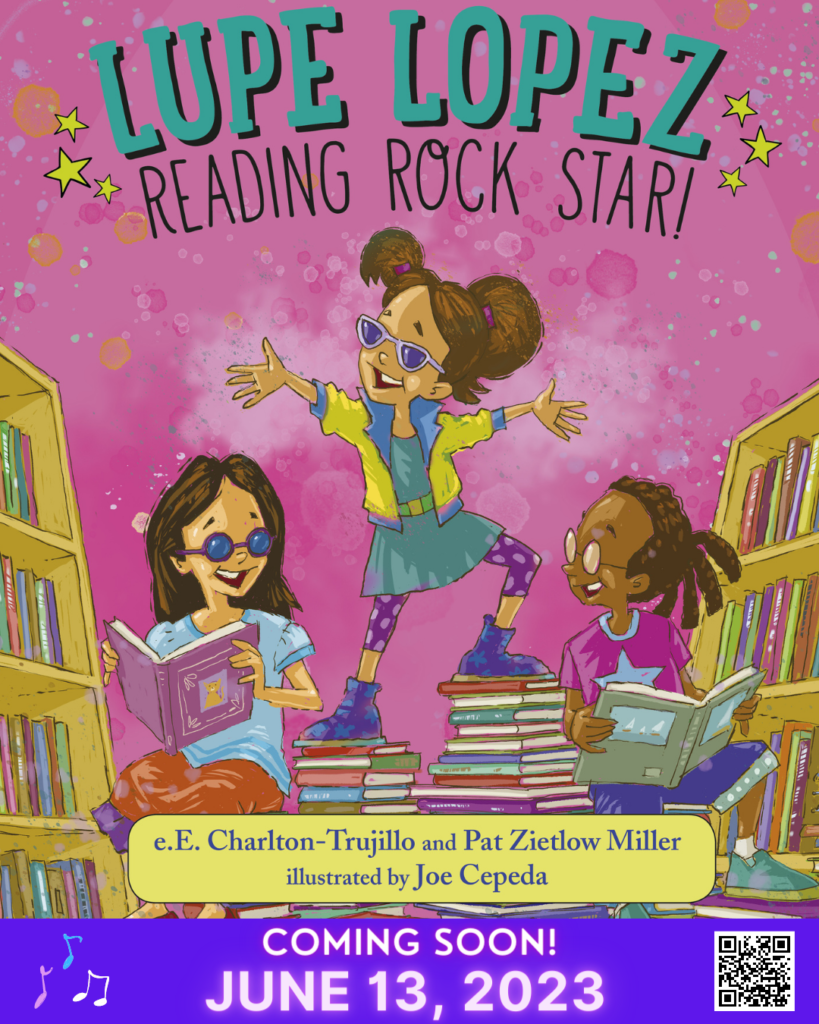 Pre-order and — possibly — win. If you pre-order either book from Mystery to Me or Twig bookstore, you'll get a signed copy, AND you could win one of the following prizes:
A picture book manuscript critique from e.
A picture book manuscript critique from me.
A collection of five picture books about construction.
A collection of five picture books about reading.
Various stickers and swag.
To pre-order, contact Madison, Wisconsin's Mystery to Me at [email protected] or 608-283-9332.
Or, contact San Antonio's Twig Book Shop at [email protected] or 210-826-6411.
Both stores will ship the book to you after it's released.