Hello, PBB friends! We have a special guest posting for us today — my good friend Maria Gianferrari! Thank you, Maria! Take it away! ~Andrea
Happy Spring!
Calling all ailurophiles/cat lovers—it's an almost BEING A CAT book birthday and the cat's out of the bag: curiosity did not kill the cat!
Are you curious about the book? Then read on! It releases from HarperCollins on April 4th.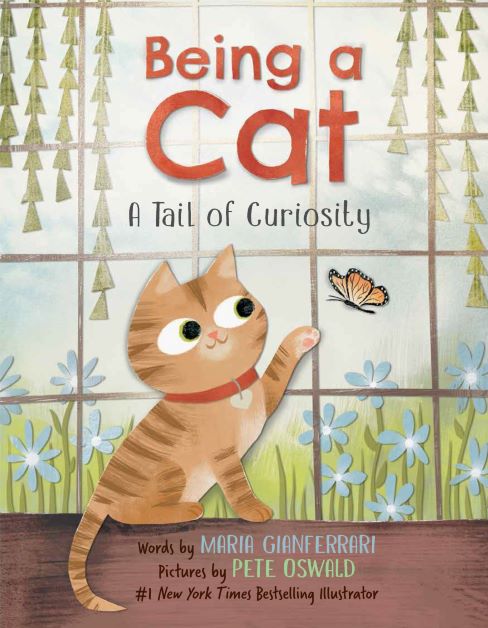 Many thanks to my dear friend and author extraordinaire, Andrea Wang, for inviting me to guest post on my favorite PB blog! It's time for a sneak behind-the-scenes peek at our new book, once again delightfully illustrated by Pete Oswald. We're giving away a copy to a lucky PBB reader too!
If you know me, you know I love dogs. But it's true—I love cats too! Though probably not quite as much as our pawsome feline-loving editor, Nancy Inteli. The book is dedicated to Nancy and her trio of kitties, Jerry, Keiko and Lulu. Aren't they sweet?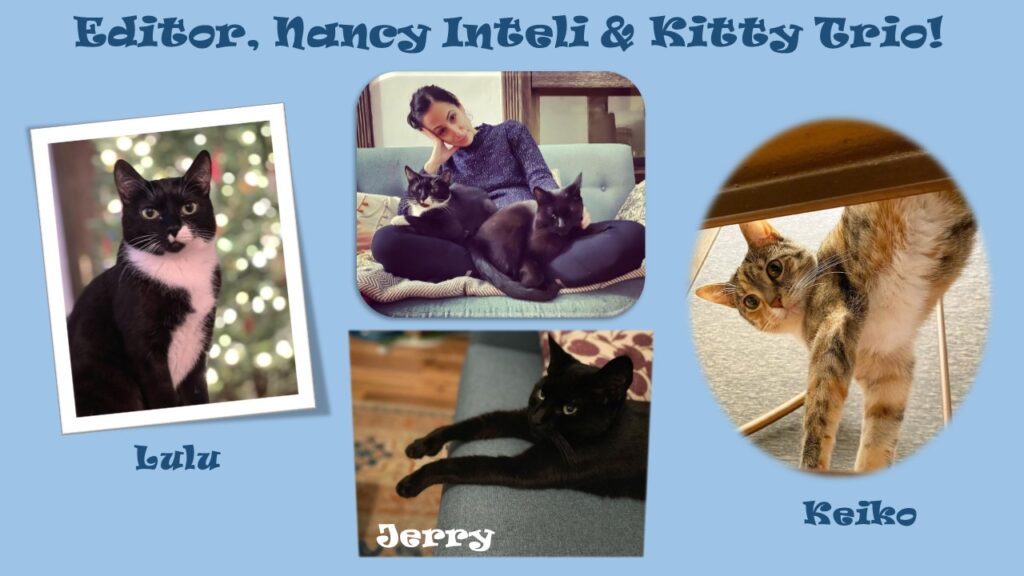 BEING A DOG was inspired by my late and very beloved rescue dog, Becca. After we lost her, I was deep in grief and unable to write for a couple of months. But when I was finally ready to write again, I wanted to celebrate the joy and love and happiness I felt in Becca's presence, and the text flowed out. I think of the book as one of Becca's many gifts to me, and I still miss her very much.
Although I cannot deny that it was wonderful to get a two-book deal, only BEING A DOG was written at the time of the offer, and the only thing I knew was that book two would be focused on cats. Therein lies the challenge—as a writer, you want to stay true to the spirit of the book, but it feels quite daunting to produce something worthy of succeeding it. That blank page is a tough one to stare down!
So I did two things I love best: 1) make a list—of fun cat characteristics, and 2) research! I haven't had a cat companion in many years, so I read multiple articles about cats, and then I read Jackson Galaxy's Cat Daddy to learn about cat behavior. BEING A CAT is a work of informational fiction, and I wanted to ensure that the cat behavior and feline body language were described and depicted in a scientifically accurate manner. Most fun of all: I watched a ton of cat videos. Cats are cool and entertaining creatures! Though I initially began with a theme of independence, it felt like I was portraying cats in a flat and stereotypical way as aloof creatures. Once I shifted to a theme of curiosity, the text came alive, and that's where the writing fun began.
Like its predecessor, BEING A CAT has an interactive format, but because curiosity is its focus, I used a question and answer structure to amplify that theme.
The book opens with this question: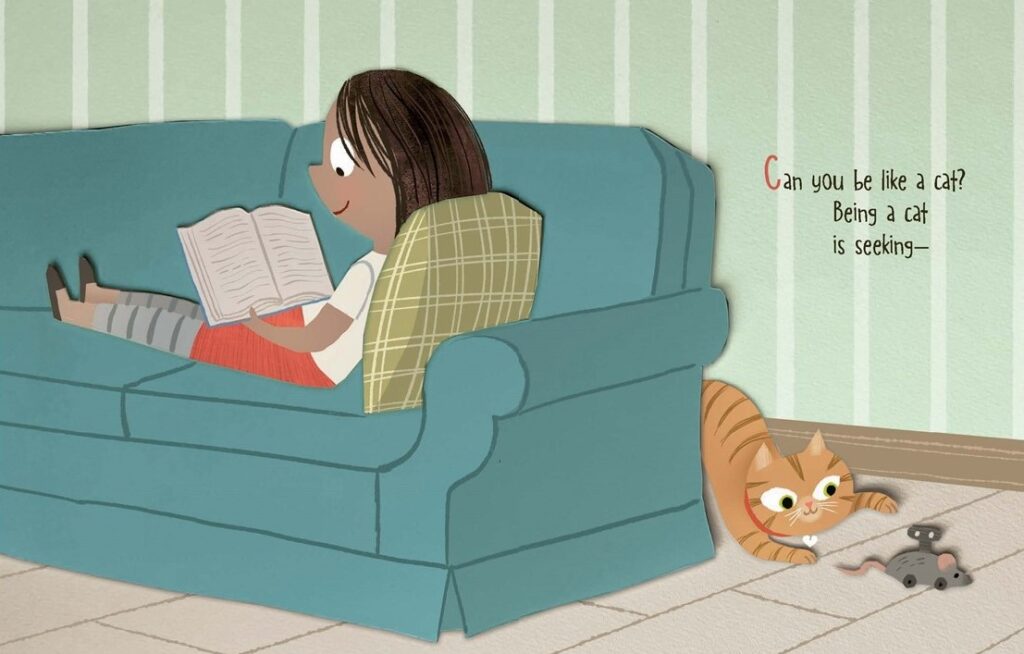 And this is one of my very favorite spreads where Pete works his magic with the kid and cat main characters. Isn't it adorable? I love how his illustrations reinforce the theme of play and curiosity too.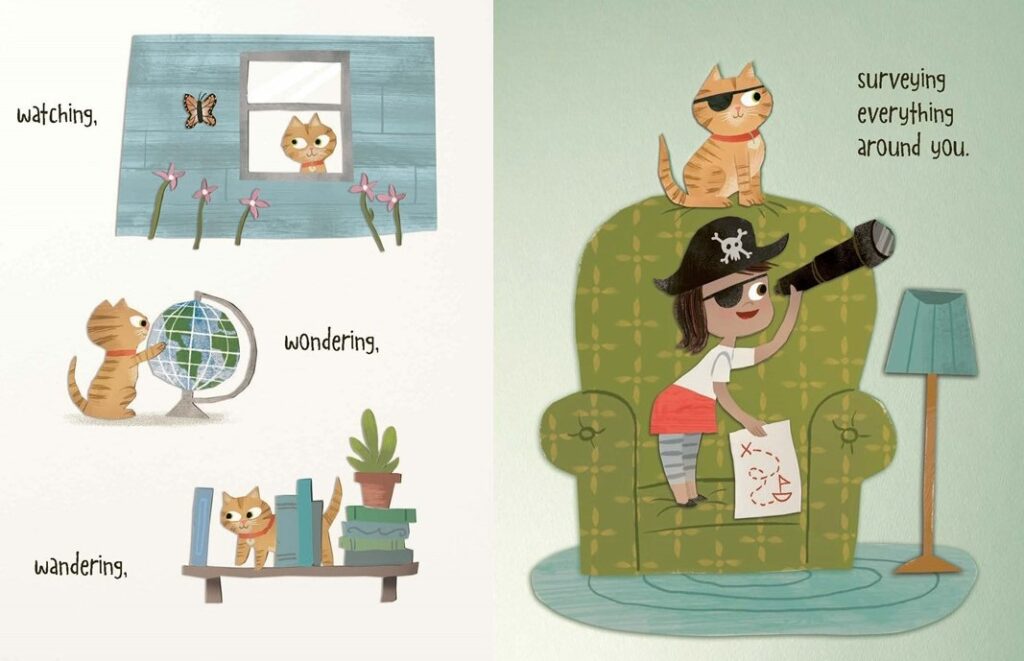 I am so grateful for being able to collaborate again with Pete—he infused the art with so much joy and humor!
This image just cracks me up. Do you have or know a cat that does this? They just seem to gravitate toward newly cleaned clothes, and laundry baskets, don't they?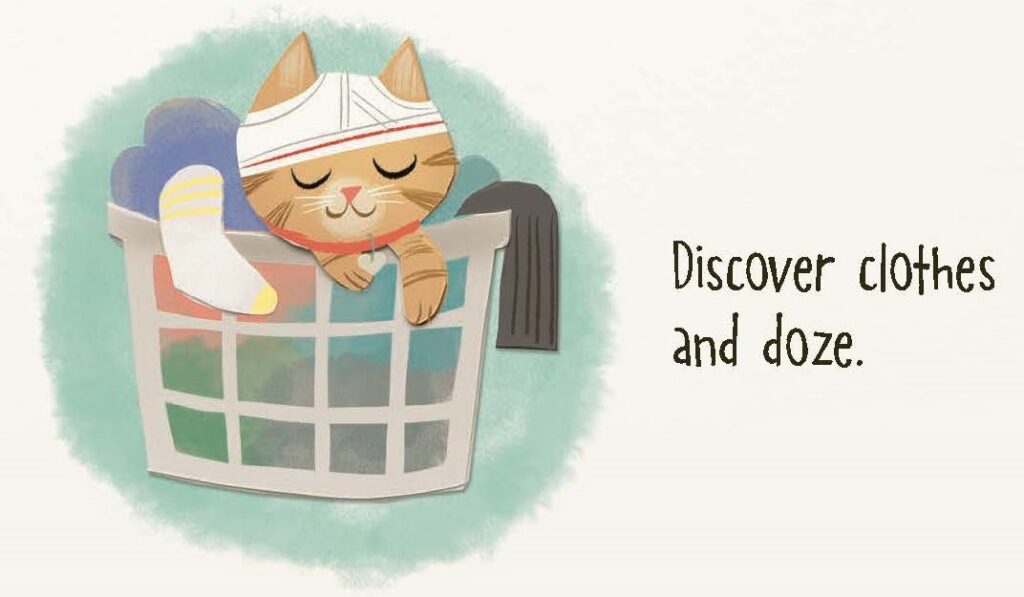 Cats LOVE to clean themselves, and it's hilarious to watch them do so. I had fun using parentheticals to express how their cleaning (preen in between) just seems so random sometimes—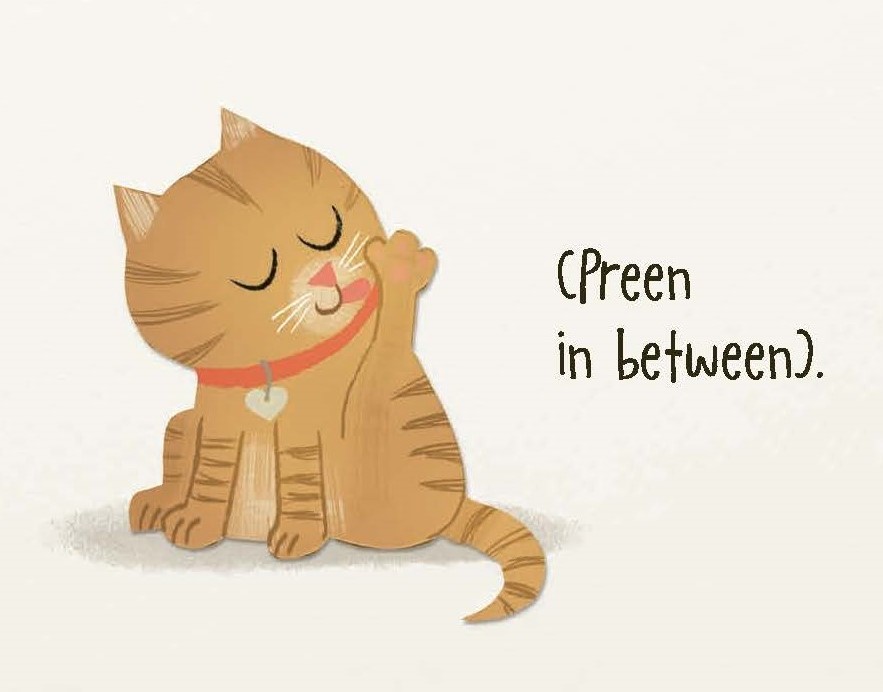 Like its predecessor, I wanted to have STEM-ish back matter about cat anatomy and their senses, the way their tails tell tales, and more fun feline facts!
Pete is definitely the cat's meow! He really made the facts come to life in his expressive and jovial illustrations.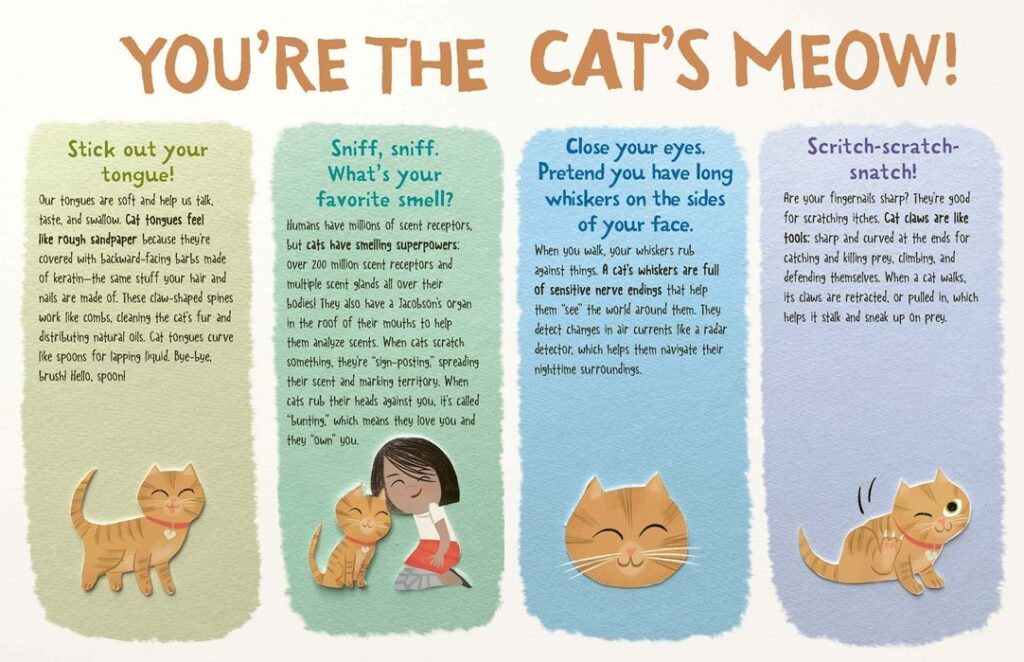 Do you have a purr-fectly curious cat? Tell us all about them below.
And if you don't, who's your favorite literary cat character?
Leave a comment to be entered into the giveaway (US only—sorry!)
If you'd like to pre/order a personalized copy of BEING A CAT, you can do so here at my local indie, The Silver Unicorn.
And if you live nearby, please join me at The Silver Unicorn in Acton, MA on Saturday, April 8th at 11AM to officially welcome it into the world!
Thanks for letting me celebrate curious cats, Andrea, and thanks for stopping by, readers! Stay curious!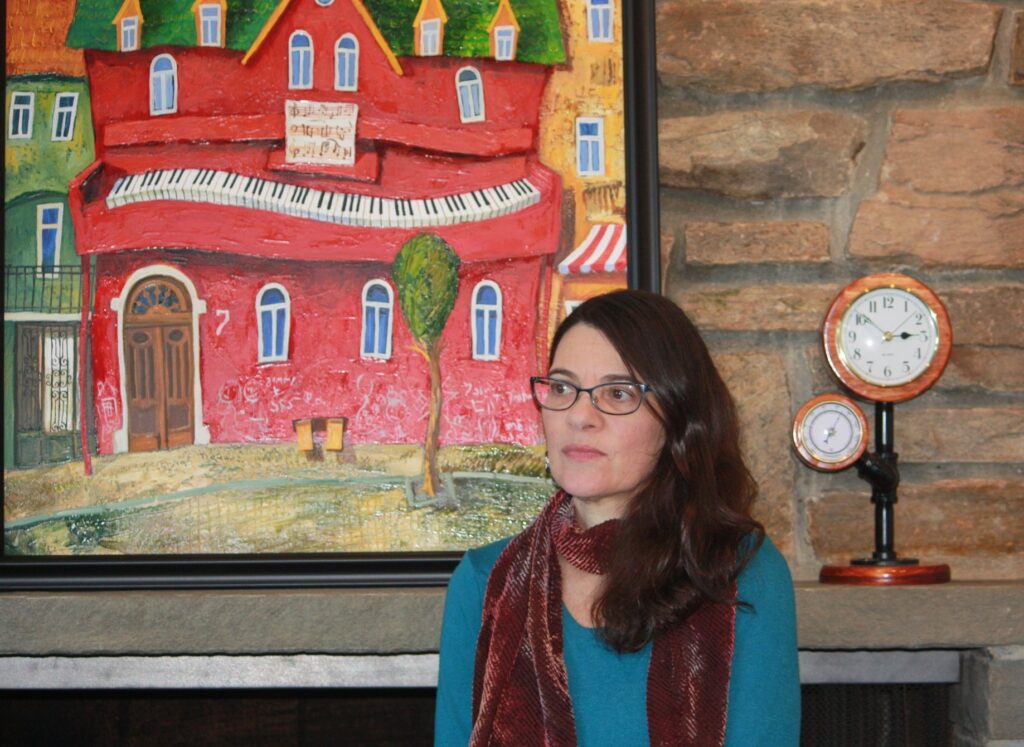 Maria Gianferrari is a picture book reader/writer, tea-drinker, dog-lover, and birdwatcher. Maria writes books that honor our bonds with creatures both domestic and wild, and that celebrate the wonders of the natural world around us. Curiously, though an unabashed dog lover, this is Maria's third book featuring cats as main characters, most recently Bobcat Prowling, as well as Officer Katz and Houndini. She lives in Massachusetts with her inquisitive scientist husband. You can learn more about Maria at her website: www.mariagianferrari.com, or follow her on socials: IG: @maria_gianferrari_author; Twitter: @Gianferrari_M.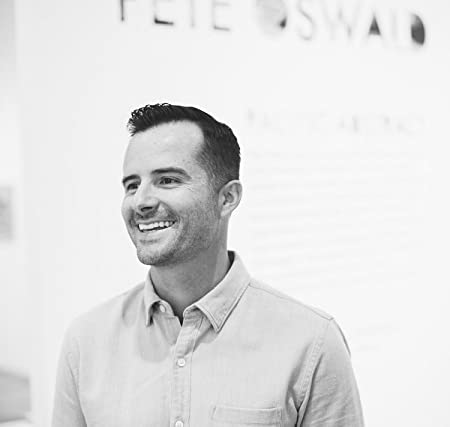 Pete Oswald is the #1 New York Times bestselling illustrator of The Couch Potato, The Cool Bean, The Good Egg, and The Bad Seed, written by JoryJohn. The bestselling duo also createdThat's What Dinosaurs Do together. Pete's author debut, Hike, was shortlisted for the CILIP Kate Greenaway Medal. In addition to making picture books, he works on numerous highly successful animated franchises as a character designer, concept artist, and production designer. He lives in Los Angeles with his wife and three sons. Visit Pete online at www.peteoswald.com.