Want to show a kiddo how one small act of kindness, multiplied, can make a real difference to somebody in need? There's a book for that…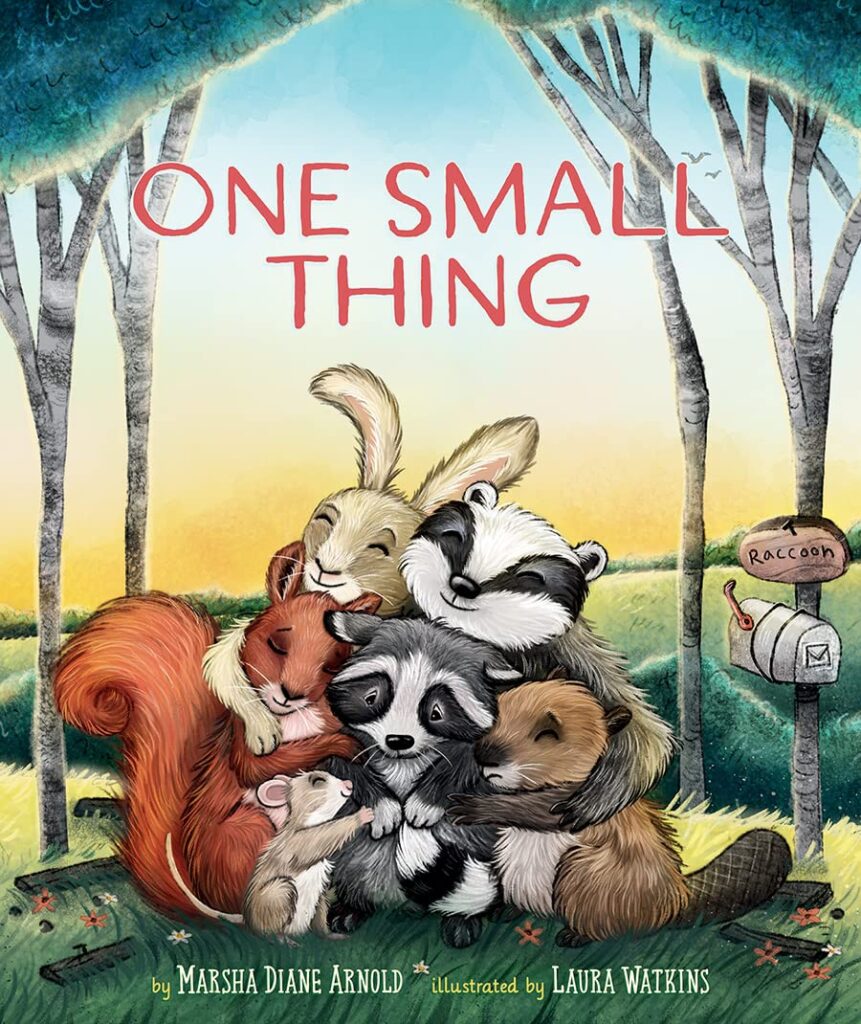 Marsha Diane Arnold's latest story, One Small Thing, features forest characters who exemplify kindness and thoughtfulness after their friend Raccoon's home is destroyed. None of them has the talents/skills to make everything better for their friend. Each, in turn, laments that fact … then each realizes they can help in a tiny way all their own, and gets to it. But when all those small acts of kindness come together … well, the love pours from this book and into your heart. Illustrator Laura Watkins makes these characters oh, so adorable, and her warm, cozy scenes make this a book kids will want to hug. One not-so-small thing that impressed me about this book is what a terrific job Marsha did making each character's personality unique. That makes every one feel needed, an integral part of the story.
Marsha agreed to let us peek behind the scenes.
Jill: Do you recall what prompted the original idea for this sweet story, Marsha?
Marsha: Hurricane Irma, the Tubbs wildfires, and the Australian bushfires, in that order.
Catastrophes nearby and catastrophes far away affect us. My husband and I had lived in Southwest Florida less than two years when Hurricane Irma rushed over us in 2017. Over fourteen friends and neighbors sheltered in our newly built home as we watched trees fall across our two acre property. In the back of my mind, I'm sure an idea was germinating. But I didn't write a word.
One month later, the Tubbs wildfire rushed through Sonoma County, where we recently moved from and where we had lived for thirty-five years. Our goddaughter's family lost their home. Other friends lost theirs. In the sadness, I'm sure an idea was germinating. But I didn't write a word.
In 2019, the bushfires began in Australia. The fires were much covered in the news. I was touched by the firefighters flying in from around the world to help, as well as the rescue dogs searching for koalas. All the calamities of the past years crowded my mind. I sat down and began to write.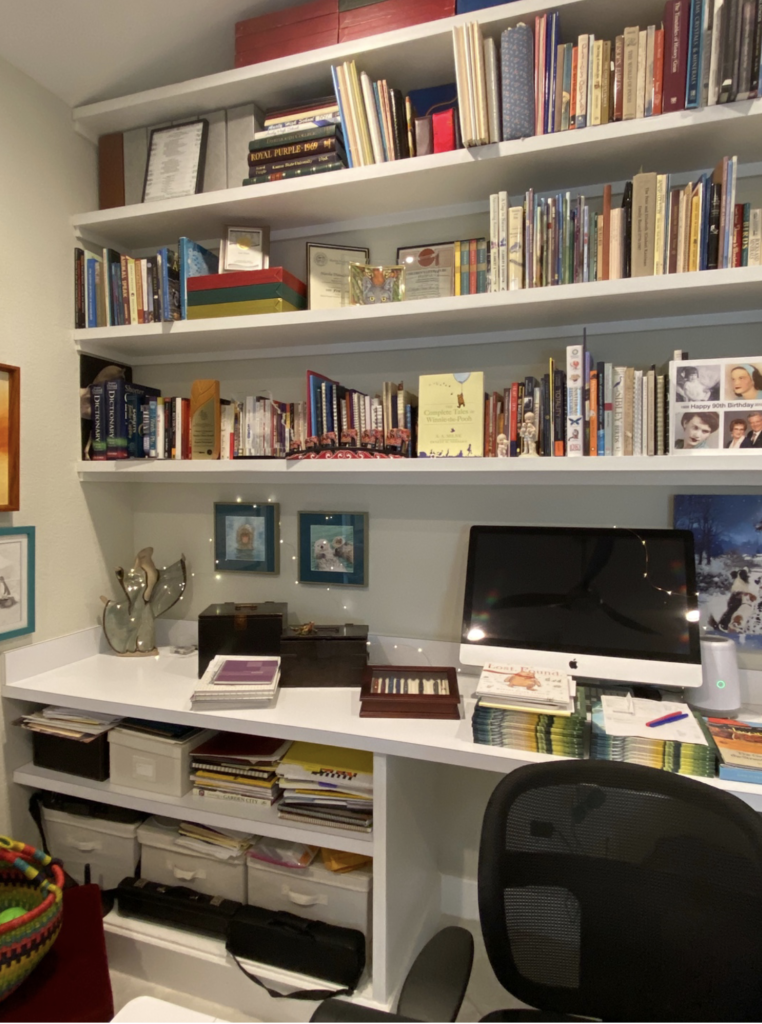 Jill: I love the succinct opening page, which drops readers right into a situation and could serve as a lesson in less-is-more for budding writers. SOMETHING has happened, but we don't yet know what.
"All the animals in Brightly Wood were talking about what happened."
Okay, who could read that and not turn the page? So, question: Did this opening take much rewriting?
Marsha: Thank you, Jill. I love that first line too. I almost always start my stories with the title or the first line. They usually just walk into my mind; I use them as my light, to guide me through the story. My editors almost never change them.
However, in the case of One Small Thing, my Beaming Books editors wanted one small change. Actually, my editors wanted a few changes, one being that I needed to change my original main character, Bear, to another woodland creature. Beaming Books already had two books coming out that featured a bear and they didn't need a third. I had originally wanted a large animal (Bear) to contrast with the small animals who realize they can do one small thing. Everyone agreed, in the end, that sweet Raccoon works well.
But back to that opening sentence. My original sentence was, "All the animals in Brightly Wood were talking about it." My editor wanted me to change it to, "All the animals in Brightly Wood were talking about what happened." At first, I wanted to keep "it." I wanted the beginning, where the animals are talking about Raccoon and the fire, to be quick, jolting, and abrupt, portraying something sudden and unexpected. To me "it" did that more than "what happened." I felt "it" also brought more mystery to the sentence. The reader would ask himself, "What's it? What's happened?" Then, Page Turn, we find out what happened. But I suppose "it" could have referred to an alien or a big rock that fell down the mountain. In a way, "what happened" is more specific.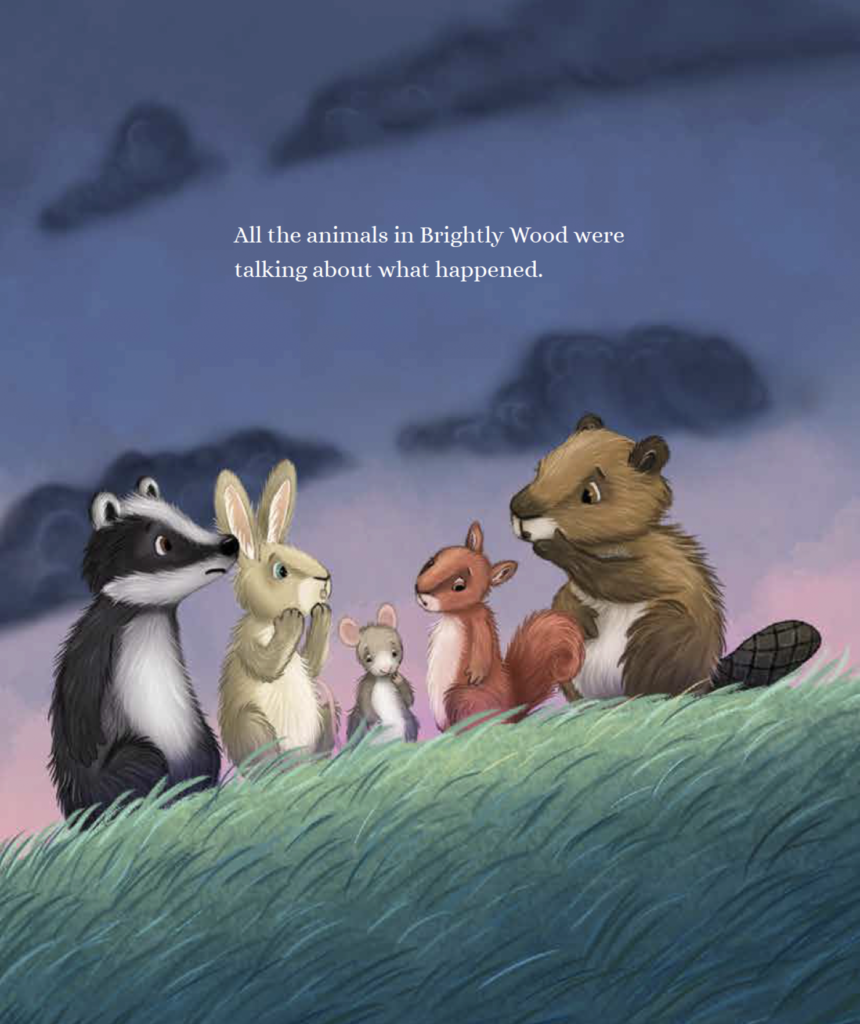 Could I have been overthinking this line? Oh, the minutiae that occupies a writer's mind! I'll share an early draft of One Small Thing's opening page and then a draft done after working with my editor. I had originally planned to use speech bubbles. The pagination in the later draft was requested by my editor. Although, I almost always know what text I'd like on which page, I never paginate when sending out a new manuscript. I trust the editor to have their own vision.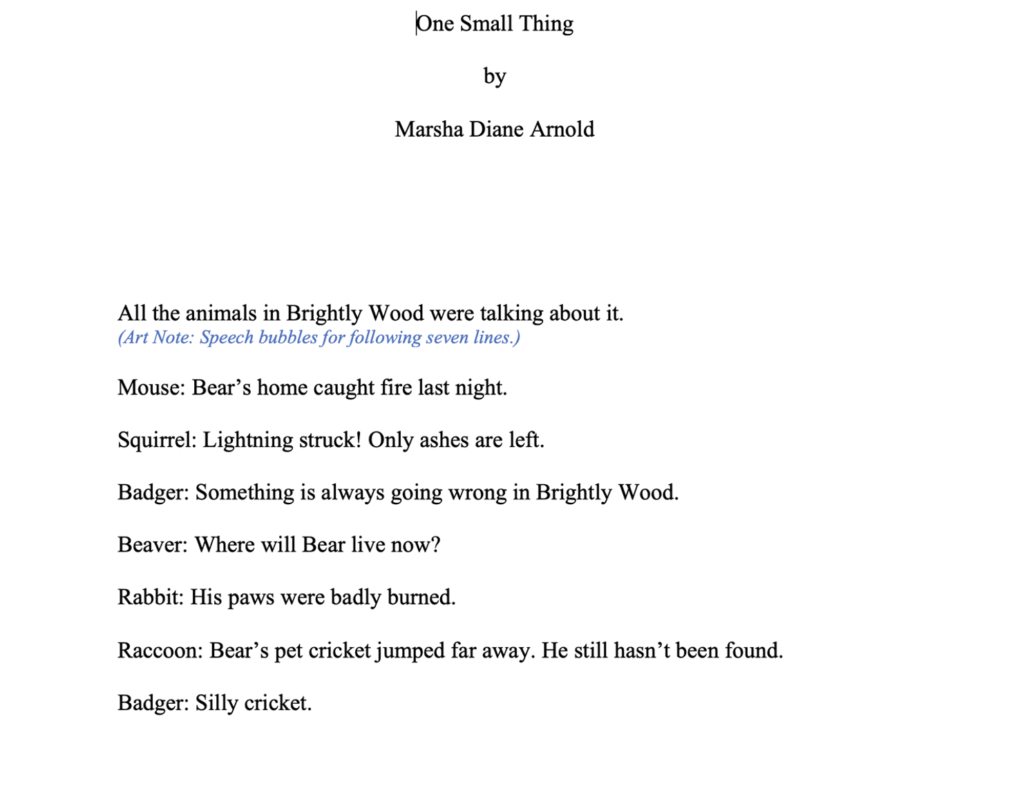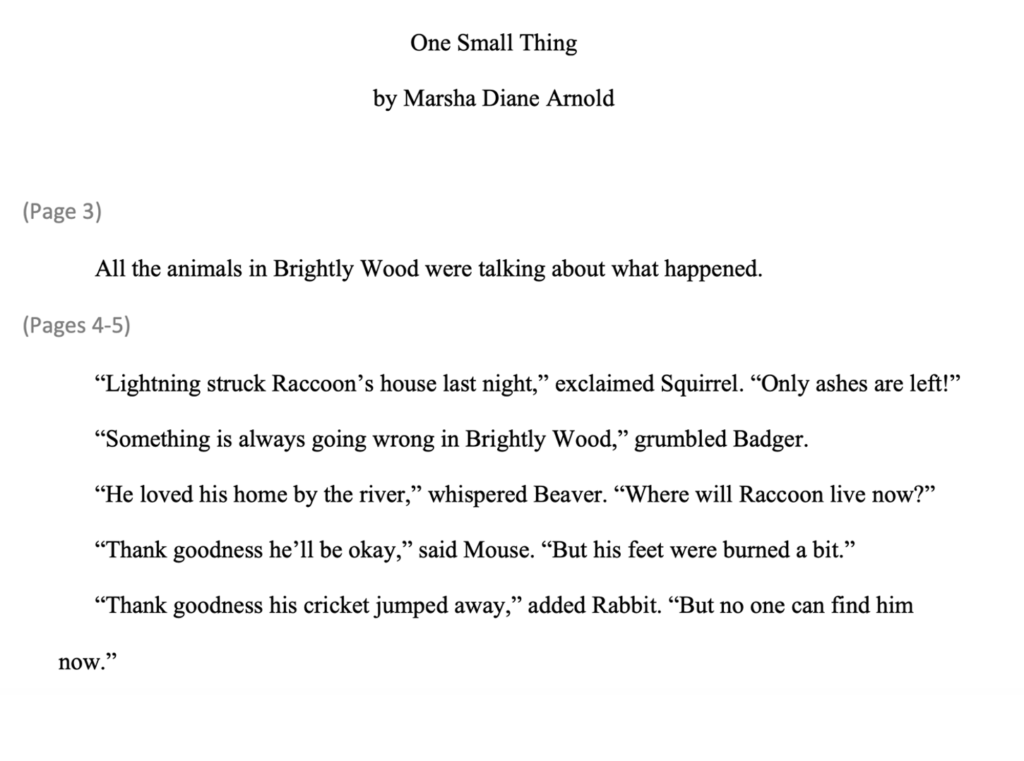 Jill: Overthinking … it's what we do best! 🙂 Each of the five animals in the story has their own personality. One is grumpy, one looks on the bright sides, one is a worrier, etc. I especially like grumpy Badger, who tens to look on the dark side, yet may have the mushiest heart of all. Are these characters based on folks you know? Which is most like YOU?
Marsha: I especially like grumpy Badger too. I have badgers in three of my books: Waiting for Snow, Badger's Perfect Garden, and now One Small Thing. I must have a thing for badgers!
I don't think about my characters as being based on someone I know. I suspect they are a mix of personalities, including my own. You mention one of my characters being grumpy, another looking on the bright side, and another being a worrier. Each of those describe me at different times during the day…or hour!
I do enjoy a nice cup of tea, like Squirrel. I love pulling a freshly baked loaf of bread from the oven, like Rabbit. And although I've never made my own herbal balm, I do like my herb garden and I do like balms, like Mouse. Perhaps the animal least like me is Beaver. She has such initiative and believes in her ability to build a house. I never quite believe in my ability to do anything, so I don't often take the initiative.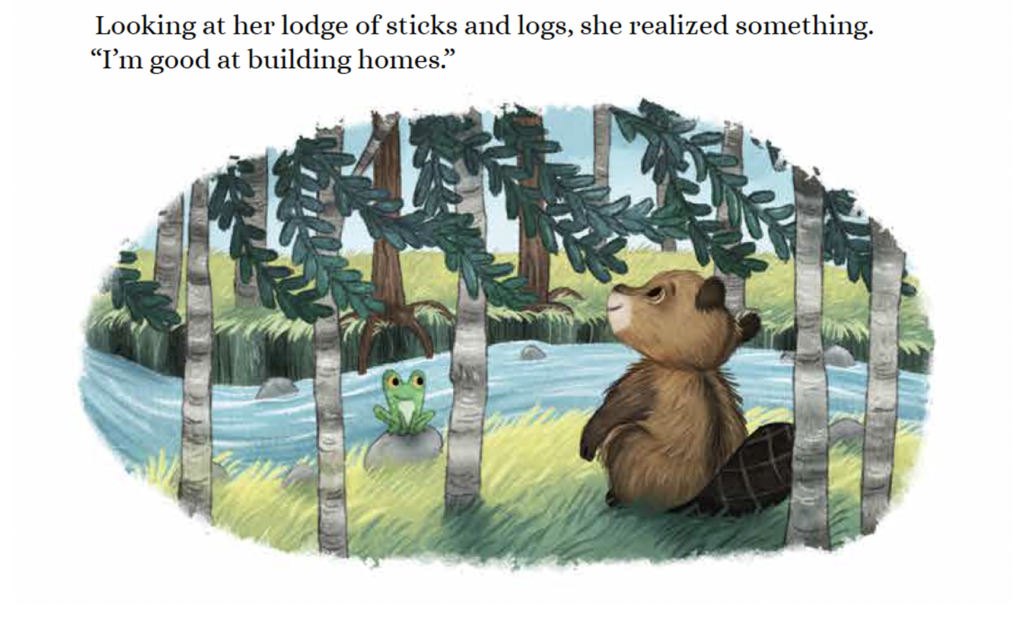 Maybe I am most like Badger, who wanders off into the darkest part of Brightly Wood to search for Cricket. Badger walks and walks; walking is good when we're feeling sad…or grumpy. (Aren't they really the same thing?) Badger knows that there are lots of things that will make Raccoon feel better, but the most important of all would be finding Raccoon's constant companion, Cricket.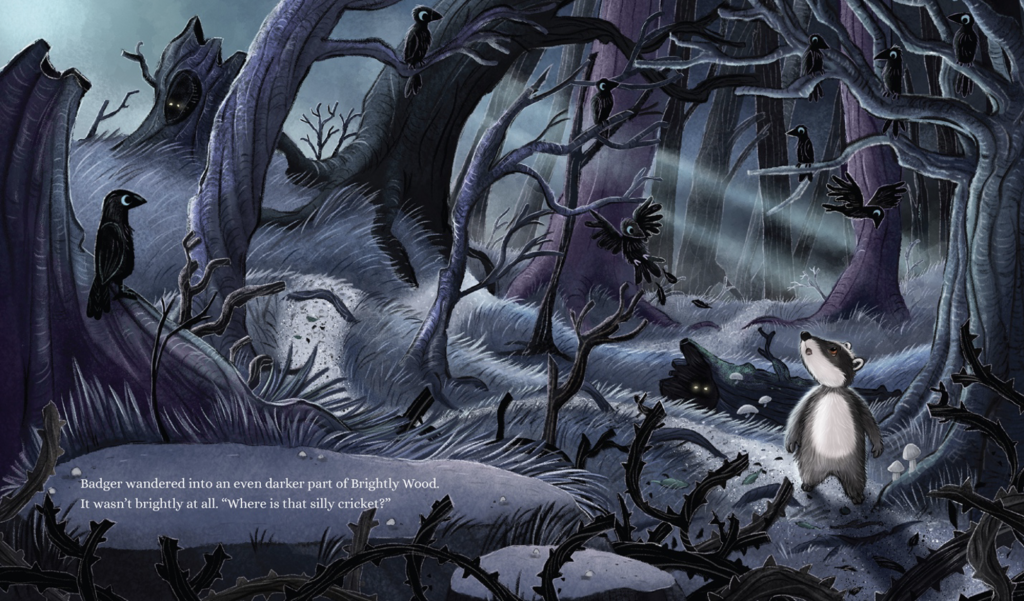 Jill: A back matter note says this is your 23rd book. has writing a picture book become easier?
Marsha: We may have miscounted there. I think we were including my other 2023 book, Armando's Island, which comes out in August. That will make 23.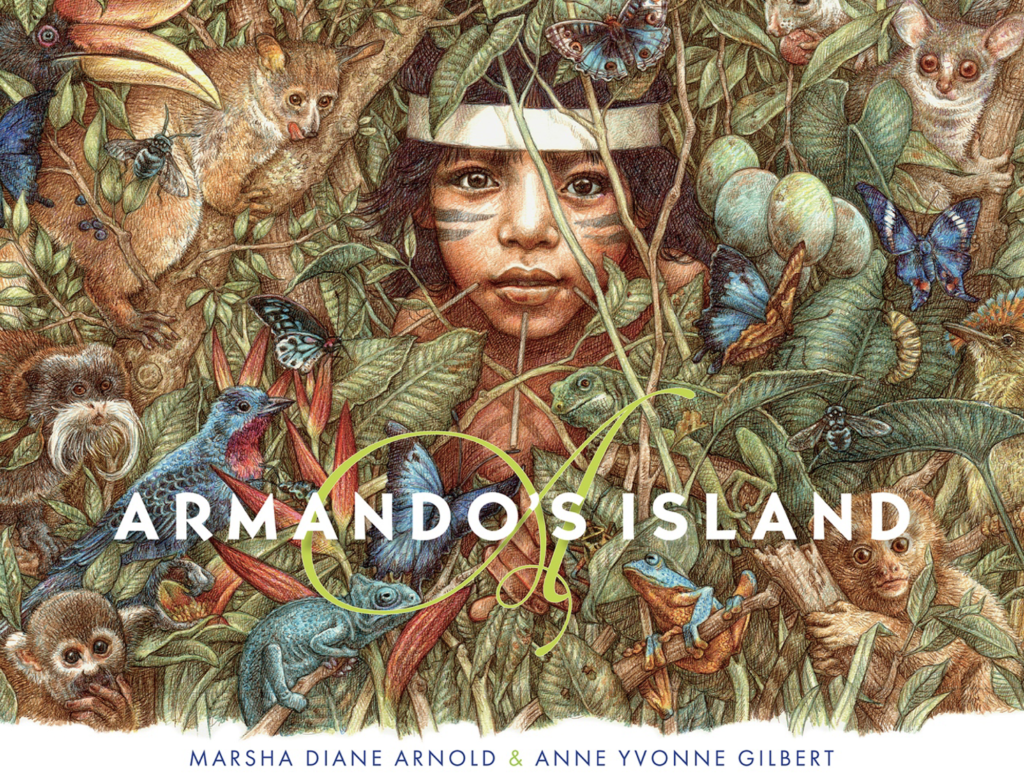 In some ways, writing a picture book is easier now. It took me many years to learn the craft and the art of writing a picture book. But it is always a challenge to tell a story with simplicity and depth at the same time, which I believe the best picture books do.
Since my first book was published in 1995, styles and the type of books publishers want have changed. I try to keep up with those changes. However, the truth is, even though I know what is popular at a certain time, I always write the story that I want to write, the one that has the most heart, the one that calls to me. I think we all should do the same.
Jill: I couldn't agree more, Marsha. It's definitely smart to know market trends, but writing to them rarely works out. What heart-full story is next up for you?
Marsha: What's up is my 24th book! Truly, my 24th. I can't share much about it yet, as it hasn't been announced. But I will give you a hint: ChugaChuga…Whoooo-Whoo.
We recently spoke about how much time "writing" takes these days. As you know, Jill, a lot of what we writers do doesn't have to do with writing our next story. This year, with two books being published, I've spent much of my time celebrating these books on social media. I'm grateful I was asked to join the co-marketing group, GreenPB2023. It's been wonderful to meet other 2023 authors and their books and to support one another in a variety of ways.
Another non-writing thing I'll be doing soon is giving a webinar with Shutta Crum. When Less is More: Writing the Wordless or Nearly Wordless Picture Book will be held June 3rd and you can register here: https://mddewv.scbwi.org/events/when-less-is-more-writing-the-wordless-or-nearly-wordless-picture-book/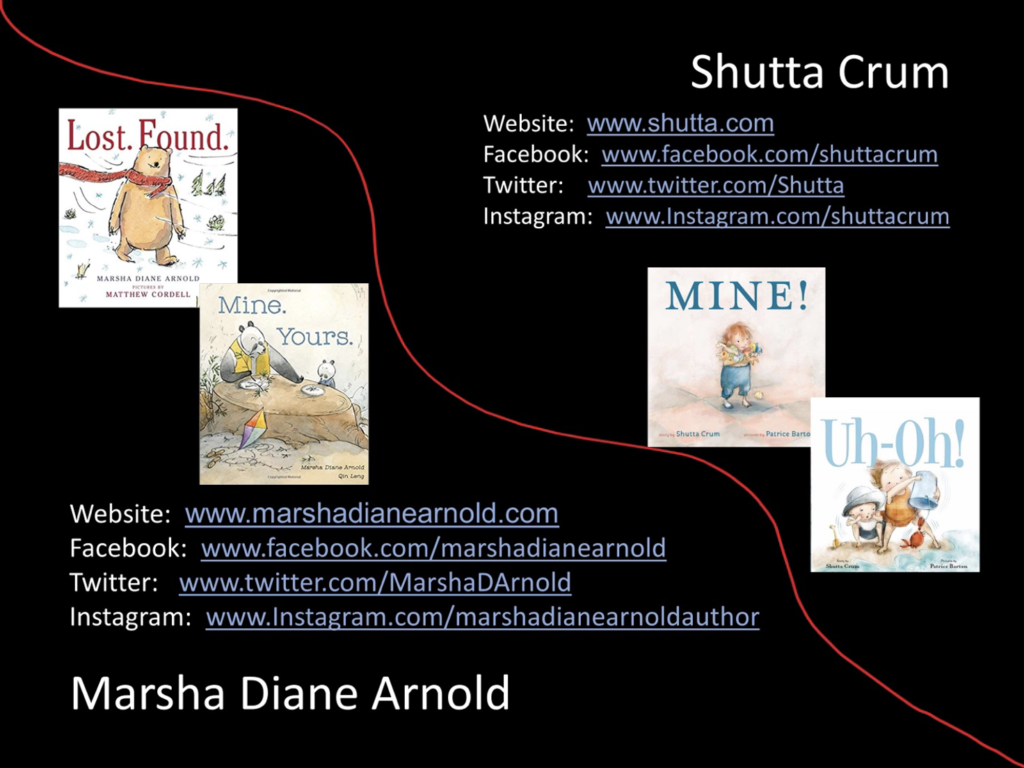 After that, I'm excited to get back to writing my next story, which will likely be about animals. I love animals!
Thank you so much, Jill, for inviting me to share with you. I always learn something from each of you at Picture Book Builders.
JIll: Note to readers: the links on this last visual won't work, but all you have to do is type any of them into your search bar.
Thank YOU, Marsha. Chatting with you is always a joy!