Happy summer, Everyone!
When Jill handed out the blog schedule and I saw that had been assigned Aug. 15th, I was like: "Why does that date seem SO familiar?!" And then I realized: it's the 1-year birthday of BRAINSTORM!, my debut book, illustrated by Kate Kronreif! Talk about time flying!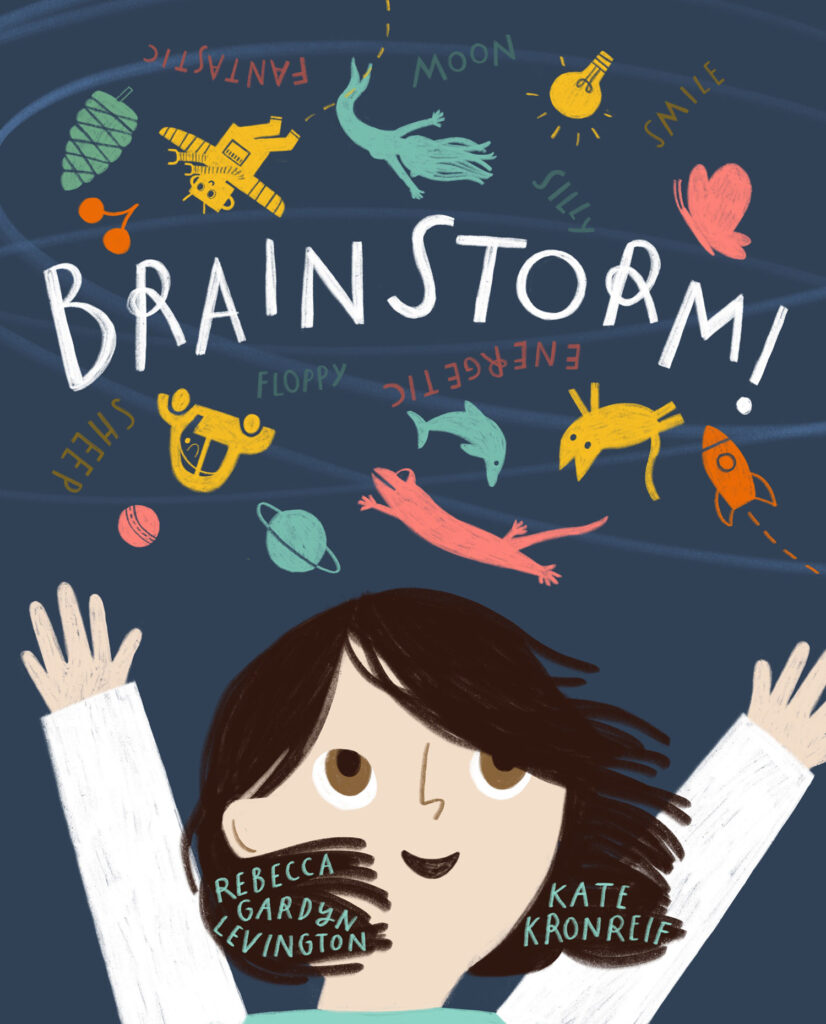 I asked Jill if it would be okay if I celebrated with all of you and she said "Of course!" and I said "Great!" And she said "Maybe you could talk about some things you learned during your debut year?" and I said "Sure!" And she said "Great!" And here we are!
So, without further ado, I give you…
FIVE SURPRISING THINGS I LEARNED DURING MY FIRST YEAR
AS A PUBLISHED PICTURE BOOK AUTHOR:
#1: COSTUMES ARE EVERYTHING!
One of the things I was most excited about when it came to becoming a published author was getting to share my books with kids at book festivals. As I talked with my husband about it, I showed him this baseball cap I'd proudly bought and thought would be perfect for me to wear as I promoted my book about brainstorming…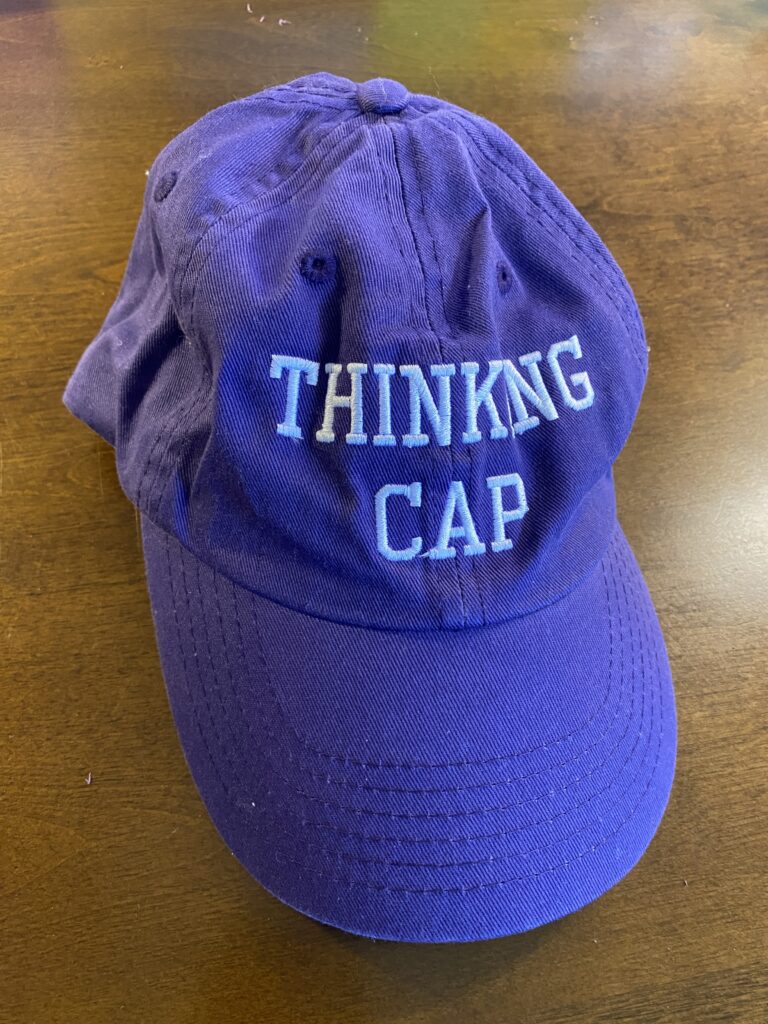 Super cute, right? Well, my husband looked at me sideways and said: "Seriously? No. You need something WAY BIGGER and BETTER than that!" Next thing I know, he'd found this: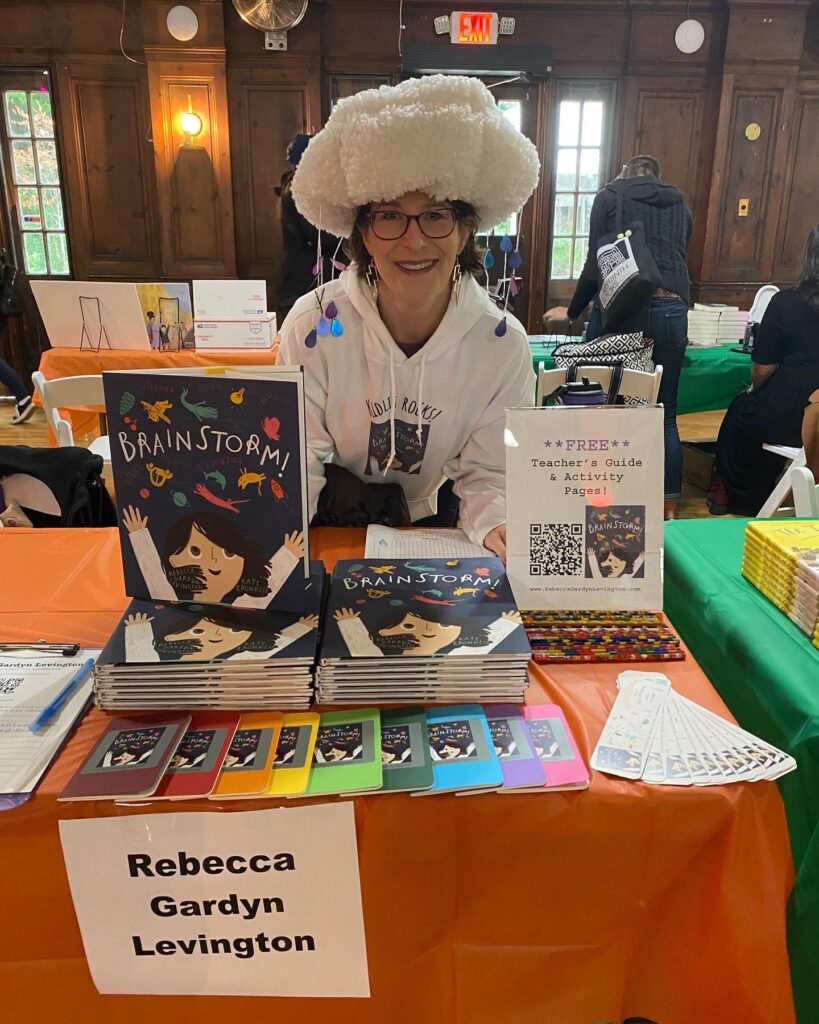 And guess what? He was TOTALLY right! I wear this storm cloud hat EVERYWHERE when promoting BRAINSTORM!, with amazing results. Kids see this weird poof on my head and the lights flashing (oh yes, there is lightning!) and they either come over to ask me about it or give me a weird look, which gives me an opening to say: "Wanna hear about why I'm wearing this silly hat?!" It helps me break the ice and connect with them every time.
When it came time to promote WHATEVER COMES TOMORROW, I'd learned my lesson…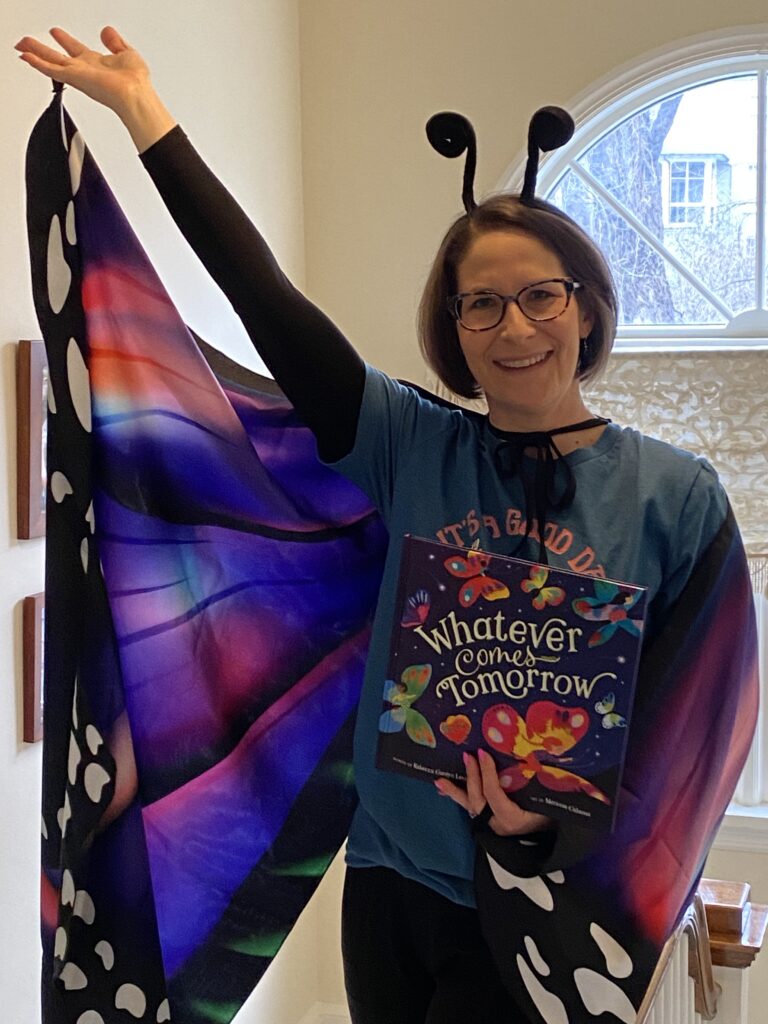 #2: I ACTUALLY *LOVE* SCHOOL VISITS!
As excited as I was about attending book festivals, I was NOT at all excited about doing school visits. I am TERRIFIED of public speaking and of being the center of attention and I was adamant that I would NEVER do them. But I'd also promised myself this year that I would push myself to do things that scare me, so when a few local librarians reached out and asked me to visit their schools, I said (GULP!) "Um…sure?"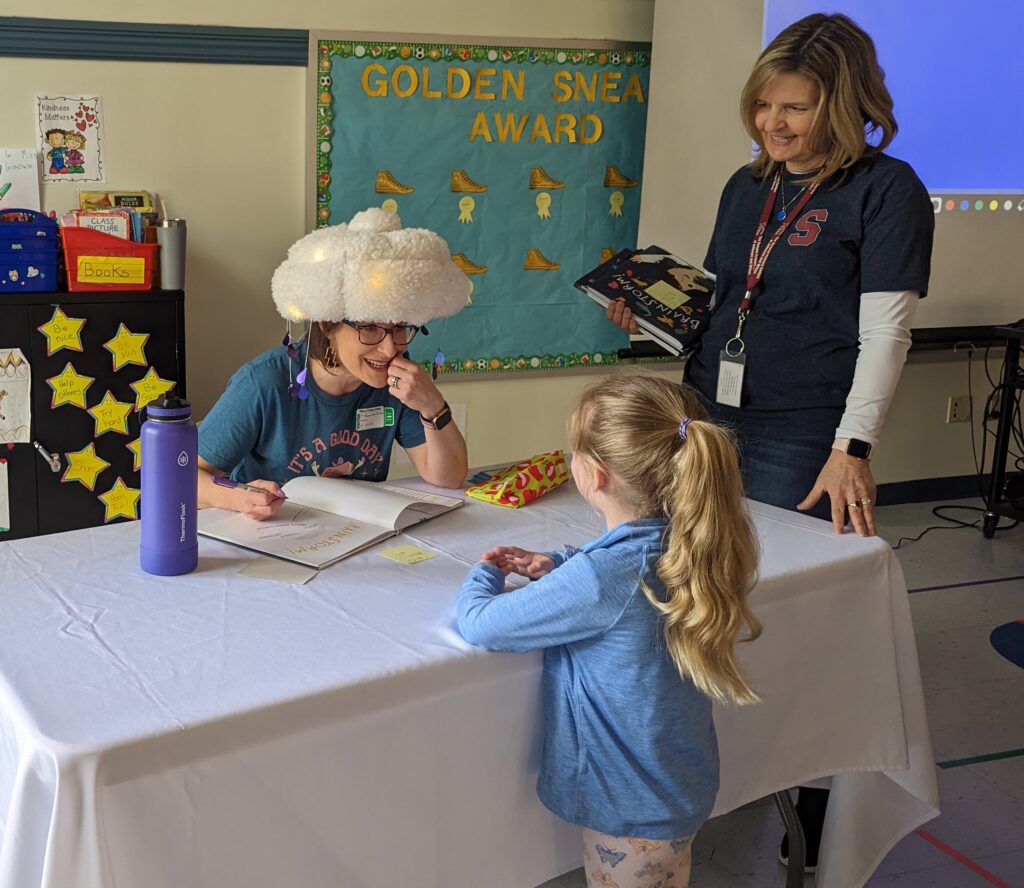 To be honest, I'm a true introvert and I've learned that school visits take a LOT out of me and are a TON of work, BUT the kids are so welcoming and kind and their questions are so insightful. I surprised myself by really enjoying the experiences. And then I received these….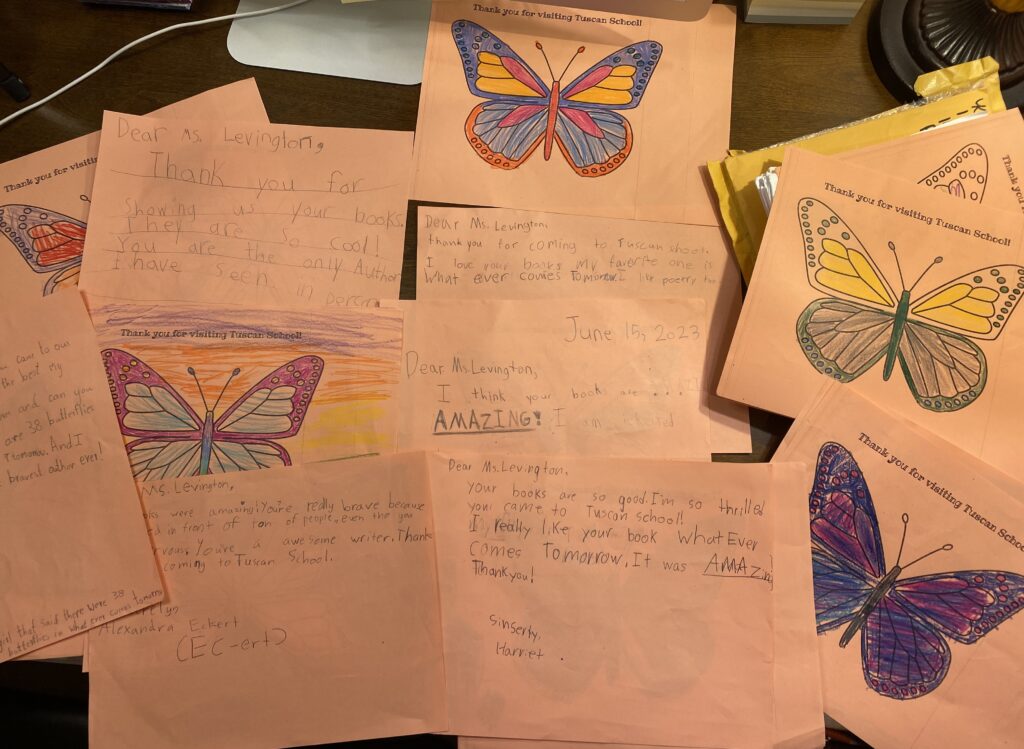 …and, well, that sealed the deal. I know I won't ever be an author who does hundreds of school visits a year, but I am now looking forward to doing more of them in the years to come!
#3: PROMOTION IS A HUGE TIME SUCK!
I was so surprised to discover how much time promoting my books took away from my writing. Among the new tasks sucking up my days: looking up, applying to, and attending book festivals, emailing bloggers and podcasters to see about being a guest, writing those blog posts and preparing for those interviews, designing and buying swag, learning Canva and creating slide presentations and social media posts, setting up, preparing and practicing for author visits and bookstore readings, posting and responding to social media posts, hosting giveaways, keeping my website and newsletter current… and that's just scratching the surface! It's been a LOT. And while I found most of it fun and, of course, it's important for getting the word out, I've learned from the past year that I have to be much more choosy about which promotional opportunities I participate in moving forward or I'll never have time to write anything new!
#4: PROMO GROUPS ARE THE BOMB.COM!
Of all the promotion-y things I did, however, joining a debut group was the best thing I ever did. I am so lucky to be a member of the phenomenal KidLit Caravan.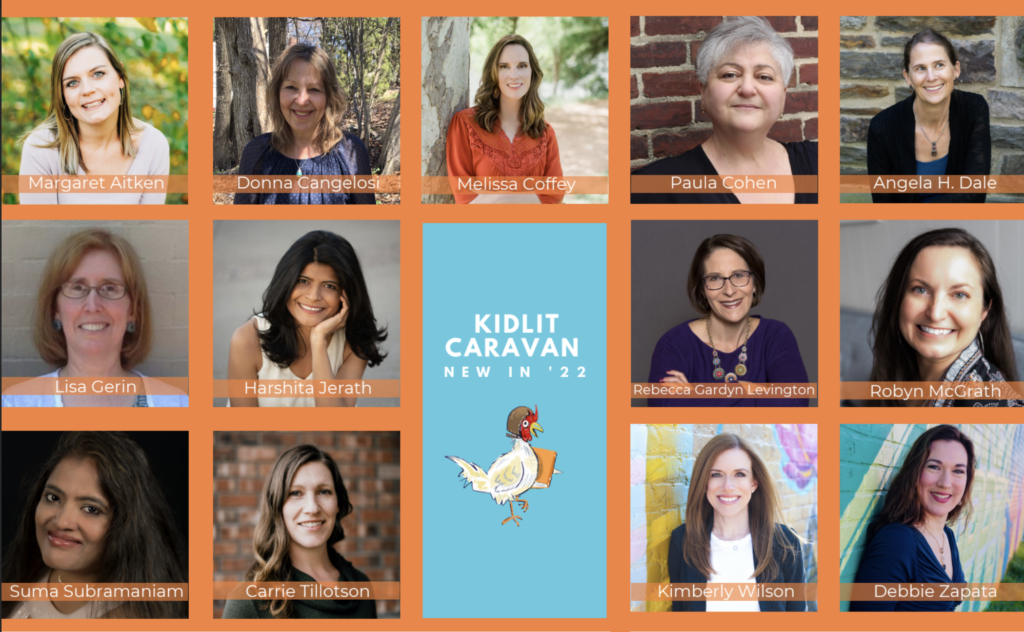 We are a group of 13 authors who had our debut picture books released in 2022. What a gift to be a part of a team who supports one another in so many ways — from reviewing each others' books and requesting them from our local libraries, to sharing tips and tricks from our launches and promotional wins and failures, to simply just being there for each other through the emotional roller-coastering of it all. Many of us have gone on to release our second books this year, and we are still each others' cheerleaders. For anyone who has a debut on the horizon, I highly recommend finding or starting a group like this. What a gift it was to have these incredible people in my corner.
#5: I STILL FEEL LIKE AN IMPOSTER
I really thought that once I had a book or two out in the world I'd feel like I'd "made it!" But I was surprised to learn that every single day, I still feel like I'll never write anything worthy again.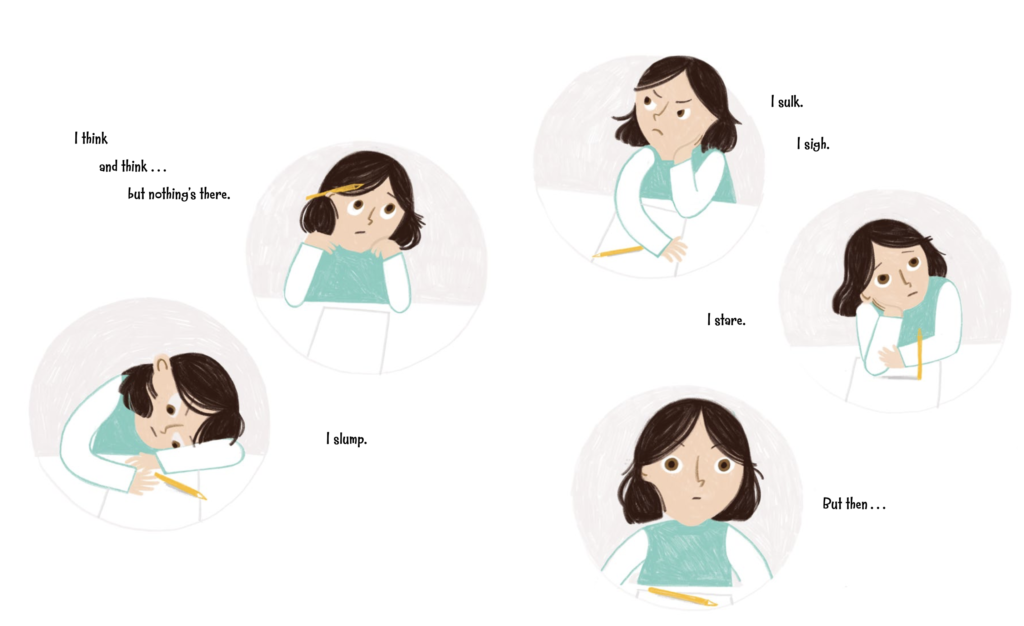 Editors are constantly passing on my work (I've had 4 books on submission this year and they've all been passed over) and it still stings – a LOT. BUT, I really want to believe that if I keep at it, eventually the stars will align once again. Or, if not, then they won't. I have no control over that. All I can control is that I keep growing, learning and doing the work. I will continue putting my Butt In Chair and doing what I love because… well, how can I not?
Thanks again for celebrating BRAINSTORM!'s first birthday with me!
To add some more fun to the party, I'd like to do a GIVEAWAY!
Please comment below and share this blog post on social media for an extra entry (tag me @WriterRebeccaGL on Twitter or @RebeccaGardynLevington on Instagram), and you'll be entered to win:
**A Signed/Personalized copy of either
BRAINSTORM! or WHATEVER COMES TOMORROW
OR
**A 30-min Ask Me Anything Zoom call!
I will announce the winner in my next post, scheduled for Sept. 12th.
Thanks for reading this far! Have a fabulous rest of the summer!