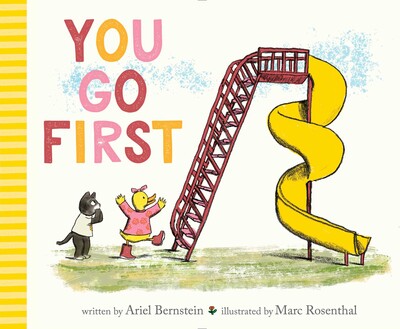 Oh, people.
Who doesn't enjoy a day at the playground with a good friend?
You Go First, written by Ariel Bernstein and illustrated by Marc Rosenthal, stars two good friends, Cat and Duck, who discover a brand new slide on the playground. Duck can't wait to try it out. And Cat? Well, Cat is a bit apprehensive about this bigger, curvier situation.
In addition to a charming story, this book has a secret case cover and ridiculously wonderful end papers. To further reel you in, please know that You Go First is one of my favorite picture books of 2023.
But I'm not the only fan.
This is what Publishers Weekly and Kirkus had to say:
"In a second match-up from collaborators Bernstein and Rosenthal, character-forward playground vignettes, rendered in sturdy pencil outlines and cheery digital color, are comically in sync with the interplay and mood of the deadpan, emotionally astute narration and dialogue."
– Publishers Weekly
"Both extremely funny and spot-on sensitive."
– Kirkus, STARRED REVIEW
Nice, huh?
Today, Ariel Bernstein is with us at Picture Book Builders. Let's ask her some questions, shall we?
TS: Ariel! Welcome to Picture Book Builders. Please tell us what inspired this funny, relatable-to-so-many-of-us book.
AB: Hi, Tammi! Would you believe it's actually a Covid story? The current version of You Go First is very different from the story I initially set out to write, and I honestly don't remember what inspired that story. But when I was revising, it was during the height of the pandemic. My husband had a very mild case of Covid at the beginning, and because we figured he had some immunity for a while, he was the one going out to do everything from food shopping to any appointments. I was always worried for him when he went out, but gradually I realized a lot of my worry had to do with my own fears and needing to figure out how to venture back 'out.' That need to overcome your own fears in order to be there for yourself as well as someone you care about seeped into the writing.
TS: The wildly talented Mark Rosenthal illustrated You Go First, but this is not your first book together. The first was We Love Fishing! What has it been like to partner up a second time?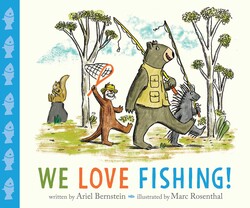 AB: It's awesome having books with Mark! Like most picture book authors and illustrators, we never work directly with each other on the text and illustrations as everything goes through the editor. But it's always a thrill to see everything they show me from his beginning sketches to the final illustrations. Mark captures the characters and their personalities so vividly, while bringing a ton of humor and nuance to each page of the story. It's been really fun to keep in touch with Mark through email to celebrate good news about the books, and I even got to meet him in person once at the Warwick Book Festival where we signed copies of We Love Fishing! together. I hope to meet up again at future book events!

TS: Please share your favorite line and your favorite spread from the book.
AB: My favorite line is when the narrator says "Cat, a very good friend, worried that Duck wasn't being polite enough." It encapsulates so much about the story because of course Duck is being polite enough to the Pigs waiting in line. Cat is very sneakily grasping at straws to find any way he can to delay having to go down the slide. It's so ridiculous, and the fact that Duck humors Cat and agrees to let the Pigs go first shows what a wonderful friend she is.
My favorite spread is when Duck decides not to go down the slide, and Cat realizes how badly he feels about it. It's a tricky set up because 1) Marc Rosenthal has to show four pieces of dialogue without dialogue tags, and 2) it's a pivotal part of the story where things suddenly change. But he does it so seamlessly and brilliantly that you don't even realize how difficult the layout must have been.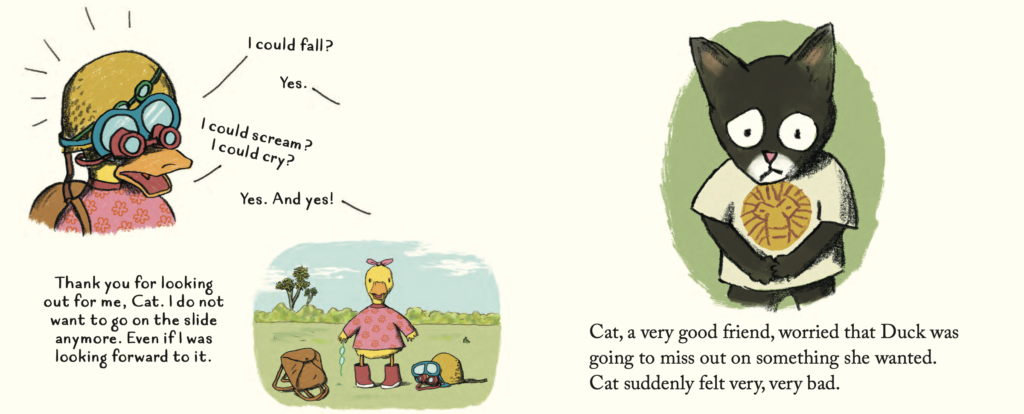 TS: Now we're going to get down to the nitty-gritty–what was your very favorite thing to do on the playground when you were a kid? (Side note: Our school got one of those big, curvy slides when I was in the sixth grade, and my friends and I could barely handle the awesomeness! To this day, every time I'm in my hometown and driving by Victoria Elementary School, I glance over at that slide and smile.)
AB: It sounds like you had the perfect slide as a kid! I grew up without a backyard, so honestly I loved every single thing at the playground and never took it for granted that we lived within walking distance of one. But my favorite were definitely the swings. My dad would play a game with me and my sister called "Don't come back." The setup:
We would beg my dad to play "Don't come back."
My dad would only agree if we promised to not come back after he pushed the swing.
We would promise.
He would push us on the swing.
We would try with all our might to pump our legs thinking there'd somehow be a chance we could stay in the air.
We would promptly swing right back to the bottom.
My dad would shake his head in disappointment and say, 'but you promised not to come back!'
And then we would beg him to play it again.
I played it with my kids when they were young and they loved it just as much. There's no reason or logic to the game and you can never win it, it's just pure fun and silliness.
TS: I have the Ariel Bernstein Picture Book Collection at my house. I mean, please. You had me at I Have a Balloon, illustrated by Scott Magoon. (This is some evidence as to how much I loved that book.) Can you give us a glimpse into your creative process? Basically, in 150 words or less, how do you do come up with such delightful characters and storylines???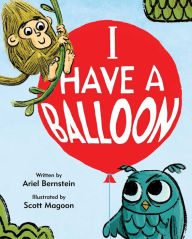 AB: Aw, thank you for your very kind words, Tammi! That post about I Have a Balloon means so much to me!
Okay, for my creative process: To get into the "picture book mindset," I request a bunch of new picture books from the library and curate some mentor texts from my home library (no surprise, there are many Tammi Sauer titles in there!). I alternate between reading books and just being open to new ideas. When I think of something interesting enough, I start to craft a story. Sometimes I get stuck, but sometimes I actually end up with a first draft!
TS: Clearly, we are in a Mutual Admiration Society! We are also proud members of the We Have Books With Scott Magoon Association.
Scoop time! What's next?
AB: I'm excited to share that I will have a third picture book with Marc Rosenthal at Paula Wiseman Books/Simon & Schuster! It's titled Mabel Wants a Friend and is scheduled for Fall 2024. In the meantime, I'm working on new manuscripts and revising after getting very helpful feedback from my critique partners and agent.
BIO: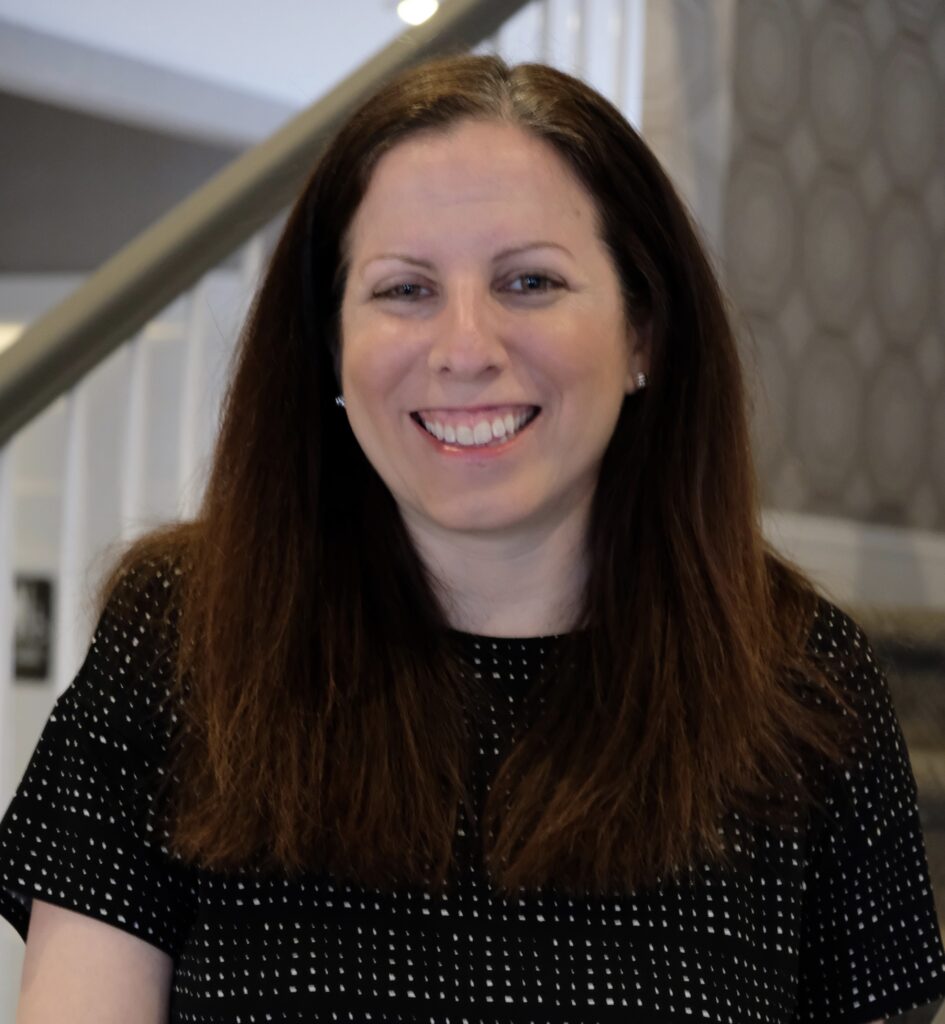 Ariel Bernstein is the author of I HAVE A BALLOON and WHERE IS MY BALLOON?, illustrated by Scott Magoon, WE LOVE FISHING! and YOU GO FIRST, illustrated by Marc Rosenthal, and the WARREN & DRAGON chapter book series, illustrated by Mike Malbrough. Many of her books have received starred reviews and are Junior Library Guild Selections. Ariel lives in New Jersey with her family. Find her on Twitter and Threads @ArielBBooks and at www.arielbernsteinbooks.com.
GIVEAWAY:
Ariel is doing a giveaway! For a chance to win a signed copy of You Go First, leave a comment on this post. For an additional chance, please share the post on Twitter. Be sure to tag @ArielBBooks and @SauerTammi.
WINNER: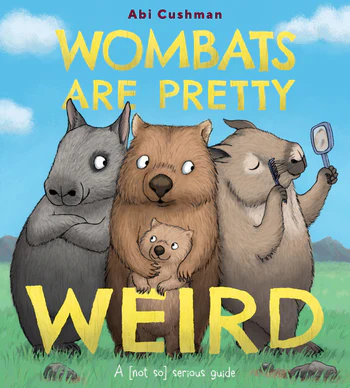 Congratulations, Jenny Lussier! You won a copy of Wombats are Pretty Weird.