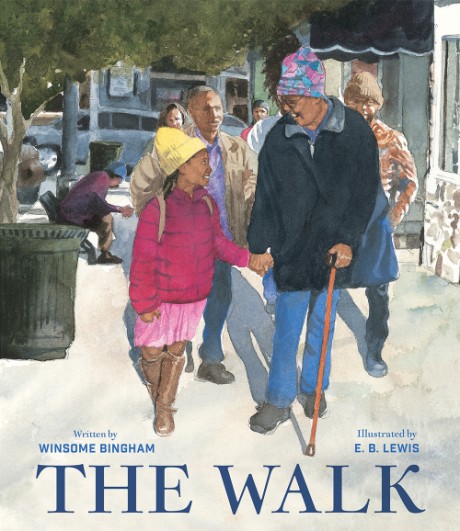 Granny and her granddaughter are going on a walk. But this is not just any walk. It's a walk that must not be missed–one that is more important than ever, but that has been made increasingly difficult for many to participate in. It's a walk that joins together a community, that lifts voices, that allows us to speak up, stand up, and say what's on our minds. It's a walk for hope. / Where are all these treasured souls going? Just WALK ON and find out.

Front flap copy for The Walk, by Winsome Bingham and illustrated by E.B. Lewis
Andrea: Hi, Winsome! Welcome to Picture Book Builders! I'm so excited to ask you all about your newest book, THE WALK. The flap copy is tantalizing and mysterious. We're left wondering where Granny and her granddaughter are going. Can you tell us a little more about the book and what inspired you to write this story? I'll leave it up to you if you want to reveal their destination!
Winsome: THE WALK is my second picture book. It is illustrated by the amazing fine artist, E. B. Lewis. I was inspired to write THE WALK while watching Michelle Obama's documentary BECOMING on Netflix.
She spoke about the election cycle for her husband, Barack Obama. And immediately inspiration took over my body. I grabbed a pencil and a napkin and started scribbling a poem. The phrase, "and we walked on…" kept swimming on the sea of whiteness. So, I asked myself, how can I make this a picture book for kids if kids can't vote? Then I took the poem and drafted a manuscript. I knew immediately it had to be a girl since SOUL FOOD SUNDAY had a boy character. (I like to balance my writing by giving equal agency and autonomy to both genders.) So on this day, a young girl is out of school. She goes to her granny's house where her Granny planned on walking to the polls with her neighbors and friends. In this community, going to vote is a community event. People met with others and took THE WALK. Much like when I was a kid, we did this. We all walked up with the adults to the elementary school to vote.
I also wanted to clarify the notion that GREAT leaders are not born, they are made. We hear all the time that such and such "is a born leader." But the truth is, no one is a born leader. To be a leader, you need to be trained, concepts need to be taught, skills need to be learned, and empathy needs to be planted in your heart from early on. Leaders without training create chaos. (At least, this is what I think.)
Andrea: I love diving into the craft of writing picture books. I'm particularly interested in plot structure, because the stories I've been writing lately don't fit the "typical" plot arc we're taught in schools and workshops. What you wrote in your Storystorm 2021 guest blogger post really resonated with me. You had finished writing SOUL FOOD SUNDAY and then you said, "I tucked it away because I had people read it and the consensus was, You will not be published because the character doesn't try three times and fail." Of course, it did get published and garnered awards and starred reviews. The Walk also has a unique plot structure. Could you share your thoughts about plot structure and how you developed the arc for THE WALK?
Winsome: THE WALK is an example of a "moment in time" narrative. This is what happened and here is how it happened. No bells, no whistles, just a story. I am not a traditionalist when it comes to story structure. I'm descendant of enslaved Africans brought to the Caribbean. Therefore, my storytelling reflect that of my people. I never liked the "three times try and fail" format. Most times, Black and Brown children will not have the opportunity to try and fail. Most times, they have one shot. Only one! Therefore, letting children believe that they will have time to try and try again does not sit well with the stories I want to tell. So, I create my own structure and format. I just want to tell a good story. If the character tries and fails, so be it. If they don't, that is okay too.
Developing the arc was easy. I knew they were going to vote. I knew the community's vision and mission. In my mind, I knew what that day looked like or should look like. I remember what I did as a kid – running up the driveway, knocking on the door, and letting the adult know that we were outside waiting. But when my editor acquired it and I got my editorial notes, she felt that the child was not doing enough. And I immediately understood what she meant. So I had to ask myself another question, what are the little things that children can do? And I knew how to fix it. These subtle changes added depth and power to the arc and the story.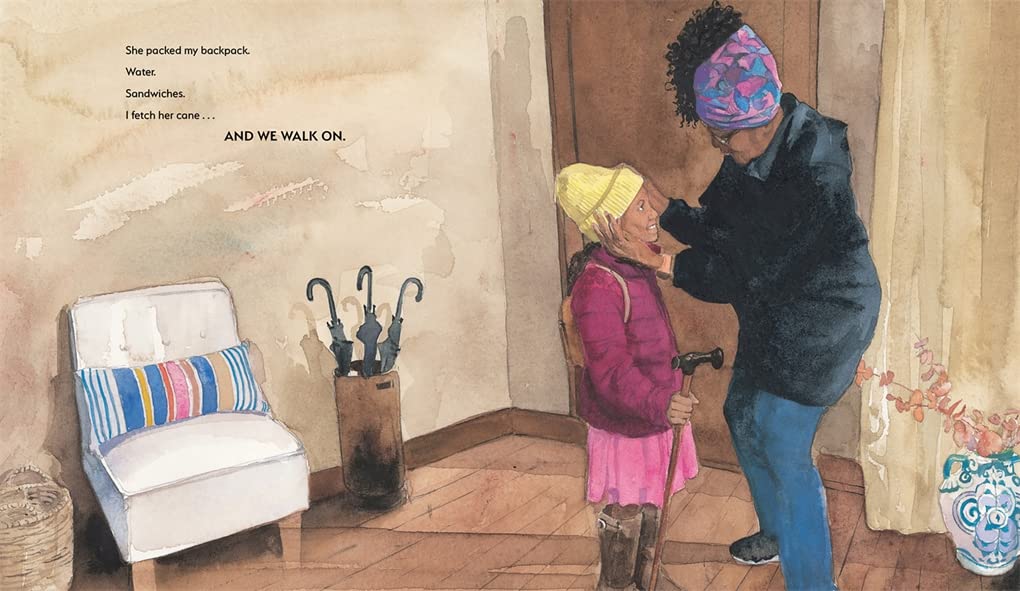 Andrea: I hope you'll agree with me, though, that there are some elements good stories need, like conflict and tension, that keep the story moving and the reader reading. The main character in The Walk is the granddaughter, who is generally very agreeable and doesn't resist when Granny takes her on the walk. What do you consider to be the conflict in the story, and how did you approach adding tension?
Winsome: I do not agree with you "that there are some elements good stories need, like conflict and tension, that keeps the story moving and the reader reading." I see this all the time in craft books and I disagree. Many cultures do not tell stories this way. Yet, they tell amazingly good stories. We cannot dismiss stories because it doesn't follow the standards of whiteness. We have to respect cultures and embrace those cultures and their style of storytelling. This is why we are at the point in publishing where there's a need and cry for "diverse books and stories." Authentic storytelling is not one way, it isn't a cookie-cutter narrative. Authentic storytelling is how that culture tells stories and what stories they deem necessary to be told. And I would hope that others would want to experience how different cultures document their stories.
The CONFLICT in THE WALK is internal for the little girl and the societal for the grandmother. We see it plays out in the action and frustration of the little girl. She is tired of walking; but culturally, she can't voice that to her granny out of respect. So she keeps asking if they are at their destination. She has feelings about this walk. She has a lunch packed so she knows this is going to be a long walk or else, they wouldn't have to take food with them. They would most likely come back home for lunch. But she is trained to do as she is told, and so she does.
For the grandmother, just the thought of watching your community run down and people struggling triggers an emotional torch. The conflict is MAN -VS- SOCIETY. There is a hint of voter's suppression. The community is voting for hope. What does "hope" look like? Why is everyone showing up. The lady with the walker should stay home. Think about it, she has difficulty walking. Yet, she makes sure to take this walk. This conveys that it is of importance. And Granny shares with the granddaughter that they are voting for HOPE.
And the TENSION is the frustration in the little girls walking for a long time. This little girl has agency and autonomy. But her recurring character trait is she has no sense of time. She's constantly asking, "Are we here?"
One of the spreads, she says, "When will we be there? We been walking forever." Now, as adults we know she hasn't been walking forever. But I felt that I needed the hyperbole to trigger something in the hearts of children. This is indeed an exaggeration. But to her, it is a long time and so I felt that the hyperbole was necessary. Also, have you ever been stuck in a car with a child who constantly asks every few minutes, "Are we there yet?" It's annoying to the adult. But to the kid, they don't see anything wrong.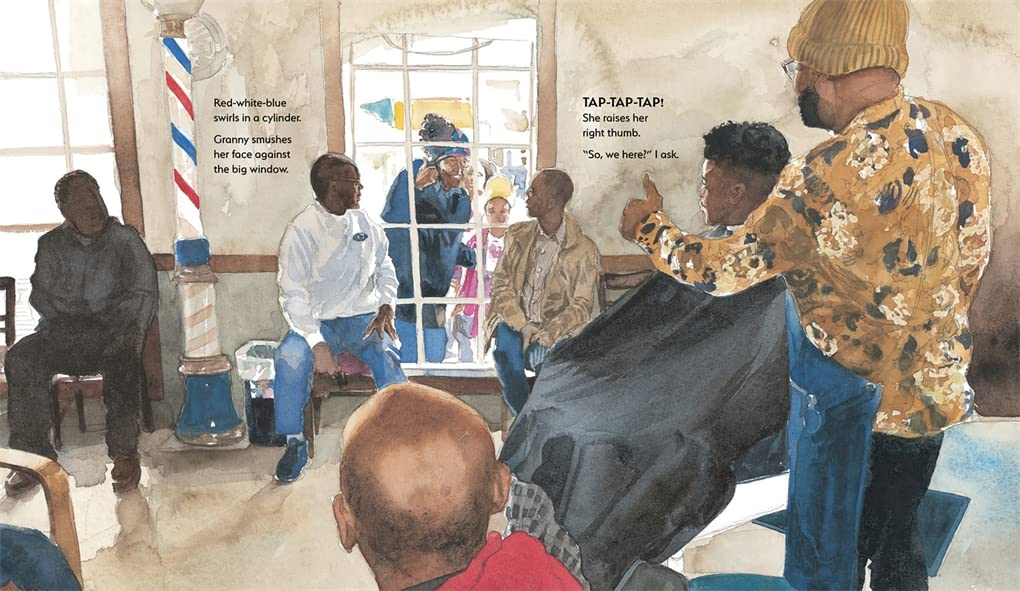 Andrea: The language in the story is so rich – with figurative language, onomatopoeia, a refrain, symbolic colors, rhythm, and voice, just to name a few. How much of this was in the original draft (which you said you wrote in less than 40 minutes!!!), and how much was added or changed during revisions?
Winsome: The language is rich because it started as a poem. I love rhythm in writing. Rhyme is rhythm, but rhythm is not necessarily rhyme. I love to use onomatopoeia to break up the monotony of the text. So, my books tend to have a lot of poetic devices. I am all about musicality and cadence. The use of consonance, assonance, and alliteration adds a boppity-bluesy feel to the text. When I was teaching, I learned the books that went over well with my students were the ones that were rhythmic in nature. And everything in the book was in the original drafted poem. The characters are the new addition.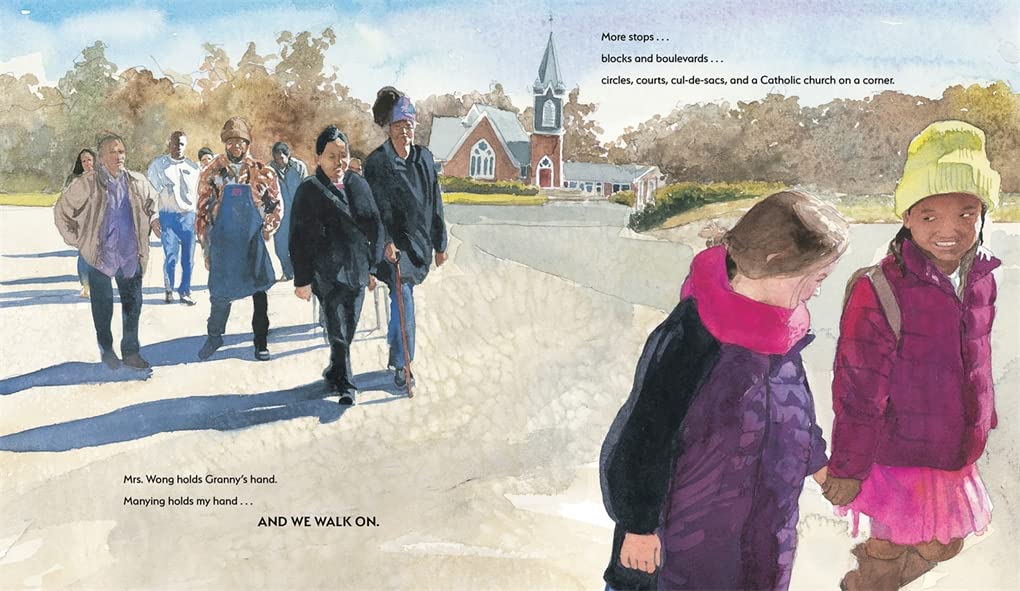 Andrea: I feel like this is a good segue to the illustrations, which were painted by Caldecott Honoree E.B. Lewis. The art is truly amazing – it evokes deep emotions as well as captures culture and the heart of this community. Coupled with your moving text, I found myself tearing up more than once. Did you collaborate with or have an opportunity to share your vision of the story with E.B., or did you hand off your manuscript and let him work his magic?
Winsome: Hand off the manuscript and let him do his magic. I got an email from my editor. She was so excited. She shared that E.B. came into the Abrams office with BLANK, WHITE, PAPER, and mapped out the story before their eyes. He did the sketches in front of them. SPREAD BY SPREAD! Everyone was in awe. He's that talented and I knew he didn't need anyone telling him what to do.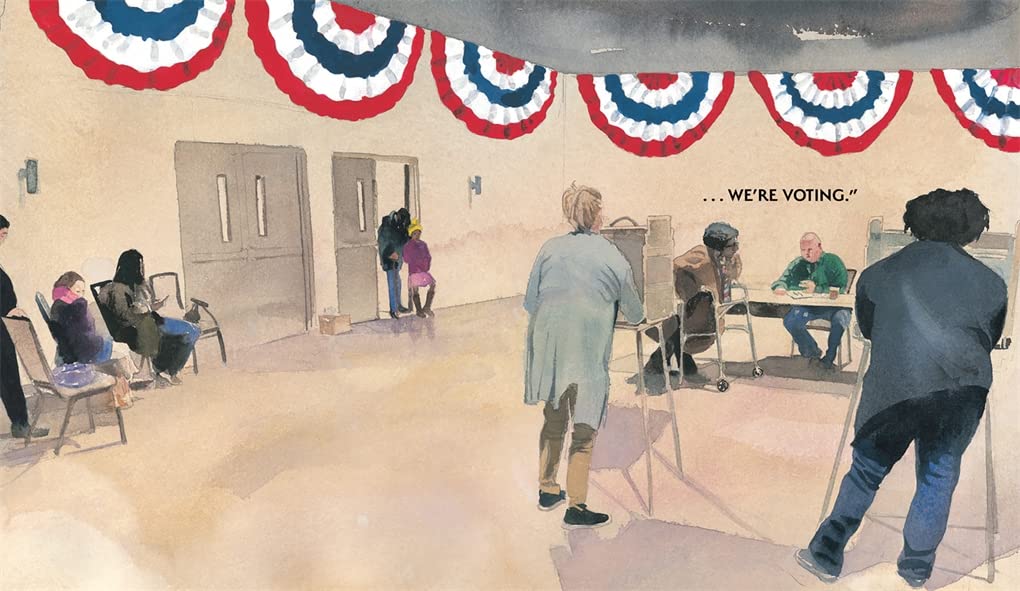 Andrea: If you've read my books, you know I love back matter. There are historical events only alluded to in the book by the year in which they happened: 1972 and 2008. Did you ever consider adding more info about these events in back matter? Was it a deliberate decision not to give more details about these events in either the text or the back matter, in light of the current political situation and book banning efforts?
Winsome: I never considered adding more info about the events – 1972 & 2008 – in back matter? I don't think children needed to know that. I didn't want to bombard them with extra information that didn't push the story forward. I didn't want them to feel like they are getting a history lesson. Teachers can use this book and delve more into this. Think about the audience of picture books. This will fly over the heads of a 4-year-olds. They have no prior knowledge to history or historical significance. That part is for the adults to share those moments. And for them to figure out why those two years were mentioned. It's for the culture.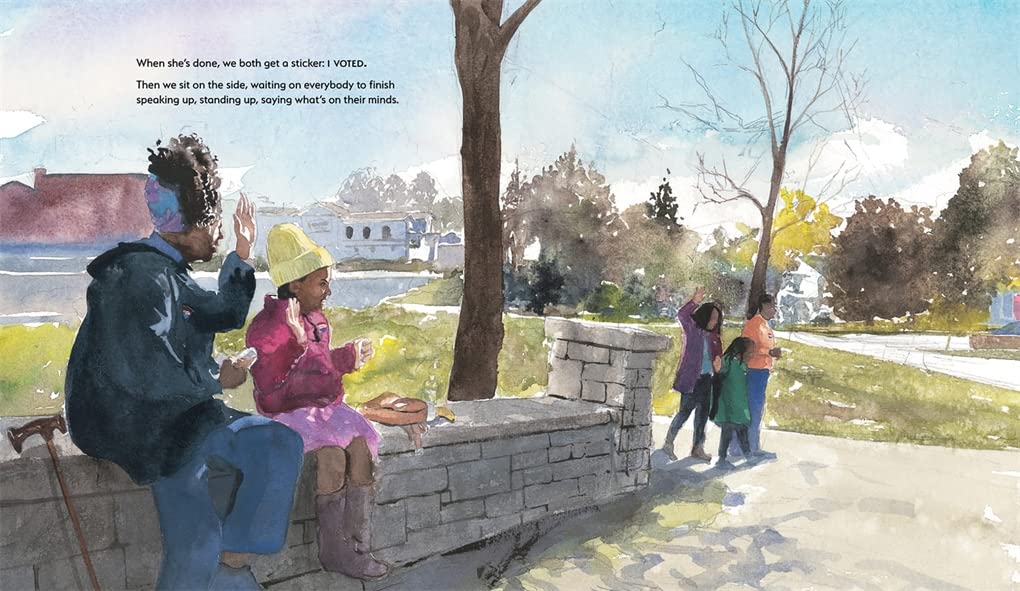 Andrea: Speaking of the current political situation, it feels like a particularly relevant time for THE WALK to be published. What would you like young readers to take away from the book? Or any other thoughts you'd like to share?
Winsome: This moment in time IS relevant! Just like all the other times before now. A lot is going on around us and children are inundated with news of oppression and suppression.
And for students, their livelihood is at stake. They're going to school and some are not coming home. That is a problem. We are seeing and feeling so much despair. But children are affected by the choices we make. We should leave the world better than we found it. And that is a lesson to teach the little ones in our lives.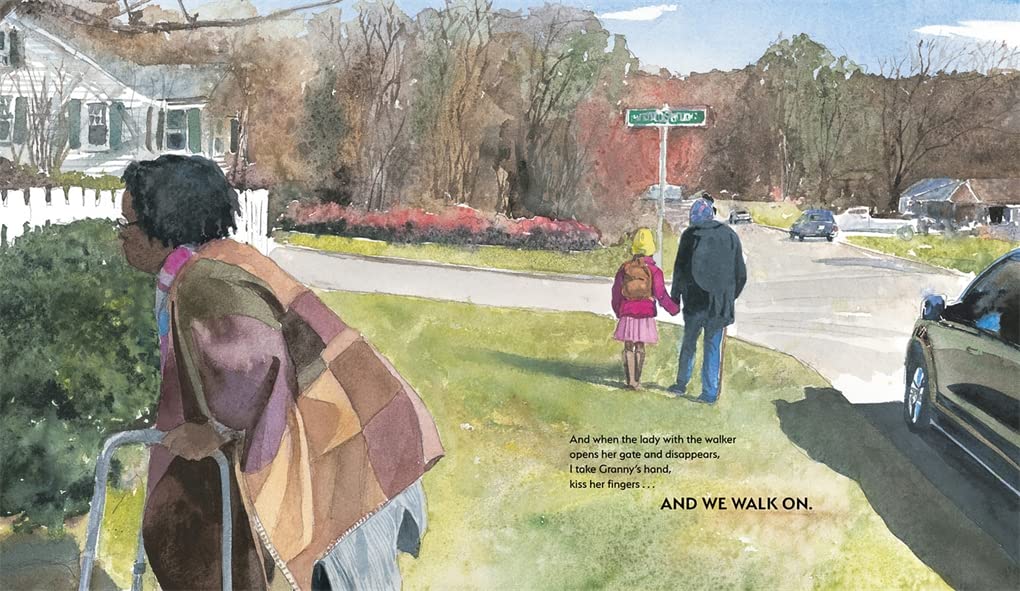 Andrea: What's next for you, book-wise, and where can we find or follow you on the Web?
Winsome:
As it stands now, I have four to five books scheduled to come out next year.
LIFE IS BEAUTIFUL, illustrated by Molly Mendoza (JOVITA WORE PANTS) and coming from Beach Lane Books (an imprint of Simon and Schuster) is a picture book about living life to the fullest and creating memorable moments.
MISSING MOMMA, illustrated by Rahele Jomepour-Bell (TO CHANGE A PLANET) and coming from Abrams Kids, is a picture book about a young girl dealing with a mother with war-related PTSD.
THE TABLE, co-written with Wiley Blevins (TREVOR LEE AND THE BIG UH-OH) and illustrated by Caldecott Honoree Jason Griffin (AIN'T BURNED ALL THE BRIGHT) and coming from Neal Porter Books, is about two different families and their connection to a kitchen table.
THE GOODE LIFE (Book 2 & 3 in the FORT GOODE chapter book series), illustrated by Colin Bootman (ALMOST TO FREEDOM) follows Lang, Ying, Carlos, George and their family on the fictional military base of Fort Goode.
You can find me:
Website: www.binghamwrites.com
Twitter/X: @ArmyVet5
Instagram: @ArmyVetFive
TikTok: @ArmyVetFive
Andrea: Thanks so much for chatting with me! I hope readers are as inspired as I am by THE WALK to write, to create community, and above all, to vote! Everyone, THE WALK comes out next week, on September 12th. Walk, run, drive, or click to get your copy!
Bonus content: Winsome interviewed her illustrator, Coretta Scott King Award and Caldecott Honor winner E.B. Lewis. Click here for the video and especially check out where Winsome asks E.B. my question about the two significant years (1972 and 2008) in the book.
Winsome is giving away one copy of THE WALK. (Continental U.S. addresses only, please.) Please comment below by September 19th to enter the giveaway.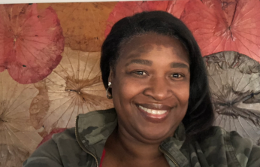 Winsome Bingham is a soul food connoisseur, a master cook (at KidLit Dinner parties, reunions, and get-togethers), a U.S. Army veteran, and the author of The Connecticut Book Award Medal winner and one of The New York Times Best Books of the Year, SOUL FOOD SUNDAY. She received both bachelor's and master's degrees in education and an MFA in Writing For Children and Young Adults. She loves mangoes and grew up on a street where every yard had a mango tree. She writes about family, food, community, and HOPE.