SARA: This week I transitioned from a career in early childhood education to life as a school librarian. Two New Years by Richard Ho and Lynn Scurfield is one of the first books I put on order in my new role. It's a beautiful story of a multicultural family celebrating both Rosh Hashanah and Chinese New Year. They notice what makes these holidays unique and also what unites them. What makes this a must for our library? I was struck by all the entry points inviting children to see themselves, make connections, or learn something new through the rich language and exquisite art featuring Judaism (modern Orthodox, in particular), Chinese culture, biracial children, family traditions, intergenerational bonds, and the joy of being together.
We are lucky to have Richard Ho and Lynn Scurfield on Picture Book Builders to talk about the creation of this stunning book. And you have a chance to win your very own copy!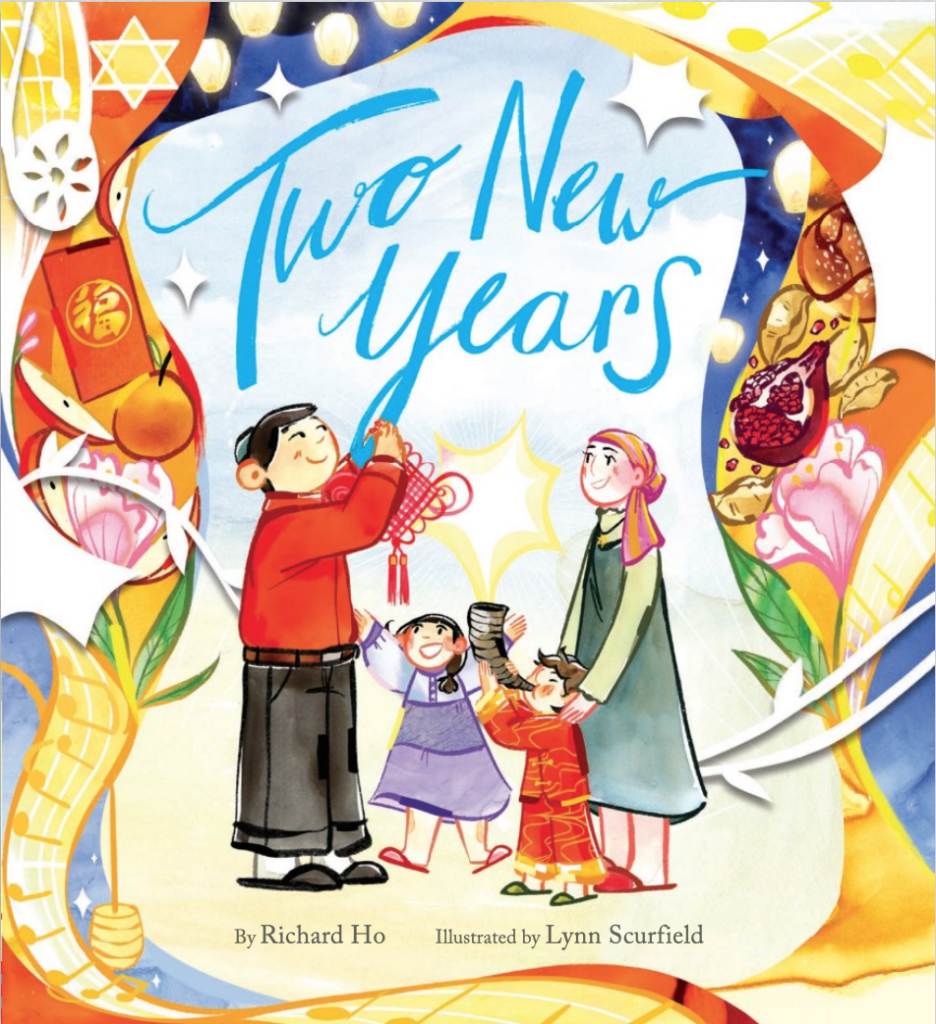 SARA: Richard, you share about your Chinese and Jewish identities in the author's note. What in particular sparked the idea for a book about both Rosh Hashanah and Lunar New Year? What challenges and discoveries came up along the way?
RICHARD: I knew that I wanted to write a book about the intersection of my Chinese and Jewish identities. There are just so many similarities between Judaism and Chinese culture that I've encountered throughout the years! The challenge was narrowing those down to a manageable number for a book. I quickly realized that I should pick one specific area of focus. I chose Rosh Hashanah and Lunar New Year because the idea of welcoming a new year is universal among all cultures, and also because it offered an opportunity to spotlight some of the most delightful parallels between Jewish and Chinese custom. Wordplay, food symbolism, emphasis on family–we explore all of it in the book!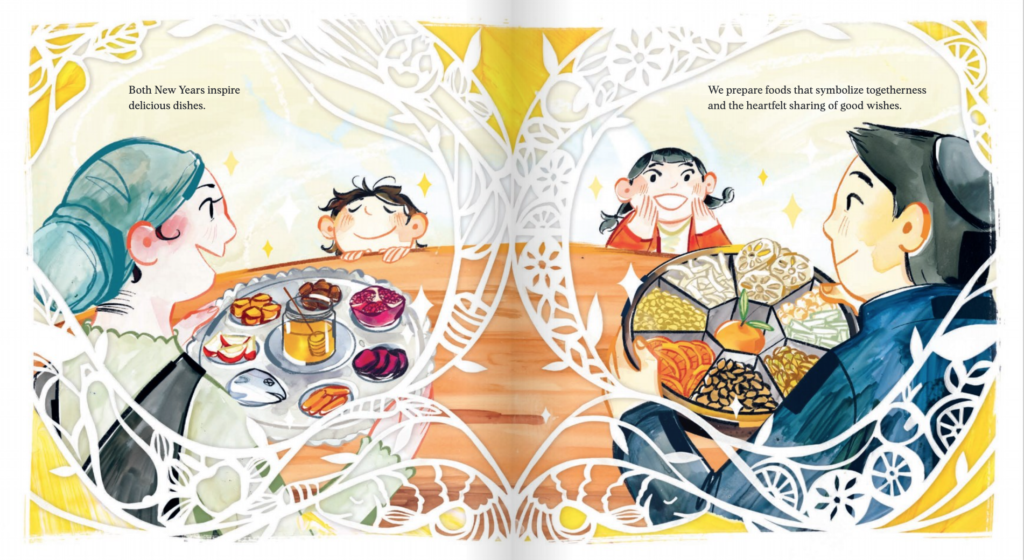 SARA: There really is so much to unpack in Two New Years. The main text is fairly brief, leaving the reader space to build meaning, and the artist space to tell the story. Lynn, what compelled you to take this project on as an illustrator?
LYNN: A bit of background on me – I'm half Chinese and half British-Canadian. My mom and step-dad have been together for around 13 years and my step-family is Jewish. So I'm not born and raised Jewish but I've been very fortunate to have been so warmly welcomed into the Sharpe family and included in a lot of the celebrations.
It was almost uncanny to receive that email in my inbox. First of all, I don't expect to get work that's about mixed-race families, so that in itself was exciting. But then for the book to be specifically about a Jewish and Chinese family was SO mind blowing! I said yes pretty much immediately. I have never worked on a project that felt this close to home and I'm still honoured to have been reached out to draw this book.
SARA: One of my favorite visual aspects of Two New Years is the way borders and color schemes are used to represent the two celebrations. Can you share how you approached the art for this book?
LYNN: Thank you so much and I'm glad you noticed and enjoyed them!
If you look through Two New Years you'll see there's a lot of papercut elements. I was doing research for the book and I already knew Lunar New Year uses quite a bit of papercut art as decorations but through my research I found out Jewish marriage certificates (ketubahs) also are papercut works of art. It was such a serendipitous piece of research. The fact that this papercut art became an additional layer/ symbol that supported the whole theme of the book is still my favourite aspect of the illustrations.
Colour was also a fun challenge in the book. Lunar New Year and Rosh Hashanah have very opposite colour schemes (Lunar New Year is red and gold while Rosh Hashanah is blue and silver) which was great when I was drawing the opposite pages but when you're putting everything together it can turn really primary-colour heavy really fast. I ended up throwing some more neutral colours (such as light yellow and greens) to try and combat the primary colours. I will say, it helps that this is a kid's book and primary colours are not a bad thing for kidlit.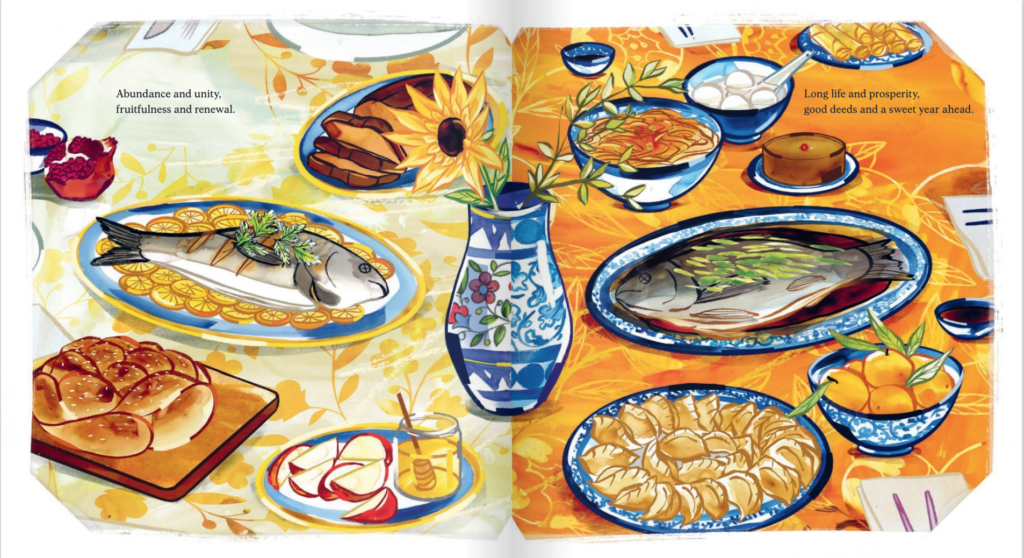 SARA: There are several pages of back matter and they are wonderfully illuminating. Was this information always a part Two New Years or did it develop during the revision process?
RICHARD: I knew while writing the manuscript that there wouldn't be room within the main text to fully flesh out each custom and tradition we depict. I always envisioned using back matter to do just that, and fortunately the editor had the same idea!
SARA: What's one of your favorite New Year's traditions?
RICHARD: For Lunar New Year, one of my favorite traditions is placing tangerines around the house. Tangerines are a symbol of prosperity in Chinese culture because the words for tangerine and gold are phonetically similar. Decorating the house with tangerines is a way to invite prosperity for the new year! For Rosh Hashanah, I'll also go with another food-related custom: dipping a piece of apple in honey on the first night of the holiday. The kids learn a song about this from an early age, and it's quite catchy! The combination of these sweet foods reflects our wish for a sweet year ahead.
LYNN: My favourite New Year tradition is making and eating dumplings with my family. We don't make dumplings every year, because we get busy, but the times we do are really special.
SARA: Is there anything else you'd like to share about this book?
LYNN: I want to say how excited I am to know there's a book like this out in the world. Richard and I spoke on The Book of Life: Jewish Kidlit (Mostly) Podcast and one of the questions was could you recommend any other Jewish/ Chinese books. Disclaimer: I need to read more, but I really couldn't think of another book off the top of my head. I didn't grow up with a lot of mixed-race representation so it's very heartwarming to see this out and know there'll only be more.
RICHARD: More than anything else, I hope the book resonates with people of all backgrounds, and especially people who identify with more than one culture. Even though this book features Chinese and Jewish celebrations, it's not meant for only Chinese or Jewish readers! The heart of the book is the recognition that themes like family, community, hope, and renewal are universal, and that celebrating a new year can be a unifying thread that connects us all.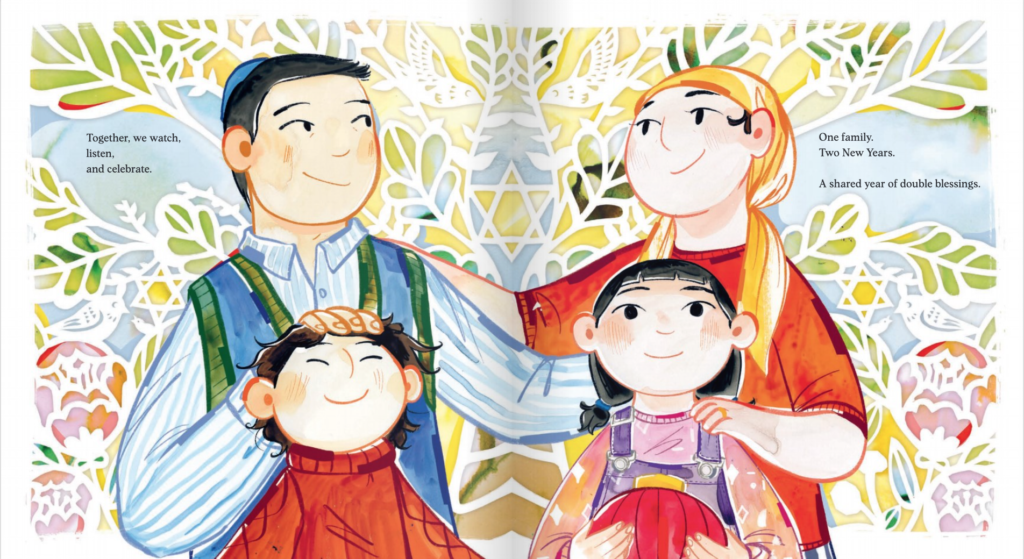 SARA: What's next for you both as book creators?
RICHARD: I've got a busy 2024 planned, with several picture books scheduled to arrive. The first is If Lin Can, a biography of Asian American basketball star Jeremy Lin that will be published by Charlesbridge in April. Illustrated by Phùng Nguyên Quang and Huỳnh Kim Liên, the book shows how Lin's magical run with the New York Knicks empowered an entire generation of Asian American kids. Then in August, Roaring Brook/Macmillan will publish A Taste of Home, illustrated by Sibu T.P. The book follows a group of kids on a walk through the vibrant cultural neighborhoods of Manhattan's Lower East Side, as they search for foods that remind them of home. I can't wait to share more about these and more in the coming months!
LYNN: This year was my busy year so I'm excited to have a chill 2024 in terms of bookwork. I'm currently working on one book for Bloomsbury. It's called Quest for a Tangram Dragon and it's written by Christine Liu-Perkins. I won't get too much into it because I'm still working on the art but I'm really excited and I think it'll be very cute.
SARA: I can't wait to check out these upcoming titles! In the meantime, to win a copy of Two New Years by Richard Ho and Lynn Scurfield, comment below by September 30, 2023. A winner will be announced on October 6th. Thank you Lynn and Richard for spending time with us today, and Chronicle Books for contributing to this giveaway!