This past weekend I had a fabulous time presenting at the Society of Children's Book Writers and Illustrators 'Prairie Writer's Day' in Chicago on crafting an inspired picture book. We talked about what makes the picture book a unique art form, which is the interplay between words and pictures. The words and pictures should harmonize with each other, each serving a unique function.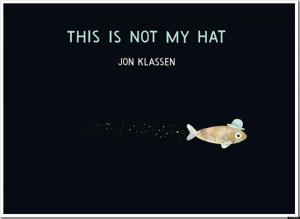 I used Jon Klassen's brilliant little number 'This is Not My Hat' to show a use of the contradictory storytelling technique.  Contradictory storytelling is where the words and pictures say the opposite thing – there's a contrast between what the character perceives and what the reader is seeing. This can build suspense, show irony, or create humor. This seems to be a less common way of telling a story, it's certainly not fitting for most stories, but 'This is Not My Hat' was the perfect opportunity to utilize the technique.
The book is written from the point of view of a little fish who has stolen a hat from a big fish. He believes he will get away with it. The first two spreads echo the information that we're given.
Spread 1: "This hat is not mine. I just stole it." Picture: Little fish with little hat.
Spread 2: "I stole it from a big fish. He was asleep when I did it." Picture: Big sleeping fish with no hat.
From this point forward, his dialogue begins to contradict the information we're getting from the pictures:
Spread 3: "And he probably won't wake up for a long time." Picture: Big fish with eyes open.
Spread 4: "And even if he does wake up, he probably won't notice that it's gone." Picture: We see the eyes of the big fish looking up to his missing hat.
We continue to see the big fish on the tails of the little fish, who is confidently scheming to get away with his thievery. It's like we're watching the horror movie scene with the girl walking into the dark basement where the killer is hiding. We can see what she can't, which builds suspense. It also makes for an interactive reading experience, using humor that both the adult and child reading will love.
This technique for this story is important, because (SPOILER ALERT!) the punch line is that the little fish gets eaten by the big fish. In a story told traditionally, I'm pretty sure kids would be scarred for life watching a happy little fish swimming along, only to get suddenly swallowed by a large fish on the last page. Because it's set up early on that this fish is increasingly wrong on each account, we know ahead of time that his declaration "I knew I was going to make it", would show us a different result. Since we're prepped for this and brought into the joke early on, the terrible outcome is funny, instead of tragic.
Writers and illustrators, consider trying the contradictory story/picture relationship to build suspense, add humor, or show irony in your picture book.
If you can think of other picture book titles utilizing this technique, I would love to hear about them in the comment section below!
Thanks!