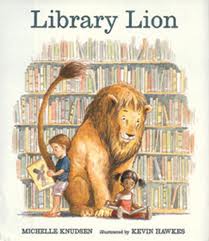 Jill Esbaum's most recent post was on a picture book that breaks the rules.
It made me smile because I've been mulling over the same topic lately. I'm a big rule follower. I think rules exist for a reason and, usually, life goes more easily if you follow them.
But some books that operate outside the rules do very well.
I've thought about why this is and have come up with a theory.
I'm going to talk about one book today that's a classic and describe how it got away with breaking a common picture book writing rule.
The Defendant: LIBRARY LION, written by Michelle Knudsen and illustrated by Kevin Hawkes.
The Rule: Picture books must be short. Very short. Under 500 words in many cases. Creeping up to 800 words in some cases, but that's really pushing it.
The Verdict: LIBRARY LION is 48 pages long. Most picture books are 32 pages. In addition, it's well over 1,000 words. You'd think this would be its death knell, but you'd be wrong. It works. Here's why.
My Analysis: If a picture book breaks the rules, it has to be like Mary Poppins: "Practically perfect in every way." Aspiring writers can't just say, "Well, LIBRARY LION is longer than 1,000 words and it got published, so my 1,000-word  manuscript is fine."
Let's put it this way. Not all 1,000 words are created equal. I just re-read LIBRARY LION in preparation for writing this post, and I would argue there is not an unnecessary word in it. Even though it's long, the writing is so tight and so spare, each and every word is needed. A great example of this is when Miss Merriweather reaches for a book and falls. Knudsen says:
Then Miss Merriweather stretched a little too far.
"Ouch," said Miss Merriweather softly. She did not get up.
These lines are perfection because the words "Miss Merriweather fell off the stool" never appear in the story. Yet is completely clear what happened. Brilliance, I say. The story is full of clear, perfectly worded lines like this, including:
"But there's a lion!" said Mr. McBee. "In the library!"
"Is he breaking any rules?" asked Miss Merriweather. She was very particular about rule breaking.
The story also succeeds despite its length because it has high interest, humor, heart and a most-satisfying twist at the end. Let's discuss:
High interest. As Mr. McBee says, "There's a lion! In the library!" This unexpected occurrence hooks readers from the start. What's even better is that the lion walks in like he has every right to be there and most people don't bat an eye. No one calls animal control. The consensus is that's it's fine … as long as the lion behaves.
Humor. This is a funny book. Mr. McBee is officious and fussy and funny. He's not fond of the lion, so when the lion roars in the library, a cardinal sin, Mr. McBee goes huffing off to Miss Merriweather saying, "The lion broke the rules. The lion broke the rules." He sounds just like a tattling child. And we smile.
Heart. The lion loves the library and Miss Merriweather. So does Mr. McBee underneath his prissy manner. So it's very heartwarming when Mr. McBee tracks down the lion from his self-imposed exile to invite him back to the library because Miss Merriweather is sad. Once the lion arrives, Mr. McBee simply says, "I thought you might like to know that there's a lion. In the library." This echoes his warning early in the book in a lovely way.
Ending twist. The book starts with Miss Merriweather's focus on the rules. Her "No running" warning appears several times in the story. Then, at the end, when the lion returns, Miss Merriweather runs to greet him and acknowledges that sometimes there are good reasons to break the rules.
So. If your 1,000-plus-word picture book manuscript is tightly and gorgeously written and tells a high-interest story with humor, heart and a twist at the end, feel free to proceed.
But if it doesn't, I'd suggest paring it down — maybe to 500 or 800 words. After all, I'm kind of like Miss Merriweather. I'm very particular about rule breaking.