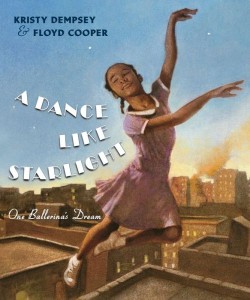 A Dance Like Starlight:  One Ballerina's Dream
by Kristy Dempsey, illustrated by Floyd Cooper
This book has not left my office since I first brought it home. It's especially nice to have around when I'm struggling with an idea, a sentence, a story.
I love the elegant language, the poignant art, and the beautiful way the two come together to create this picture book masterpiece. Most importantly, I love that this book makes me feel.
It gives me a sense of hope. It pushes me to try harder. It reminds me to dream.
In A Dance Like Starlight, a young, African American girl from the 1950's era longs to be a ballerina. She swoops in and takes hold of the reader from the opening two-page spread.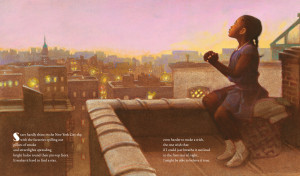 Stars hardly shine in the New York City sky, / with the factories spilling out / pillars of smoke / and streetlights spreading / bright halos round their pin-top faces. / It makes it hard to find a star, / even harder to make a wish, / the one wish that / if I could just breathe it out loud / to the first star of night, / I might be able to believe it true.
Today, I am honored to have Kristy Dempsey, author of A Dance Like Starlight, join us at Picture Book Builders.
Kristy, what was the initial spark for this book?
I read a two-line anecdote in a newspaper article about the wife of a Pullman porter going to see Janet Collins dance at the Metropolitan Opera. Those two-lines moved me into further research and I found out that Janet Collin's performance was widely publicized in advance. And I began to imagine who might have been there to see her dance. But the real initial spark for this story happened when I was 7 or 8 years old and I went to a concert and dreamed of becoming a singer. I used that feeling, that emotion to connect to the desire this little girl has to dance.
What sort of research was involved in creating this fictionalized account of an actual event?
I read newspaper articles published about Janet Collins. I read reviews of the opera, in which she received more accolades for her short performance than the singers! I contacted the archivist at the Met to ask questions about the old Met building and the process of Janet's hiring. I wanted the details of the time period to be accurate even though the little girl telling the story is fictional.
This book is a wonderful example of voice. Do you have any advice you can share about effectively establishing voice in a picture book? 
Brainstorm a list of descriptive words or phrases you want to include in your story before you begin. For this story, I thought about the setting and the visual aspects that I could describe. Then I thought about how a young girl might describe them. And I began making a list: "pintop faces", "faded mirror", etc. I didn't use all the phrases, of course, but it put me into the head of my narrator.
Congratulations on winning the SCBWI Golden Kite Award for A Dance Like Starlight. Please tell us what it was like when you received The Call.
This was such a shock! I walked in the door from work and my husband played a phone message for me from Lin Oliver and Stephen Mooser, asking me to call them. When I reached them, they began telling me about the Golden Kite award and I started to cry! In between tears, I told them how much SCBWI has meant to me over the past ten years and thanked them for starting this association that has connected me to other writers while I've lived out of the country. In many ways, SCBWI has been my lifeline. I am still just so humbled and honored to be recognized by this esteemed organization.
I imagine you must have felt a little like this: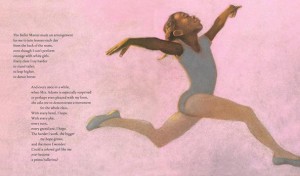 What's your favorite picture book no one else seems to have heard of?
I adore Phileas's Fortune by Agnes de Lestrade, published by Magination Press. It's about words and the weight they carry, but it's such a super joyful story. I am bouyed each time I read it.
Who is your hero?
My mama, who gives and gives and gives of herself, and in the process has given up some of her own dreams. I dedicated A Dance Like Starlight to her: "To my mama, who dreamed every dream I ever had right along with me."
What's your morning elixir?
Coffee with milk, no sugar. 2 cups.
How much change is in the bottom of your purse?
$1.47 in US pennies, nickels, dimes and quarters. And R$3.28 in Brazilian money.
What's next for you?
I have two picture books coming out in 2016 that I am over the moon about: Superhero Instruction Manual (Knopf), illustrated by Mark Fearing, and A Hop is Up (Bloomsbury), illustrated by Lori Richmond.
Thank you so much for visiting Picture Book Builders, Kristy. We can't wait for 2016!