I started writing a post about the importance of virtual community for creatives that work alone. But I trashed it at the last minute. I was using that theme as an excuse to write about what I really wanted to write about: my agency and my agency's retreat. So I am not going to ruminate, agonize or celebrate the phenomena of social media as community. It has been done 29,000 times. Instead, I am going to share my experience of this year's retreat. It may seem nothing more than a slideshow of my vacation with faces and events that mean little or nothing to you, but to me it is the quintessence of community in my writer's world.
For the past nine years my agency has held retreats for it's clients. In the west, the middle of the country or the east. I've gone to the past three. This year's retreat was earlier this month in Wisconsin. Around 65 people attended, plus some additional guests and family members. It was at a lovely spa resort in Lake Geneva during some of the hottest and most humid days of the year.
I initially flew into Chicago a day early, rented a car and then drove to Naperville, IL where I met 8 other authors from our agency and we did a book event. It was an engaging panel, pretty well attended and a lot of fun.
A couple friends of mine drove over from Indiana for the event. And afterwards I drove to Indiana to spend the evening and night with them. I've known Patrick, an illustrator of more than 100 children's books, as part of online communities for 15+(?) years, but this was the first time we had met in person.
He was, as I expected, the same engaging soul in person as I've known on line for so many years. It was a very special evening. Plus, fireflies.
The next day, I left Indiana and headed back to O'Hare where I picked up a couple more retreat attendees and we lit out for Wisconsin full of energy and anticipation. Our arrival was greeted with high-fives and fist bumps and hugs and they continued till the final farewells 4 days later.
We had breakfasts and dinners together and only a handful of scheduled events.
Most of the time was free to create, socialize, party, etc. I don't know many who took time to create. I sure didn't. I can create at home but here were my agency siblings and I wanted to spend time with them. We had impromptu gatherings of those who wanted to talk about any number of subjects.
One evening there was a themed costume party with the winners (Yay, Carrie and Eunice!!) getting a  pile of books by some of the attendees. They were signed by the authors and are committed  to be given away to at-risk-youth through Never Counted Out.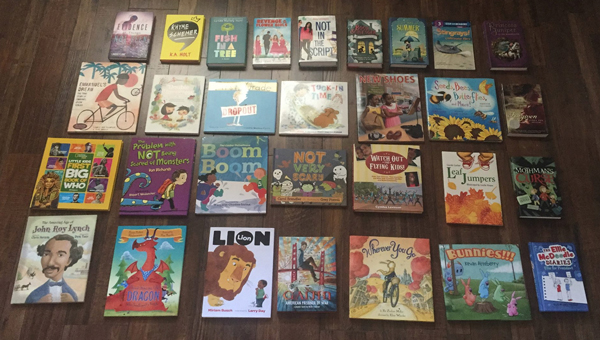 We played games in the evenings;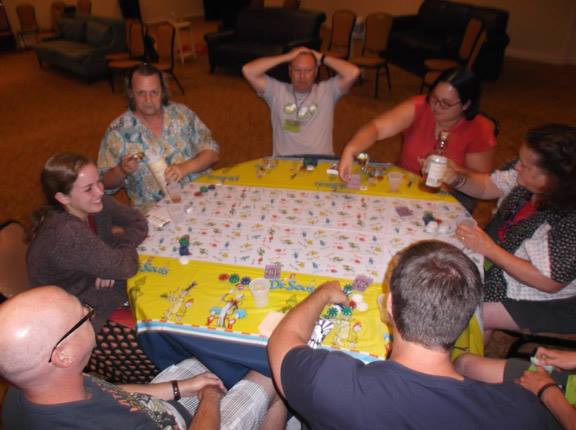 from poker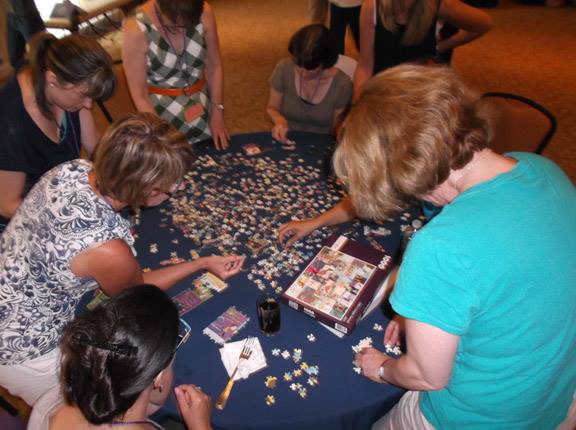 to puzzles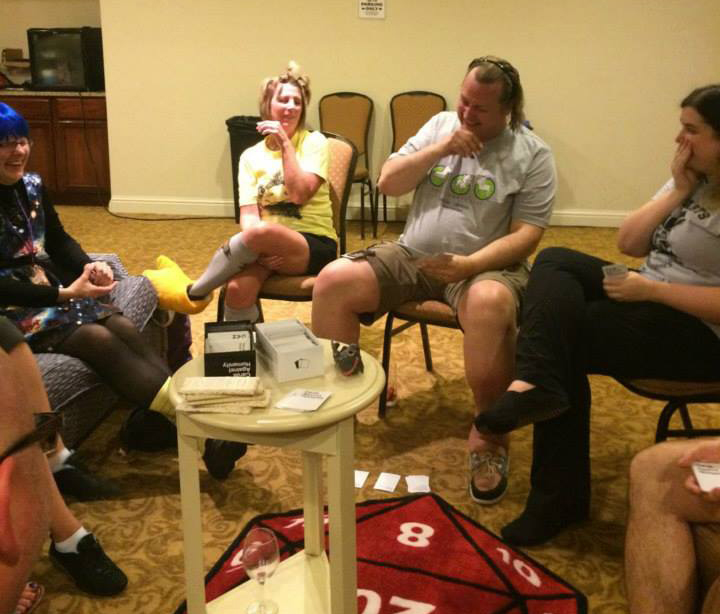 to the always irreverent and hilarious, Cards Against Humanity which had me laughing harder than I had in many years.
We gathered as a complete group several times to let anyone who wanted to read up to 500 words from a work in progress. People volunteered, often nervously. What I heard was stellar. Funny, engaging, touching, frightening, and in one particular case, kleenex-worthy.
Our last evening of the retreat we were treated to a performance by Erin Murphy's Dog, an agency band that formed 4 years ago and has been performing at the retreats since then. They were, as usual, terrific. Afterwards, a handful of other attendees joined in and spontaneously belted out any number of sing-along tunes into the evening. It was a true delight.
Being able to spend time without daily obligations and worries in a community of my peeps—writers and illustrators—taught me much about the industry and myself.. I'll probably never reach that level of semi-hedonistic, carefree spirit at home, but I know where I can reach for it. I left the retreat, inspired, motivated and loved and with an inherent sense of belonging.
So I guess this is all about community in our careers, and how if you are given an opportunity to be part of one, to really engage with one, no matter how awkward it might seem after working by yourself for so long, I suggest you do so without hesitation. You'll know immediately whether you've made the right decision.
I love my agent, my agency, and all my agency siblings.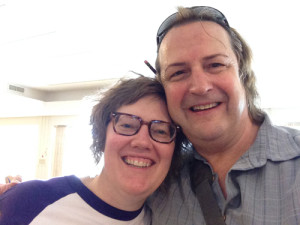 (I asked if I could use people's photos for this piece and said I would give them credit. But I grabbed so many of them off facebook, in such a hurry, and because I'm a dolt, I forgot whose is whose. If you want me to credit your photos, send me a message and I will update the post!)