I'm back with a follow-up report on my previous post about ' Favorite Classic Animal Characters' in picture books. Thanks to everyone for commenting and suggesting titles! I've been on a quest to find anthropomorphic characters that I could love as much as those chapter book classics; Frog and Toad, Winnie-the-Pooh, or Mole and Rat.  The list of all the suggested titles (minus a few that fell into chapter book category) was so big–and created a whopping homework assignment–so I decided to make it more manageable by splitting the list in two. I've visited books on LIST 1 so far, and for next time I hope to have LIST 2 completed for the full report.
LIST 1:
The Very Hungry Caterpillar (Carle)
The Very Busy Spider (Carle)
Cat in the Hat (Seuss)
Horton Hears a Who (Seuss)
The Story of Ferdinand (Leaf and Lawson)
Petunia (Duvoisin)
The Story of Babar the Little Elephant (De Brunhoff)
Olivia (Falconer)
Baby Duck books  (Hest and Barton)
Curious George (Rey and Rey)
Berenstain Bears books (Berenstains)
Angelina Ballerina (Holabird and Craig)
Pigeon (Willems)
George and Martha (Marshall)
Franklin the Turtle (Bourgeois and Clark)
Officer Buckle and Gloria (Rathmann)
LIST 2:
Mouse Books (Henkes)
The Gruffalo and Mouse (Donaldson and Scheffler)
Lyle Lyle Crocidile (Waber)
Sylvester and the Magic Pebble (Steig)
Corduroy (Freeman)
Martha Speaks (Meddaugh)
Maisy Mouse (Cousins)
Bear and Mouse (Becker and Denton)
Frederick (Lionni)
Alexander and the Wind-up Mouse (Lionni)
The Cat Who Wore a Pot on Her Head  (Slepian, Seidler, Martin, Follett)
Harry the Dirty Dog (Zion and Graham)
Crictor (Ungerer)
Duck and Goose  (Hills)
Bear books (Wilson)
Herman and Rosie (Gordon)
Wow! I had a lot of fun looking through LIST 1 for starters. A few on the lists are probably too new to be considered classics yet (do we consider standing-the-test-of-time the quality a book should have to be considered "classic"?), but they were all fun to meet or revisit. These books raised some thoughts as to why one might choose to have an animal star in their book, vs. a human character. Also, when it comes to story types and themes, I'm  seeing a few different categories taking shape. I'll wait to discuss these points in my next post, once I've gone through LIST 2. But for starters, here are a few choices from LIST 1 that I especially loved: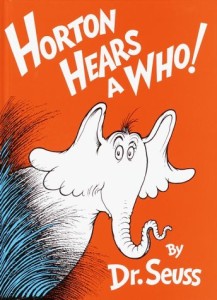 Horton, from HORTON HEARS A WHO!:
I had a "D'oh–how could I forget that one?" reaction when I saw a number of these book suggestions, and Horton was one of them. I loved this book as a child, but it's been a number of years since I've re-read it. Dr. Seuss is about as classic as it gets, and I think that Horton, as a character, is one of his finest. When a character is put in an adverse situation and is up against all odds, yet stands steadfast and determined, our heartstrings can't help but be tugged. Good ol' Horton.
Speaking of heartstrings being tugged . . .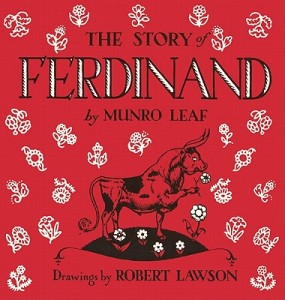 Ferdinand from THE STORY OF FERDINAND:
I'm embarrassed to admit that I hadn't read this classic picture book until now (or should I blame my elders for having never read it to me?). No. *sigh*.  It's my fault.
Anyways, now it's been rightfully read and adored. The inky drawings are gorgeous, and how can we not fall for Ferdinand?
"I like it better here
where I can sit just quietly and
smell the flowers."
I was also impressed with the way that Munro Leaf took a controversial subject, and created a character who transcended that situation in a sweet and humorous way. While there are life lessons to be learned from Ferdinand, they are nestled under the foundation of a great character and story.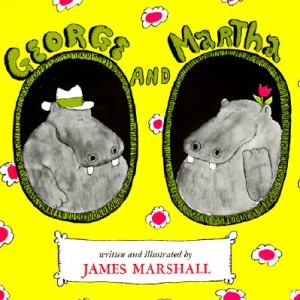 George and Martha:
Ladies and gentlemen, I believe we may have found the picture book equivalent to the FROG AND TOAD books I love so much. These two share those same qualities: earnest, hilarious, and the perfect pair. The way the books are laid out into scene vignettes also make it read very similarly to FROG AND TOAD, which keeps you wanting to turn the page to see how they'll react to the next situation.
Simply lovable!
~~~~~~~~~
I'm excited to visit the books in LIST 2 for my next post, and I'll let you know if any of these other classic picture book animal characters ultimately held up to those chapter book favorites of mine.