I am beyond thrilled to have Jane Dyer with us today to celebrate the arrival of our new book All We Know (HarperCollins). As I write this, though, I'm struggling with which adjectives to use to describe the many books Jane has illustrated—more than fifty of them—since her first was published in 1984.  Acclaimed? Check. Bestselling? Check. Classic, beloved and just plain gorgeous? Check, check and check. Here's a little sample (including the very first manuscript I ever sold, Babies on the Go). You can find a more complete list of titles on Jane's website.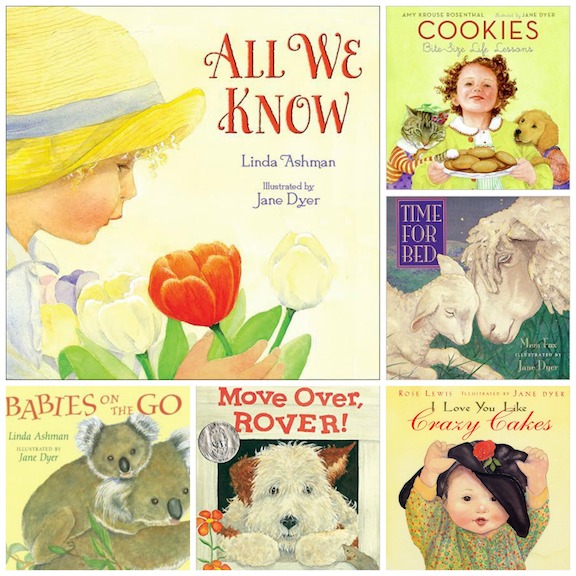 Before we settle in for a chat, here's a quick synopsis: All We Know is a recitation of things that animals, plants, and the natural world instinctively "know" how to do, just as—at the end of the story—a new mom knows how to love her baby. For more about the book, including reviews, more of Jane's art, and two versions of the manuscript, visit my website. And for a chance to win a signed copy of the book, just leave a comment below.
And, now, here's Jane!
How did you get started as an illustrator?
My first book was Goldilocks and the Three Bears which came out when I was 35. Prior to that I had illustrated stories for a K-3 reading series and before that I taught Kindergarten and 2nd grade.  I never went to art school.  My students' parents, along with friends and family encouraged me to try illustrating children's books.
While I was working on the reading textbooks, I spent an extra $25.00 at a children's literature conference at UMass to have an art editor from Houghton Mifflin Children's Books critique my portfolio.  She told me my work was not suitable for children's books.  I went home and cried (partly because $25.00 was a lot for me in those days),  then spent the next few weeks working on a piece to show what I would really like to do.  I realized my work at that point had just been work-for-hire.  I chose to illustrate one scene from "Goldilocks and the Three Bears".  When I added that to my portfolio and met with publishers in NYC, I was rejected at the first seven, but the last appointment was for a company who happened to be looking for someone to illustrate a board book of Goldilocks and the Three Bears!
Thank goodness you didn't let that critique stop you! You've worked steadily ever since, and always have many projects in the pipeline. How do you choose what to illustrate? 
In the beginning of my career, I was thrilled to accept any manuscript offered to me. Some of my fellow aspiring illustrators waited to get work that they deemed more suitable. I just wanted to get my foot in the door and get working. Then I reached a point where it was clear which stories seemed to be right for my style and what I wanted to illustrate, and which I would decline. I am in a very fortunate position now to almost always be given manuscripts that I would LOVE to accept and have to turn some of those away. I am now, and have been for many years, booked for five years in advance.
I received the manuscript for All We Know in 2012, tied in a ribbon from my editor, Maria Modugno (who is now at Random House). I knew right away I wanted to illustrate this wonderful story. I make decisions purely on instinct, based on what speaks to me. (Click on images to enlarge.)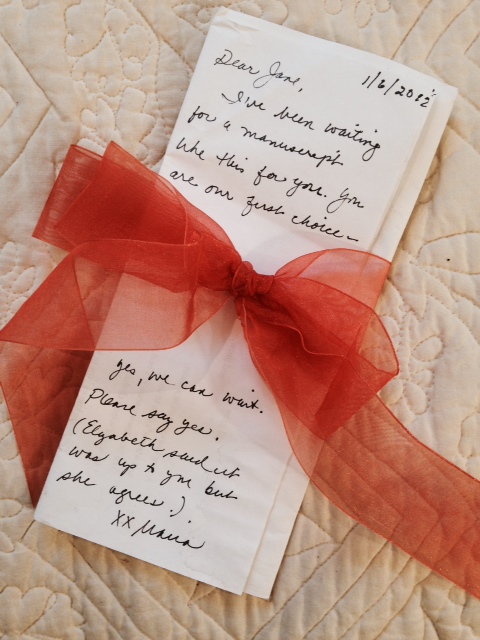 I hadn't seen this before! So, when you're ready to begin, then what? Can you walk us through your process? 
I begin each book with what are called "thumbnail sketches" using a 2H pencil on tracing paper. These are about 2" by 2", and I find I stick pretty closely to my original thoughts (unless an editor makes changes).   I then begin a google search for references I will need.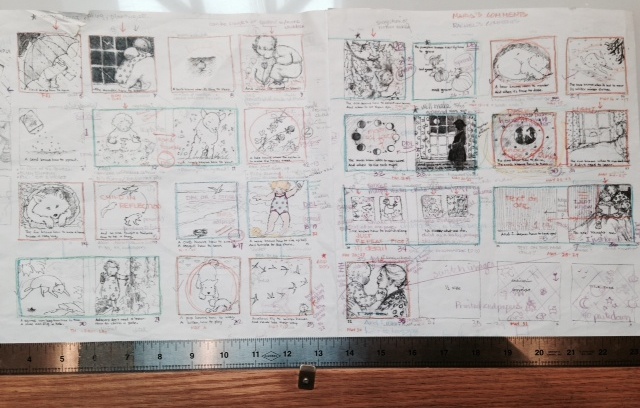 (Here's the first spread of the book, which does indeed seem very close to Jane's thumbnail.)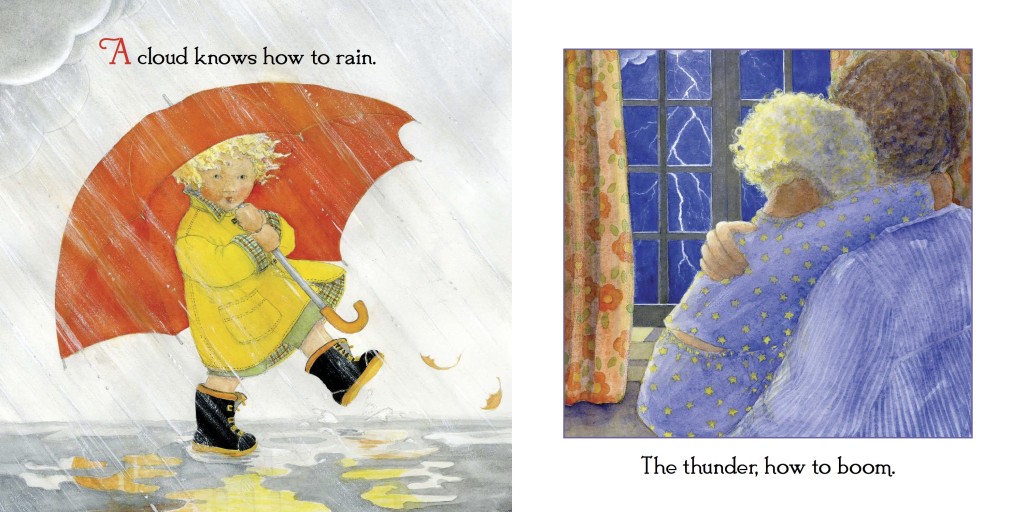 The children and animals in the book are so adorable! Were they inspired by anyone in particular?
The image for the child was inspired by a Lenci doll, made in Italy in the 1920's or 30's (below center). These were made of felt and were modeled after a 17th century putti. My other inspiration was a boy whose picture I found on ebay on a site selling t-shirts (right). Some of the poses of the child were those of my grandchildren.

The lamb is mine. This picture was taken by Jeanne Birdsall one day when I walked "Blossom" over to her house.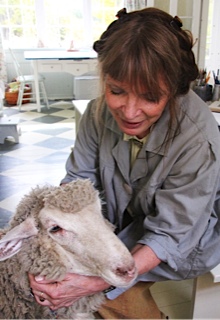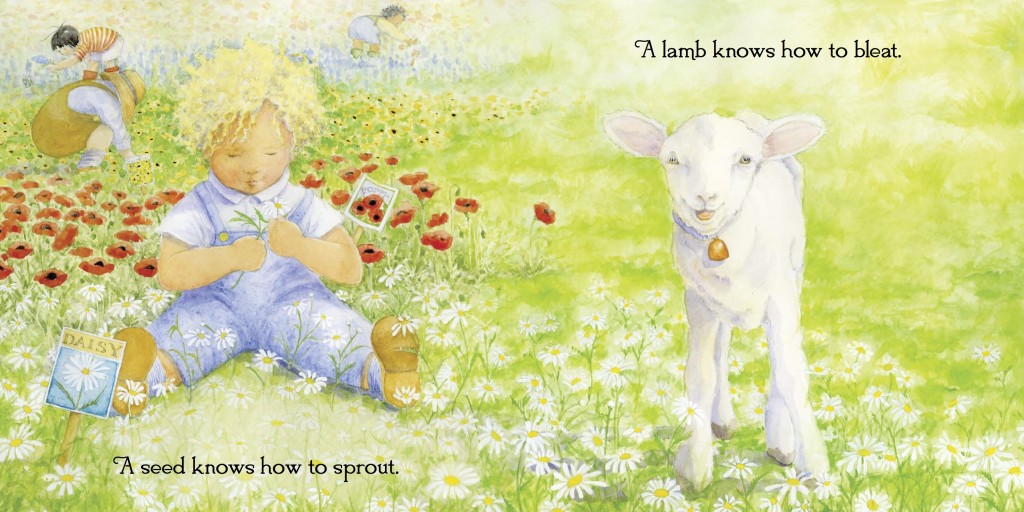 I love the story behind the quilt on the child's bed, which is also used as the book's endpapers (we're kind of nutty about endpapers around here).
I had a quilt that my Grandmother, a farmwife in Kansas, had made for me when I was born. The reverse side had a print similar to the quilt on the child's bed. I used the same pattern, but inside each box on the fabric, I used an element from the story in All We Know, such as the tulip, the lamb, the crab, etc.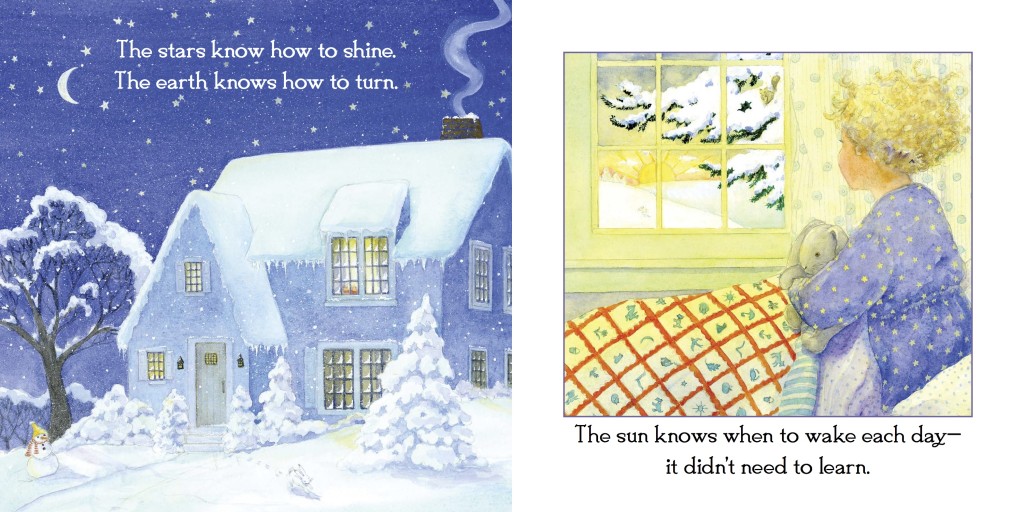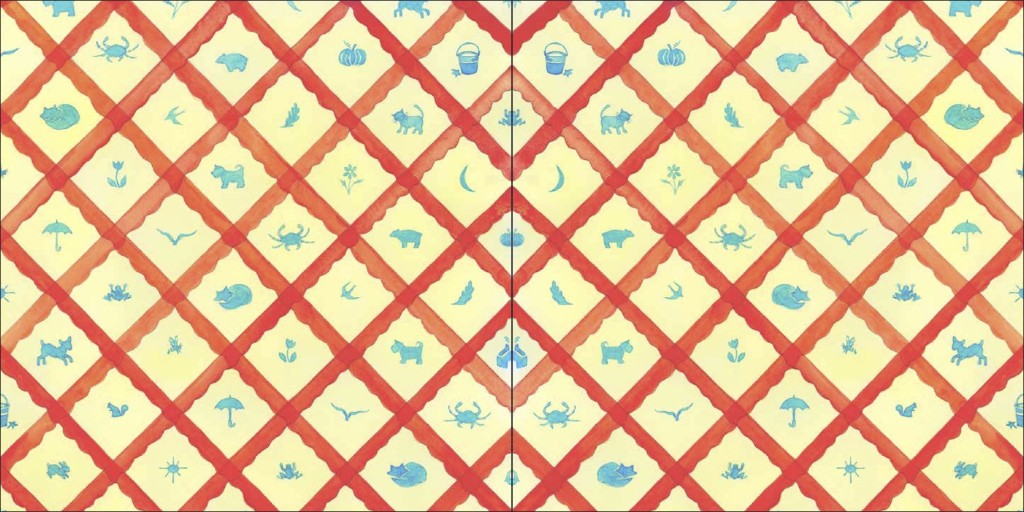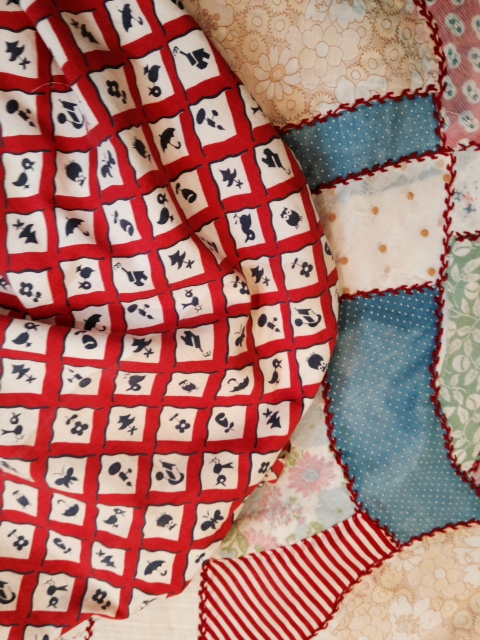 Can you tell us about some of your artistic influences? 
Mauric Sendak once said of illustration:
"It is like a big soup…the soup's ingredients are the pictures you loved as a kid, what you borrowed from…lots of influences. Then, if the soup tastes good AND original, that means you converted everything into yourself. If it doesn't, then you just swiped, and everyone knows what 'swipe soup' tastes like."
Many of my images are influenced from the books my mother read to me as a child, mostly from a set of twelve volumes called MY BOOK HOUSE. They were originally published in 1927 so the illustrations I grew up with were from the past. I loved feeling like I could crawl into the pages of a book.
I grew up in Northern New Jersey, but my parents sold Kansas wheatland that they had inherited and bought a farm in Pennsylvania when I was five years old. We spent weekends and summers there where we played in the woods and by the stream. We pretended to make houses under vine covered trees.  On rainy days I loved to dress my dolls and dog and cat and create my own imaginery worlds. I was a quiet child and felt safe inhabiting these places.
Today when I work, I again create my own worlds and hope that children feel they can crawl into my illustrations and share the delight, wonder, and serenity that I experience as I paint or draw.
What keeps you inspired? 
Today, it is often my three grandchildren, now ten, seven and three, who keep me inspired, along with the world around me. When my parents passed away, I used my inheritance to buy a farm in the foothills of the Berkshires in western Massachusetts where we spend weekends and summers. There we raise chickens and sheep in the summer and walk through the woods and play in the stream.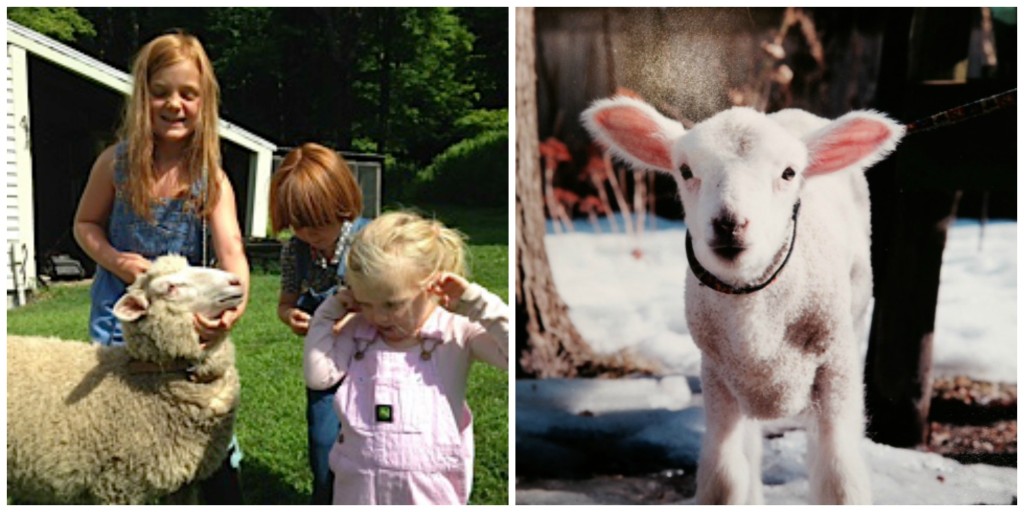 When my daughters were young, they and their friends were often my inspiration, and prior to that, as I said, were memories of my own childhood. In a poem, The Reading Mother, Stickland Gillian writes:
You may have tangible wealth untold;
Caskets of jewels and coffers of gold.
Richer than I you can never be—
I had a Mother who read to me.
And this is what began my journey.
What do you have in the works?
I just finished a book by Carol Gerber, A Band of Babies, which will be out in Spring of 2017. I am beginning work on a poem by George MacDonald, a contemporary and friend of Lewis Carroll, entitled, "Where Did you Come From, Baby Dear?" I am working on a big book of fairy tales and folk tales with Jane Yolen. I will be illustrating a book with Mem Fox (we did Time for Bed) in the near future! I have signed two contracts for undesignated manuscripts from two different publishers to reserve my time.
One last question before you go: What do you like to do in your spare time?
In addition to spending time with my grandchildren, I recently decided not to work on nights and weekends, which was new for me. I decided to think about what I would like to do, even though it seems I have a dream job. I began making little sheep, stuffed with our sheep's wool (below left). Then I branched out and made other animals (center). And now I have been making dolls (right), which I love! I believe at age 67 I have found my gift.

In answering these questions, the lyrics of Louis Armstrong's song, "What a Wonderful World" came to mind. To my surprise, the last verse seems appropriate to end this conversation about our book, All We Know.
I hear babies cry,
I watch them grow,
They'll learn much more,
Than I'll ever know.
And I think to myself,
What a wonderful world.
What a perfect way to wrap up our visit.  So wonderful chatting with you, Jane. Thank you so much for coming by!
* * * * * *   BOOK GIVEAWAY  * * * * * *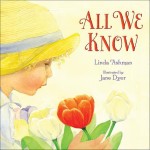 To win a signed (by me) copy of All We Know, just leave a comment below by May 10th.I'll announce the randomly-selected winner on May 17th.
★ "Simply perfect." Kirkus, starred review
"A gentle, heartwarming celebration of the continuity of life and of a parent's love." Publishers Weekly
P.S. If, like me, you're wondering if Jane's creations are available for sale, the answer is: not yet. If they do become available, Jane will post the news on her blog or Facebook.