Liz Wong's debut picture book, QUACKERS,  is 100% charm. It is sweet and funny and very satisfying.  I've written before about how much I like stories of  friendship and this one ranks right up there.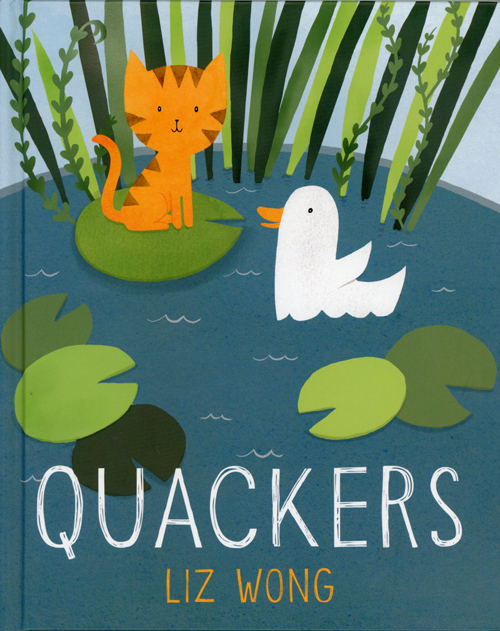 It is the tale of Quackers, a cat that lives at a duck pond with a lot of ducks. So, it is only natural that Quackers thinks he is a duck. He does not like all things duckish—particularly the diet which includes things like slugs and worms and duckweed .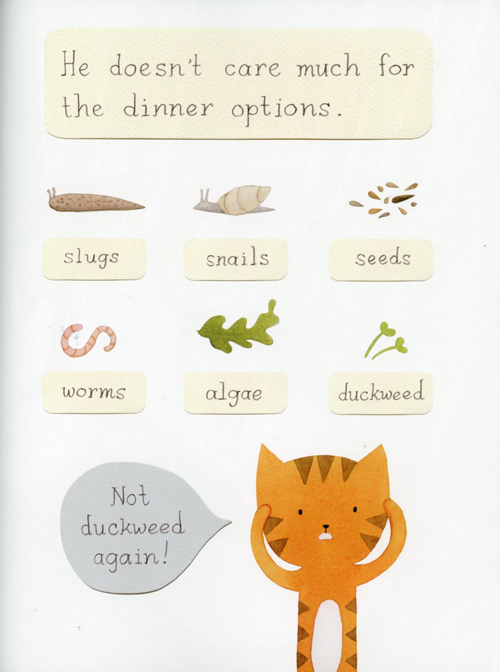 He has a hard time communicating with his duck friends. And he doesn't like getting wet. It is no surprise that sometimes he doesn't feel like he fits in.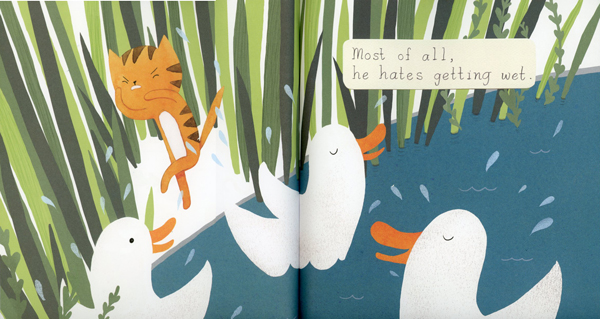 When Quackers meets a cat from the farm adjacent to the duck pond he is surprised that he can understand the cat (which he also thinks is a duck) and that the cat can understand him.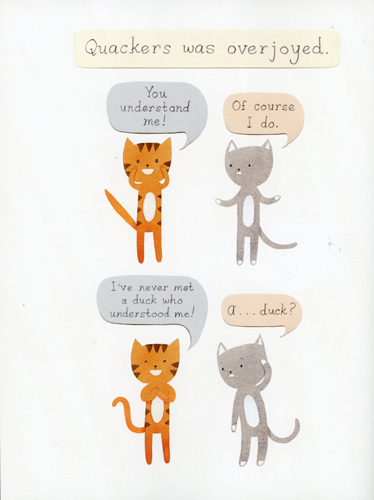 The new cat takes Quackers back to the farm and introduces him to all the other farm cats. He discovers a fast kinship as they chase mice and drink milk (which tastes much better than duckweed) and he soon fit right in. But as much as he loves his new cat family, he started to miss bits of his life  at the pond. He is a cat (or a duck) torn between two worlds
Quackers finds a solution that serves him best, and in the end everything turns out ducky. (Oh, come on, you know I had to use that!)
Wong's art is just as charming as this story. The flat, muted shades and textures of orange and blue and green are warm and comfortable. Her simple characters are sweet and engaging with an almost nostalgic feel. Quackers is a lovable and expressive cat (or duck) and his story is one that you can read over and over. Though, it would be nice if there were some more Quackers stories…