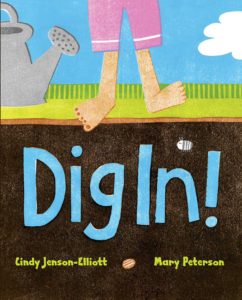 Summer is in full swing, and there's no better place to experience it than in a garden.  And there's no better book to inspire getting your hands in the dirt than 'Dig In!' with art by Mary Peterson and words by Cindy Jenson-Elliott.
The story opens in a garden with a little boy who has just removed his shoes and is ready to explore. The text begins:
I dig in the dirt . . .
and find a worm.
Worm wiggles.
I dig in the dirt . . .
With each page turn a new earthy discovery is revealed, and each discovery has it's own unique action (even a rock does something!). The text is pared down to a bare minimum, and uses repetition to propel the story forward, while the linoleum block-printed artwork is graphic, textured, and joyful.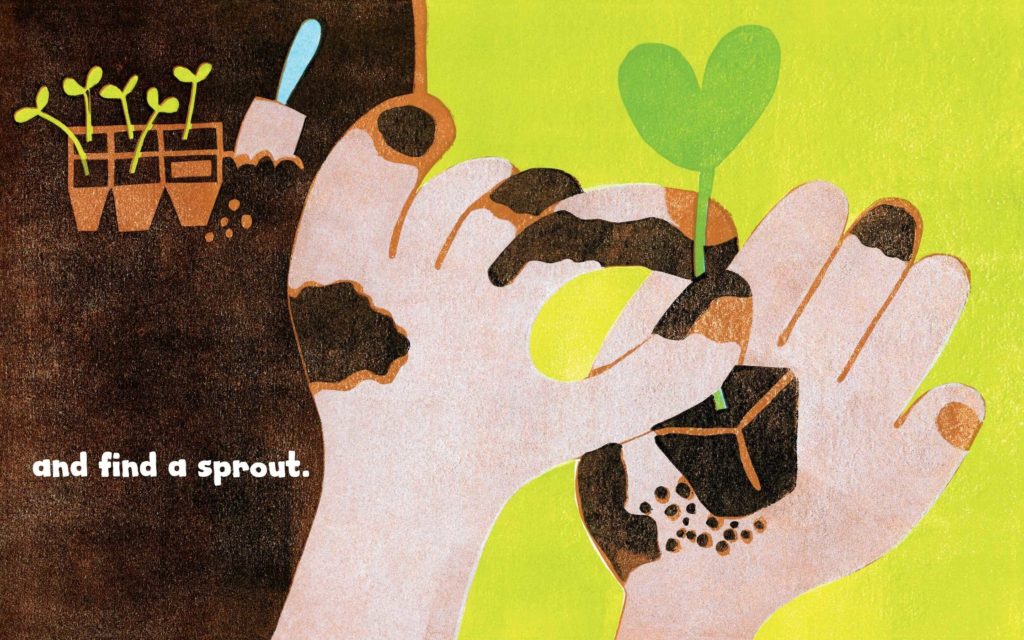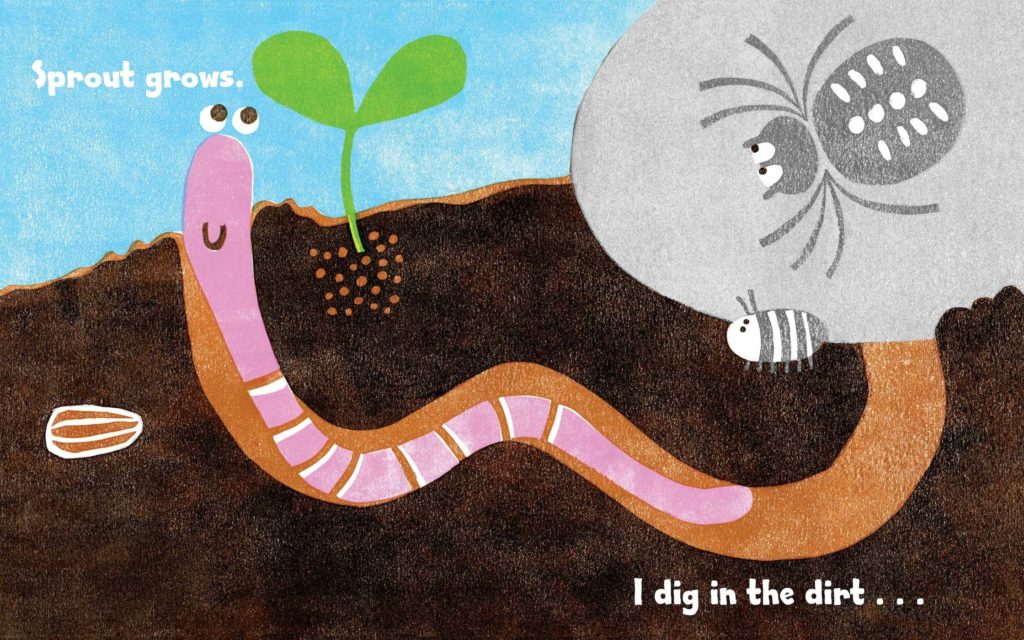 Mary Peterson is an illustrator friend of mine, as well as a critique group partner, so it was a special treat to see her process from early on in this project. The final outcome of her artwork looks so pure and perfect that one would never know, by looking at it, what a difficult medium linoleum block printing is. The process can be tedious and complex — the shape of each color is carved into a linoleum block (sort of a soft rubber material) using special carving tools, then ink is applied to the carved block and pressed onto paper. This process is repeated for each individual color (!) on the spread, and each layer needs to be carefully aligned to the others, which all build up to a completed image.
[For those curious to know more, see this snappy video of the process on YouTube]

Though difficult to create, this medium was a wonderful fit for Cindy's story; linoleum cutting and block printing is a tactile and messy process, just as digging in a garden is  also tactile and messy — and rewarding, too! The result is graphic and adorable all at once (both staples of Mary's artwork); showing a vibrant experience of exploration and discovery.
'Dig In!' is a wonderful book to help nudge the very young out of their seats and into the mud.
Congrats to Mary Peterson and Cindy Jenson-Elliott!