Last month I posted about Elise Gravel's I Want a Monster, and I loved her work so much I had to visit her website (which, by the way, is available in both English and French. Cool, eh?) to see what other books she had in the pipeline. When I saw that she had another NEW one coming out August 9th, I finagled a review copy. As soon as I read it I knew I had to share it with all of you, because this one's just too dang cute to let pass. So here she is, Ada – aka The Cranky Ballerina.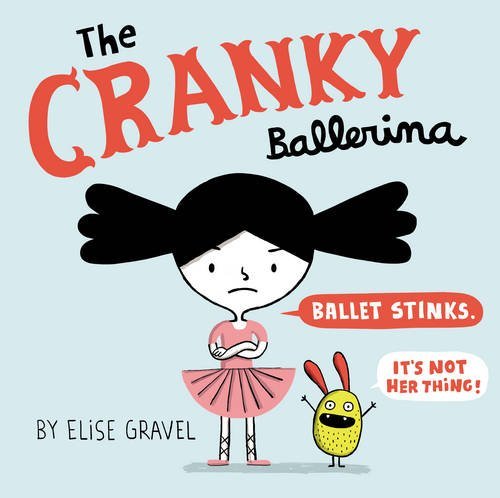 Ada has come to hate Saturdays. Why? Ballet lessons, and ballet, as her little sidekick announces right there on the cover, is just not her thing.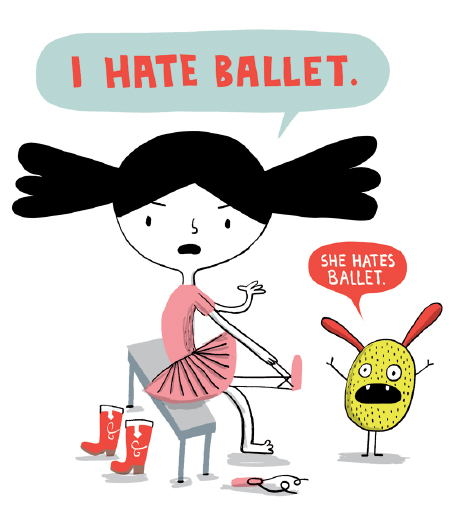 Her leotard is "waaay too tight." Her tutu is "waaay too itchy." and even the trip to the studio is a pain in the neck, as car trips make her queasy. Her teacher, Miss Pointy (hee, hee) leads the girls as they practice steps. But, Ada? Nuh-uh. She won't demonstrate one plié until forced to do so. Unfortunately, her efforts end in kicks and bops and punches. Ballet-challenged, that's Ada. The other girls aren't very nice, either. Ada's valiant second effort sends her careening out the studio door and across the hall, into another class, one where everybody's wearing "some kind of pajamas" and where her particular talents are immediately recognized and lauded. When she is invited to join that class, Ada knows that Saturdays will never again make her cranky.
Such a simple story, told in such a CUTE way. Here are more of Elise's illustrations from the book: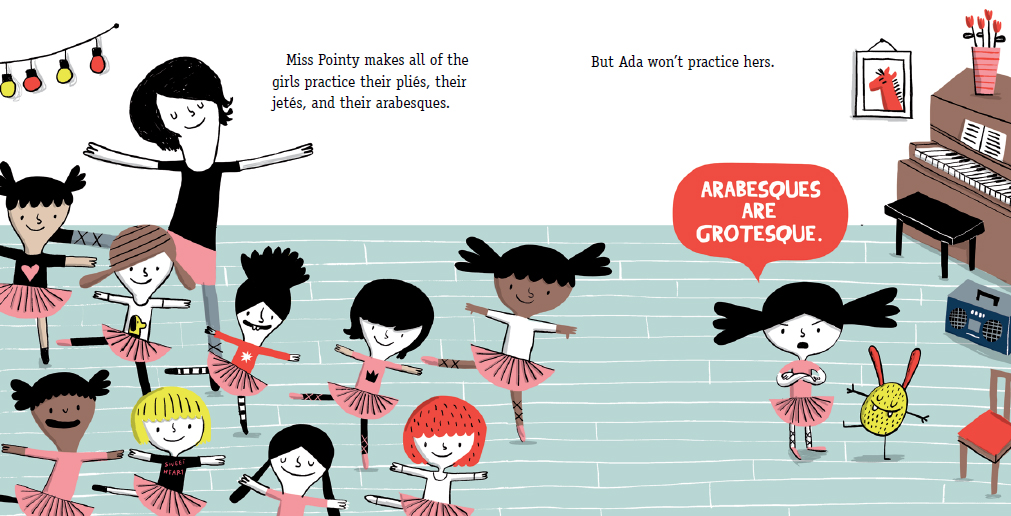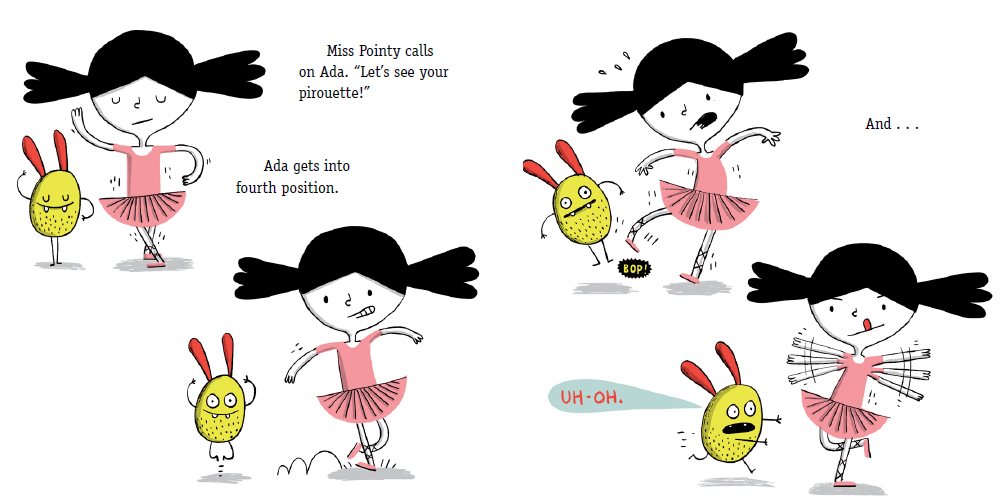 Lucky us, Elise consented to an interview. Yay! So here you go, peeps….
JE:  You tried ballet when you were a child. Was it love at first plié? Or … not?                      
EG:  I was four when I tried a ballet class for the very first (and last) time. The teacher asked us to run across the room and jump gracefully over a suitcase. I jumped gracefully and fell flat on my face in front of everybody (and everybody laughed). I then decided that I liked drawing better.
JE:  Ada's little sidekick adds so much humor to the story! Did you have the idea for him (her?) right away, or did that idea come to you later in the process? 
EG:  I like to draw little monsters everywhere, and I find it hard to make a bookwithout a funny, strange creature. I also felt like poor Ada needed a friend to encourage her in her hardships. That's how I decided to create this yellow sidekick!
JE:  I love that she had someone in her corner! Your illustration style is easily recognizable, a little wacky, and SO kid-friendly. How do you determine the color palette for each book? 
EG:  I have no clue! It comes naturally to me. I always loved choosing colors for my books; it feels to me like that is the precise moment that my book comes to life.
JE:  You have LOTS of books debuting in 2016. Could you tell us a little bit about how your Disgusting Critters series evolved?
EG:  I love all weird creatures, human, animal and imaginary. As a child, I was very interested in bugs and rats and other creepy-crawlies and I didn't really understand why some people hated them so much. I thought they were fascinating! I felt like sharing that interesting side with other kids. That's how this series began.
Thanks, Elise, for taking the time to visit with us! BEST of luck with all of your books. As for the rest of you, hurry to find SOMEthing Elise wrote and illustrated. The kiddos in your life with be glad you did!
Jill