We've had all sorts of good news around PBB lately, and I'm thrilled to keep it going. Today, author Anika Denise is here to chat about her new book, Monster Trucks (HarperCollins), illustrated by Nate Wragg (who we all know, of course, from the wonderful Elwood Bigfoot written by our own Jill Esbaum).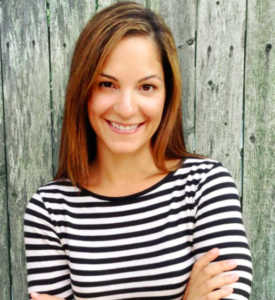 Publishers Weekly gave Monster Trucks a starred review, calling it "a mash-up made in heaven (or maybe hell)." For a sample, check out this fabulous trailer created by 4th grader (!) Sarah Bennett. And for a chance to win a copy, just leave a note below.
And, now, here's some backstory from Anika . . .
Monsters + Trucks + Bang 'em up Racing Action = Irresistible for a certain truck-and-monster-loving demographic. Where'd the idea come from?
I'm big on giving books to kids for birthdays and holidays. And so I asked my cousin what her son (who was five at the time) had been enjoying reading lately. Her answer: "Any books with monsters or trucks in them." I thought, hmmm, why not both? The next day I began making notes on a story about trucks who are actual monsters.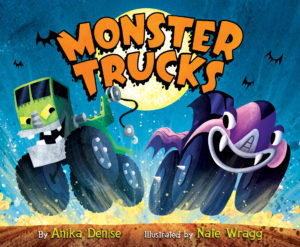 You've also got a female empowerment theme going on, with Little Blue Bus taking on the big (male) monster truck bullies. Tell us about that.
I'm really glad you mentioned it, because I often hear folks referring to Monster Trucks as a book boys will enjoy. And I think (hope) they will. But it's not strictly a book for boys, by any stretch. I have three daughters who loved playing with trucks, trains and erector sets. So I made a conscious choice to make Little Blue Bus female, to ramp up the girl power. She's no "diesel in distress." She's confident she can take on the other monsters from the words ready, set, go!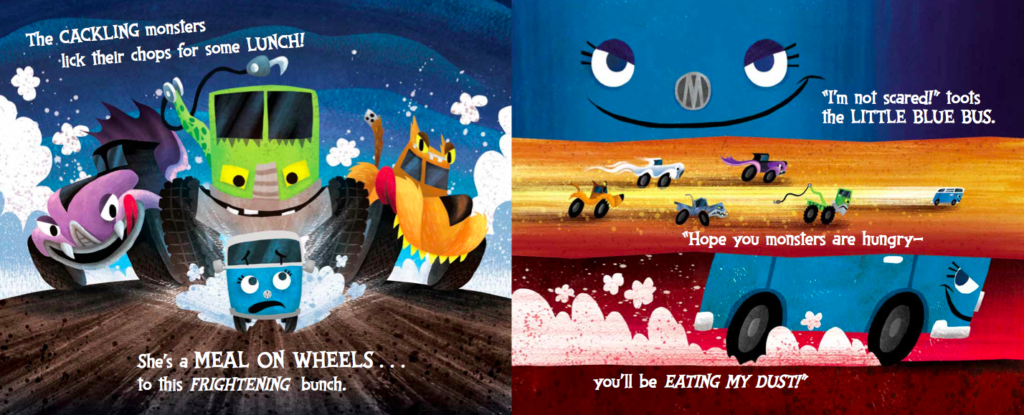 On the last page, there's a "wink" ending when it's revealed that Little Blue Bus is a bit of a monster herself. Did you always intend to show this through the illustrations only?
Yes. I use art notes sparingly, but in this case, I made a note that the final illustration should reveal Little Blue Bus is a monster. Then we let the illustrator, Nate Wragg (who's brilliant!), interpret it visually.
Tell us about your critique group. How did you meet? Any advice for those who are looking to join one, or to make their own more effective?
I have the best critique group ever. In fact, I dedicated Monster Trucks to them. (Although you'll notice I used their monster names.) Jamie Michalak and I live in the same small Rhode Island town. She introduced me to Kara LaReau, and things fell into place from there. We meet one Sunday a month for brunch, and to review one another's work, brainstorm marketing ideas, and discuss features for a blog we write together called The Little Crooked Cottage.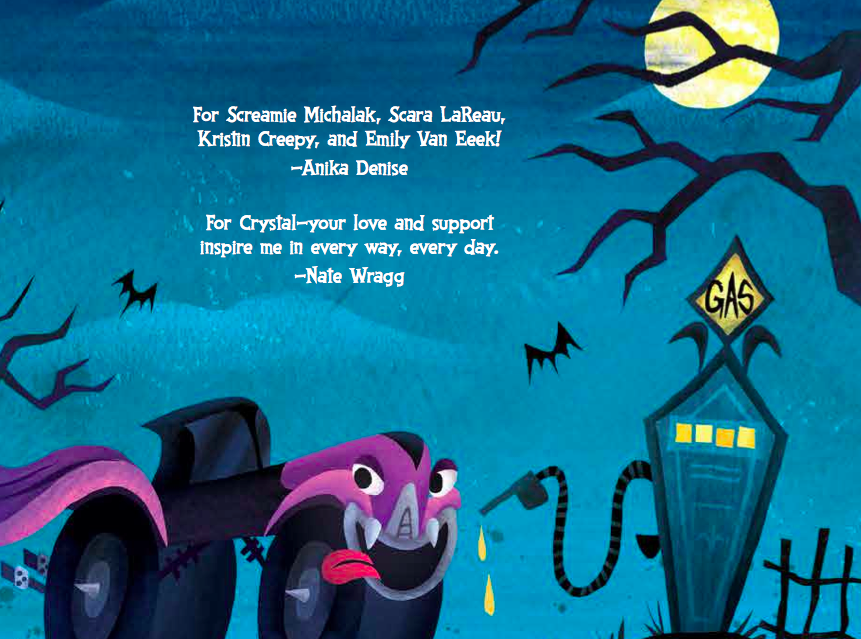 In addition to being successful authors, Kara and Jamie are both former children's book editors, so they each have a keen editorial eye, as well as a writer's perspective. They're also genuinely fun, cool ladies with whom I enjoy spending time.
Honestly, I think the liking each other is key. And it's helpful that we all write for children. I know some critique groups mix it up with adult and children's writers, but I find the children's book market has its own unique quirks and challenges, and it helps that we're all working within that sphere.
You're married to illustrator Christopher Denise, with whom you've collaborated on several books. Do you talk shop regularly? 
Yes, we've done three picture books together: Pigs Love Potatoes, Bella and Stella Come Home, and Baking Day at Grandma's (check them out here); and we just signed a contract for The Best Part of Middle, a story about a middle bunny in a family with three children.
We do talk shop quite a bit. Our only rule is, we don't discuss work at the dinner table, because it's family time. But walks on the beach, vacation road trips, even date nights have a tendency to include some shop talk. And we're both okay with that. We enjoy what we do, and it's fun to brainstorm when our minds our open and we're feeling relaxed. Chris occasionally asks for my input on illustrations, and I do the same with picture book manuscripts. We trust each others' opinion—even if we don't always follow every note.
What's up next?
Next for me is the first in a new picture book series illustrated by Lorena Alvarez called Starring Carmen, which is due out from Abrams in fall 2017. I'm excited for the world to meet Carmen, a bilingual character with a flair for the dramatic. I also have a picture book biography and middle grade novel in various stages of disarray—but I'm working on putting them to order. So stay tuned.
Thanks for visiting, Anika! 
* * *   B O O K    G I V E A W A Y ! ! !   * * *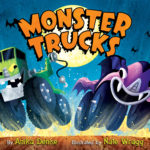 For a chance to win a copy of Monster Trucks, just leave a comment below by September 1st. I'll announce the winner in my next post.
"Sure to get cheering children on the edges of their seats." —Kirkus
"A mash-up made in heaven (or maybe hell)." —PW (starred review)