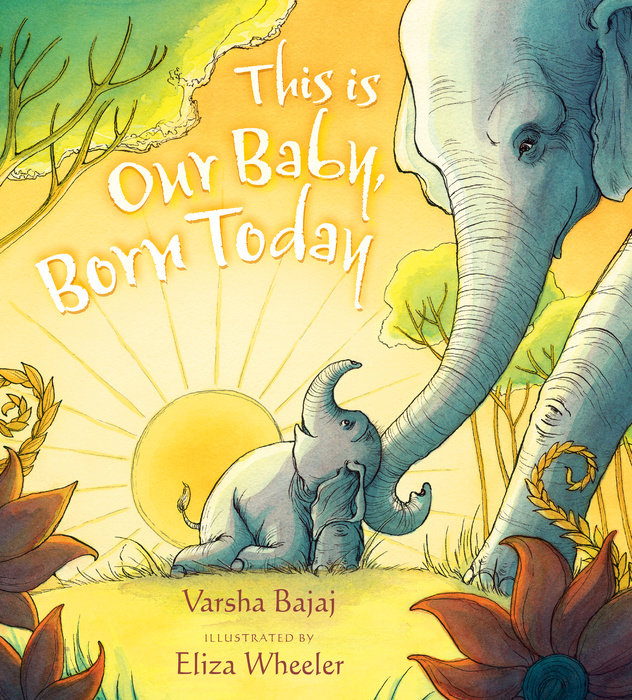 It's a week for book releases here on Picture Book Builders! Tammi Sauer's MARY HAD A LITTLE GLAM came into the world on August 2nd (congrats, Tammi!), and a new book with my illustrations was also released on the same day. Woohoo!  THIS IS OUR BABY, BORN TODAY, written by Varsha Bajaj and published by Nancy Paulsen/Penguin Books, chronicles the first day in the life of a baby elephant. With a loving mama, a trumpeting herd, curious cousins, and even some dancing peacocks heralding this little one's arrival, it is apparent that the joy and wonder a new baby brings is shared by all. Varsha's text is gentle and sweet, and has the rhythm and rhyme of a lullaby. I fell in love with her words from the start, and couldn't wait to draw elephants!
Sharing about my illustration process for new book releases has been so fun (see my previous process posts for WHEREVER YOU GO and TATTOO STORY), so I'm here to do that again for this book.
Plus: Add a comment below for a random chance to win a copy!
The first phase in the illustration process involved researching elephants. Since Varsha grew up in India, I was inspired by the elephants and jungles in that region. I learned that there are some distinct differences between Asian and African elephants:
Size: Asian elephants are smaller in size and weight
Head and ears: Asian elephants have two forehead humps on their heads and smaller ears, where African elephants have one hump and large ears
Trunk: The tips of Asian elephant trunks have one "finger" for grasping, and African elephants have two
Tusks: Female Asian elephants do not have tusks (they have short "tushes" hidden from view), where both male and female African elephants do have tusks
I'm lucky to live in the same neighborhood as the Los Angeles Zoo, which has an incredible habitat for 1 male and 2 female Asian elephants, so I was able to spend time sketching there.
As with every picture book project, (1.) I create thumbnail sketches/storyboards to visually map out the book from start to finish. This helps me see how compositions and angles are flowing from page to page. (2.) I found some little model elephants at a toy store, (3.) which helped with all the different angles of the elephants in the sketches. (4.) Once the sketches were ready, I use a lightpad to trace the sketches onto the final drawing paper and begin the inking process, using dip pens and India ink. (5.) The inked drawings are 'stretched' in water and stapled on plywood boards for watercolor painting. All of these stages of the process went smoothly, until I got to the painting . . .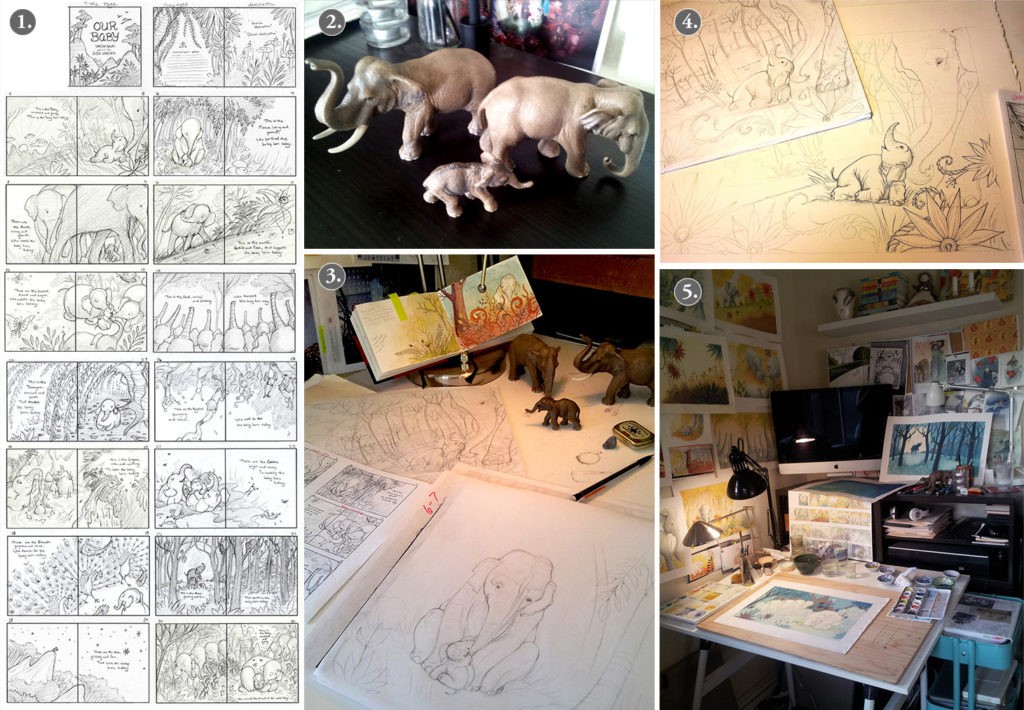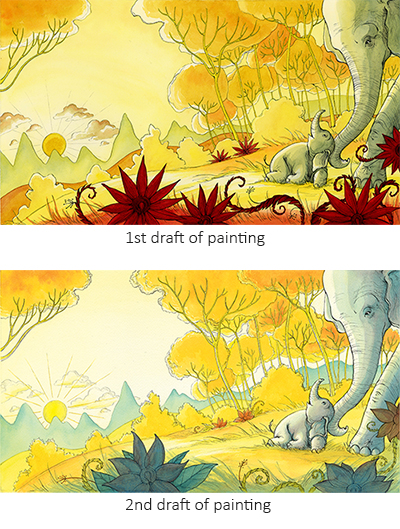 Each unique book project comes with its own unique set of unpredictable challenges. For this book, when it came to the painting stage, I had some major struggles that I hadn't experienced during previous projects. When I originally imagined the colors for the book, I wanted to use the golds and reds that felt inspired by the heat and colors of India. When I shared this first painting with the art director, Cecilia Yung, she felt that the colors were off — there was too much yellow, the palette came across as autumnal, and was missing the cool jewel tones that would be found in the shady jungle. The publishing team also weren't fans of the sharp red shapes of the flowers. I had missed the mark right out of the gate, and found myself feeling lost.
As I prepped to re-group, re-paint this first piece, and continue into the rest of the book, I found it difficult to bring an objective critical eye to the paintings. I felt off-balance and insecure. But with the looming deadline, I did my best to approach the artwork with Cecilia's notes in mind, and create a new color palette with more cool hues incorporated in the shadows.
Months later, after painting all 16 spreads, I turned the final art in to the publisher. But I had missed the mark . . . again. In my effort to focus on bringing new colors into the palette, I had lost much of the contrast and darkness in the shadow areas that I had originally achieved, and it felt washed out. The notes I got back were that there were still too many yellows, and not enough greens in the canopy. My insecurity while creating the artwork produced an insecure result.
After re-grouping again, we decided that the best approach to fix these problems was for them to send me the professional publisher scans, and I would make the adjustments digitally. This was the first time I've had to use extensive digital adjustments in the final artwork, but my former graphic design and photoshop training came in handy, and I was lucky to have Cecilia's objective eagle-eye (and endless patience) to guide me through this process of fixing the work. I adjusted and adjusted until the pages came out balanced and rich again. Here are a few finished pieces: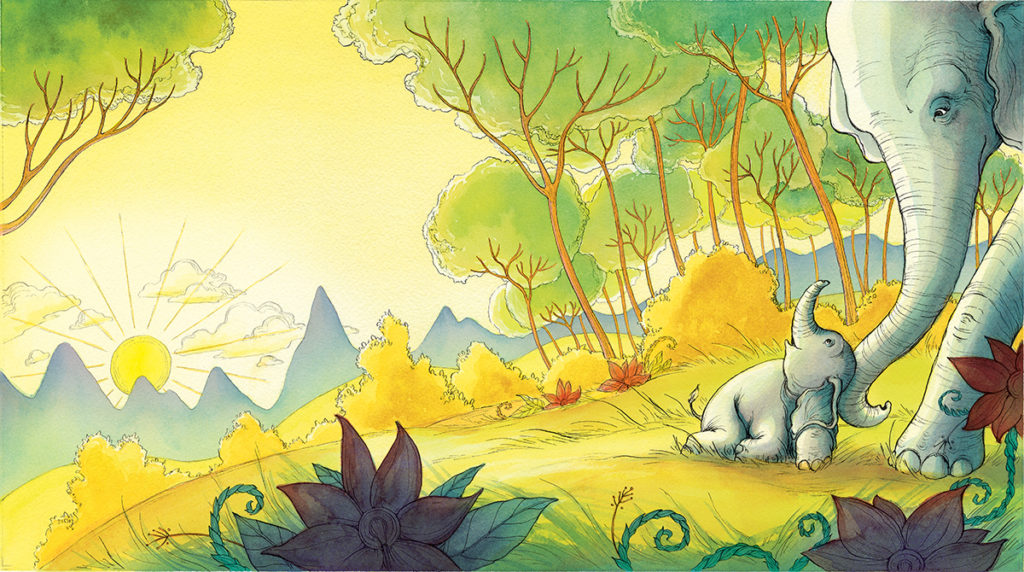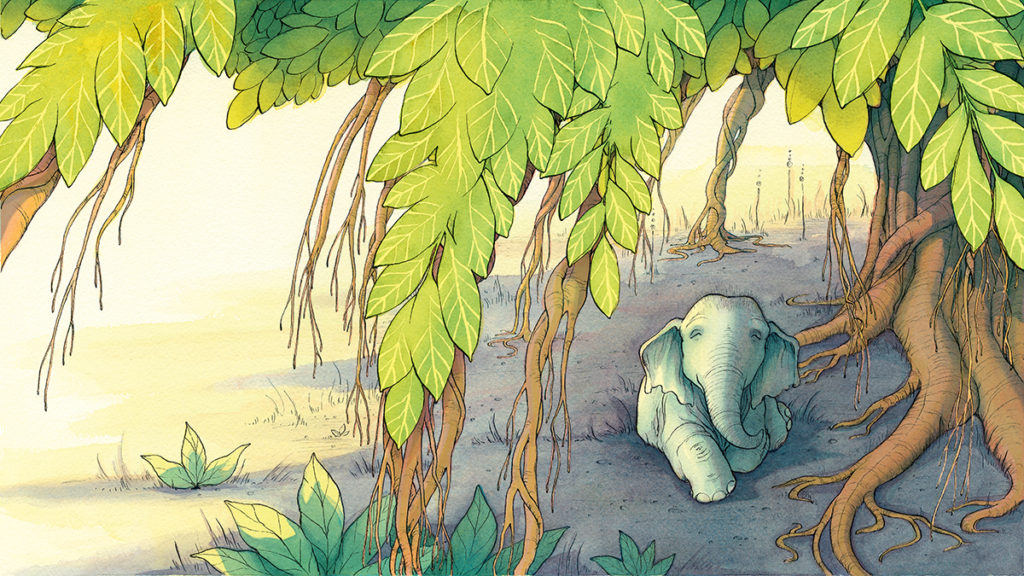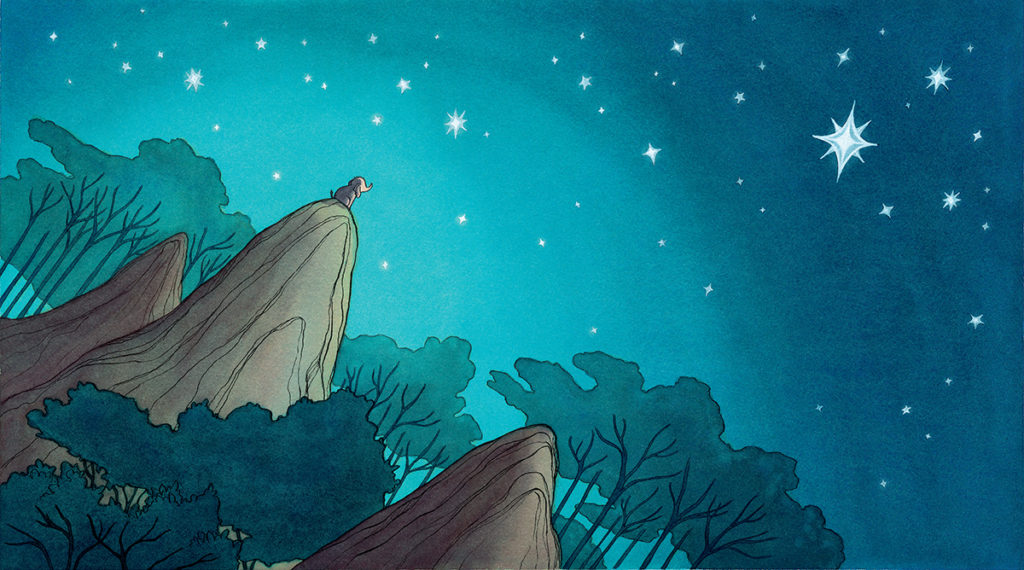 As with real birthing pains, the pains of a less-than-smooth creative journey did produce joyful results! And now this book is out in the world, ready to be cradled and loved. I learned and grew a lot as an illustrator through this process, but I think the most valuable realization I had, that I always hope to remember, was:
When feeling insecure and unbalanced in the creative process, it is always worth it to take the time to stop, step back, give it space, and come back to the work from a fresh and sure-footed place.

~~~~~~~~~~~~~~~~~~~~~~~~~~~~~~~~
GIVEAWAY!  Add a comment below for a chance to win a signed copy of THIS IS OUR BABY, BORN TODAY! The winner will be chosen at random, and will be announced on September 2nd, 2016.
~~~~~~~~~~~~~~~~~~~~~~~~~~~~~~~~
Buy THIS IS OUR BABY, BORN TODAY at your local indie bookstore
-or- Order from Barnes and Noble here