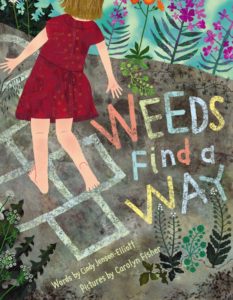 When I wrote about Mary Petersen's art for the book, DIG IN, by Cindy Jenson-Elliott, a commenter mentioned another book by Cindy, WEEDS FIND A WAY, illustrated by Carolyn Fisher. A picture book that celebrates weeds? How curious! I grew up with a mother and grandmothers with green thumbs, and so, probably like most adult readers approaching this book, I was already coming in with negative associations I had picked up along the way about weeds. The text on the front flap reads, "Love them or loathe them, weeds are here to stay, finding their way into cracks and crevices, fields and flower beds, and maybe–just maybe–into your heart, too."
The story's words and art invite you in, and ask you to simply observe.
"Weeds find a way to live where other plants can't grow."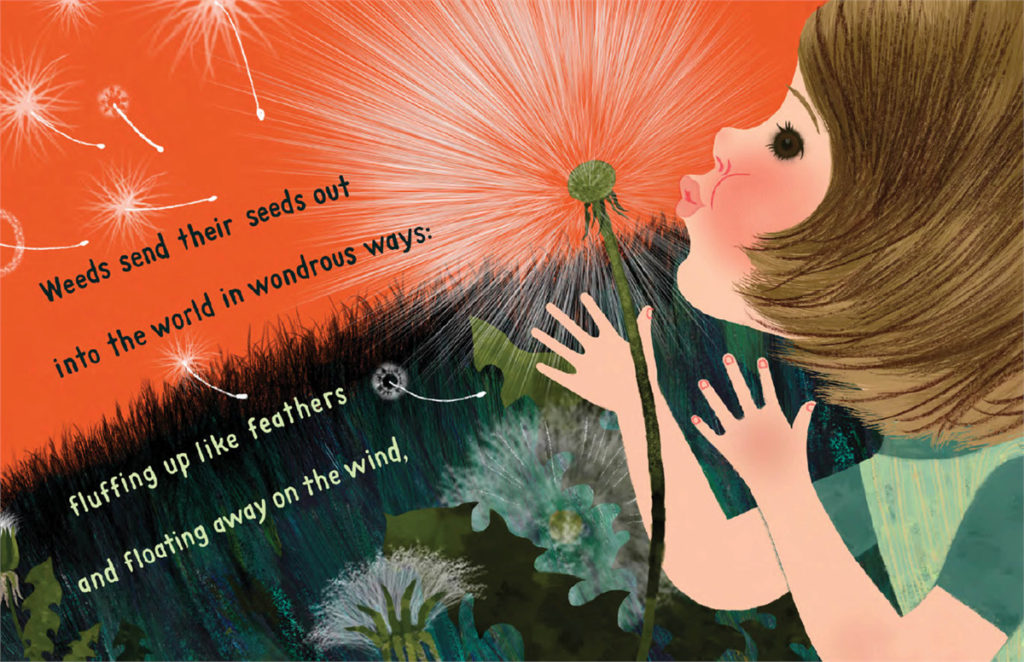 Look closer, get curious. Doubt and skepticism begins to be soothed. Cindy's poetic prose creates a little crack in the reader's heart, where the unique and sensory words take root and open up. By the middle of the book, one can't help but wonder and appreciate the intelligence and tenacity of weeds. Sometimes they are harsh and hurtful;
"Weeds find a way to fight, hooking tender skin with horny thorns, stinging unsuspecting tongues with invisible prickles, and surprising hungry insects with sap so tart, it could turn a tongue inside out."
and at other times they are sweet and beautiful:
"Weeds find a way to be loved, sending up flares of riotous red, flags of green, umbrellas of the finest white lace, making a place sing with bees and birds, exhaling breath as sweet as sleep."
This close look reveals nature's ability to adapt, evolve, survive, and thrive. By the end, you can't help but root for these little fighters!
Carolyn Fisher's painterly collage artwork is a perfect pairing for this text — it zooms in and out and all around, showing many angles and viewpoints in a way which beautifully visualizes the journey the story takes. The book ends with a wonderful author's note "Meet The Weeds", with more detailed information about what weeds are and how they function, and introduces the reader to a range of different weed plants.
What I loved the most about this book was that it broke down my inherited judgments, and replaced them with curiosity, wonder, and admiration.