I loved Tammi's recent interview with Minh Lê, and especially his reminder to picture book writers to keep things lean. As Minh put it so well: if you weigh down the manuscript with unnecessary words/details, the book might never take flight.
One way to prune a manuscript is to tell the story strictly through dialogue. I've had several dialogue-only books published over the years, but my newest, Hey, Coach!, illustrated by Kim Smith (who visited us to chat about Over the River & Through the Wood  last year) is a bit different. Instead of a conversation between two people, there's a whole team chattering.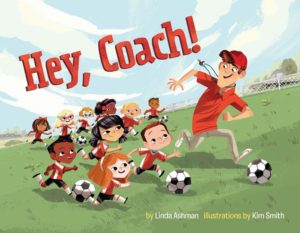 I wanted to capture the everyone-speaking-at-once chaos of young kids playing sports. The story follows a young soccer team through its first season, beginning with the first practice (click to enlarge):

The team encounters many challenges, like wardrobe malfunctions . . .

Illness and injury . . .

And uncooperative weather . . .

But, by the end of the season, they finally experience the thrill of victory . . .

Because dialogue-only manuscripts tend to be spare, you may need some illustration notes to clarify intent. If you'd like to take a look, I've posted two versions of the Hey, Coach! manuscript (and others) on my website (find links at the bottom of any page).
Want to look at more dialogue-only books? I included a list of ten recent favorites in this ReFoReMo post in March. By the way, if you're not familiar with Carrie Charley Brown's and Kirsti Call's Reading For Research Month, be sure to check it out. They've gathered together a treasure trove of reading lists compiled by an array of talented picture books folks (including fellow PBBers) guaranteed to inspire and instruct.
* * * * * B O O K    G I V E A W A Y * * * * *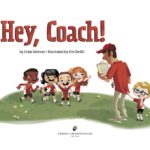 Hey, guess what? It's the TWO YEAR ANNIVERSARY of PictureBookBuilders! So, first of all, many thanks to Jill and Pat for bringing us all together, and to the whole crew for so many enlightening and entertaining posts. Second, in honor of the occasion, I thought I'd give away two signed copies of Hey, Coach! —one each to two random winners. For a chance to win, just leave a comment below by September 30th. And if you've got your own dialogue-only favorites, please share!
And, speaking of winners . . .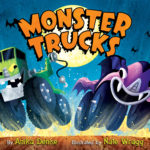 The winner of the Monster Trucks Giveaway is Linda Staszcak.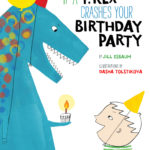 And the winner of  If a T. Rex Crashes Your Birthday Party is Mary Worley. Mary, please contact Jill through her website JillEsbaum.com.
Congrats to Linda and Mary, and many thanks again to Anika Denise and Dasha Tolstikova for visiting. And, as always, thanks for reading!