Two gorgeous science books, BABY LOVES QUARKS! and BABY LOVES AEROSPACE ENGINEERING!, written by Ruth Spiro (illustrated by Irene Chan) released earlier this month from Charlesbridge. Being a science nerd, I instantly fell in love with these gorgeous and engaging books. So I'm extremely pleased to have author Ruth Spiro join us on Picture Book Builders and answer a few questions about her adorable new titles.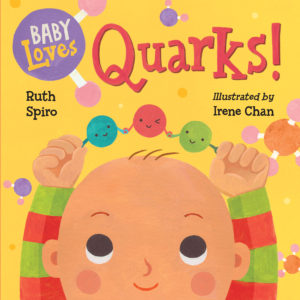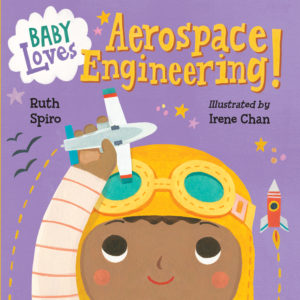 1. How did you get the idea to write about science concepts for very young children?
I like to think that as a writer, part of my job is discovering the ideas swirling around me – and often they come from surprising places! Readers may recall a controversial article that appeared in The New York Times back in 2010. "Picture Books No Longer a Staple for Children" (www.nytimes.com/2010/10/08/us/08picture.html) hit a nerve in the publishing community because of the misguided choice some parents were making to bypass picture books for their very young children in favor of more "sophisticated" reading material. I was discussing the article with friends and asked, "What do these parents want, quantum physics for babies?" As soon as I said it, I knew it was an idea I could work with.
2. Were there any special challenges you faced in sharing higher-level science material for your young audience?
Yes, there were several! First, I've never considered myself a "science" person; my professional background is in business and advertising. However, I enjoy learning about new things and finding out how things work. While researching these books I had to learn about some very complex subjects, and also understand them well enough to isolate the main ideas and relate them to my readers.
Another challenge was that I'd never written for an audience this young. So, I spent a good amount of time studying the types of books that are appropriate in these early developmental stages, and also read scholarly articles about the acquisition of language in babies. One trade book I found particularly helpful was "Reading Magic" by Mem Fox. Her books are beloved favorites for very good reason.
Ultimately, I decided that the science concepts would be most meaningful if I could relate them to everyday moments and activities familiar to babies and toddlers. But I want to emphasize that my goal in writing these wasn't to "teach" science to very small children, but rather to encourage exploration and wonder while introducing the idea that science explains many things we see every day. These are the kind of books I would have loved reading with my two daughters when they were small, because I would have learned a thing or two myself!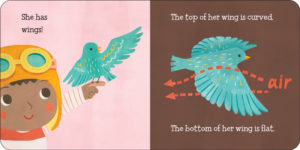 3. How did you vet your content?
Before acquiring the series, Charlesbridge sent the manuscripts to an educational consultant to make sure they were developmentally appropriate. Once the text was finished, my editor asked me to find an expert to review it for accuracy. Coincidentally I'd met Dr. Fred Bortz, (http://www.fredbortz.com) a physicist and children's book author, and also a fellow attendee at Jane Yolen's Picture Book Boot Camp. I knew he would be the perfect person for the job because he's super-smart and has written extensively on science topics for kids. He's also bubbling over with enthusiasm for science, and a stickler for detail. I was ecstatic when he agreed to review both the text and illustrations.
4. In your writing process, how did you manage to create a narrative arc while also sharing interesting science content?
After researching (and understanding!) the science itself, this was probably the biggest challenge. I decided to establish a main character, Baby, and then introduce the concept through a familiar activity or experience. For Baby Loves Quarks!, a natural parallel between nature building with molecules and Baby building with blocks emerged as the perfect way to tell the story. Baby Loves Aerospace Engineering! is about flight, from birds to planes and rockets.
Once I had this framework in place, I wrote each story with a beginning, middle, and a fun, slightly surprising ending. Oh, and I kept each book to fewer than 100 words!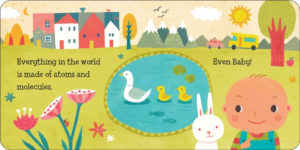 5. The illustrations are so colorful and engaging. What surprised or interested you about the illustrations?
Irene Chan has done an amazing job with the illustrations. She's new to illustrating children's books, but is a prolific graphic designer. Her work appears on greeting cards, fabrics, games, puzzles and many other items. I was amazed by her attention to detail and her ability to not only personify a quark, but also make it look cute! Also, the faces she designs are adorable and appealing, perfect for a baby book.
When I first proposed the series, I imagined it would follow the same Baby as the main character through all of the books. The brilliant folks at Charlesbridge came up with the idea of featuring a different Baby in each book, which gives us the opportunity to more accurately reflect the diversity of our readership.
6. Did you propose your books as a series, or did the first book lead to a series?
As I pursued the idea, I drafted several stories to make sure the framework would fit with a variety of science topics. Then after researching and writing five manuscripts, I realized that because of their unique nature an editor would need to see more than one to understand my vision. I picked three stories I felt were the strongest and pitched them as a series.
Alyssa Pusey, my editor at Charlesbridge, signed up two of those initial three to begin the series.
7. How was it decided that your book would be published in board book format?
I pitched the series as board books because they fit well in that format and I'd written them with specific page turns in mind. Also, the rhythm of the text and depth of content just seemed to work best as board books.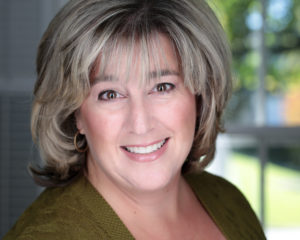 8. What's coming next from you?
I'm happy to report that two additional titles, Baby Loves Thermodynamics! and Baby Loves Quantum Physics!, will be published in 2017. I've seen early sketches and they're just as adorable as the first two!
I have more good news about another picture book series but can't reveal the details just yet… watch for an official announcement very soon!
****Book Giveaway Details****
One lucky winner (chosen randomly from those who leave comments on this post) will receive both of these gorgeous books (autographed by the author!)