I loved fairy tales as a kid, and for the most part was happy to suspend disbelief no matter how bizarre the concept. Magic seeds? Sure. Talking mirrors? All right. Gold spun from straw? Why not?
But there was one story that strained plausibility beyond even my generous standards.
Could you really look at this furry face, the toothy snout, and those sharp paws and mistake this creature for . . . Grandma?
Either this story made no sense, or Little Red Riding Hood was not the sharpest twig in the forest.
Happily, in Little Red (Peachtree 2016), Bethan Woollvin has reimagined our heroine, creating a character who is smart, plucky, and empowered. The book, first published in Great Britain, has striking, minimalist art (it was a New York Times Best Illustrated Book last year) and is also quite funny—in a dry and dark sort of way.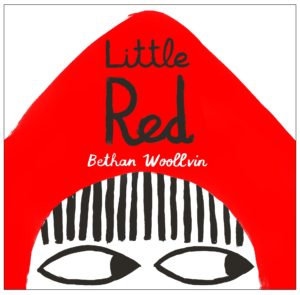 As a writer, what struck me most about the story was the simplicity and brevity of the text. With just over 250 words, it lets the illustrations do much of the telling. After the wolf meets Little Red on the trail, he races to Grandma's house. We don't need to be told what happens next: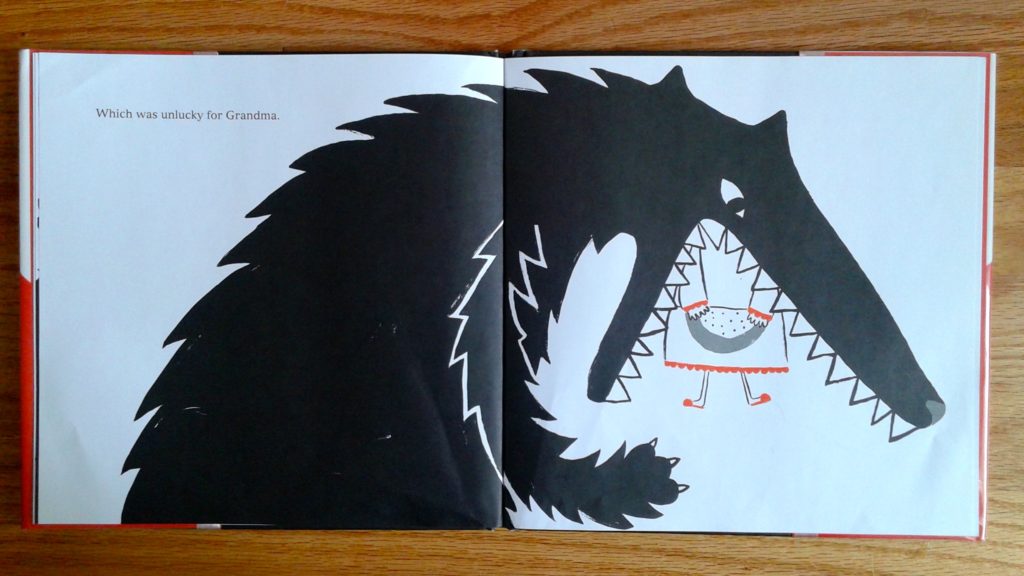 I was also impressed by the effective use of repetition. For example, on the trail to Grandma's house, Little Red meets a wolf, just like in the classic story.
"Where are you going?" he growled.
Which might have scared some little girls.
But not this little girl.
Later, when she arrives at Grandma's house, she peers in the window and sees "a badly disguised wolf waiting in Grandma's bed!"
Which might have scared some little girls.
But not this little girl.

She greets the wolf as if he were Grandma "though she wasn't fooled for a minute," and goes through the familiar exchange about big ears, big eyes and big teeth. Then the wolf lunges at her.
Which might have scared some little girls.
But not this little girl.

Needless to say, things do not turn out well for the wolf. But Little Red and Grandma are just fine.
Little Red is a bold and impressive debut, and reminded me again that in picture books, less is often more. I can't wait to see what Bethan does with Rapunzel (coming later this year).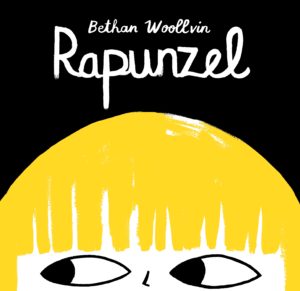 Quick Announcements!
The winner of the I Dissent Giveaway is Debra Shumaker. Congratulations, Debra, and thanks to all for your comments.
For my next post (April 4th), I'll be discussing books and trends with my agent, Jennifer Mattson of Andrea Brown Literary. If you have questions about agents in general, or Jennifer and her agency in particular, leave a comment below (or send me an email here) and I'll try to incorporate them into the interview.
Thanks for reading!