What first drew me to My Busy Green Garden (Tilbury House Publishers), by author Terry Pierce and illustrator Carol Schwartz, was its colorful cover. On it were some of my favorite flowers – daisies, lilies, a purple coneflower. Oh, wait. There were insects, too? A praying mantis, a honeybee, a ladybug. The closer I looked, the more details caught my eye. I opened this book wondering how the inside could possibly match the gorgeous exterior.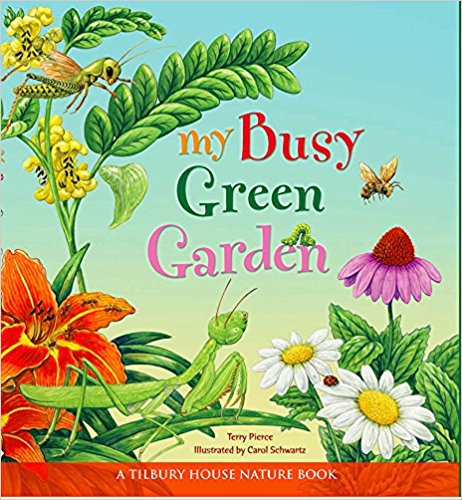 Talk about exceeding expectations! What I found set my flower-gardening heart a-flutter. Look! (Note:  I took these with my phone, so imagine how bright and beautiful the actual book is!)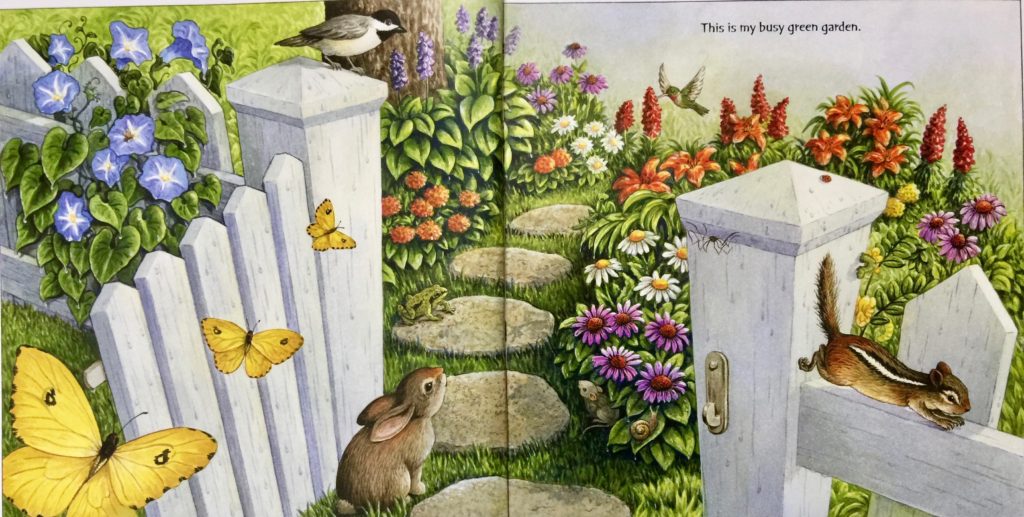 Ooh, the paper! Thick and lustrous, and each spread is surrounded by crisp, white margins. That makes each page turn feel almost like you're wandering an art gallery, heart speeding up as you discover painting after painting by a delightful new artist. I chose to crop the margins only because … um … I was holding the book flat with my toes. So.
Let's talk about the text. Terry uses cumulative rhyme to its best effect here. Each page is packed with details and feels so natural, so effortless. From mid-book:
This is an inchworm who creeps up and down,
dodging the hummingbird fluttering 'round
the hurrying honeybee buzzing below
the red spotted ladybug dawdling so,
near the surprise
in clever disguise
that hangs in my busy green garden.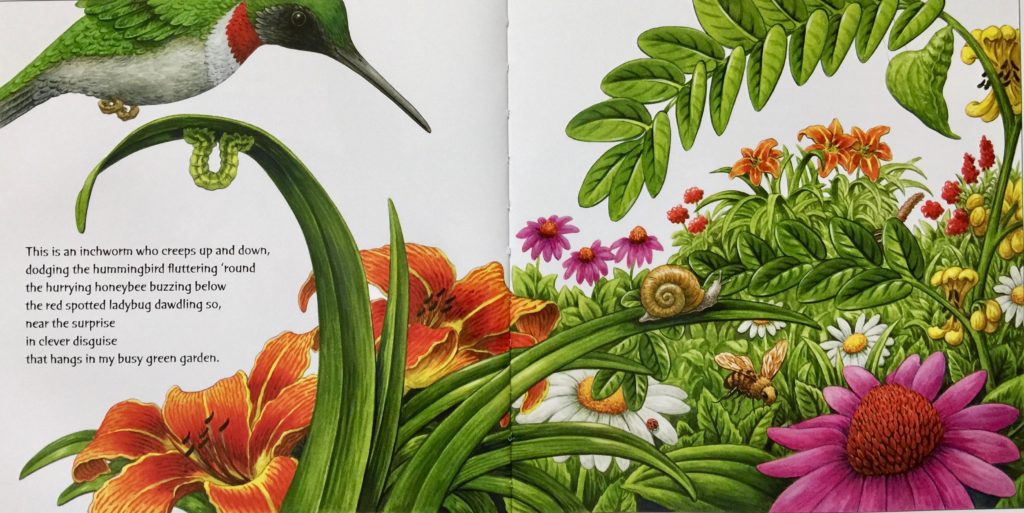 Isn't that text delicious to read aloud? Kids will eat it up! And can you see what the "surprise" is? Readers get to follow the creature's "clever disguise" throughout the book, watching as it undergoes metamorphosis.
I wanted to ask Terry a bit about her process. So let's get to it.
Jill:  Do  you remember why you wrote this book, the inciting idea?
Terry:  I wanted to write a cumulative story with fun, active language (I love playing with language!). I was thinking about stories that my Montessori students loved and I remembered Arnold Lobel's, THE ROSE IN MY GARDEN. I pulled it off my bookshelf and ended up using it as a mentor text, following a similar meter. But I wanted a different focus, and knowing how much children love insects, decided to go with a garden setting with a focus on bugs and other garden critters.
Jill:  Did you always have in mind a House-That-Jack-Built format?
Terry:  Yes. My book, BLACKBERRY BANQUET, is a cumulative story and I enjoyed writing that one so much, I wanted to write another one.
Jill:  What was it like working with a small publisher?
Terry: Tilbury House has been terrific to work with (and still is–I have another picture book under contract with them!). The editorial staff was quick to start moving on the project, and even sent me a list of possible illustrators and asked for my input (we all agreed on Carol Schwartz, whose work is a-mazing). My editor sent me regular updates on the project once it was in the illustration phase. And their sales and marketing teams have been great to work with. I'd say working with a smaller publisher is more "hands on" than working with a large publisher.
Jill: How did you feel when you saw how your story had been illustrated?
Terry: When I first saw Carol Schwartz's work, I knew she was the perfect illustrator for the book. Her use of bold, rich colors with fine realistic detail were exactly the kind of art this book required. And she did an amazing job of changing the perspectives, which is no easy task when the entire story takes place in the same garden! The opening double-page spread is one of my favorite illustrations (along with the praying mantis spread). That first scene reminds me of the Highlights magazine "hidden picture" puzzles I enjoyed as a child–except this one was in full color and gorgeous! Carol included 13 different kinds of animals on that spread (multiples of some, such as the butterflies). It really is fun to watch people find all the animals (and dare I say, children seem to find the animals more easily than adults!).
Jill:  Thanks for stopping by, Terry! (And I loved Hidden Pictures, too!)
——————-
If you're a regular reader, you know how we love book giveaways around here. For a chance at owning a copy of My Busy Green Garden (not the one that knows my toes), simply leave a comment below.
Speaking of contests, the WINNER of Sue Lowell Gallion's Pug Meets Pig is ……… JANET METZGER! Janet, please contact Sue through her website  and she'll make sure you get a copy!
A shameless personal plug:
Those of you who like board books might want to follow my daughter Kerri's blog, Books for Babies. She posts every Friday about her toddler daughter's current favorite. Kid tested!
Teachers! Want kids to ENJOY writing? Please, please, please check out a new book by educational consultant (and former teacher) Mike Leannah, We Think With Ink. I had a chance to read the ARC, and I found many, many ways I can use the book, not just with elementary/middle school kids, but with adult writers. Believe me, this one is superlative. Don't miss it!