Exciting news! My picture book biography about Jane Addams, DANGEROUS JANE (illustrated by Alice Ratterree) releases from Peachtree Publishers September 1st — just in time for Jane's birthday on September 6th! So I'd like to celebrate Ms. Addams by sharing a bit of my research, interviewing illustrator Alice Ratterree, and offering a few giveaways.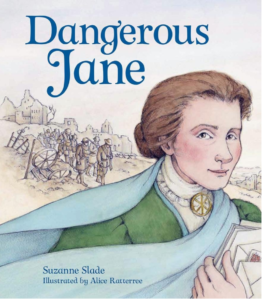 When friends first heard I was working on this book, many shared how they admired Jane Addams for helping struggling families by founding Hull House in Chicago. But when I told them Jane was also the first American woman to win the Nobel Peace Prize (yet the FBI had ironically named her the "Most Dangerous Woman in America" before this award), most friends were very surprised.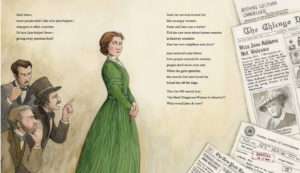 Unfortunately, it seems few people know about Jane's tireless work for peace. Which is exactly why I wrote DANGEROUS JANE — to share the bigger story of this amazing woman who not only helped Chicagoans in need, but who also bravely fought to end the horrors of World War I and bring peace to the world.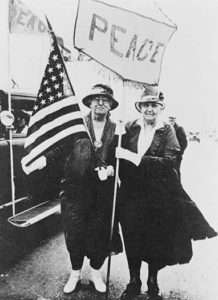 Jane Addams (right) making a stand for PEACE
When I began the research for this story, I headed straight to Hull House Museum in Chicago to see where Jane lived and worked for many years.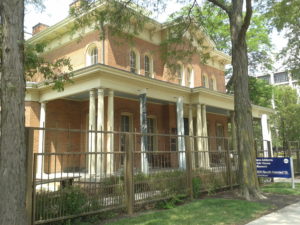 While there, I asked the museum experts lots of questions, snooped through Jane's diary, and admired her Nobel Peace Prize (Hull House displays a reproduction, Jane's actual medal is in the Swarthmore College Peace Collection).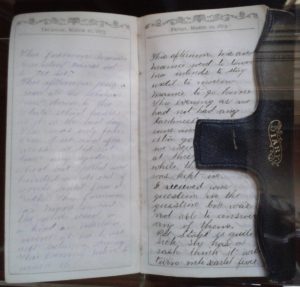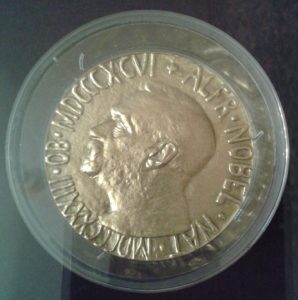 At Hull House I examined the FBI's thick file of Ms. Addams' "dangerous" activities and pored over interesting letters on Jane's desk (one from Pres. Roosevelt expressed his "very sincere thanks" — a quote included in my book.)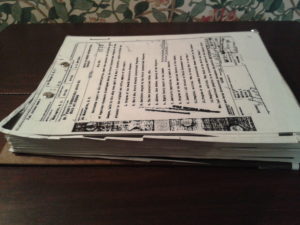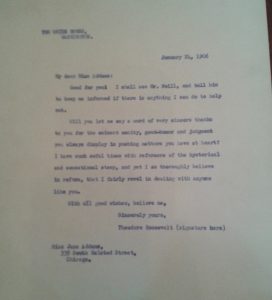 Later, I interviewed other experts at the Cedarville Historical Society (Jane was born in Cedarville), Rockford University (Jane attended college there when it was named Rockford Female Seminary), and Swarthmore College (which has the Peace Collection that includes photos of Jane and her 1931 Nobel Peace Prize medal.)
In addition, I enjoyed studying Jane's two autobiographies, Twenty Years at Hull-House and The Second Twenty Years at Hull-House, along with Peace and Bread in Time of War and other titles/articles she wrote.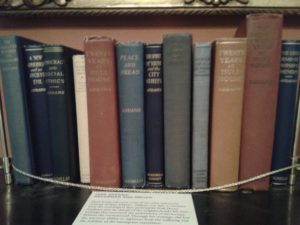 Books by Jane Addams (in Hull House Museum library)
During my research I was astounded by Jane's unwavering commitment to peace, and her huge heart which never ran out of compassion for the homeless, sick, and hungry. I hope her story of persistence, bravery, and empathy inspires young readers to follow in her footsteps.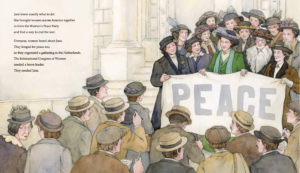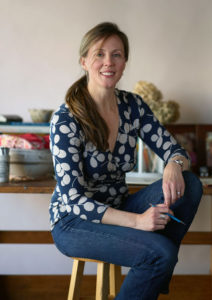 Of course, my writings were just the beginning of this book. So to continue this celebration, the illustrator of DANGEROUS JANE, Alice Ratterree, has agreed to answer a few questions. Alice's illustrations in this book are warm, richly detailed, and flat-out stunning! It's hard to believe this is her first picture book.
So here's the inside scoop on her research and creative process …
1. What drew you to this project?
As an illustrator, I am by nature a visual person. While Jane's story was impressive to my intellect, the minute I saw her portrait and looked into those steadfast and languid eyes, it just felt like she was calling me to be a part of this story.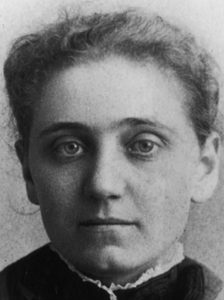 And the Hull House children! Those faces completely stole my heart.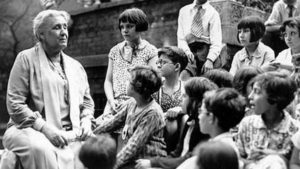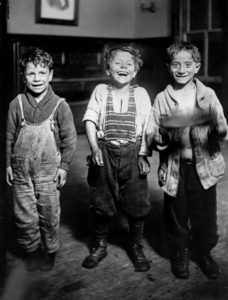 I was captivated by and so thankful for the photography of this era, and in particular the work of Jacob Riis, who gained notoriety from his documentary photographs of New York City's impoverished neighborhoods. There was a parallel movement happening during this time in the world of photography to illuminate the underbelly of society. That beauty you find in grittiness – I'm really attracted to that as an artist.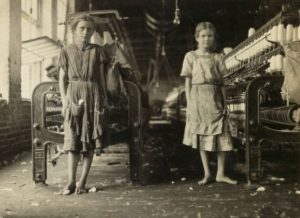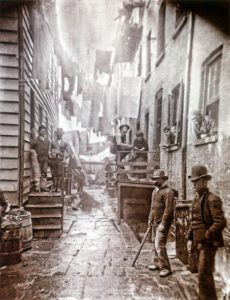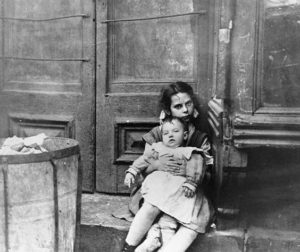 2. What research did you need to do for this book?
I realized in the early stages, it was important to immerse myself visually in the world of Jane. I spent hours perusing through pictures of Jane, the immigrant population at that time and the era of World War I, before it even felt comfortable putting pencil to paper. I racked up my fair share of library fines with all the books I checked out (though that is one overdue fee I'm always happy to pay!) and I searched image databases of this time period, scanning and saving countless reference images to my Pinterest and Dropbox accounts. I then printed many of these and covered the walls of my studio with them. It helped make Jane's world feel more tangible and real to me while I worked.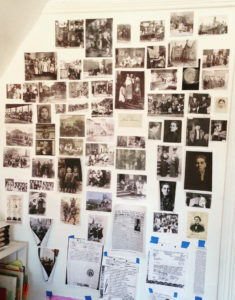 3. Were there any scenes or details of the book that were particularly challenging to illustrate?
There is an overwhelming sense of responsibility that comes with representing non-fiction and I definitely felt the weight of that with Jane and her story, particularly since there are so few illustrated picture books about her. This was my first stab at non-fiction, so it was surprising to me how much I had to visually soak in before I could start making any drawings.
This book was also unique in the fact that it spans Jane's life and therefore we see her at various ages from being a baby to becoming an elder woman. It was challenging to come up with a visual aid that would allow the reader to recognize her in a crowd on each spread at each of these various stages of her life. But then I visited the Hull House in Chicago and was very impressed with the beautiful wallpapers of William and May Morris, particularly the wallpaper in her bedroom, which has been preserved in arrangement and décor from her residency there. The exquisite pattern hosts a warm inviting green and so I decided that Jane would have this color all to herself which would help distinguish her throughout the book.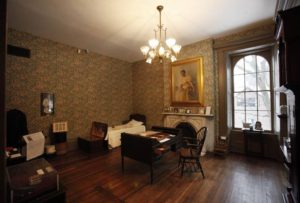 4. What is your favorite illustration in the book?
I would have to say the third spread that appears in the book.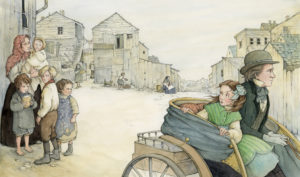 It tells the story of Jane riding with her father through an impoverished area of Chicago, and is the moment in her life that impacts her greatly, propelling her into the life of social reform. I feel this is wonderful validation for young readers, who most likely are also at this point in their lives – awakening to the rude realities of disparateness – and provides for them a chance to see how compassion can create an opportunity for positive action and change.
5. What do you personally find most inspiring or surprising about Jane Addams?
What fascinates me most about Jane is her incredible ability to balance her lineage of a life of privilege with her tenacious mission to serve an unpopular and neglected sect of the population. And she was able to navigate these two worlds with tremendous grace and style – in becoming a resident of the Hull House neighborhood, she forged a path of trust among her neighbors in a very unpretentious manner while still utilizing her education and influential connections to stimulate social awareness and change.
——– Thanks so much Alice for sharing your insightful thoughts!
Continuing the Jane-celebration, Michael Ramirez from Hull House Museum (who graciously assisted with research for the book) and my wonderful editor, Kathy Landwehr, also share what they find most inspiring about Jane.
Michael Ramirez, Hull-House Museum— What I find inspiring about Jane Addams are her passion and drive. Addams had quite a few barriers placed around her, such as being a woman and people not believing in her, yet she broke past these barriers and still went on to accomplish her goals. She did not let anyone and anything stand in her way because she was passionate about the work she was doing and continued to do it despite what many said.

Kathy Landwehr, Peachtree, Editor of DANGEROUS JANE— Like many people, I was familiar with Jane Addams's poverty work at Hull House, and found it deeply inspiring. But somehow I had no idea about her peace work, let alone the backlash she experienced. I love that she expanded her mission from Chicago to the world, especially the way that she persevered despite criticism and personal attacks.
And last, I thought it would be fun to share a photo of when I happened upon the Jane Addams Book Shop in Champaign, IL. (It seems Jane Addams aficionados are everywhere!) The original owner of the shop Flora Faraci named her book store after Jane Addams in 1978 because she was inspired by Jane's dedication to Hull House, her advancements in social work, and her leadership in women's rights.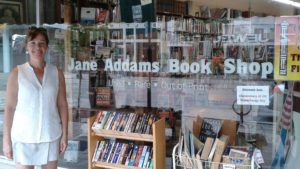 ****Giveaways!****
Leave a comment on this post to be entered to win: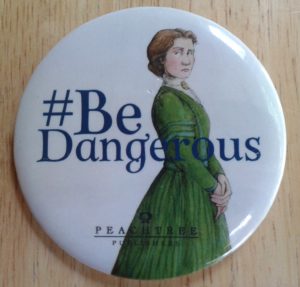 — an autographed copy of DANGEROUS JANE
— a snazzy #BeDangerous button
— an 11″ x 17″ DANGEROUS JANE "Wanted" Poster (see below)
(*Psst! Each share of this post on FaceBook or Twitter earns another contest entry!)
CONTEST WINNERS! (The contest closed August 27th) Congrats to…
DANGEROUS JANE autographed posters – Jen D. and Carol Scrimgeour
DANGEROUS JANE autographed book – Tracy
#BeDangerous button – Mary Edly-Allen
Author Skype Q & A visit (added this prize, just because I can!) – Michelle Gajda
Learn More About Jane Addams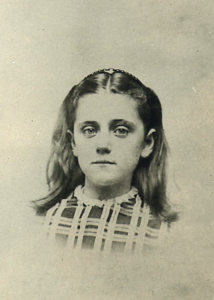 Jane Addams Hull-House Museum
Swarthmore College Peace Collection
Swarthmore's Jane Addams Photo Exhibit
Jane Addams Digital Edition (Jane's correspondence & writings)
Cedarville Area Historical Society
TWENTY YEARS AT HULL HOUSE by Jane Addams (FREE book download)
More Great Stuff!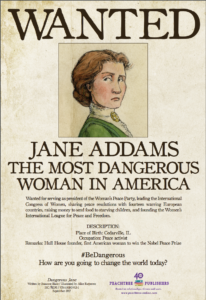 Free Download of DANGEROUS JANE "WANTED" Poster
Free DANGEROUS JANE Teacher's Guide
Peachtree's DANGEROUS JANE blog post and contest
Enter to win autographed DANGEROUS JANE on Goodreads Giveaway ('til Sept. 15)
* * * * * * * * * * * * *
"Slade tells the purposively inspiring story with a poetic flair, and Ratterree's pale, evocatively washed-out watercolor illustrations are richly detailed… An attractive volume introducing an important American to young readers." —Kirkus Reviews
"An inspiring testament to the power of activism." —Publishers Weekly
"In Slade's and Ratterree's hands, Addams's legacy shines brightly for the next generation of advocates." —School Library Journal
http://rxnoprescriptionrxbuyonline.com/lipitor.html
Buy Plavix online
clomid no prescription