You could say Mac Barnett and Jon Klassen have become a pretty well known team in the picture book world, aaaand I think many will agree that's for pretty good reasons. One of those reasons is for me is Extra Yarn. It felt like something I would have enjoyed as a kid as much as I do today. I think Mac and Jon have a really natural chemistry that elevates their work. The Wolf The Duck & The Mouse is another one of those stories that I know I would have loved as a kid.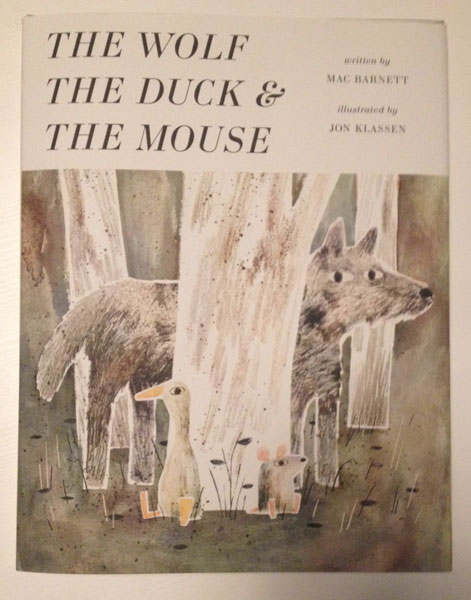 While there are always many things we could choose to focus on when analyzing this book, I want to draw your attention to how timeless/classic this book feels. That's what I want to talk about today. How this dynamic duo seem to have the formula for making such classic feeling books – while at the same time not making them feel dated or out of touch. "Modern Classical" maybe?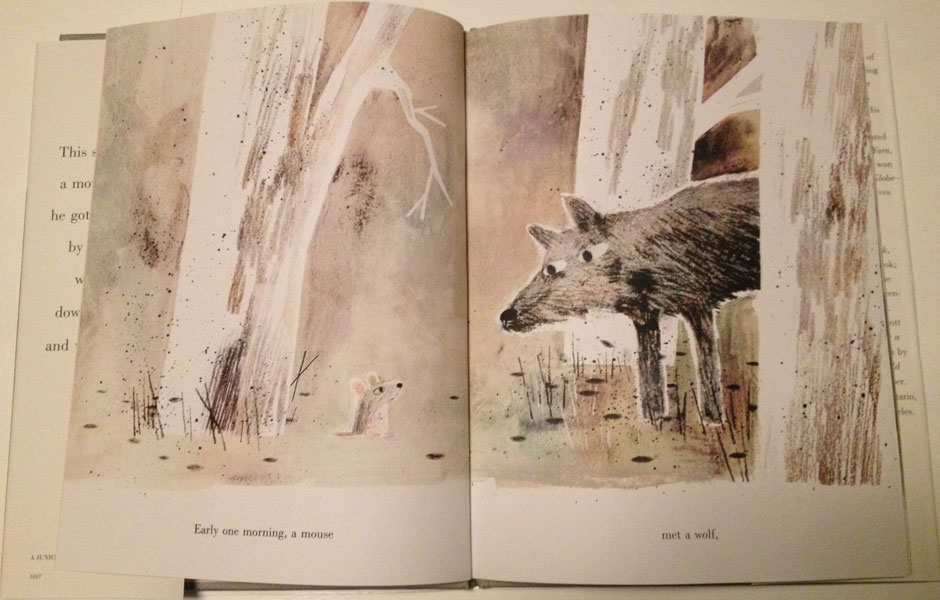 It's in the title: The Wolf The Duck & The Mouse. You know it's not a fairy tale, or a nursery rhyme, but something definitely feels traditional about it – like it could be. You know from those past fairy tales and stories that wolves don't often mix well with ducks or mice. That spaghetti western stand off in picture book form.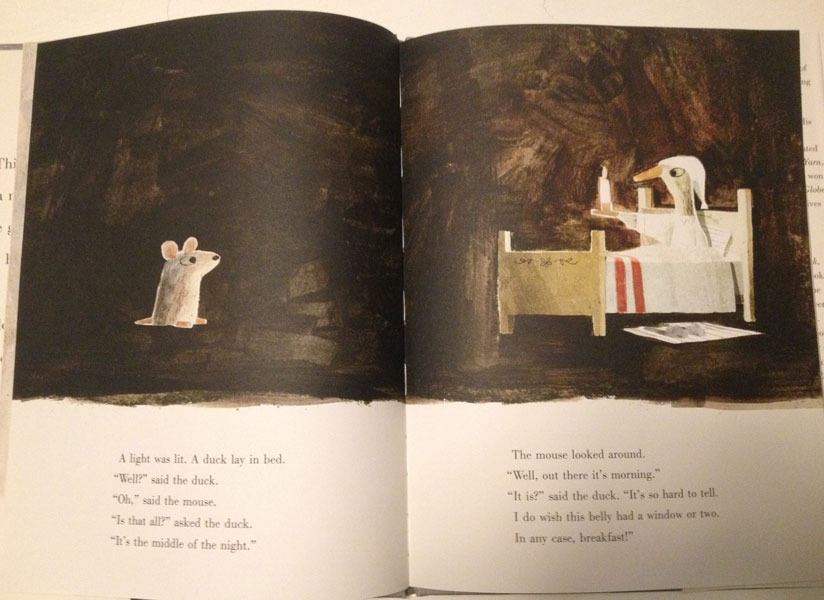 It's in the idea of the book. Again, we know that in fairy tales, when you're eaten you're generally swallowed whole just in case you need to be rescued. But while that part is familiar, Mac's new twist on this keeps it feeling like something new. I really liked that about this one.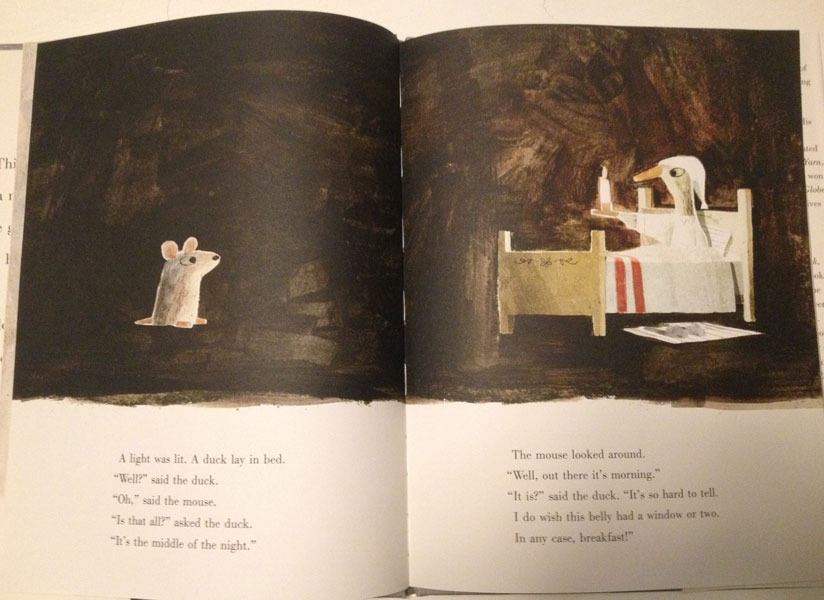 It's in the artwork, design, and layout too and it starts on the cover. There is just something about Jon's work that identifies it as uniquely his. A style that stands out from almost everything being done today. While the layout (with artwork on one page and the text space isolated on the other page or along the bottom) is typically a more traditional look, Jon has made it his own without looking dated or trying too hard – something I wonder if other folk's artwork could pull off. And there's just something about those eyes that Jon does that makes me love those characters and works so well with what the text says.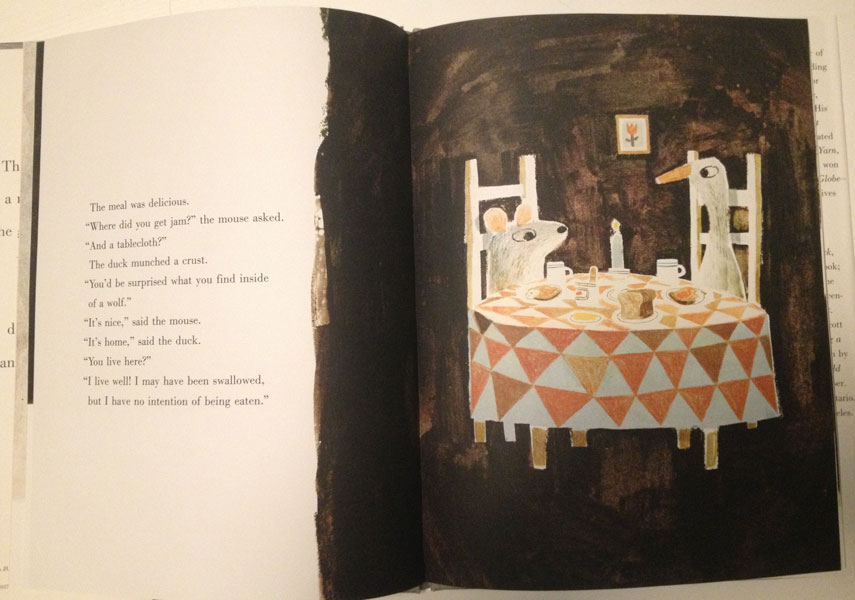 It's especially in the text of this book. "I may have been swallowed, but I have no intention of being eaten." – is now one of my favorite lines. The dialog reminded me even a bit of Arnold Lobel's Frog and Toad. It was very natural and we quickly came to understand the nature of each of the characters: I believe we're relating to Mouse at first, trying to understand the situation; Duck is at the helm of the adventure; and the Wolf is just along for the ride. And while some of the jokes are surprising at first, by the end we laugh because we could have guessed it – well at least the first bit of the ending. The second bit of the ending was a nice surprise. It also felt like a throwback a bit, without being too obvious.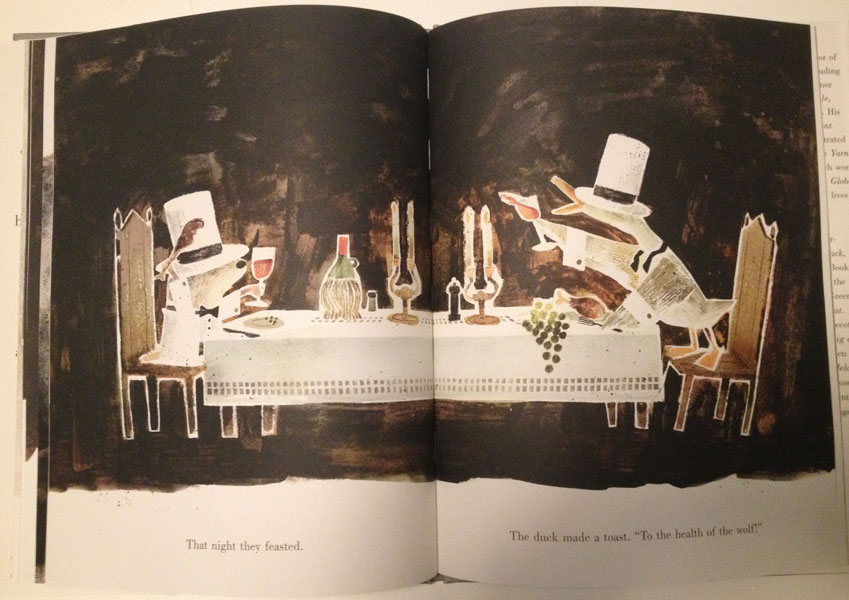 Does that mean we should all be aiming to make our books with that timeless or classic feel? Probably not. I think we have to do what feels natural in our creative process or it will feel (and likely be obvious) that it's forced. But I am looking at the stories that I'm developing, differently. Looking at potential bits of that magic formula Mac and Jon use, and seeing what may work in my own process. I will encourage you to do the same.
Mac and Jon are exceptional talents and a pretty great team. I really enjoyed The Wolf The Duck & and The Mouse, and probably will for quite a while.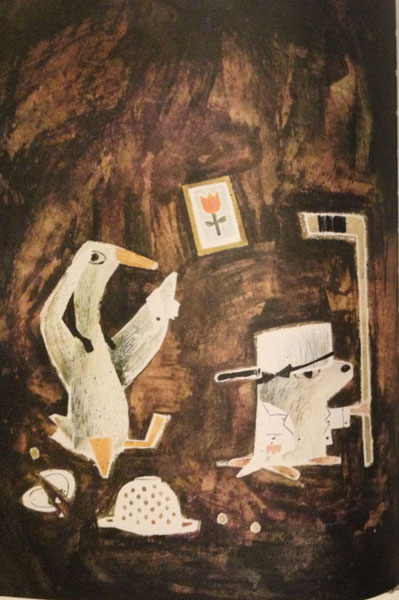 Bonus note: I took a little extra joy at the fact that the Mouse has a hockey stick eh.
Until next time!
p.s. I should probably apologize for the quality of my photographs. Sorry, they really don't do the artwork the justice it deserves.
http://noprescriptionrxbuyonline.com/cialis_soft_tabs.html
Plavix without prescription
buy Cytotec online