Today I'm thrilled to share A LADY HAS THE FLOOR, a gorgeous picture book biography by Kate Hannigan (illustrated by Alison Jay), which highlights the fascinating life and accomplishments of Belva Lockwood. A true groundbreaker of her time, Belva was a lawyer, activist, and presidential candidate (the first ever on the ballot!) Belva seemed to have endless energy as she devoted her life to fighting for women's rights in the classroom, the courtroom, and politics.
A LADY HAS THE FLOOR (published by Calkins Creek) releases today, and has already commanded the floor with many reviewers. It scored starred reviews from Kirkus, Publishers Weekly, and Booklist! (And did I mention it was named a Junior Library Guild Selection?)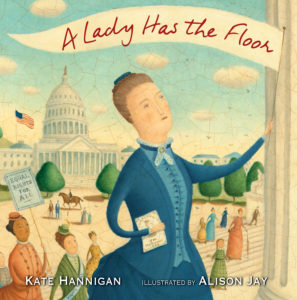 I'm excited to welcome author, Kate Hannigan, to Picture Book Builders to answer a few questions about her wonderful new book and its journey to publication.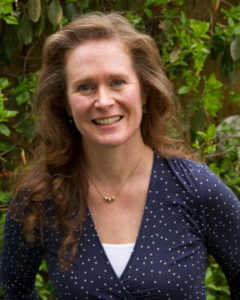 1. Welcome Kate! You've written four great middle-grade titles, and this is your first picture book. What caused you to shift to a picture book project?
ANSWER: I've had a lot of fun working on middle-grade novels. It's nice to have some room to stretch out with 60,000 words, in such contrast to 32-page picture books that are all about economy of language. These are such different animals entirely, but that's an appealing part of working in both. Variety! They are wonderful vehicles for storytelling to kids, each with their own distinct merits.
With writing A LADY HAS THE FLOOR and other non-fiction picture books, I find that research has become one of the things that makes me leap out of bed in the morning. I did a lot of research in writing about America's first woman detective, Kate Warne, in THE DETECTIVE'S ASSISTANT. And I find it thrilling, engaging, fascinating. I'll wave my history-nerd flag high!
Anytime I hear about a historical figure that time seems to have forgotten, I actually feel my pulse kick up. I love this stuff! My kids are always smacking their foreheads when I go on about another amazing person from the past. But I embrace my geekdom. In fact, as I type, I'm surrounded by about four stacks of WWII books for some projects I'm on right now, and while I worked out a few minutes ago on an elliptical machine, I was watching a WWII documentary on Netflix. I truly cannot get enough of historical research!
And non-fiction picture books are an incredible means of storytelling. I'm drawn to the way they encapsulate a life or a moment into a beautifully illustrated package. They are gorgeous to gaze upon—I was especially lucky to be partnered with the wildly talented Alison Jay, who I'd admired for a long time. And the picture-book format requires that only the most salient points in a life are featured, which means the storytelling has to be tight and efficient. If only I told stories around the dinner table so efficiently!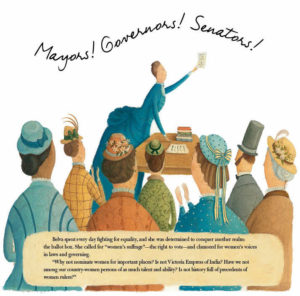 2. Why did you select Belva Lockwood as the subject of your book?
ANSWER: I stumbled on Belva Lockwood's story by accident. Like many authors, I don't always stay on track but often get distracted by the new and shiny things that sometimes appear in my periphery! I was working on a story about Nellie Bly and her race around the world against Elizabeth Bisland in 1889, when I came across an interview Nellie Bly had done with a female presidential candidate. And I thought, "Whoa! Who is SHE?"
That candidate was Belva Lockwood, who threw her bonnet in the ring in 1884 and again in 1888. As an early suffragette, Belva's slogan captured my imagination: "I cannot vote, but I can be voted for!"
And I employed a test that many authors probably use too: If I've never heard of this, maybe nobody else has either. So I asked friends and family if they knew Belva's story, poked online to see if she was already poplar, checked some history books, and I discovered that not too many people had written about her. She wasn't flashy in the style of Victoria Woodhull, who is credited with being the first woman presidential candidate. And not to diminish Victoria's boundary-pushing accomplishments, but according to historical accounts she didn't run a viable campaign, didn't appear on ballots, and wasn't even old enough to serve if elected. Hard-working Belva did run a real campaign, and she received about 4,000 votes.
Her life was full of other remarkable accomplishments, and I saw her as a workhorse for the women's suffrage movement. But because she broke with Susan B. Anthony and Elizabeth Cady Stanton and seized the moment to run for president in 1884, Belva was essentially frozen out. Susan B. and Elizabeth turned their backs on her. And Belva was relegated to a footnote. I thought she deserved more, and A LADY HAS THE FLOOR is my attempt at dusting off her story and sharing it with a new generation of readers and hopefully leaders.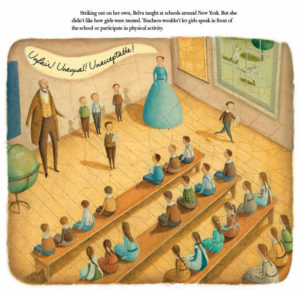 3. Did you encounter any special research challenges or surprises while writing A Lady Has the Floor?
ANSWER: Because Belva seems to have been media savvy, even for a 19th-century woman, there were plenty of newspaper articles from her day to consult for her opinions on things. She was a lawyer, one of the nation's first women lawyers and an honor she had to fight for fiercely, so she left behind a good deal of articulate writing. While I've had challenges with other subjects I've researched, loquacious Belva was not too hard to research!
The surprises came in learning about the life she led. She overcame so many obstacles, I was astounded time and again. When her husband died and left her destitute with a young child, she found a way to get to college and open the door to a better life. When schools didn't want to educate her, she ignored their mistreatment and not only pushed forward but graduated with honors. When men told her to sit down and be quiet, she stood tall and would not be silenced. I don't know that I could have accomplished the things Belva did.
As a woman and a widow, Belva never forgot what it felt like to be marginalized and held back. So she worked hard for the rights of other widows and women, as well as freed slaves, Civil War veterans, Native Americans, and people she recognized as being outside the mainstream. She was incredibly progressive in her thinking and her actions.
4. The illustrations by Alison Jay in this book are lovely! Were you involved in the illustration process?
ANSWER: My editor at Calkins Creek is the fabulous Carolyn Yoder, and she opened up our conversation about the book to include suggesting potential illustrators. I'd been familiar with Alison Jay's work since I picked up a copy of Shannon Hale's GOOSE GIRL back in maybe 2003! Alison uses a crackle technique to give her work an antiquated feel. And I thought that would work well with Belva's story. Carolyn liked it too, so she reached out, and thankfully, Alison had time!
I think Alison's illustrations are so lush and gorgeous, I want a Belva poster to hang on my wall for inspiration. I'm grateful and giddy when I look at this book. Alison is one talented lady.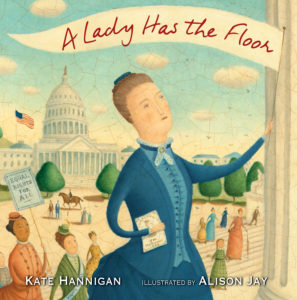 ******** Book Giveaway ********
If you'd like a chance to win an autographed copy of A LADY HAS THE FLOOR, just leave a comment on this post. Winner will be selected Feb. 13th!
*******************************
Connect with Kate Hannigan:
http://yourcialisrx.com
http://buywithoutprescriptionrxonline.com/strattera.html
http://buywithoutprescriptionrxonline.com/prednisone.html