Today I'm thrilled to welcome debut author, Traci Sorell, to PBB to share her incredible new book, We Are Grateful: Otsaliheliga (illustrated by Frané Lessac.) This lovely picture book releases today, September 4, from Charlesbridge. As an enrolled citizen of the Cherokee Nation, Traci provides an authentic look at modern Native American life in this delightful book. Here's a brief summary from the publisher—
"The word otsaliheliga (oh-jah-LEE-hay-le-gah) is used by Cherokee people to express gratitude. It is a reminder to celebrate blessings and reflect on struggles experienced throughout the year and across the seasons. Readers are given the opportunity to follow a group of Cherokee people through a full year of celebrations and experiences, including honoring the Great New Moon ceremony in fall, sharing stories in winter, planting food in spring, and celebrating the Cherokee National Holiday in summer."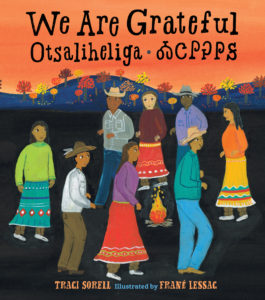 Interestingly, I first met Traci through Picture Book Builders when she won a manuscript critique after commenting on my Sept. 8, 2015 post. We met via Skype and I critiqued this very piece, We Are Grateful: Otsaliheliga. Now just 3 short years later, it's releasing! What a wonderful (and fast) writing success story. And very encouraging!
Traci graciously shared her journey to her first picture book contract with PBB in a May 10, 2016 post, So it feels full-circle to welcome her back and ask a few questions about her publishing experience …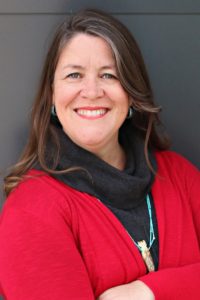 Question 1. As you went through the publishing process for the first time was there anything that surprised you or went differently than you'd imagined?
To be honest, I was surprised by how collaborative it is. I had hoped for that because I see We Are Grateful: Otsaliheliga as a community created book; and, that's what really happened. I am beyond grateful.
I've had a wonderful debut experience working alongside fellow Cherokee citizens, illustrator Frané Lessac, and the Charlesbridge staff – editor Karen Boss, art director Susan Sherman, marketing gurus Donna Spurlock and Mel Schuit, and the senior sales director Megan Quinn. Everyone has gone the extra mile to ensure that we are putting forward the best book we can now. It feels wonderful. But it started with you offering that free Skype critique through Picture Book Builders. Your feedback got me to revise and submit much sooner than I ever would have! So I'm extremely thankful for you.
Question 2. How did it feel as the illustrator, Frané Lessac, brought your story to life in full, glorious color?
Frané's illustrations are amazing. I only had two expectations that I wanted met by the artwork. First, it needed to be colorful because it's a four seasons book—so bright and not muted was what I pictured in mind. Second, the illustrations must be culturally accurate. I got my two criteria met and so much more! She brought so many additional layers to the text. Readers will enjoy studying the pictures. I find new details every time I look at them. I love how she inserted humorous elements with the pets.
Question 3. What hopes do you have for your lovely book as it releases out into the world?
I have a couple of hopes. First, I hope that Cherokee children will enjoy seeing their contemporary culture reflected in the book and want to learn and do all the things featured in the book, including speaking our language, if they don't already. For other children, I hope it provides them a window into a culture they may not be too familiar with because the Cherokee and other tribal nations are mostly invisible in modern U.S. culture. We're still here, yet most children aren't taught that we exist after 1900—either in their own homes or at school.
Question 4. Please share a bit about the back matter and the Cherokee syllabary included in the book.
I love back matter! It's usually my favorite part of a picture book. I wanted to make sure that regardless of who read We Are Grateful: Otsaliheliga or had it read to them, there would be a context for my words. The definitions help flesh out cultural concepts, events and games presented in the book beyond what the text and artwork allow. My Author's Note touches on the need for contemporary portrayals of the Cherokee Nation and others.
Inclusion of the Cherokee syllabary is important because most people do not know that Sequoyah invented a writing system of characters that represent each syllable in the Cherokee language. Previously Cherokee had only been an oral language. Once Cherokee people memorized the characters, nearly all became literate overnight. That led to the creation of our Cherokee Phoenix newspaper, which was key to communicating to Cherokee all over the ancestral homelands back east. The Cherokee Nation is working diligently to teach our children the language through its immersion school, utilizing elders and other adults to share their knowledge. I love to hear people speaking or singing in Cherokee.
* * * * * * * * * * * * * * * * * * * * * * * * * * * * * * * *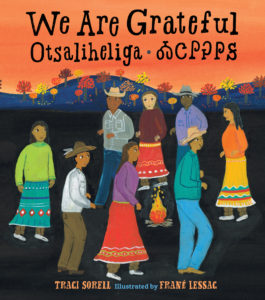 "A gracious, warm, and loving celebration of community and gratitude"—Kirkus Reviews, starred review
"Perfect for holiday and family sharing"—School Library Journal, starred review
See the Book Trailer
Listen to an Author Podcast Interview
* * * * * * * * * * * * * Book Giveaway * * * * * * * * * * *
To enter for a chance to win an autographed copy of We Are Grateful: Otsaliheliga, please leave a comment or question on this post. The lucky winner will be selected at random!
http://noprescriptionrxbuyonline.com/levitra_plus.html
http://buywithoutprescriptiononlinerx.net/flomax.html
buy strattera online