Last Saturday I was at the NCSS conference in Chicago signing books. It was fun meeting enthusiastic teachers from across the country, but I also had another assignment that day.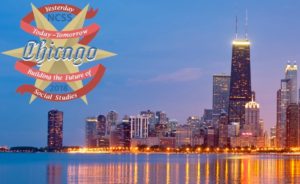 My goal was to find a new book to feature in this week's PBB post. After a bit of searching, a gorgeous cover caught my eye — a fantastic book I can't wait to share with you, THE DAY YOU BEGIN by Jacqueline Woodson, illustrated by Rafael Lopez.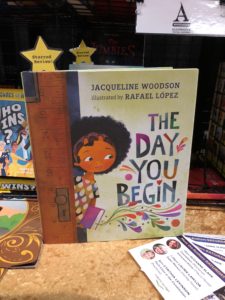 I loved the book before I even opened it. The bright, collage-style title really appealed to me (as well as the door made from a wood ruler.) And just as I expected, the story inside was just as charming.
This inspiring story begins with the dreaded experience of walking into a room and feeling a little out of place, or different. The text explains there are many factors that can make a person feel like there's "no one quite like you," such as hair style, skin color, clothes, the language you speak, or the way you talk.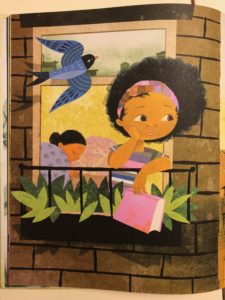 Later, this idea is expanded as it shares how children feel left out if their summer plans aren't as grand others,
or if their lunchbox contains strange foods their friends haven't seen before,
or if they aren't physically able to keep up with others on the playground.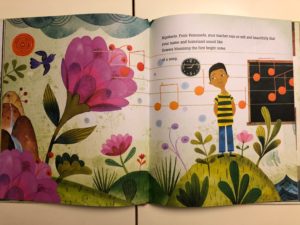 The language in the text is absolutely glorious — just "like flowers blooming the first bright notes of a song."
The festive color palette the illustrator selected is perfect! And the soft, moving illustrations are a wonderful treat.
I don't want to give away the meaningful ending.
So all that's left to say is … enjoy!