I've been a Patrice Barton fan for as long as I can remember. She draws children as well as (or better) than perhaps any other illustrator. I remember being enchanted by her work in THE INVISIBLE BOY, SWEET MOON BABY and HELLO GOODBYE DOG.
So I might have screamed just a little bit when I found out she'd be illustrating REMARKABLY YOU, my picture book that comes out from HarperCollins in a little more than two weeks. (Want to get a copy right when it comes out Feb. 5? You can pre-order it from a bookstore or online bookseller. Or, ask your local library to order a copy and put it on hold for you.) And, there are details about how you could win a copy at the end of tis post.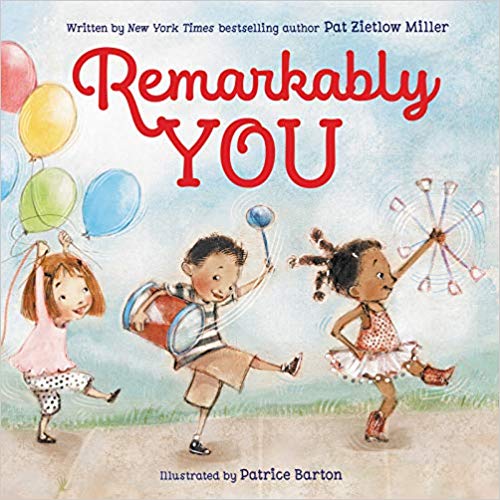 When I first saw Patrice's art for the book, I was enthralled. She'd done so much. Each time I flipped through, I saw new details and depth and humor.
I had to know how she did it. Fortunately, Patrice agreed to answer some questions about how she put this book together.
Let's start with what it says in tiny type near the start of the book: "The artist used pencil sketches and mixed media, assembled and painted digitally, to create the artwork for this book." What does that mean? How did you make this lovely art?
I'll use the spelling bee art for an example. I scan a pencil sketch into my computer. Also on my computer, I have a file of textures where I keep scanned paper bits, watercolor bits, painted canvas, fabrics like denim, patterns and textures I made in PhotoShop, etc. I select textures and paper bits from this file and add them to my page. For the spelling bee art, I added an endpaper from a 1931 Funk and Wagnall encyclopedia, a page from a dictionary and raw canvas. Next I assemble the textures and pencil sketch in Corel Painter and begin painting. I paint and erase, paint and erase, using my Wacom tablet and Painter's pencils, pens and brushes until I'm satisfied.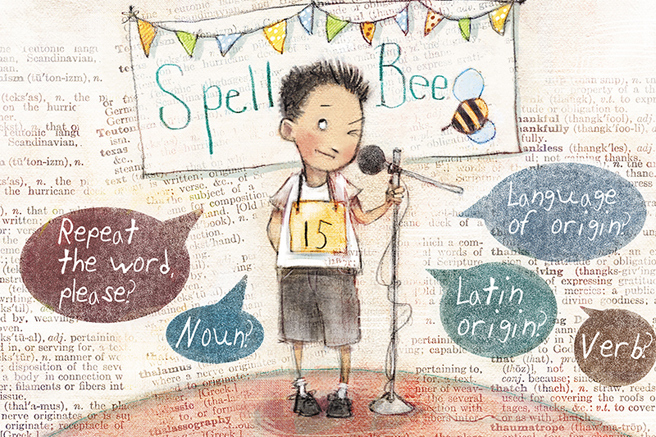 And then, there are the end papers. I adore how images of the kids are on top of a running list of words from the book about all the ways you can be remarkable. How did that idea come to be?
So glad you like the endpapers! To help me find the characters for this book, I listed all the adjectives and actions you used to describe them. By the end of my sketching, I had this nice word list and sketches of each action. I love how front endpapers can hint of what's to come. A little foreshadowing, making you want to turn the page and jump into the book. So, I thought combining your beautiful words with the sketches might do that. I'm hoping a reader will look at the actions, read the words and think, "Hey, this sounds like me!"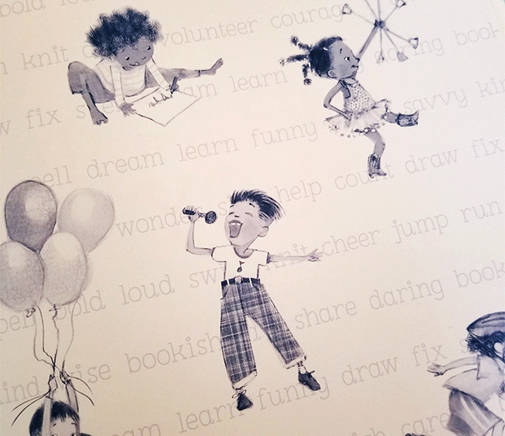 One of the things I admire about your art are the wonderful kids you draw. Do you spend a lot of time watching real kids to base your art on? Or do the kids come straight from your head?
Thank you, Pat! I sketch from my imagination, but I am inspired by memories from my own childhood, from raising my son and by people- watching in general. I sketched a baseball player in this book and then realized he's my brother, Tony. He and his friends never just walked down the street. They tossed the ball, ran back and forth, and tripped over curbs because they always had their eye on the ball, not where they were walking.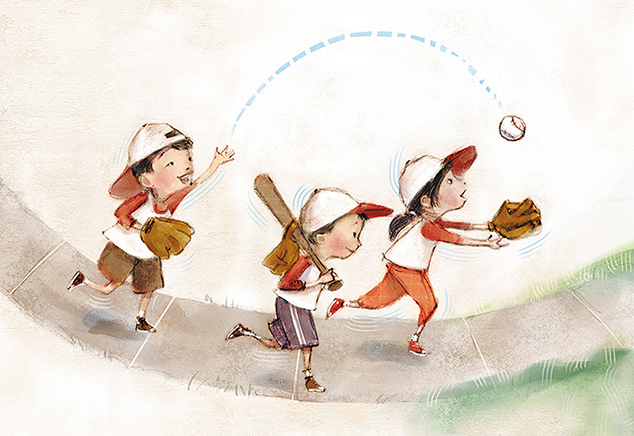 The little reader is inspired by my son, Seth, who has always been an avid reader/writer. The "Y" on his shirt is a nod to his masters degree in Applied Philosophy and Ethics. He was always asking, "Why?"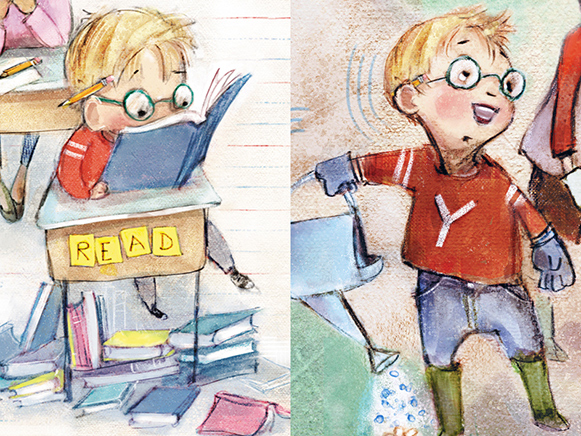 I'm also impressed with all the little touches in your artwork — like the world map in the background of some pages, and the cereal puffs counted out in groups of five and the sticky notes spelling out "HA" and "READ." How do you decide what to add beyond what's in the text?Once I immerse myself into a character, the details just seem to unfold.
The world map in the sky was a fun surprise. For this spread I was inspired by the line, "You could change the world." My first sketch for this page showed a child with a magnifying glass studying a globe. I realized this made the child seem large and the world small… not what I was looking for. So I took the child outside and put her under a vast sky. That was better. Then I added a telescope, so the child could see the whole world. That triggered adding the world map to the sky.
For me, the answers come from doing the work. I'm so glad you noticed the cereal puffs counted out in fives! I really had fun drawing this zealous mathematician. I'm not a numbers person. (Hey, Math, solve your own problems!) But it was fun to pretend. I thought about how high she might count. Maybe so high she would need to stand on a chair! What would she count in her world? Maybe days, maybe leaves she finds on a walk, maybe the cereal she has for a snack. And, oh, the sticky note girl. Love her. Once you get started with sticky notes, it's hard to stop. Everything MUST be labeled. It's been my experience that if I start the day with a pad of sticky notes on my desk, by the end of the day, they are everywhere, multiplying like bunnies. Maybe it's just me.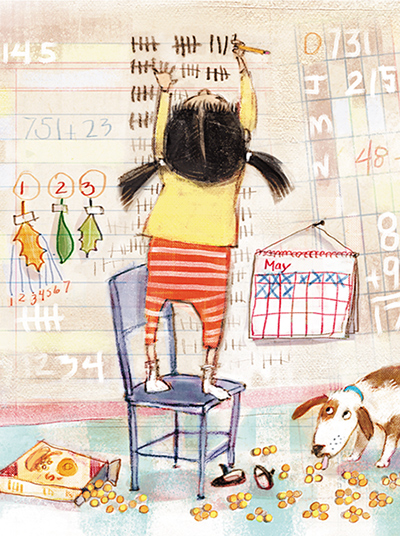 What part of the book did you have the most fun drawing?
This whole book was a joy to illustrate. One page I truly enjoyed drawing was "finding invisible dragons to slay." This really speaks to a child's vivid imagination. I adore that. The two friends huddled together on this page are expecting their imaginary dragon to spring out from the woods any second now. Yikes! I wanted to capture that feeling of anticipation, a little fear, a smidgen of courage… just before a breeze makes the trees creak and they both jump, shriek, and run! At least that's how it plays out for me. I'm sure it's different for everyone. And that's what makes it so fun for me!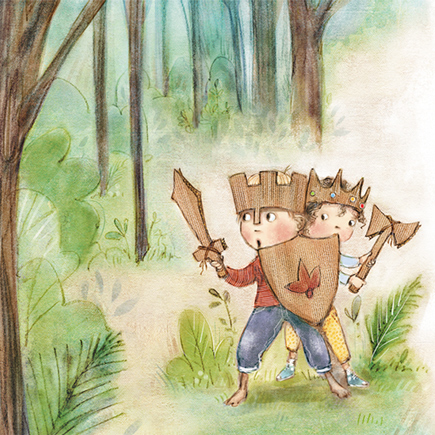 Why do you think this book is important?
This timeless book speaks to everyone. Be yourself. Believe in yourself. Share yourself. 
And — you knew I was going to ask this — what makes YOU remarkable?
I am remarkable because I make a mean potato soup. My pot roast is a close second. And do not get me started on my snickerdoodles!
THE GIVEAWAY.
Would you like a copy of REMARKABLY YOU? Mailed right to you from me? At no charge? For a chance to win, leave a comment on this post saying why you're remarkable — because everyone is. And you shouldn't be ashamed to say why.