As a writer and a reader, I'm often drawn to books that give a new twist to old songs, and we've featured quite a few here at PBB. In addition to two of my own (Rock-a-Bye Romp and Over the River & Through the Wood), there's Twinkle, Twinkle Little Car, This Old Van, and Tammi's Mary Had a Little Glam, among others.
To highlight the potential in the song-rewrite genre, today's pick features a very different take on Mary and her beloved sheep.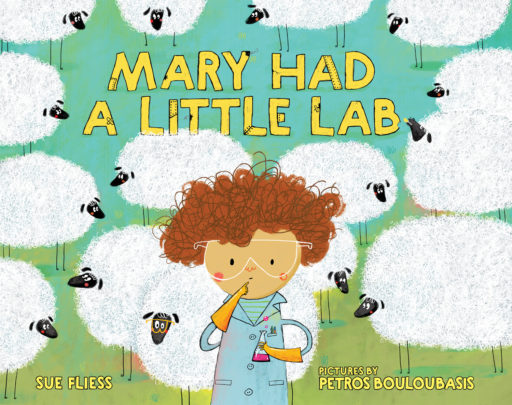 Mary Had a Little Lab—written by Sue Fleiss and illustrated by Petros Bouloubasis—gives the original tune a mad-scientist STEM spin. In addition to the song element, the story features several things I really like in a picture book.
1. Mayhem.
Mary loves working in her lab, but all that solo tinkering leaves her lonely. So she builds a machine—the Sheepinator—to make herself a pet. It's not a quiet process.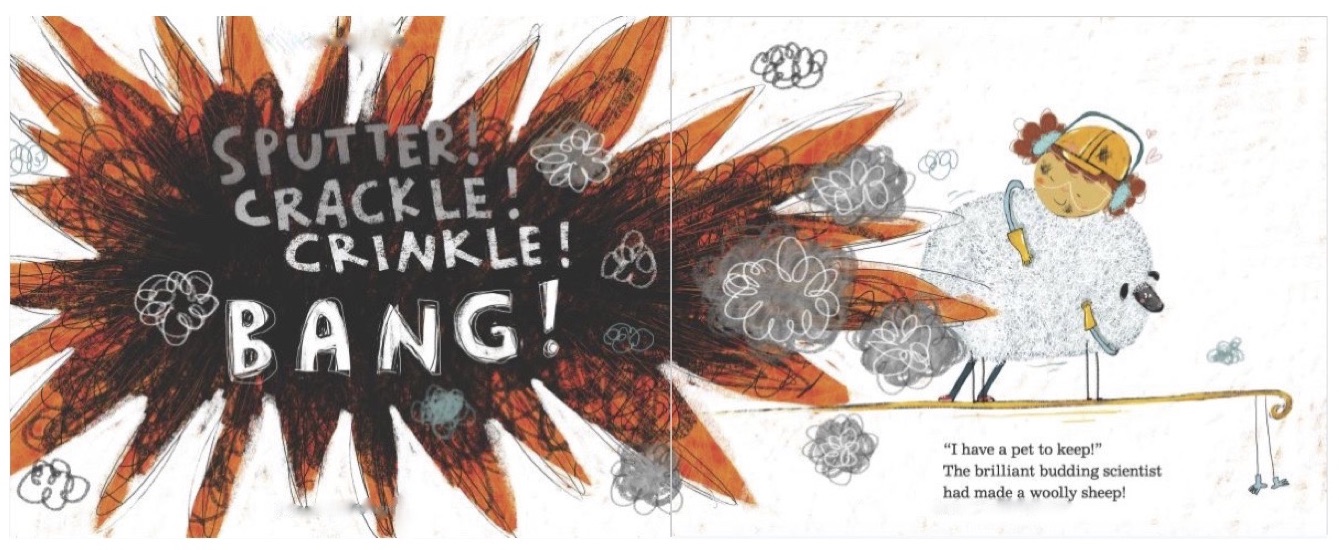 As in the song, Mary takes her lamb to school. Naturally, all the other kids want one too. But when Mary cranks up her lamb-making machine, there's a slight malfunction. It starts churning out sheep so fast the town is soon overrun with them.

2. Wacky humor.
See "Sheepinator" and town overrun with sheep, above. See, also, the new invention that turns the problem of too many sheep into an opportunity: the "Knit-o-Matic."

3. Clever rhyme.
Sue Fliess writes excellent verse, with consistent meter and fresh and surprising rhymes. Take this description of Mary's invention, for example:  
She made an apparatus
with pulleys, knobs, and gears.
Then set the switches, pipes, and springs,
and covered both her ears.

"The new machine is finished!
My best invention ever!"
Then Mary turned the power on
and gently pulled the lever.
Apparatus is such a great word, isn't it? And here's Mary demonstrating how her machine works:
She led them to her little lab.
"Behold! The Sheepinator!
I simply press this button here:
The woolly duplicator."
This clever take on a familiar song is loaded with humor—both in the text and illustrations—and wraps up with a satisfying ending (the wordless final page is perfect).
Got a favorite childhood song or nursery rhyme in need of an update? Check to see if it's in the public domain (you can find some possibilities listed here) and start noodling. The only downside is that you may find yourself humming old tunes all day, as writing this post has done to me (Mary had a little lamb, little lamb, little lamb . . . ).
Thanks for reading!
Linda