So I have the privilege of hanging out with some pretty amazing folks on a fairly regular basis via Skype. There's a few of us who having been doing it for nearly 10 years now, and it's sort of like a virtual office of (mostly) illustrators. We talk off on on through the day about everything from everyday life to bouncing ideas off each other, and getting opinions on our work. We often get to see books and projects come together long before they're out in book stores and it's one of the coolest things to see the development of a book. I've found I've grown so much and so highly recommend a "crit-like" group to everyone.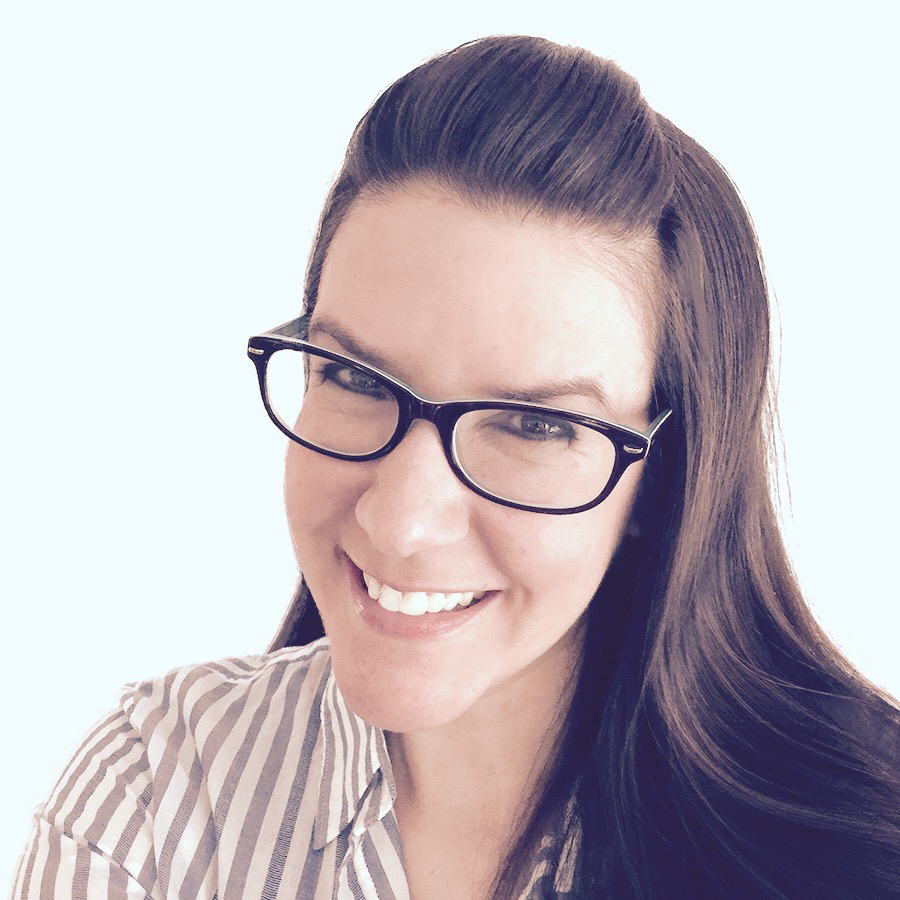 One of the wonderful people who joins us from time to time is the talented Renée Kurilla. A good description of Renée would be to just look at her artwork – sweet, colorful, and full of gentle joy. For this blog post, I asked Renée if I could interview about her latest illustrated book, CHICKS RULE.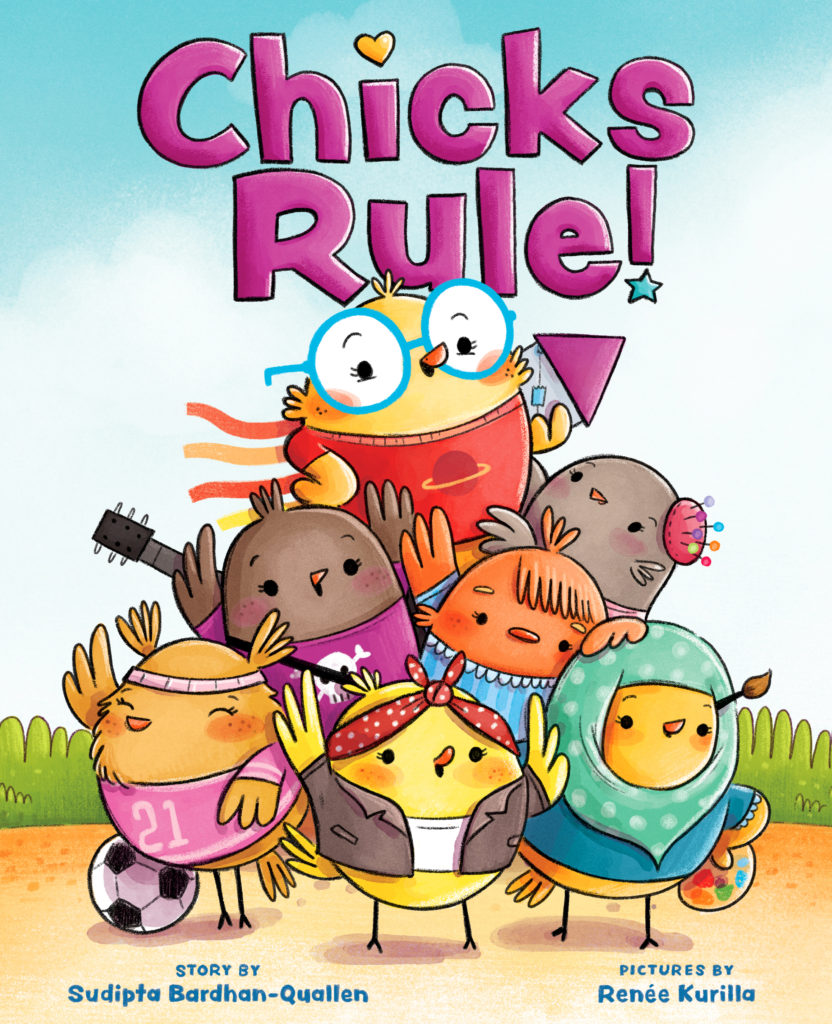 Mike: Hey Renee, thanks for taking the time for this interview. So CHICKS RULE is written by Sudipta Bardhan-Quallen and illustrated by yourself and was just released by Abrams. First off, this is an amazing book. Can you tell me a bit about your first impressions (ideas) of the story when you received this manuscript (and if you want – the opportunity to work with a talented author like Sudipta)?
Renée: Where to begin!? It was a total thrill for me to have the opportunity to illustrate this book with Sudipta and the team at Abrams. My editor, Courtney Code was an absolute dream to work with and the book's designer, Pamela Notarantonio did such a beautiful job it left me speechless when I got my first copy in the mail.
I have long admired Sudipta's work and was an avid follower of her Nerdy Chicks Rule blog with author Kami Kinard. When the manuscript came in, I had to fan myself… I would have the chance to bring Sudipta's Nerdy Chick to life!? Me? When my fan-girling was over, I got right down to business. I think I thumbnailed the entire book out before I even signed the contract. I have dated sketchbook pictures to prove it. Weirdly enough, many spreads didn't change that much from my initial sketches, which is usually not the case. Everything about this book just felt right to me from the start.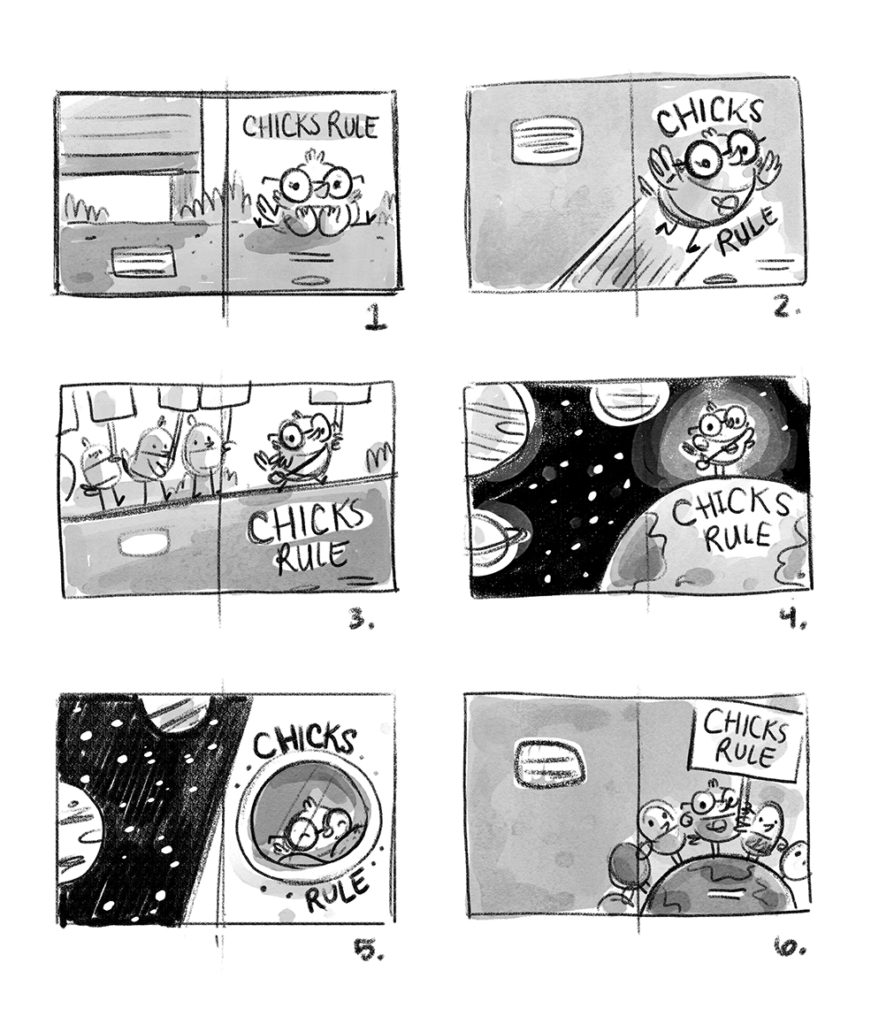 Mike: That's awesome, and I can relate to how good that feels when the MS just hits home perfectly. So speaking of the story, CHICKS RULE is written in a wonderful rhyming verse, but much of the story is happening in the images themselves and not directly in the text. Did you talk with Sudipta (or editor) at all about her vision for the "story" behind the poem? How did the theme of the rocket ship club come into play?
Renée: Sudipta painted a really vivid picture for me in her manuscript. I have to be honest that I really enjoy manuscripts that don't have art notes because it exercises brain muscles that I don't get to use often enough, but this particular manuscript had an entire side story written between the verses. The main character was always destined to "one up" the Rocket Club and go to space…but the other characters also had stories happening in the background. It was ultimately too much to fit in a 40 page book. This is another favorite part of my job, though…Story Tetris. In 40 pages, I have to explain how much Nerdy Chick LOVES space. I have to explain how completely destroyed she feels when she can't go to Rocket Club. I have to show how she goes from upset to angry…and then how she rallies the other chicks who ALSO happen to feel distressed. And, you know, then they all have to become friends and build a working rocket and (SPOILER!) fly to space. All in 40 pages! (I had to use the endpapers to help tell the story.)
I LOVE organizing information. I'm an illustrator, but I'm also a designer and I like a good visual challenge. I don't know where this story would have ended up if I wasn't given art notes, but I was still able to make it my own by deciding what to show and how to show it.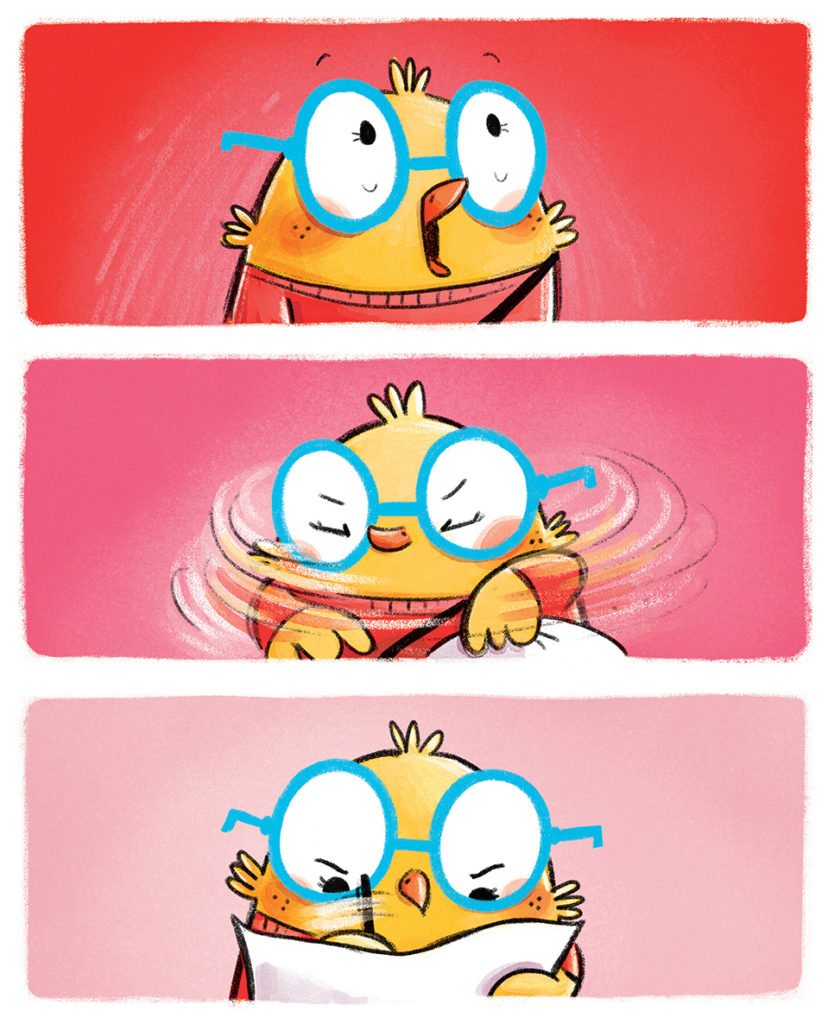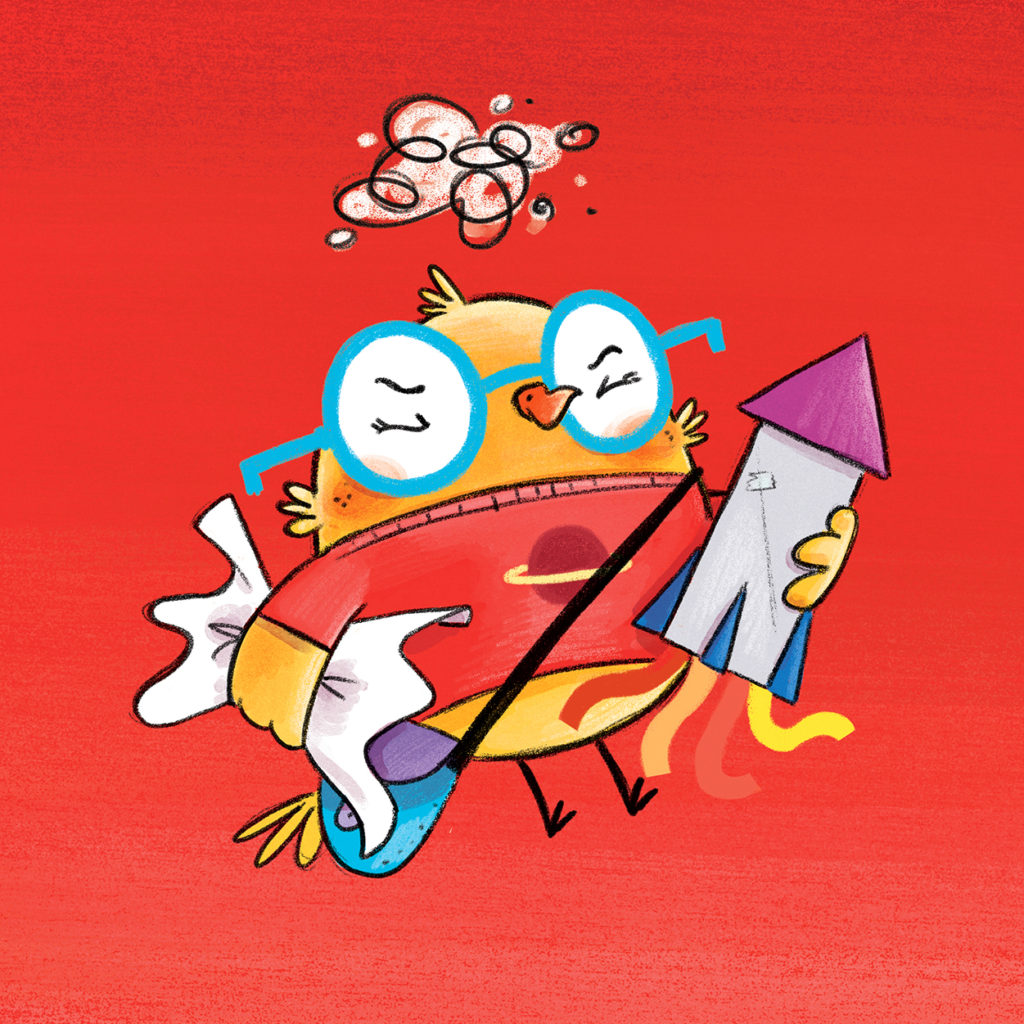 Mike: I like that breakdown and I agree. Sometimes notes help to inspire and sometimes they feel restrictive. I like your "story tetris" description as well. How difficult was it to piece it all together with the poem to make it work or in other words, what challenges came out of that?
Renée: My first sketch dummy always gets run by my husband, Keith Zoo before I send it off. He is the MOST HONEST and always helps make my work better (even if, initially, I run away crying*). The first thing he said to me was 'I don't get it. Why wouldn't Nerdy Chick be allowed?" Granted he is a firm believer in inclusivity, bless his heart… but he made his point and since this is the entire premise of the book, I had some thinking to do. The biggest change I made to my sketches was that the "No Chicks Allowed" sign appears to have actually been taped on to the Rocket Club sign…perhaps a malicious act by someone who doesn't believe in inclusivity? We don't really know for sure. Nerdy Chick is able to tear the tape off and carry the sign with her throughout the book….and eventually make the perfect edit that says "Everyone Allowed." This suggestion helped solve every problem my sketch dummy had.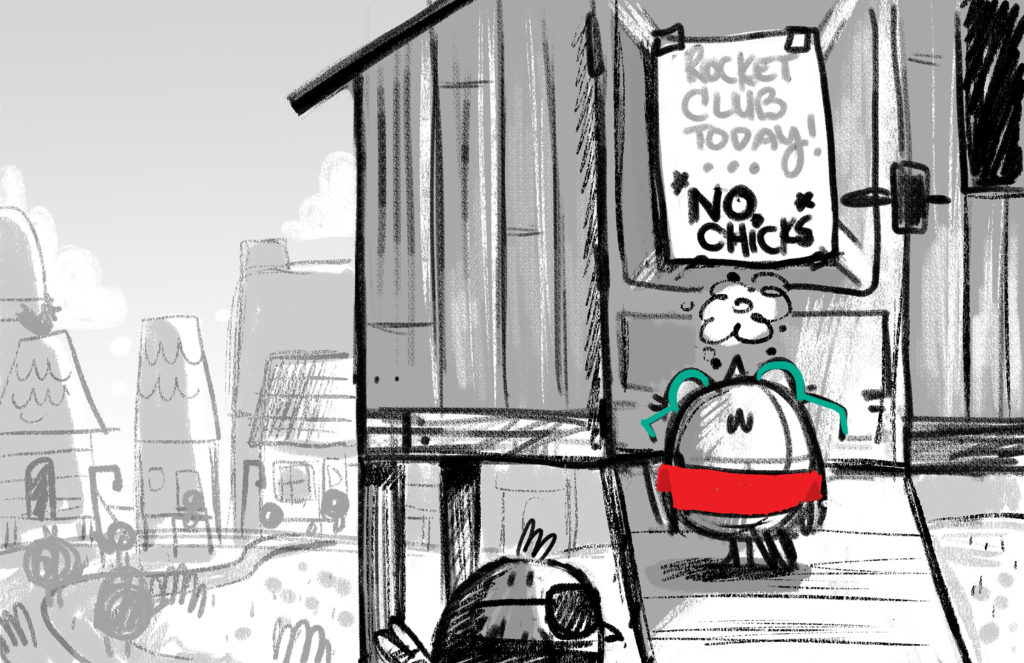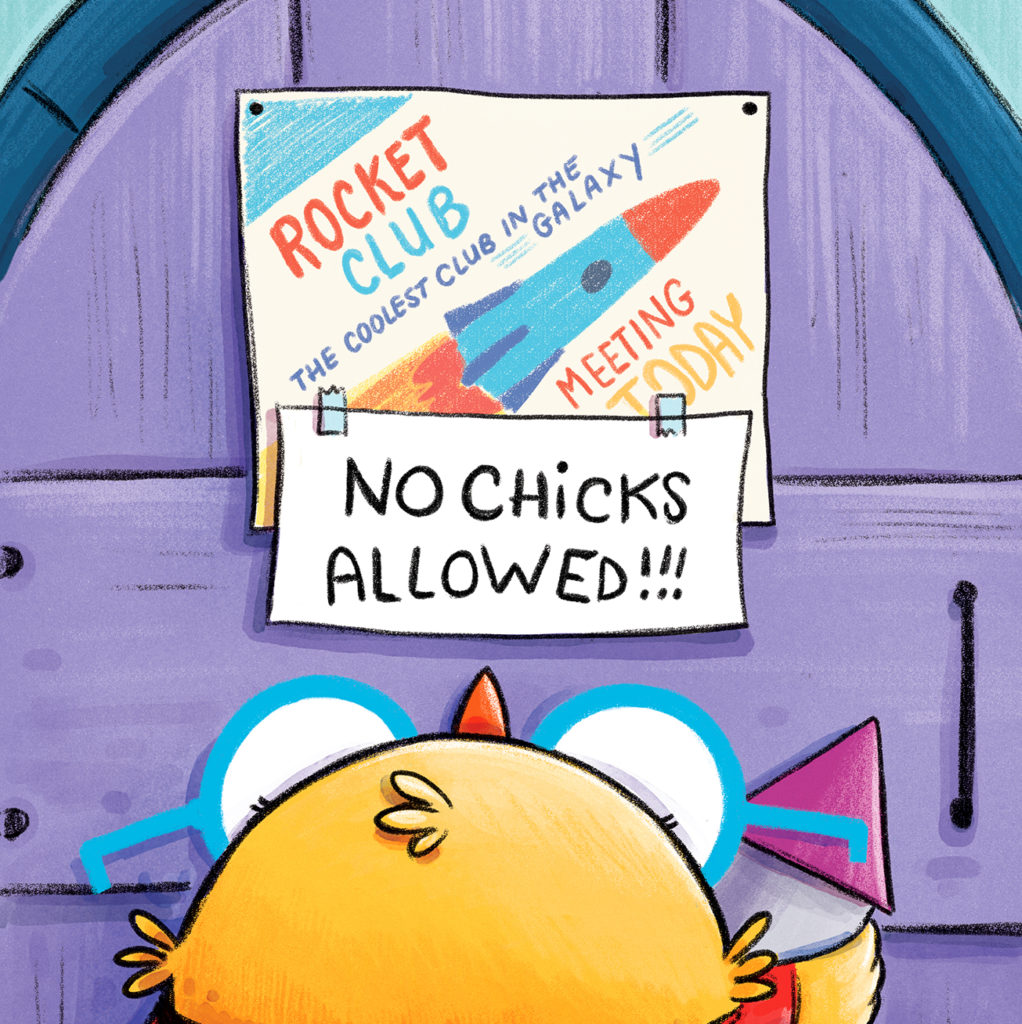 Mike: That was a good call. He removal and "revision" of that sign is one of my favorite parts. Would you mind sharing what your favorite part about working on CHICKS RULE was?
Renée: My favorite part of working on CHICKS RULE had to be designing and dressing the chicks. Many talented artists have drawn Nerdy Chick for Sudipta's blog (Joyce Wan and Zachariah OHora to name a few!) and, knowing that, I wanted to pay a bit of homage but also make sure it looked like it came from me. Once I had a sketch of NC, I handpicked a bunch of the other chicks mentioned in the manuscript and started with a lineup, fun for me because I spent years doing this sort of thing for animation! The chicks are all different colors and shapes, a nod to diversity as a huge part of inclusivity. They all carry around a favorite object that defines who they are. My favorite, of course, is Artsy Chick who paints plein air and creates signs for the chicks. She also wears a patterned hijab, and as Shireen Hakeem from the Book Riot Blog pointed out in this essay, there are not many hijabi animals out there. If that's the case, we need to make more!
Can you find any other nods to equality in CHICKS RULE? (hint: check out what the chicks painted on the rocket)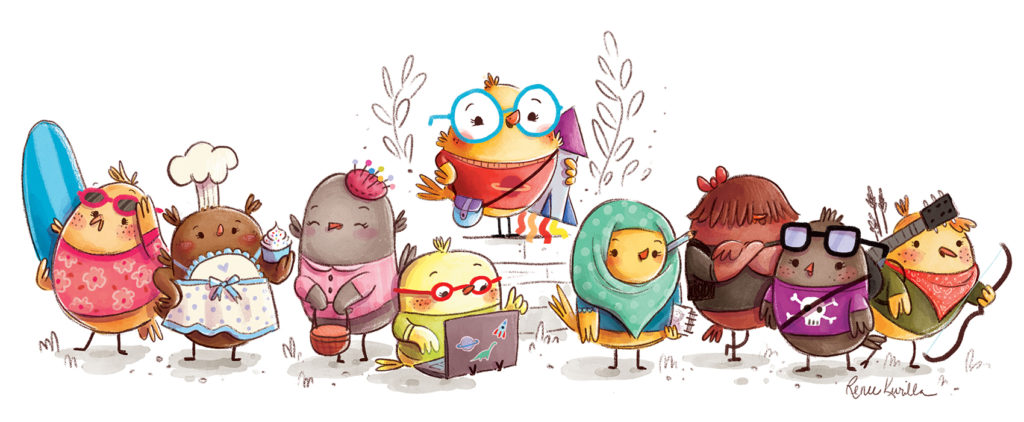 Mike: A nice touch for sure! What was different about working on CHICKS RULE in comparison to books you've worked on in the past?
Renée: I have been illustrating books for years, but I am still fairly "new" to picture books. While illustrating this book, I could almost literally feel myself leveling up as an artist. I have a tendency to become inspired by and mimic other books and artists that I admire, but more often than not their art style is different from mine. I let myself be "me" with this book. I barely looked at any reference — OK maybe I looked at Dan Santat's drawings of the robot in Ricky Ricotta to help me with my rocket blast. (I helped Dan color his last RR book and I was blown away by his ability to simplify rocket blasts…pun intended.) But ANYWAY. 😀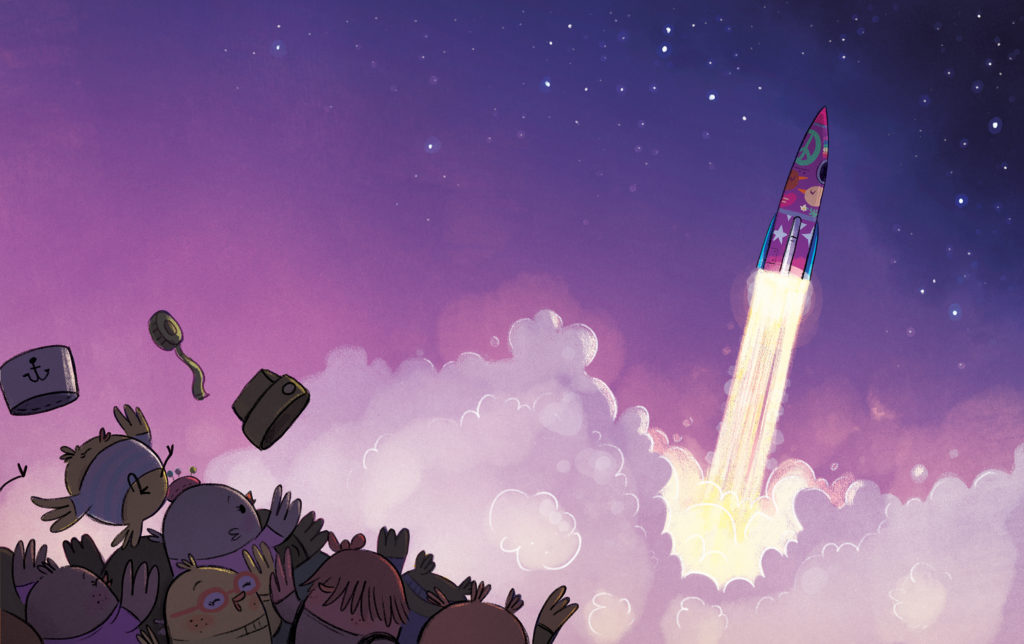 Mike: What did it mean to you to be able to illustrate CHICKS RULE?
Renée: A lot of comments I see online about CHICKS RULE go like this "I don't usually pick up this style of book, but I was pleasantly surprised." or "I don't usually like cartoony books…" That's like telling people they have weird feet…it sticks with you for your entire life and you spend all your time trying to hide your feet. It makes you think you HAVE to work a different way to be recognized. The most important thing I think any artist can do…and what I have to keep reminding myself every. single. day. is that you can't please everyone. But guess who really likes CHICKS RULE!? KIDS! And that's who we all make books for, yes?!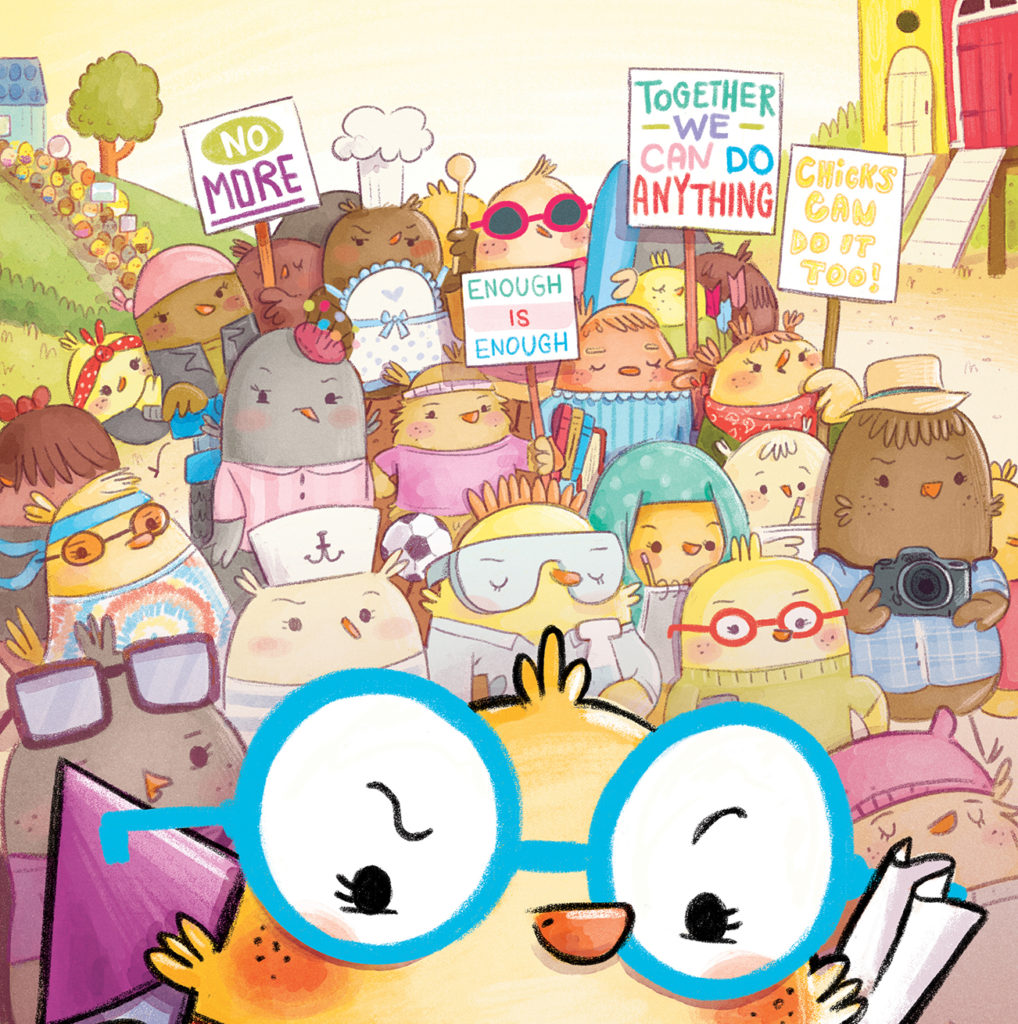 Mike: It's true! I loved not only how my kids laughed and enjoyed this book, but especially at what I hope this spoke to their hearts. As they read it together, they also each picked out which "chick" they were – or wanted to be in the story. Did you put yourself (or others) into any of the chicks in this book?
Renée: It makes me smile to imagine your kids laughing and choosing chicks for themselves, Mike! I don't think I would be able to choose which chick I am…I think that I'm sort of a jack-of-all-chicks. There's a little bit of me in every single one of them!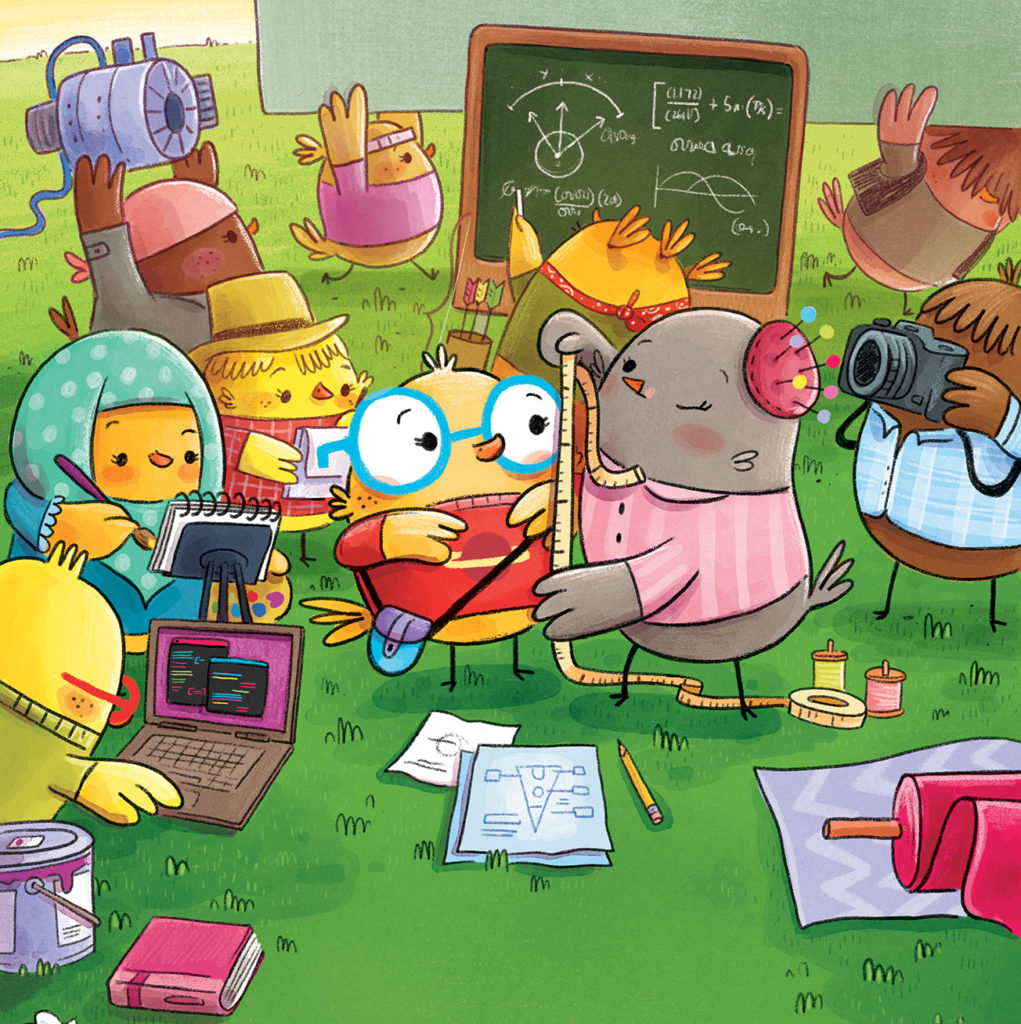 Mike: I would have guessed that! What's can we expect next from Renée Kurilla?
Renée: I'm currently working on a few chapter books, one which hasn't been announced yet and the other is the second in a series called MY PET SLIME. The series is exclusively on the Epic! online platform and was written by Courtney Scheinmel! It's such an adorable story about a little girl named Piper who has allergies and can't have a pet, so she sculpts one out of slime. It may or may not come to life because of some magical space dust…you'd have to read it to find out. 😀 I have some other things in the works as well, though it's all too new to talk about yet….but soon!!! (Sorry, I hate doing that but I'm just too excited!)
Mike: Renée, you sound busy and I can't wait to hear more! I sure appreciate your time and I really love how CHICKS RULE turned out.
Renée: Thanks so much for asking me to be a part of your awesome blog, Mike! I love the Picture Book Builders!
Special bonus (from Renée):
Extras Chicks Rule links
KidLitTV interview with Sudipta
KitLitTV ReadAloud of CHICKS RULE
The Children's Book Podcast with Sudipta
I hope you enjoyed that interview. Until next time!